Everyone is joining the effort of putting pressure on the Russian government due to the war in Ukraine. Netflix halted streaming in Russia, while video-game companies like GOG, Ubisoft, EA, and others have stopped sales in the country. Even Visa, Mastercard, and PayPal have suspended local operations.
Meanwhile, certain Russian websites have been blocked outside its borders. For example, Kremlin-run websites have been completely blocked in the UK. Similarly, Facebook, YouTube, and TikTok have blocked Russian state media (Russia Today and Sputnik) on their respective platforms for European users. Of course, the reverse is also true - as Russia restricted access to Facebook, Instagram, and Twitter to cut off information from the public eye.
Unblocking Censored Websites in Russia
If you're a Russian citizen or currently living in the country, then you know that many major websites have become unavailable recently. Check out our list of the best VPNs for Russia and regain your Internet freedom right away.
Now, the decision to block Russian-backed propaganda is completely understandable given the current situation. However, some critics of this approach (such as the European Federation of Journalists) are asking themselves: "is it really going to end with blocking Sputnik and RT?"
In short, there's no telling what other types of Russian media will get filtered next. As such, it's best to stay prepared. Whether you're trying to report on Kremlin propaganda or you're an expat that wants to watch region-exclusive media on channels like 1TV.ru, KinoTV, and TNT, here's how to unblock Russian websites with a VPN.
How to Access Russian Content from Abroad
For the purposes of this guide, we'll be using CyberGhost VPN, as it's one of the few VPNs out there that still have servers in Russia. As we've reported before, many VPN providers have shut down operations in Russia, making it difficult to obtain a Russian IP address and access geo-restricted content.
Anyway, on to the guide.
Step #1: Sign Up with a VPN Provider that Works in Russia
As mentioned, the provider selection is slim at the moment. Fortunately, CyberGhost VPN still has virtual locations in Moscow and features more than 7,000+ servers littered across 91 countries. They've also recently implemented the WireGuard protocol for slightly better overall speeds without sacrificing security.
After you've signed up, download and install their app on your device. CyberGhost VPN works on pretty much every major OS, including Windows, Mac, iOS, Android, and Linux. They even have a smart DNS feature for non-compatible devices like smart TVs if you prefer to watch from the comfort of your couch.
In any case, launch the app, log in with your account details and proceed to the next step.
Step #2: Connect to a Russian VPN Server
To unblock Russian websites with a VPN, all you need to do is obtain a local IP address by connecting to a Russian server. Here's how to do so in CyberGhost VPN.
Expand the interface by clicking on the arrow pointing left.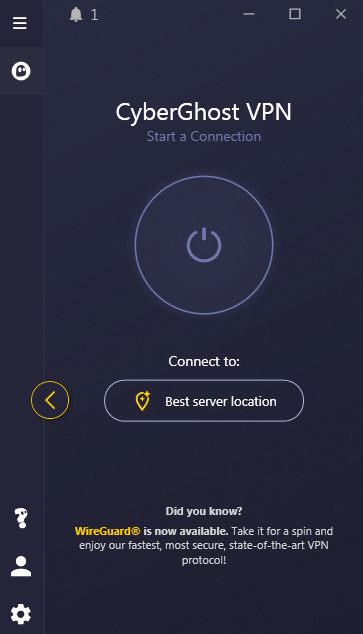 Click on All servers, then scroll down and double click on Russia. Alternatively, click on Russia and then on the big "Power button" to the right for the same result.
Note that you can click on the yellow star icon to add any location to your favorites, for easy access.
The process is pretty much the same on mobile. Just tap on the server icon, scroll down (or use the search function) to select Russia from the list, and you're good to go.
Testing Out Whether the VPN Can Unblock Russian Websites
One good example of a geo-blocked Russian service is 1TV. Trying to access 1tv.ru without a Russian IP will redirect you to their VKontakte page, which is not what we want at all. Connect to a VPN server in Russia, however, and here's the result.
If you've recently tried opening a Russian website without a VPN active, you may run into "Connection timed out" errors. Restarting your device and connecting to the VPN before going online seems to do the trick. Alternatively, you may need to clear your browser cookies or use a freshly installed browser.
In some cases, websites may simply be unavailable due to being taken down by DDoS attacks, or because the service is filtering that particular VPN server's IP address. Feel free to contact CyberGhost VPN's live chat support and let them know which Russian websites you'd like to unblock. Not a guaranteed success, but it's still your best bet.
Unblock Russian News Channels with a VPN
The YouTube channels of RT and Sputnik have been restricted within the EU and the United Kingdom. This is what happens if you try viewing either of the two channels in said regions.
Good news, though - you don't really need a Russian IP to make them available again. Connecting to any country outside the EU and the UK works just fine. Here's the same page after connecting to a Canadian VPN server instead.
What's more, you can use any capable VPN provider to accomplish this. See our list of the best VPN services for seven more amazing options outside CyberGhost.
Obviously, stay away from free VPNs, as most of them operate by selling user browsing data to advertisers. Worst case scenario, free providers might end up leaking your data online, including emails, passwords, credit card details, and more. The world is plenty messed up already without adding more worries to your plate.