Even though they might come with simple interfaces, VPNs are backed by highly technical systems. With that said, it doesn't come as a surprise to know that things can go wrong. Sometimes, something as simple as updating your VPN can lead to technical problems. However, there's nothing to worry about, as we'll tell you what to do if ExpressVPN won't connect after an update. And yes – we've prepared plenty of possible solutions. 
Having Trouble Connecting to ExpressVPN After an Update? Here's What You Can Do!
We understand that you don't want to spend a second unprotected on the Web. That's why we've prepared nine possible solutions, helping you resolve issues with ExpressVPN failing to connect after an update. Take a look. 
1. First, Check If Your Web Connection Is Active
We'll start with the basics. Are you sure that your Web connection is working correctly? Are you sure that ExpressVPN is causing your connectivity issues? By knowing the answers to those questions, you can pinpoint the cause of your problem. So, here's what you need to do. 
Make sure that ExpressVPN doesn't run in the background (any of its processes). So, launch the application, and check whether you're disconnected from ExpressVPN. Then, quit the application (don't leave it running in the background). 
Now, open your Web browser and try visiting any website. Does the page open properly? Does everything look normal? And if not, do you see any error messages? If you do, that means that your device is having issues with Web connectivity (outside of ExpressVPN's reach). 
One of the fastest ways to resolve Web connectivity issues is to restart (or reset) your router. You'll need to do a full restart (at least), meaning that you'll need to unplug your router from its power source. Then, wait around thirty seconds, and plug it back in. You'll need to wait a couple of minutes until your router boots up, and then try connecting to the Web once again. 
Tip
If you see an error code while trying to use ExpressVPN, it's essential to look for a solution based on that exact code. To help you with this, we've prepared a comprehensive guide to the 55+ most common VPN errors, so make sure to take a look.
2. Download & Reinstall the Latest Version of ExpressVPN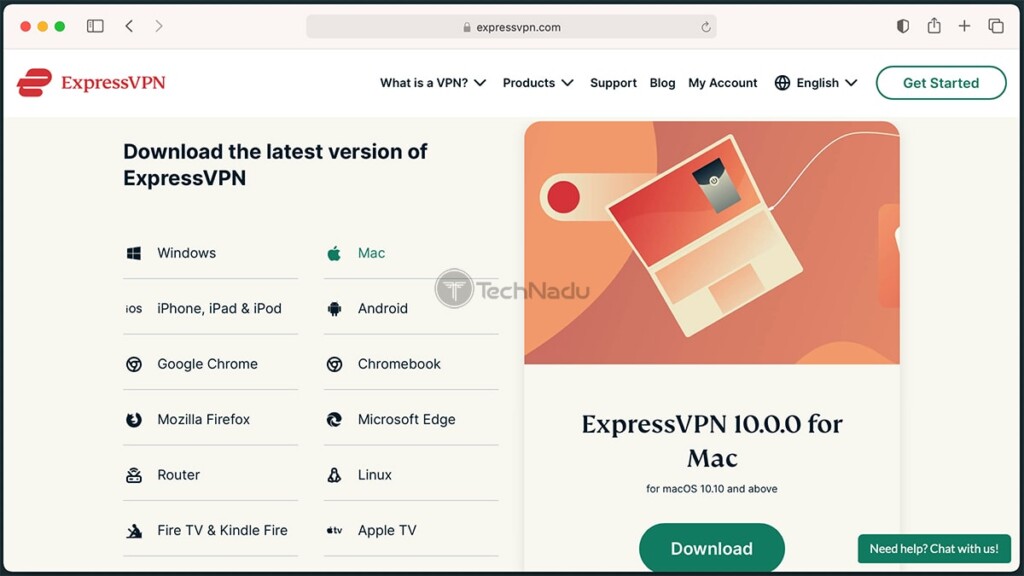 It's true that we're talking about what to do if ExpressVPN won't connect after an update. That means that you already have the latest version of this VPN. However, our recommendation is to re-install ExpressVPN nonetheless, restoring the app to its original values. 
First, we recommend you uninstall ExpressVPN from your device. This applies to any device you might use to run ExpressVPN (including computers and handheld devices). So, make sure the VPN is removed correctly.
Then, launch ExpressVPN's website and click on 'My Account.' Log in using your credentials and access your Web dashboard. From there, download the latest version of ExpressVPN (your operating system should be recognized automatically). 
Once you download the app, install it and then launch it. If you're using a computer, proceed to use ExpressVPN's activation code to log in. And if you're using other devices, log in using your credentials. Review ExpressVPN's start-up steps as well. 
Then, try connecting to any server using ExpressVPN's 'original' values (without changing its settings). See if that works. 
3. Try Using a Different ExpressVPN Server (Location)
There's a chance that the server you're trying to use is experiencing technical issues. This can happen to any individual server or a group of servers. Also, you might be having just a stroke of bad luck if numerous users are trying to make connections simultaneously. So, here's how to switch to a different server. 
Launch ExpressVPN and click on the name of the last-used server on the VPN's home page. Alternatively, you can click on the icon representing three dots on the right side.
At this moment, ExpressVPN will show you its locations. Feel free to browse the available locations and then double-click on any server's name. Our recommendation is to try a server in a different country (compared to what you've previously tried). 
4. Check for a Conflict With Your Firewall, Antivirus or Anti-Spyware 
It's a known fact that security-oriented software can cause VPN connections to stop working. With that said, it wouldn't be a surprise to find that your firewall, antivirus, or anti-spyware is preventing ExpressVPN from making changes to your Web connection. 
Our recommendation is to temporarily disable your cybersecurity software, or even better – visit that application's software to make some changes. More precisely, you'll want to do the following. 
Open your cybersecurity software and inspect its options closely. There should be a toggle you can switch to disable it for a while. If the application offers real-time tracking, see to disable that option temporarily as well. 
Some cybersecurity applications allow you to change their security level (this dictates how strict they are in filtering Web data). In most cases, changing this level from 'High' to 'Medium' should get the job done. 
If it's possible to grant exceptions to individual applications or groups of applications, make sure to do so. Add ExpressVPN to the list of trusted software. And if you can do the same with ports, add ExpressVPN's UDP ports 1194-1204 as an exception rule. 
5. Try Switching to a Different VPN Protocol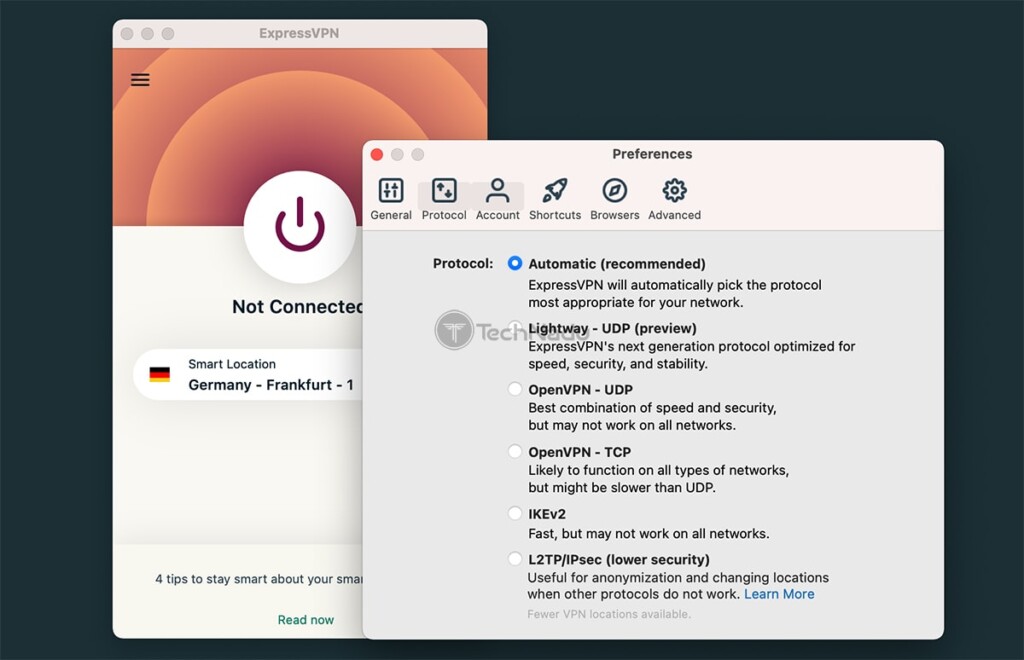 ExpressVPN is one of the most versatile VPN applications out there (and it even has its own VPN protocol). By default, the application turns to the OpenVPN protocol, which provides a nice balance between security and performance. However, there are other VPN protocols to explore, so you'll want to go through the following steps.
Launch ExpressVPN and click on the 'hamburger' button in the top-left corner. Then, make sure to click on 'Settings.'
You need to select the 'Protocol' tab, which will list a group of protocols available for your specific device and operating system. By default, ExpressVPN is set to use an 'automatic' protocol, but you can try between OpenVPN and Lightway.
Each time you change ExpressVPN's protocol, you'll want to try connecting to a new server. There's no need to restart the application or your device.
6. Try Changing ExpressVPN's DNS Settings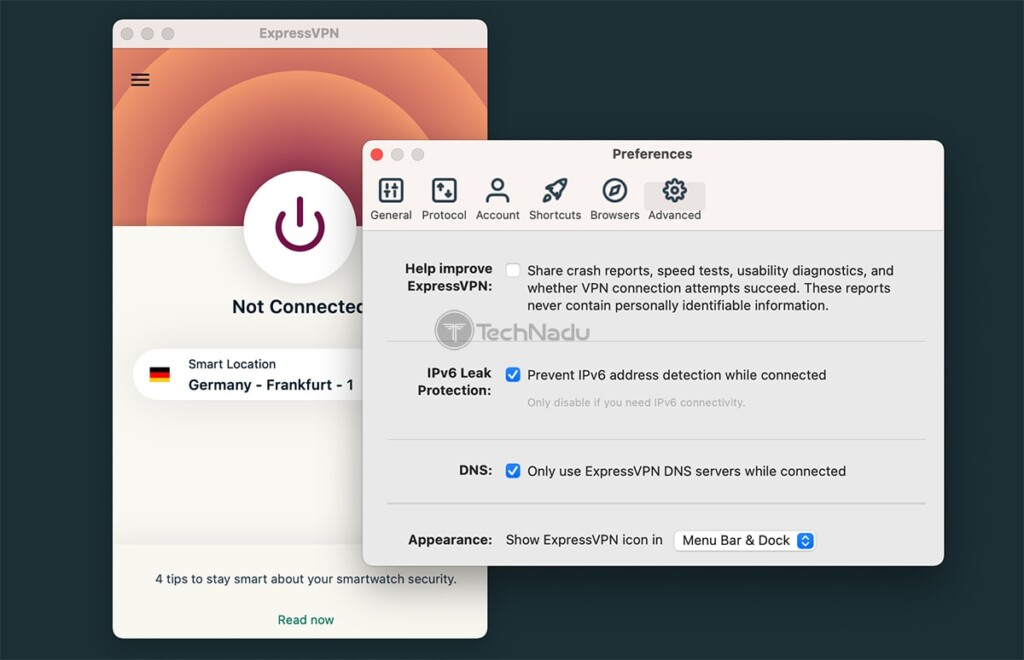 ExpressVPN allows you to use its DNS servers to route your Internet traffic. So, if there's a problem achieving a stable connection, you can readjust ExpressVPN to route your traffic differently. 
Launch ExpressVPN and click on the 'hamburger' button in the top-left corner. A dropdown menu will appear, using which you need to select 'Settings.' 
Then, select the 'Advanced' tab. Take a look below, and you'll find a segment labeled 'DNS.' Make sure to check the box next to 'Only Use ExpressVPN DNS Servers While Connected.' Even if you find this box already check, make sure to recheck it to restart his feature. 
7. Change Network Connections Properties (Windows Only)
If you're using a Windows PC, ExpressVPN recommends restoring your Internet connection by going to 'Network and Sharing Center.' If ExpressVPN won't connect after an update, this will force your computer to use its default parameters. Make sure to do the following. 
Navigate to Control Panel > Network and Internet > Network and Sharing Center > Change Adapter Settings (found in the left-placed sidebar). 
Make sure to find the network adapter that manages your currently active Internet connection. Then, right-click on it and pick 'Properties.' 
Select the 'Networking' tab and see if 'Internet Protocol Version 4' is selected. Then, double-click on that option (which could be labeled 'Internet Protocol' as well). 
You need to make sure that the 'Obtain DNS Server Address Automatically' field is selected. Press 'OK' to apply these changes. 
Feel free to do the same with any other Web connection you might have active on your Windows PC. Then, try reconnecting to ExpressVPN. 
8. Try Disabling Battery Saving Restrictions (Android Only)
If ExpressVPN won't connect after an update on your Android device, perhaps your phone's battery optimization limits could be affecting it. This is known to happen on Huawei and Samsung devices. You need to exclude ExpressVPN from any battery optimization measures using the following steps. 
First, make sure that ExpressVPN isn't active in the background. Then, open the Settings app. Depending on the version of Android you might be using, navigate to 'Apps' or 'Apps & Notifications.'
On most Android phones, you'll now need to go to Advanced > Special App Access. If you're on a Samsung phone, you need to tap the menu icon in the top-right corner. Your goal is to visit the 'Special Access' or 'Special App Access' menu. 
Then, tap on 'All Apps,' and you'll see a list of all currently installed app on your Android device. You need to select ExpressVPN. Then, select 'Don't Optimize' and tap on 'Done.' 
9. Submit a Diagnostic Information File to ExpressVPN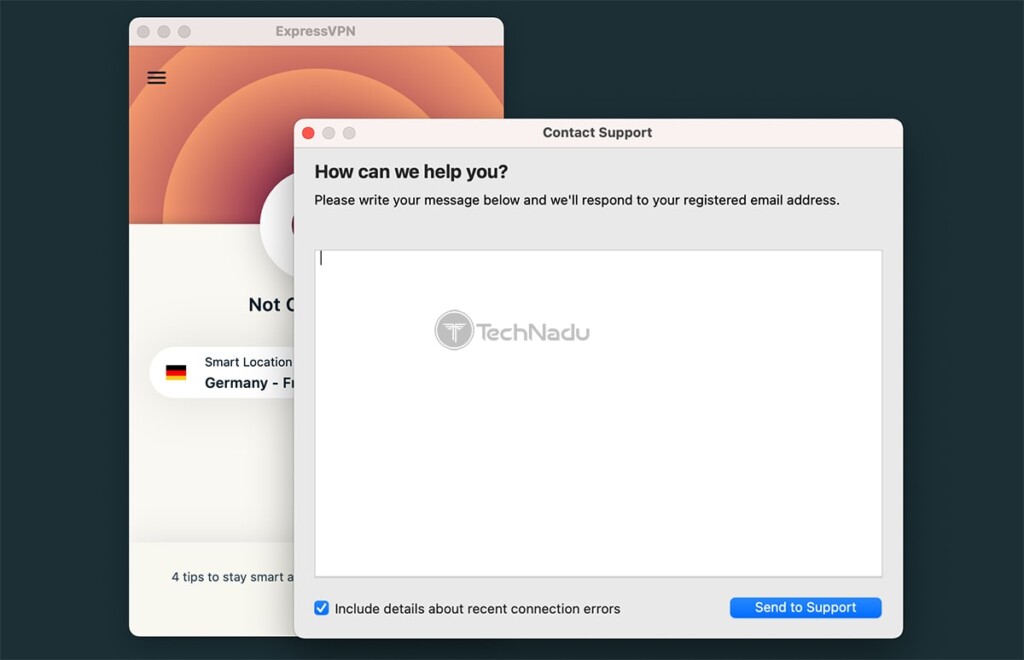 If nothing else helps, it's time to reach ExpressVPN's customer support. However, to eliminate any time-consuming steps, make sure to contact ExpressVPN with an already-prepared diagnostic information file. So, do the following. 
Launch ExpressVPN and then click on the 'hamburger' button (top-left corner). Make sure to then navigate to Help & Support > Diagnostic Information. 
Now, you need to click on 'Contact Support.' A textbox will appear, where you can explain the problem you're experiencing. Make sure to be very precise in explaining your situation. 
Before you send your message, tick the checkbox next to 'Include Details About Recent Connection Errors.' And then, tap on 'Send to Support.' That's it – all you have to do now is wait for a response via email (which should usually arrive within 48 hours). 
Tip
If you think that a recent ExpressVPN update isn't the cause of your issues, you can continue your search for a solution. So, to check what other options are there, you'll want to consult our central VPN troubleshooting guide.
With that said, we conclude our guide on what to do when ExpressVPN won't connect after an update. If you have any questions for us, make sure to post your comment below. And of course, thank you for reading!