TelevisaUnivision has recently launched ViX, a two-tier Spanish-language video streaming service. The free version is ad-supported, while the premium ViX+ is expected to launch sometime in the second half of 2022. Unfortunately, the service is unavailable worldwide, as ViX primarily caters to Spanish-speaking audiences. The best way to unblock it anywhere you are is by using a top-rated VPN for ViX.
Now, if you're located in an unsupported region and try to watch content on ViX without a VPN, you'll get this message instead: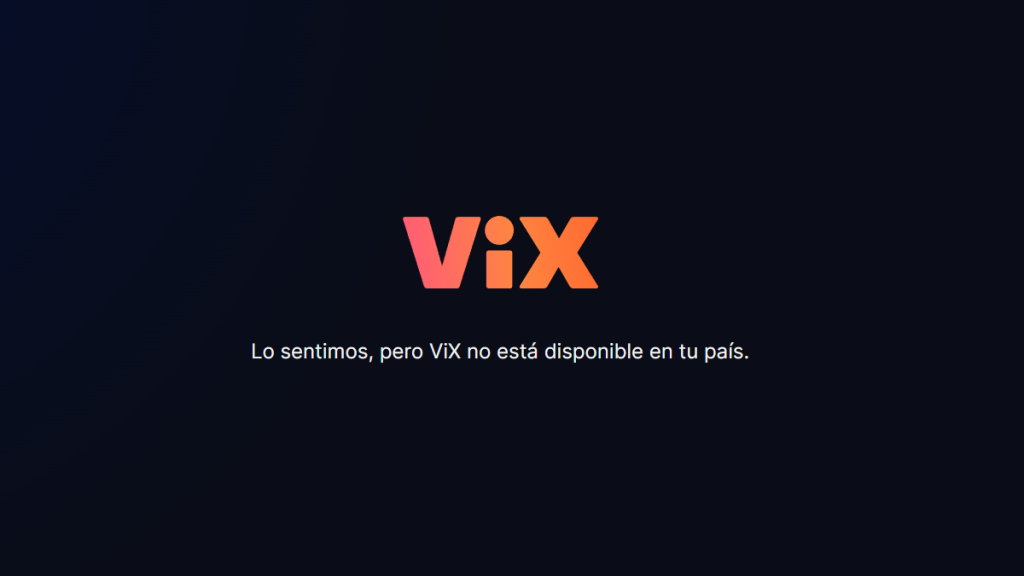 As you may have guessed, that translates as "We're sorry, but ViX is not available in your country." Sadly, ViX is only supported in the U.S., Mexico, Argentina, Bolivia, Chile, Colombia, Costa Rica, Dominican Republic, Ecuador, El Salvador, Guatemala, Honduras, Nicaragua, Panama, Paraguay, Peru, Uruguay, and Venezuela.
Thankfully, you can easily unblock ViX with a VPN and gain access to more than 50,000 hours of telenovelas, movies, live soccer from UEFA Champions and Liga MX and Noticias Univision 24/7.
Even better news, you don't need an account to access content on ViX, so you don't have to mess around with any virtual cards or local payment methods to watch your favorite shows. That is unless you want the 10,000+ hours of extra content that'll come with the premium Vix+ service in late 2022.
How to Watch ViX From Anywhere
It's quite easy to access the myriad of shows and movies on ViX, regardless of your geographical location. Here's what you need to do.
Sign up with one of our recommended ViX VPN options. We prefer ExpressVPN thanks to its easy-to-use apps and fast server network located in 94 different countries. You can try ExpressVPN's 30-day risk-free trial.
Download and install the provider's app on your streaming device(s).
Launch the VPN and type in your login details.
Connect to a VPN server in a country where ViX is available (full list highlighted above).
We recommend using a server that's closest to your actual location for the best performance. That way, your data doesn't need to travel as far to reach its destination. For example, if you want to watch ViX in Brazil, connecting to a server in Peru or Bolivia makes more sense than one in Mexico.
Best VPNs for ViX
After countless hours of testing out many streaming VPN providers, we believe the following are the 5 best VPNs for ViX.
1. ExpressVPN - Best All-round VPN for ViX
ExpressVPN has compatible apps for Windows, macOS, Linux, iOS, Android, and other platforms. This makes it easily accessible to ViX viewers no matter what device you like to stream on. You can even set up ExpressVPN on a VPN router to secure all your household devices and watch ViX on Apple TV, Amazon Fire TV, Roku, and other smart TVs - which don't support VPN functions by default.
The provider has over 3000+ lightning-fast servers worldwide (94 countries, to be specific). This includes ViX-supported regions like the U.S., Mexico, Uruguay, Argentina, Chile, Costa Rica, Bolivia, Peru, Panama, etc. In short, you won't have any trouble finding a fast local server to stream shows and sporting events on ViX.
Don't have the best network connection? Not to worry - with ExpressVPN's split tunneling feature, you can pick and choose which app or website traffic passes through the VPN tunnel. In this case, you can focus all VPN resources on ViX traffic and let your ISP deal with background apps, downloads, and other network activities.
Aside from ViX, ExpressVPN has no problem unblocking most other streaming sites on the market. Watch international Netflix, stream Hulu outside the US, and much more. Get in contact with their helpful 24/7 live chat support for any questions you may have - whether it's a technical issue or just a server recommendation.
Take a look at our full ExpressVPN review for more details about the provider.
2. NordVPN - Super Fast ViX VPN
When it comes to streaming content online, speed is pretty much essential. Thankfully, you won't need to worry about pesky buffering wheels on ViX with NordVPN. They've been rated #1 on the AV-Test speed tests in the past, and they haven't done too shabby during our tests either. You can check out our NordVPN review for the full specs if you're curious.
Their new and improved NordLynx protocol contributes quite a bit to their fast speeds. It's based around the speedy WireGuard protocol, which offers great performance without sacrificing security. And, of course, NordVPN comes equipped with its own split tunneling feature if you need further optimization.
The provider has 5,000+ powerful servers available in 60 countries, including the U.S., Mexico, Argentina, Costa Rica, and Chile, for when you need to watch ViX from abroad. They also support platforms like Netflix, Hulu, BBC iPlayer, and other streaming sites from around the globe.
You can find a partial list of compatible services in our review linked above.
3. CyberGhost - Best VPN with Streaming-Optimized Servers
CyberGhost VPN boasts a whopping 7,000+ servers in 90+ countries, including areas like the U.S., Mexico, Argentina, Panama, Costa Rica, Chile, Colombia, and Venezuela. It's great if you intend to watch ViX from abroad - and even better, considering they have servers specifically optimized for fast, buffer-free streaming.
Split tunneling is available if you need to squeeze that extra bit of performance while watching TelevisaUnivision shows or are having trouble with official UEFA streams. And if that's not enough, CyberGhost VPN comes with self-owned "NoSpy" servers that are faster and more private than the default options. Keep in mind that they come with a small extra fee, though.
As expected from any top-notch provider on our list, CyberGhost VPN also works with Netflix (US, DE, and FR), Hulu, BBC iPlayer, and even Crunchyroll. In fact, they have servers specifically tuned for the best performance on said platforms.
See what else they have in store in our in-depth CyberGhost VPN review.
4. Surfshark - Capable Streaming VPN for Unlimited Devices
Don't have a VPN router or don't want to bother with complicated setups? Luckily, you don't need to, as Surfshark lets you link an unlimited number of devices to a single account. Chip in with family and/or friends, and you got yourself a decent VPN to watch ViX and other geo-blocked content from anywhere in the world.
The provider has decently-performing servers in countries like Argentina, Bolivia, Chile, Colombia, Costa Rica, Ecuador, Mexico, Panama, Peru, Venezuela, and of course, the United States. You can choose from 65 different countries, and the VPN works with most major streaming sites (see our Surfshark review for details). Safe to say, you won't be starved for good content any time soon.
Speed-wise, Surfshark can't exactly top giants like ExpressVPN or NordVPN, but they're adequate for the overall value. And remember, there's always the split tunneling feature if you feel like you need a little extra push.
5. Ivacy - Best Value VPN for ViX on Windows & Android
Ivacy comes with possibly the lowest prices (especially on their long-term subs) while still maintaining an acceptable level of quality. You get all the industry-standard features expected of a top-notch VPN, although their split tunneling and kill switch features are unfortunately limited to Windows and Android devices.
Ivacy offers a generous ten-device limit, slightly more than the average (outside Surfshark). Streaming speeds are alright for the price, and if you want to watch telenovelas on ViX, you can choose from servers in the U.S., Mexico, Bolivia, Chile, Costa Rica, and Panama, among others.
Surprisingly, Ivacy works with quite a few different streaming platforms. Netflix, Hulu, Disney+, BBC iPlayer, Amazon Prime Video, you name it. Usually, smaller providers have trouble unblocking such services, but it seems Ivacy has found a way to navigate all their advanced filters.
As always, take a peek at our Ivacy review to find out more about the VPN.