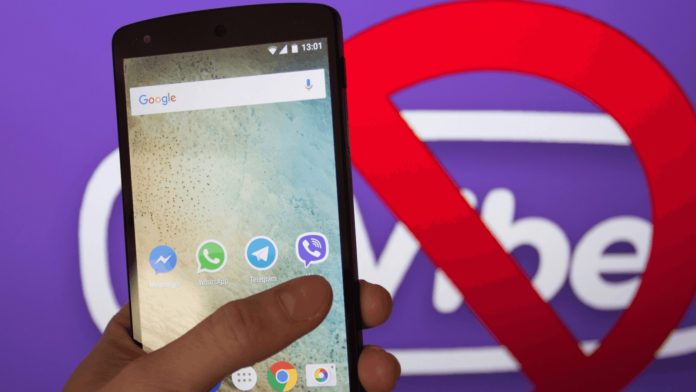 Viber has taken the world of VoIP services by storm, and there are many reasons why it's the number one communication app for iOS and Android. By offering free-of-charge messages and (audio/video) calls, plenty of interesting stickers, and even some attractive premium-priced features, Viber is one of the essential apps for many of us. However, this VoIP service isn't available everywhere, which is a restriction that can be fixed. Therefore, we'll talk about the best VPN for Viber in 2020, so keep on reading.
First of all, we'd like to say that we understand why you're reading this article. You want to unblock Viber in your country, and use this VoIP service without any limitations. However, keep in mind that there are different reasons why Viber is blocked in your country. Therefore, you don't only need a VPN that can unblock Viber. You need one that will grant you total online anonymity and leave no trace of your whereabouts – and we have plenty of solid recommendations for you.
The following VPNs are listed only after testing them in-depth and hands-on. Actually, we've spent plenty of time testing and reviewing more than 60 VPN services so far. We also check how they work with Viber, which is how we've composed the following list. Besides, all of these recommendations can keep you 100% safe online, they can unblock plenty of websites and media streaming services, and they come with some unique features as well. There's plenty to go through, so let's jump right in.
These are the 5 best VPN for Viber in 2020.
ExpressVPN is one of the speediest VPNs to unblock Viber and it has everything that you could possibly need. This VPN has more than 3,000 servers – all of which can be used to unblock Viber worldwide. And also, all of these are designed to respect your privacy.
ExpressVPN is a bit pricey (well worth the money, though) but it offers 24/7 customer support via live chat and it does not have quibbles. Needless to say, it comes with a host of innovative features designed to unblock the Web, hide everything you do online, and provide you access to the Web without any limitations.
You can use this VPN client via five simultaneous connections, and there are apps for pretty much any platform out there. ExpressVPN is full of outstanding features such as DNS leak protection, stealth mode, and comes with the kill switch. Here's our ExpressVPN review, where you can get more information.
Encryption & VPN Protocols: AES-256; OpenVPN, L2TP/IPSec, PPTP.
Viber Apps Supported: Unblocks Viber on iOS, Android, Windows, macOS & Linux.
Money-Back Guarantee: 30 days.
NordVPN is a highly popular VPN client having a whole series of advanced features, and it's definitely one of the best VPN for Viber. Users that are very conscious about their online security will love the functionality of this VPN. It comes with servers in more than 60 countries, and it doesn't collect your private data.
If NordVPN drops your secure connection for any reason, it will end the connection as it has a kill switch function. Of course, its list of privacy-related features just keeps on giving. These include double-hop servers, stealth mode, kill switch, VPN over Tor, DNS leak protection, and plenty more.
NordVPN is an incredible VPN having a reasonable price, especially if you invest in its long-term plans. It has become an attractive VPN service for users looking for online privacy and protection. For more information, read TechNadu's NordVPN review.
Encryption & VPN Protocols: AES-256; OpenVPN, IKEv2/IPSec, NordLynx.
Viber Apps Supported: Unblocks Viber on iOS, Android, Windows, macOS & Linux.
Money-Back Guarantee: 30 days.
Then, we have CyberGhost – which is one of the most popular VPNs at the moment. This one comes from Romania, it's been around for close to a decade now, and it has a reputation for protecting the privacy of its users.
Needless to say, CyberGhost VPN can easily unblock Viber – in addition to many other websites and online services. Even some pretty infamous streaming services are supported by CyberGhost, which offers specialized servers for those. Also, it comes with highly polished applications, so you can use it on all your devices.
When it comes to its privacy, CyberGhost VPN comes with a strict no-logs policy. It doesn't collect any of your data, which is imperative when using Viber. Your calls and texts will be invisible to anyone else online, and you'll get the highest level of commercially available encryption. To learn more, here's our CyberGhost VPN review.
Encryption & VPN Protocols: AES-256; OpenVPN, L2TP/IPSec, PPTP, IPSec.
Viber Apps Supported: Unblocks Viber on iOS, Android, Windows, macOS & Linux.
Money-Back Guarantee: 45 days.
Sometimes, using a freshly-released VPN is a better option than using a widely-known one. Surfshark took its time to closely inspect its competition, and it has come up with a solid set of features and highly polished applications. You'll soon see why this is one of the best VPN for Viber right now.
Plenty of interesting things could be said about this VPN. First of all, you get an unlimited number of simultaneous connections. Then, you can find a range of native applications, so you can use Surfshark on any device that's also compatible with Viber. And let's not forget that Surfshark comes with ultra-strong encryption and high-end protocols, so you can count on protecting you at all times.
In case you'd like to unblock some other websites and platforms, Surfshark can help you with that. This VPN is capable of unblocking Netflix, Hulu, and many other services – which is why we think it's one of the most versatile VPNs on the market. To learn more, don't forget to check our Surfshark review.
Encryption & VPN Protocols: AES-256; OpenVPN, IKv2.
Viber Apps Supported: Unblocks Viber on iOS, Android, Windows, macOS & Linux.
Money-Back Guarantee: 30 days.
TorGuard is a well-known VPN, especially in the world of more advanced users. That's because this VPN is offering numerous ways to customize your VPN connection, based on your needs and priorities. And also, it's equally powerful when it comes to encrypting your Web connection and unblocking services like Viber.
TorGuard provides plenty of simultaneous connections and it comes with native applications for all currently popular platforms. Depending on your needs, you can also invest in its specialized add-ons, as there are IP addresses for streaming different types of content and accessing different types of websites.
Its advanced security features provide a kill switch to make sure no data leaks when the connection drops. Furthermore, you can also use this VPN's ad blocker and malware blocker. If you want to know about this software, read our TorGuard review.
Encryption & VPN Protocols: AES-256, Blowfish; OpenVPN, PPTP, L2TP/IPSec, SSTP, IKEv2.
Viber Apps Supported: Unblocks Viber on iOS, Android, Windows, macOS & Linux.
Money-Back Guarantee: 7 days.
FAQ
Still not sure if a VPN is the right solution for you? Have any doubts about using VPNs with Viber? Let's help you reach the final decision by answering some commonly asked questions.
Where is Viber Blocked?
At the moment, Viber is blocked in China, Chad, Iran, Qatar, Saudi Arabia, Gambia, Morocco, Egypt, Oman, and the United Arab Emirates. Some of these countries have blocked Viber permanently, while others are blocking this VoIP service on occasion.
Can I Use Viber in China?
You can use Viber in China – but only if you have a powerful and reliable VPN. Without it, this VoIP service remains blocked in this country, which means that text messages and calls done via Viber won't work.
We recommend using ExpressVPN to unblock Viber in China, as this VPN has proved to be the most reliable option right now.
How to Use a VPN With Viber?
Before you do anything else, you need to get a VPN subscription, and then download and install the chosen VPN on your device. Once you connect to a remote server using the VPN's interface, you can continue using the Web normally. This means that you'll get to use Viber by installing and using its app on your computer or smartphone.
On What Devices Can I Use a Viber VPN?
At the moment, Viber offers applications for iOS (iPadOS), Android, Windows, macOS, and Linux. If you get a highly capable VPN application, such as ExpressVPN, you can unblock Viber on all of these devices – at the same time.
Is There a Free VPN for Viber?
Yes, there are some free VPNs out there. However, not a single one of those can unblock Viber. The only solution is to use a commercial VPN with a proven track record of unblocking Viber across the world – such as ExpressVPN.
As you know, there are numerous VPN services out there. However, we all have different preferences, so taking your time to research is always a good idea. With this said, we hope that you found our recommendations for the best VPN for Viber to be helpful.
In case you've made it this far, why not share this article online? And also, you can follow TechNadu via our Facebook and Twitter pages. Thank you!