Being a well-respected public-service TV station, ZDF is an indispensable source of news coming from Germany. Still, you probably know that ZDF offers more than "Heute" and similar news-focused programming, as it also offers both German and international TV shows and movies. The only problem is that ZDF comes geo-blocked, which is an issue if you're outside the country. So, let's show you how to watch ZDF outside Germany in 2021!
Where Is ZDF Available? 
ZDF is available in Germany, as well as across other German-speaking countries such as Austria, Switzerland, and Luxembourg.
However, when talking about ZDF's live stream, that feature doesn't extend beyond Germany's borders due to licensing rights. So, if you're currently abroad, your goal should be to unblock ZDF's online stream, which gives you access to both live and on-demand programming. 
How to Watch ZDF Outside Germany? 
Finally, here are the 6 steps to watch ZDF outside Germany in 2021: 
Step #1: Find the Best-Working VPN to Unblock ZDF
To unblock ZDF, you need a VPN that offers servers across Germany, unlimited bandwidth, and the ability to bypass ZDF's anti-VPN measures. To help you pick the best one, we've done a round of hands-on testing, and we conclude that ExpressVPN is your best option right now. 
3,000+ VPN servers in 160 VPN server locations in 94 countries, 5 Simultaneous connections, Fast and stable connection, No activity logs or connection logs, No bandwidth limits, Strong encryption, 24/7 live chat support, and 30-day money-back guarantee.
There are many reasons why ExpressVPN is one of the best VPNs overall in 2021 - it works great for streaming, torrenting, and online gaming. However, it also protects your digital privacy in the best way possible. 
Still, there's no need to hide the fact that a handful of other VPNs unblock ZDF as well. So, to expand your options and see what else is out there, turn to our guide on the best VPNs for streaming.  
Step #2: Get Your VPN Subscription
Before we let you proceed any further, know that you need an active VPN subscription. So, if still in doubt, go ahead and subscribe to ExpressVPN. Once you visit the VPN's website, click on 'Get ExpressVPN' and pick a subscription plan. Keep in mind that ExpressVPN's long-term plans come with steep discounts, so inspect your options wisely.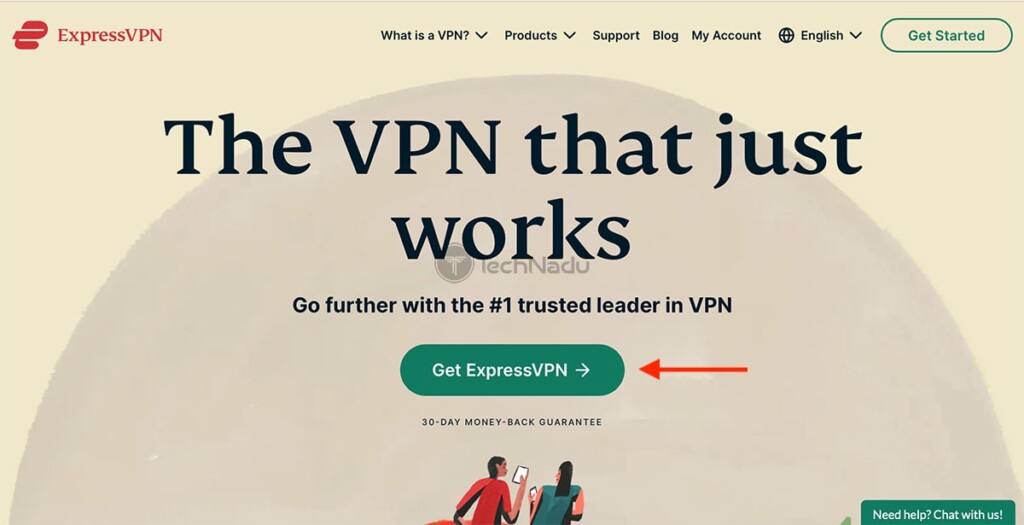 Then, provide your email address and pick a payment method. Once done, expect to receive a confirmation email from ExpressVPN, letting you know that your subscription is now active. That's when you can proceed to the next step.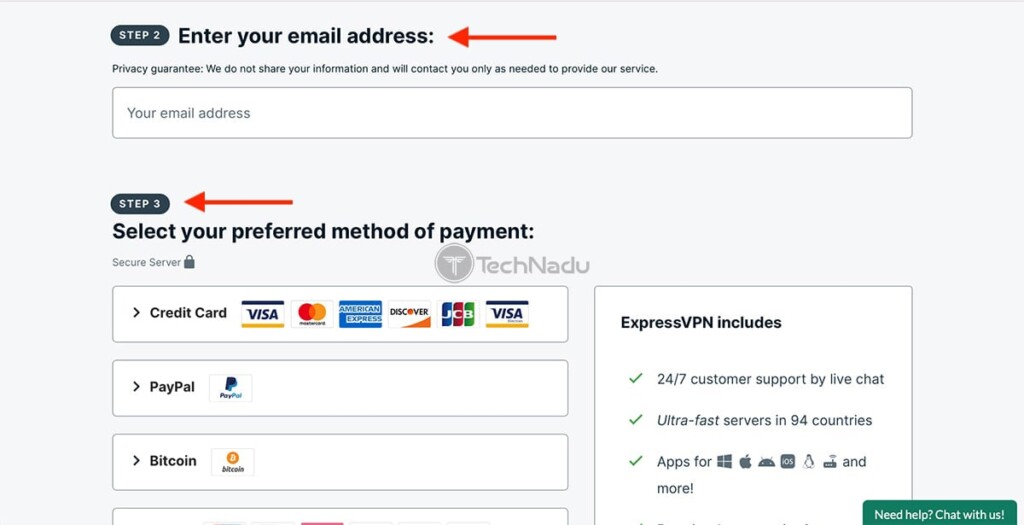 Step #3: Download & Install the VPN on Your Device(s)
To unblock and watch ZDF outside Germany, you need to install ExpressVPN on each device you'll use to access the streaming service. With that said, your next Web destination should be our guide on downloading and installing ExpressVPN – where you'll find detailed instructions for more than 60 devices.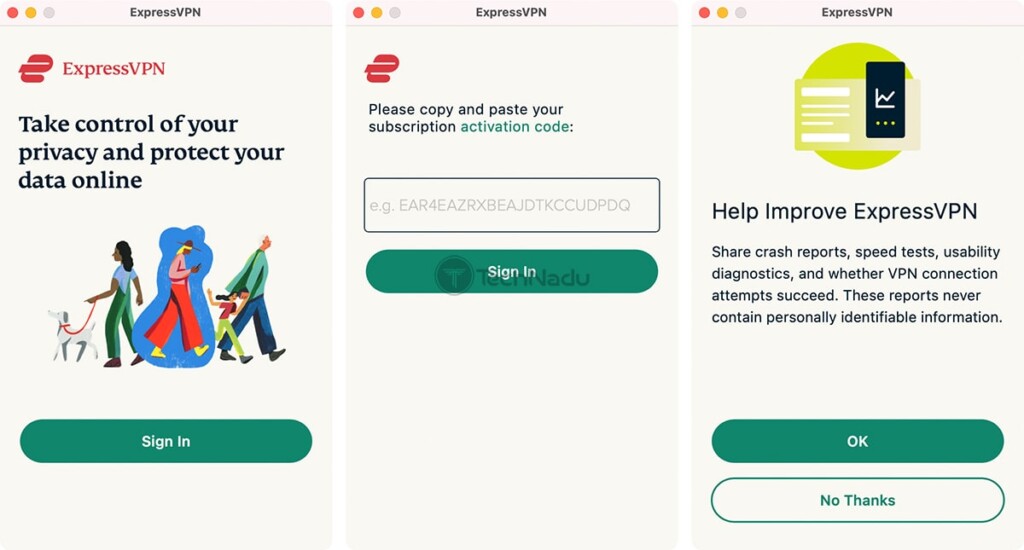 After you install the VPN, don't forget to run it for the first time. You will need to access your account by logging in. For that purpose, you could also use your ExpressVPN activation code. Then, follow the prompts you'll see on your screen until your reach the VPN's home screen.
Step #4: Connect to a VPN Server in Germany
You'll need to go through this step each time you wish to watch ZDF outside Germany. So, make sure that ExpressVPN is open. Then, click on the button below the ON/OFF switch on the VPN's home screen. A new window will launch, showing you a sizeable list of countries.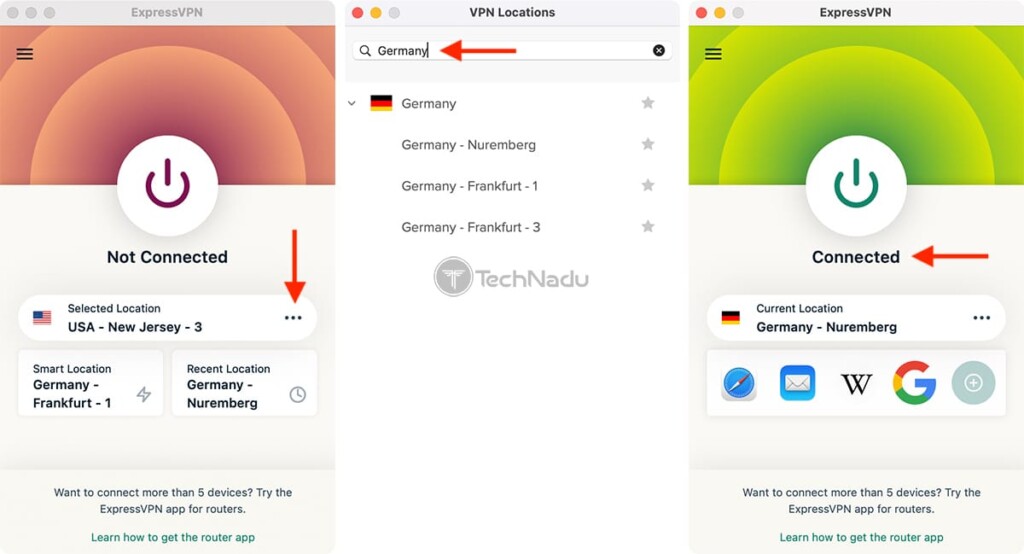 Use the top-placed search bar to look up 'Germany.' Feel free to double-click on the country's name, letting ExpressVPN pick the fastest server (based on your physical location). You can also expand the list of servers found in Germany and then choose any individual unit (by double-clicking on its name).
Wait a couple of seconds until ExpressVPN's home screen (its upper portion) turns green. Once that happens, your VPN session will become active, and your IP address will be replaced with one that comes from Germany. 
Step #5: Access & Unblock ZDF From Anywhere
You can now feel free to access ZDF's website (using any Web browser). In case you already have an account, select 'Mein ZDF' in the top-right corner. Proceed to input your credentials and access your library. However, know that ZDF's content is available even without registering an account.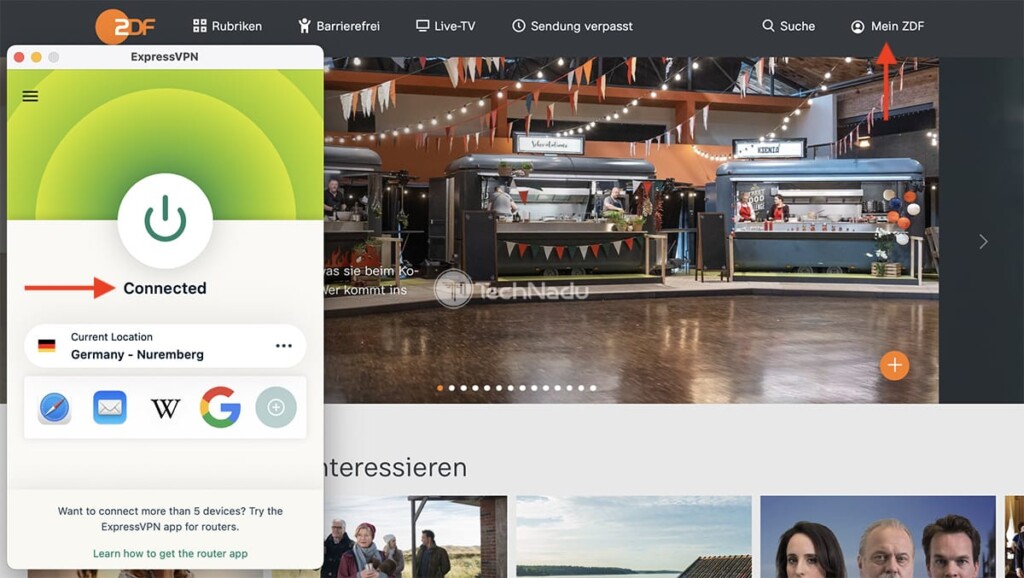 Then, use the top-placed menu to look up various types of content. That's where you'll find movies, TV shows, children-friendly programming, newscasts, and live TV. Lastly, know that all that content will be available as long as your VPN session is active in the background.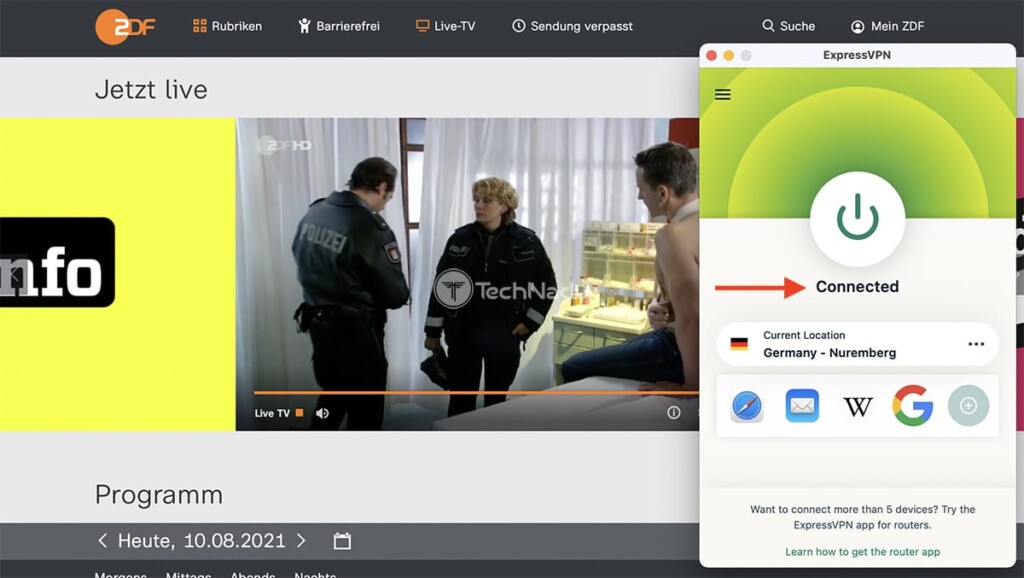 Step #6 (Optional): Get ZDF on Other Devices
You should also know that ZDF offers native apps for iOS, iPadOS, and Android (among other devices). The app's name is 'ZDFmediathek,' and it acts as a gateway to ZDF's website. So, you can expect both live TV channels and on-demand content. 
To access the app on your iPhone, iPad, or Android, make sure to visit Apple's App Store or Google's Play Store. The app should be available globally, so you won't have any issues getting it on your device, no matter where you might currently reside. 
Still, to access ZDFmediathek's content, you need to first connect to a VPN server in Germany. In other words, you need to have ExpressVPN installed on your smartphone or tablet. Once you connect, launch the app and enjoy streaming its content – even without having an account.
FAQ
What Is ZDF?
ZDF (Zweites Deutsches Fernsehen) is one of the providers of the German public broadcasting service, known for its newscasts, entertainment, and sports programming.  
What Can I Watch on ZDF?
On ZDF, you'll find a rich selection of news- and politics-focused TV shows such as Berlin Direkt, Inside PolitiX, Frontal, ZDFzoom, and more. 
When it comes to entrainment programming, you wouldn't want to miss Deadlines, The Mallorca Files, High Flyers, Loving Her, The Last Wave, and more. 
And lastly, ZDF has an extensive list of movies available on-demand. Some of the most popular ones are Bastille Day, Get Lucky, Kokon, Yves Saint Laurent, and Endzeit.
Can I Watch ZDF Live Online?
Is ZDF Free in Germany u0026amp; Worldwide?
Being one of the main German TV channels from the public service domain, ZDF comes free of charge, technically speaking – as there are no restrictions to accessing it. 
However, it should be noted that ZDF is funded by German citizens, who are required to pay a television license fee. Aside from that, ZDF is also supported by advertising revenue. 
Can a Free VPN Unblock ZDF Abroad?
Sadly, no. You won't find a free VPN that can unblock ZDF abroad. We recommend using a paid VPN instead, such as ExpressVPN. 
That would be all on how to watch ZDF outside Germany in 2021. If you have any questions for us, make sure to post your comment just below. And lastly, thank you for reading.