If you've been searching for a way to watch live TV online, you've probably encountered Mobdro at some point. This especially goes for those looking to watch UFC events live, as Mobdro promises to bring those free-of-charge. Sounds too good to be true, right? 
In the digital world, if you get something that's considered premium without actually paying anything, this raises a red flag. Since anti-piracy agencies are focused on their mission more than ever before, this should be a reason for concern. And also, that is most probably the reason you're reading this article.
Well, know that we're talking about a very peculiar application here, which might be considered illegal in many countries around the world. However, what exactly is legal and illegal about Mobdro, and whether you can use it to watch UFC and other high-profile events? Let's find out!
What Content Can You Stream via Mobdro?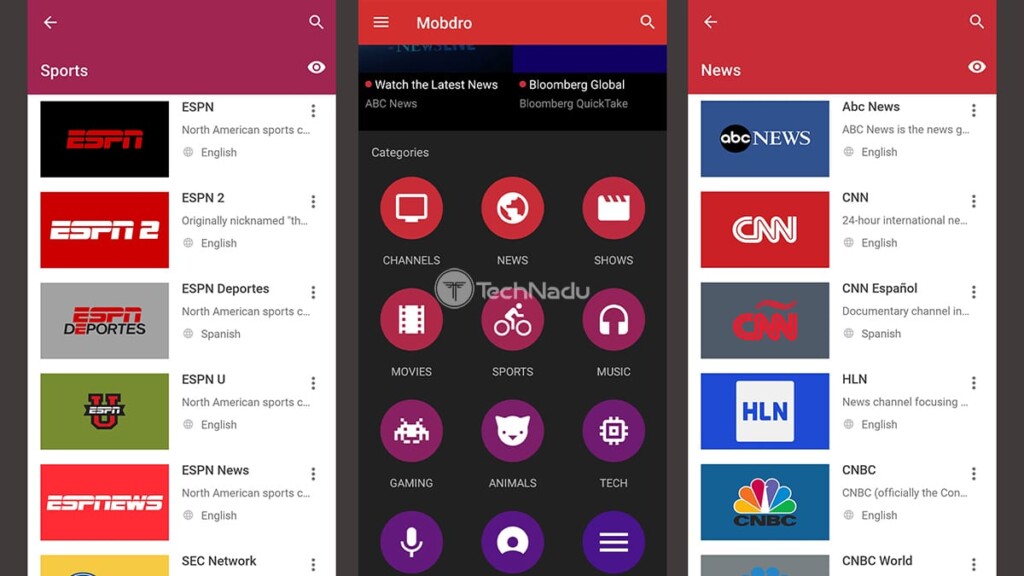 As per Mobdro's website, this application brings "free video streams for Android." In practice, this means that you'll get TV channels, movies, TV shows, individual video clips, podcasts, and more. 
All of the content mentioned above comes free-of-charge. And if you take a deeper look at those categories, you'll find a large number of premium TV channels. For example, the 'Sports' section lets you watch ESPN, ESPN 2, NFL TV, WWE TV, beIN Sport, and plenty more. 
In general, cable and OTT subscriptions charge extra for many of those channels. So, watching them over the Internet can quickly turn into an expensive endeavor. This is where Mobdro comes as a "solution," promising to serve you ads only.
As you can probably guess by now, there's something fishy about Mobdro. So, let's take a more in-depth look at this application – and see whether you should watch UFC on Mobdro.
Is Mobdro LEGAL to Use? 
For the most part, Mobdro isn't legal to use. Let's explain why. 
As said above, Mobdro acts as a repository of various types of video content. The application states that it "collects" those sources from all over the Web. However, we don't know the source of that content, which is what makes Mobdro a highly problematic solution to streaming UFC as well as any other premium-level type of content.
Good to Know: UFC Urges the US Congress to Incentivize Proactive Piracy Blocking
The truth is that there's no way to watch UFC online – without having to pay. This applies to TV channels specializing in UFC-related content, as well as any PPV event related to UFC. Since Mobdro offers those for free, we suspect this might be a classic case of digital piracy.  
Is Mobdro SAFE to Use?
No, Mobdro isn't safe to use – as it has already been associated with malware. 
There are several reasons why you should be extra careful regarding Mobdro. First of all, the application has a very interesting offer if you're looking for a way to get rid of its ads. Instead of paying with money, you'll pay with your device's resources for "sharing idle resources with Luminati to proxy traffic through your device." 
If that's not a reason for concern, we have some more bad news. In the past, Mobdro was accused of pushing Wi-Fi password-stealing malware. Even though the application's creators denied those allegations, it's not hard to imagine Mobdro acting as a gateway to malware.
Do We Recommend Installing Mobdro? 
No, we can't recommend installing and using Mobdro.
After all, Mobdro could easily lead to copyright infringement. As you know, this is punishable by law in many countries across the world. And even if you're not concerned about the consequences of piracy, malware is something you should take seriously. 
Instead of relying on illegal and piracy-focused applications, you'll find plenty of legal options to satisfy your UFC-related cravings. OTT services like UFC Fight Pass, ESPN Plus, and FuboTV are some of the best options right now.
How to Protect Yourself If You're Using (or Planning to Use) Mobdro? 
There is only one way to protect yourself in this specific case. And yes, we are talking about VPN services, which are the most effective way to safeguard your Web data.
Since Mobdro is designed for Android devices, know that plenty of your personal data is in danger when using this app. However, once you put all your incoming and outgoing Web data into a secure VPN tunnel, it prevents anyone from seeing what you do online.
Therefore, the primary role of VPNs is to grant you total online anonymity. However, by re-routing your Web traffic through their servers, they also come with added benefits. These include unblocking geo-restrictions, which is another reason to use a VPN with Mobdro. 
Lastly, know that in the case of Mobdro, you'll need the best VPN for Android (since this is an Android app). However, you'll also need a VPN for streaming. If you compare those two lists, you'll see that ExpressVPN comes out on top – and that's why we recommend using it.
So, that would be all on how to watch UFC on Mobdro. If you have any questions or doubts, make sure to post a comment below. And also, why spread the word about Mobdro by sharing this article online? Thanks!