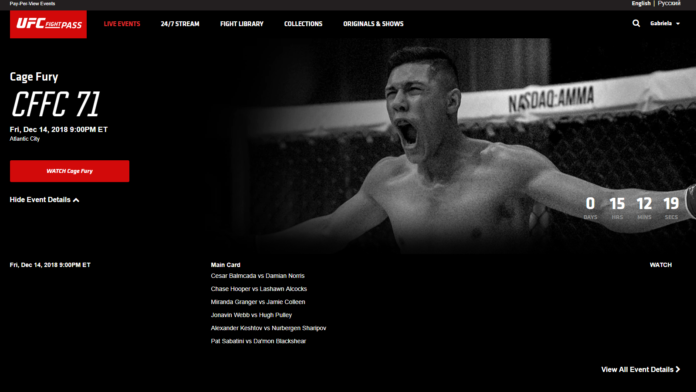 If you're a fan of MMA fights or the UFC in particular, then watching online a wealth of content should be something that appeals to you, so we decided to take a look into the main platform and review UFC Fight Pass for you.
The platform offers quite a bit of content and UFC.TV has two types of subscriptions you can get – one for pay-per-view fights, and one for more extensive content.
First, let's go over the service and see some of the basic information we have on it. You'll then be able to compare it with other sports streaming services.
Overview
Product Name
UFC Fight Pass
Supported Platforms
Amazon Fire TV, Apple TV, iOS, Android, Chromecast, Android TV, Xbox, LG Smart TVs, Roku, Samsung Smart TVs, Sony Smart TVs, Web
Availability
UFC Fight Pass is available worldwide
Unique Features
Access to live fights, fight archive going back to 1993, original content, stats, and more
Price
$9.99 per month, $8.99 per month (6 months contract), $7.99 per month (12 months contract)
Visit
UFC Fight Pass
Now that that's been covered, let's see what our overall opinion of the platform has been – a few pros and cons – before we dive into the "whys".
Final Verdict
Pros
Rich content, live fights, fighter info
Cons
Some fights are subject to blackout
Verdict
The platform provides a lot of content for a good price and die-hard fans will find lots of stuff to watch.
Score
8.4/10
Now, let's go ahead and dissect UFC Fight Pass and find out everything there is to know about it.
UFC Fight Pass Review: Find Out All You Need to Know
There are many things you should know about how UFC.TV works and operates. One of the things we should get out from the start is the fact that you can buy access to two types of content. The first is UFC Pay-Per-View. This will enable you to get access to exclusive Pay-Per-View fights that will not be viewable elsewhere. This costs $65 and only gets you access to that specific match. You can also choose to pay for the fight and to get 50% off for 6 months of UFC Fight Pass if you'd rather go with that special deal.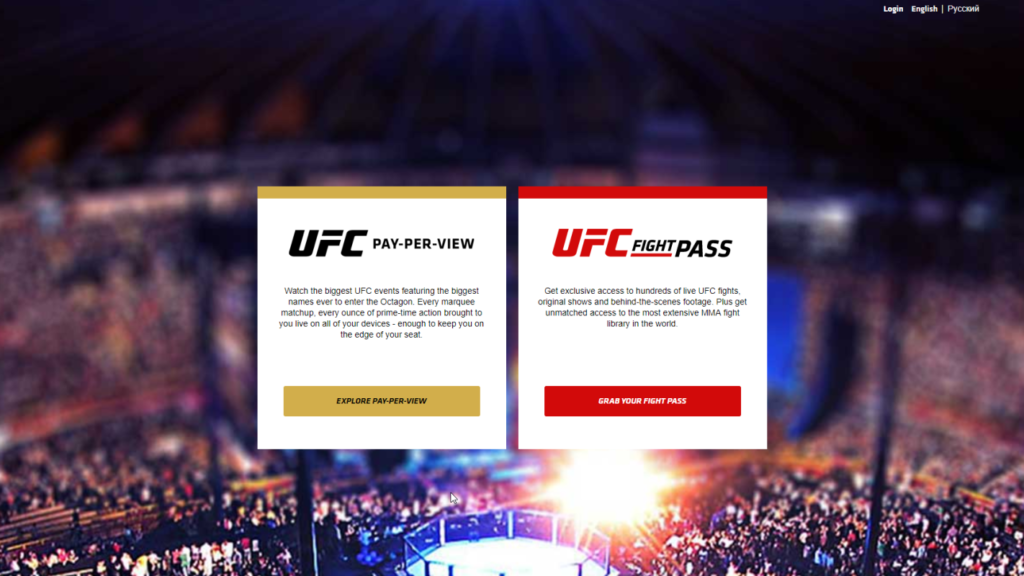 Then, there's the UFC Fight Pass which is the one we're actually going to discuss today because it's the platform that gives users access to live content, original shows, behind-the-scenes footage, info on fighters, and so on.
Platform Compatibility
If you have a device at home, it likely works with UFC's Fight Pass. Our Score: 8/10
According to the FAQ page, the UFC Fight Pass works on a wide range of devices. If we're to take a quick look at their list, we can agree with that assessment.
Amazon: Fire TV
Apple: Apple TV, iOS smartphones and tablets
Google: Android smartphones and tablets, Chromecast, Android TV
Game Consoles: Xbox
Connected devices: LG Smart TVs, Roku, Samsung Smart TVs, Sony Smart TVs,
Other: Web browser
As you can easily see, you're more than covered in the device department. Sure, it would be totally nice to also be able to watch via PlayStation, but it's not that big of a tragedy.
Sign Up to UFC Fight Pass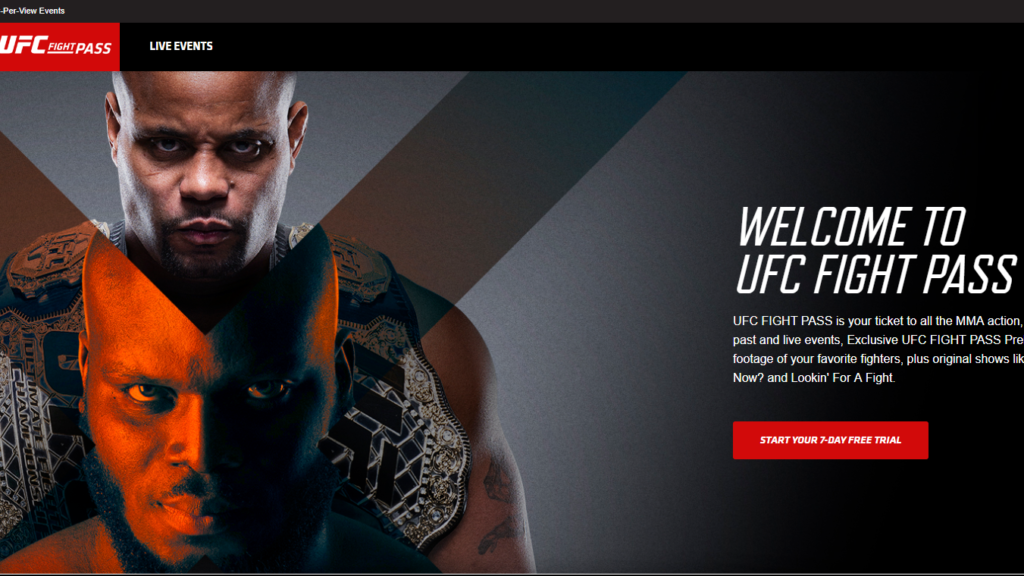 The sign-up process is quite easy to follow and shouldn't give users a headache. Our Score: 9/10
When signing up for a new Fight Pass account, you have to create an account. This can be done by providing your email address or by taking the social authentication highway, but we strongly suggest you take the first option. For security reasons, it's always best that each service you use has a unique password attached, even though Facebook sign up would certainly be faster.
You'll then have to give out your name, email address, date of birth before you move on to the next step.
You can then pick up a way to pay – whether by credit card or PayPal. You have a seven-day trial period, so you can always change your mind and cancel if the service is not right for you.
User Interface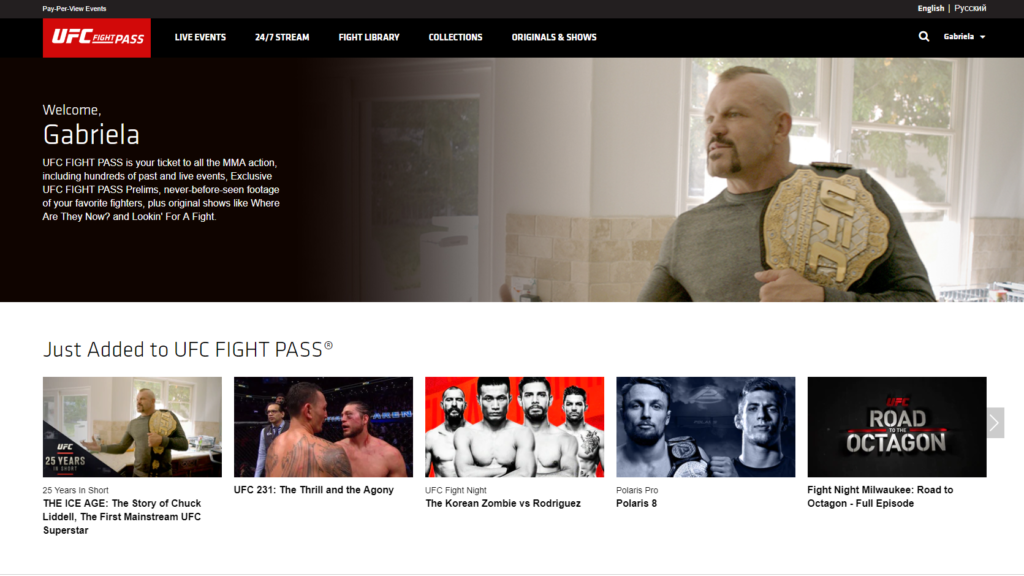 We found it easy to navigate the menus and to jump from one video to the next. Our Score: 9/10
Once you've set up your account you can go ahead and customize your experience. What does UFC Fight Pass understand by this? Well, it means you can go and start picking up fighters that you want to follow. They are all displayed by their PFP rankings. For us, we had Cormier, Khabib, Jon Jones, Dillashaw, and Holloway in the top five. Don't worry, McGregor was on the list too.
Then, you're asked to pick things you'd like to watch, like events, shows, documentaries, interviews, originals, or behind the scenes footage. The last step has you picking up your favorite type of fights – knockouts, submissions, title fights, or historical.
We found the interface to be pretty easy to figure out, with the top ribbon making it easy to jump from one area to the next. Even though we've noticed some people complaining about the menus not dropping down when you mouse over them, we can't say we've experienced that. So, they've either fixed it, or it was a localized issue.
Available Content
UFC Fight Pass has a wealth of content going back decades, so you can watch for hours on end. Our Score: 8/10
The page has a ribbon at the top that takes you to live events, 24/7 stream, fight library, collections, or originals & shows. The site uses flash, so you'll have to enable that in order to view any content. For the 24/7 Stream area, the player takes up the central area of the page, followed by the guide below.
The Fight Library has tens of thousands of videos going back to 1993. You can browse the MMA videos by an organization (they don't just have UFC in there), weight class, fighter name, year, fight type, and duration.
The Collection area holds various curated playlists of sorts where you can check out Freaky Fights, or best events.
In the Originals & Shows are you can enjoy the likes of "Where Are They Now?," "From the Ultimate Fighter to Ultimate Knockouts," and more.
What you should know about this platform is that you can only watch some live fights. That's because, depending on where you live, local TV networks may have the broadcasting rights, so they take precedence. Of course, a little VPN can solve this issue for you as you'll have to select a server in a country that's not under blackout. If you don't have such a tool already, we strongly recommend ExpressVPN.
Performance
The platform worked well for us, and we didn't have any issues while playing any videos. Our Score: 9/10
According to the platform, the Internet requirements to watch content are 750 kbps for UFC.TV content. The highest quality content, however, hits if you have at least 3 Mbps. That's really quite low and you should get such speeds even on your phone's data plans.
The videos streamed flawlessly while we tested it, and we didn't encounter any issues whatsoever with buffering or the like. Then again, our Internet speeds are way above average, so that might play a big role too.
Customer Support
The UFC team will help you out with any issues you may have. Our Score: 7/10
If you have any issues that need solving, you can always start out with the FAQ section. You'll find a lot of questions and detailed answers for them all, including technical requirements, free trial, pricing, and compatible devices. You'll even find details on how to cancel your account if that's what you want.
If that doesn't help, you can go ahead and contact them directly. You can submit inquiries over email. When we tried to access the contact form, however, we got hit with an error, which is quite inconvenient. The email option still stands, however.
Pricing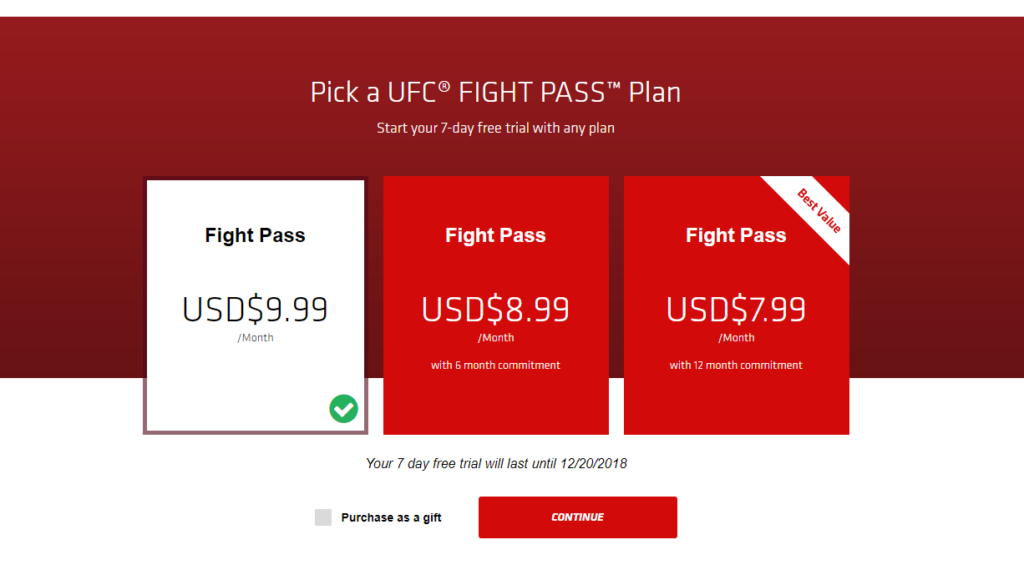 The price for your subscription depends on how much you're willing to pay at once. Our Score: 9/10
So, the first thing we need to discuss is that the price varies from one country to the next. The conversion rate is close to the US price, but it's not exact. We're going to focus on the US version only because that's the one they all report to.
So, as we mentioned above, the price differs based on how much you're willing to pay at once. For instance, if you want to pay once per month as you do most your utility bills, the UFC Fight Pass costs $9.99 per month.
Now, if you want to only pay twice a year, the price will go down to $8.99 per month. A single payment for the full year brings the price down even more, namely to $7.99 per month.
Regardless of which type of contract you choose to go with, you're getting a test period of seven days. If you don't want to keep the subscription after that, you can go into your account and cancel the payment before the trial ends. Just, make sure you remember the date or maybe set up a reminder in your calendar.
The Verdict
UFC Fight Pass is a pretty great resource for anyone who's in love with MMA sports. The fact that you can follow your favorite fighters is quite an important element, especially since you can go ahead and watch previous fights. If you like to bet on fights, this is also a great way to figure out who you should put your money on because you can watch their fights, their stats, and more.
For those who love going down memory lane, you can watch really old fights, going back to 1993. Sure, the video quality will be as great as you'd expect, but it's still something.
Overall, we found this platform to be well rounded. There's always room for improvements, but it's good as it is too.
PROS: Lots of content, including live streams and original shows
CONS: Some matches are under selective blackout due to local broadcasts
Our Score: 8.4/10
Final Thoughts
If you can't decide whether to subscribe for the UFC Fight Pass, simply go ahead and give it a try. After all, a week is more than enough time to see whether or not it's something you should sign up for or not. We hope we've been of some help, however, and that you found the information here useful.
We'd love to hear back from you, even if it's with more questions about the platform. You can let us know in the comments section below, and please share the article online if you have the time. Follow TechNadu on Facebook and Twitter for more tech news and reviews.