Numerous high-profile sports events have now turned to media streaming services, where you need to pay to watch those events. It means having access to a particular streaming platform and having a stable Internet connection as well. However, we all know that using Kodi on a large-screen TV is the best way to stream online content. So, the question is how to watch PPV on Kodi, and whether something like this is even possible. Don't worry, we have the answer, so keep on reading.
Watching PPV events on Kodi is a possibility. However, due to a limited number of addons, you won't have too many options (we've listed the best PPV Kodi addons below). Luckily, this situation has been improving in the last year, and we hope to see this trend continue in the future. And as you're about to see, using PPV addons on Kodi means subscribing to a sports streaming network. As a subscriber, you can download the official Kodi addon of your chosen sports streaming platform, and watch any type of content that your subscription includes.
Before we jump to our recommendations, we'd like to expand this topic a bit. This article brings you the best PPV Kodi addons that you'll find right now. All of those can be used to access different PPV events, either live or on-demand. However, we'd like to recommend checking the best live sports Kodi addons for your daily fix of sports. Also, check out the best live TV Kodi addons. These articles will most surely expand your tool arsenal.
Before we proceed further, we have a word of caution for you. Our strong advice is to make sure you're using Kodi safely and legally. With this said, we want you to read our In this article, we are talking about Kodi and this application's official and unofficial addons – all of which are based on open-source code. Addons for Kodi can come from the official source (you can install them via Kodi itself), or they can be hosted by third-party sources (such as GitHub, for example). In addition, Kodi and its addons are publicly available and free of charge.

TechNadu doesn't claim any responsibility for how our readers decide to utilize the following software. Please note that we don't condone sharing pirated content and copyright infringement. TechNadu is not affiliated with the software mentioned in this article in no way.

Make sure to carefully read everything said in this disclaimer and ensure the proper use of the software.
disclaimer as well as the following warning message.
WARNING: When Using Kodi, Make Sure to Always Use a VPN!
Without a VPN, you will be facing many obstacles when using Kodi. Aside from encountering blocked content, you're also putting your privacy at risk. With this said, here's why you MUST use a VPN while using Kodi:
Kodi Imposes Geo-Restrictions: Numerous Kodi addons are restricted to certain countries only. By checking your IP address, these addons can block access to their content, which means that you're missing out on a vast media library. A VPN resolves this problem by giving you a virtual IP address associated with a different country. For this purpose, we recommend getting a US IP or a UK IP address – as the majority of Kodi addons are restricted to these two countries.
Your ISP is Watching Your Every Move: Without a VPN, your ISP collects all your Web data. This includes your Web search history, any websites you visit, and any media streaming services you use. Kodi is a media streaming application, which means that many of you will face ISP-imposed throttling, as a result. By hiding your Web traffic via a VPN service, you can make sure that your ISP doesn't know what you're doing online – and enjoy the full speed of your Web connection.
You're Putting Your Device's Safety at Risk: Be very careful about which Kodi addons you install. Third-party sources can often lead to malware and cryptocurrency trojans, exploiting your private data and your device's resources. With this said, know that VPNs reduce the risk of you getting infected with malware by implementing website blacklists. They don't completely stop malware, but they can block access to malicious websites by using often-updated lists of dangerous websites (supplied by antivirus vendors). This is especially handy in the world of unofficial Kodi addons.
Once again, be very careful while using Kodi – and think about your privacy and digital security. A reliable VPN helps you secure and improve your Web connection, unblocks everything that Kodi offers, and takes care of your privacy. And per our extensive hands-on tests, we highly recommend you use ExpressVPN – the best VPN for Kodi at the moment.
LIMITED TIME OFFER: For our readers, we've prepared an exceptional deal. You can now save 49% on ExpressVPN – and get three additional months for free!
Finally, these are the 3 best PPV Kodi addons in 2020.
1. DAZN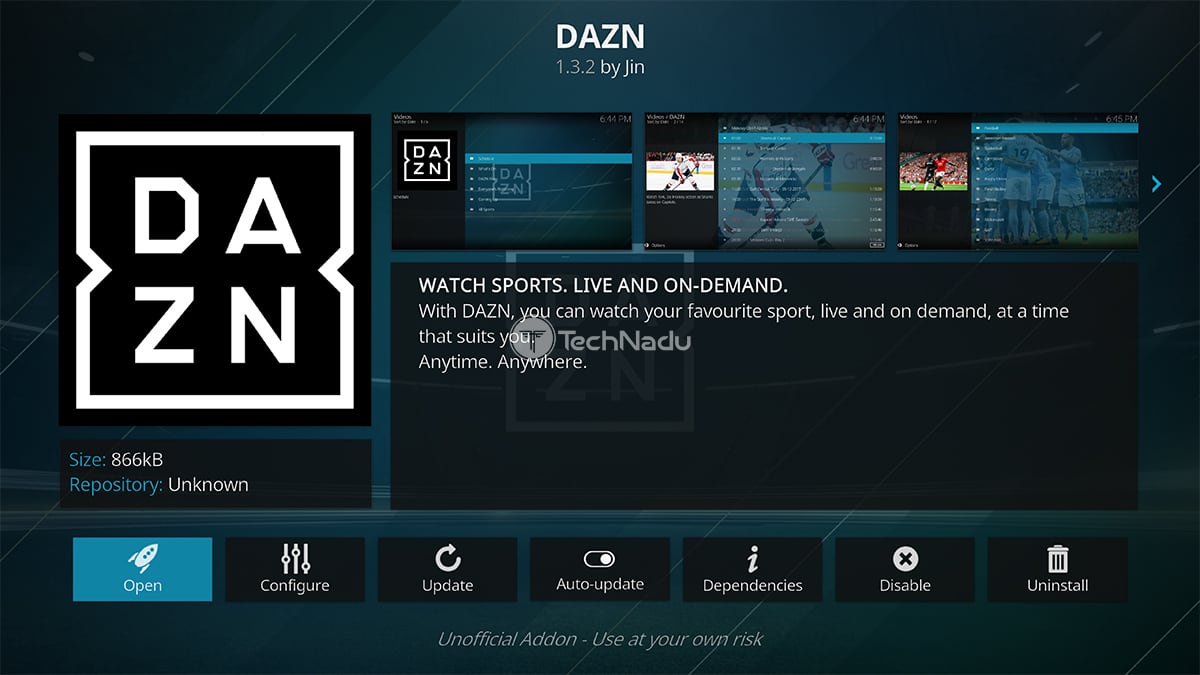 In case you have an active subscription to DAZN, you can use this service on your Kodi. You can do this by installing the official Kodi addon made by this sports streaming service. We're sure that there are many sports fans out there who use Kodi, and this is why we wanted to put DAZN as the first option on our list. And also, DAZN holds the exclusive broadcasting rights to numerous PPV events from all around the world (UFC events included), which is why we strongly recommend checking it out.
You also need to know that DAZN is available in the following countries: the United States, Austria, Germany, Spain, Switzerland, Japan, Brazil, and Canada. By using a VPN application alongside Kodi, you can watch DAZN from anywhere in the world.
2. Sportsnet Now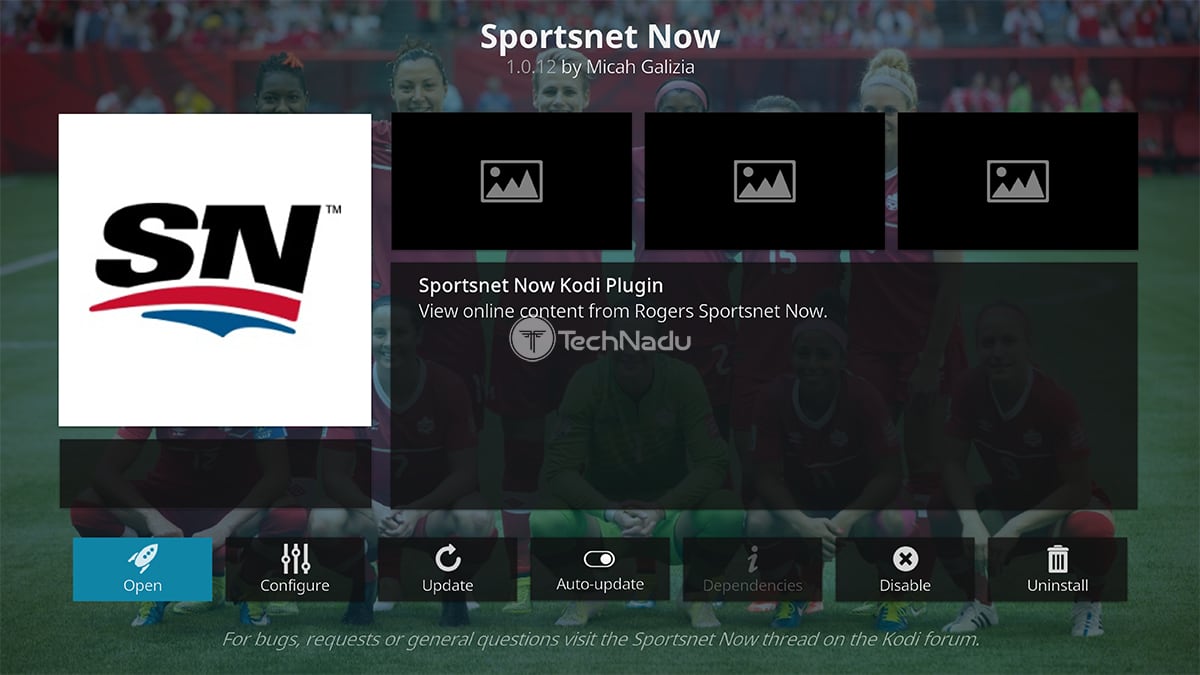 Next, we have an addon that comes from Canada, called Sportsnet. This is perhaps the most popular sports streaming service in this country, managing to acquire a bunch of exclusive broadcast rights. We're talking about the NHL, NBA, WWE, Bundesliga, NRL, IndyCar, and plenty more. As such, Sportsnet caters to a broad range of sports fans. And the best thing is – all of this content is available at a low-priced monthly subscription (starts at $9.99 per month).
As you can see, Sportsnet isn't a true PPV streaming service. However, due to the lack of actual PPV addons for Kodi, we believe that many of you are going to love everything about this addon. You probably know that streaming sports like football and hockey can be an expensive endeavor if you're not using a cable plan, so having an option like Sportsnet certainly helps. You get premium-quality content at a low price, so what's not to like here?
3. ESPN 3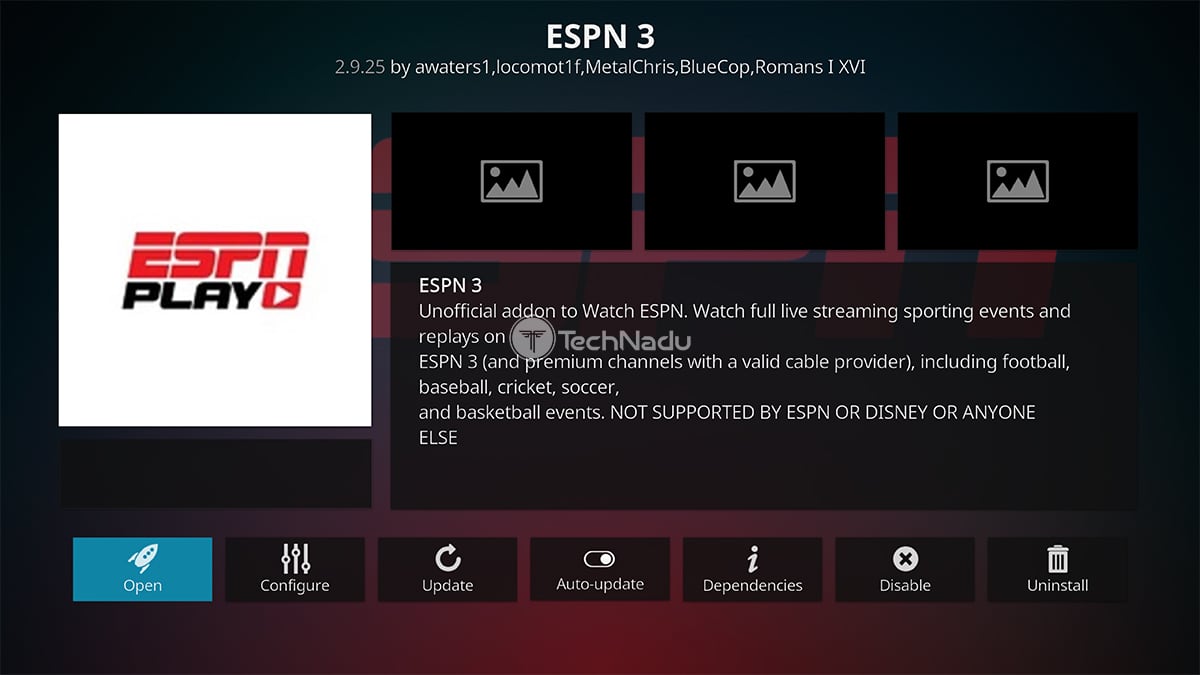 You've probably heard that UFC events are now exclusively offered by ESPN Plus. Sadly, this streaming platform isn't available on Kodi. This is why we've recommended DAZN as the best PPV Kodi addon. However, if you already have a cable plan that includes ESPN (or if you use a sports streaming service), ESPN 3 is the addon you should try.
Watching PPV events means having to pay to watch a single sports event. However, as soon as that event ends, it will find its place to numerous TV channels and sports streaming sites. So, if the event you want to watch is airing on ESPN, or if one of ESPN channels plans to air a rerun, ESPN 3 is here to help. You can watch live ESPN, ESPN2, ESPNU, ESPNews, ESPN Deportes, SEC, Longhorn, and SECPlus. There are also two free channels (ESPN3 and ACCExtra) that you can watch without a cable subscription.
Further Reading
While we have your attention, we'd like to offer a few resources that you'll find helpful. The following links will take you to our guides on using Kodi and finding the best addons. So, check them out.
Lastly, in case of any questions or doubts, know that we're here to help you. Feel free to post your comment below, and we'll make sure to respond as soon as possible. And of course, enjoy using Kodi!