Perhaps one of the most famous channels in the whole of Brazil, Globosat has been around for nearly three decades. Its online platform, called Globosat Play, is also quite great and complements the TV network perfectly, making it easy for fans to watch their favorite shows anytime they want. There's only one problem – if you travel outside of Brazil, you won't be able to access it anymore, unless you have a VPN. So, let's come up with a solution on how to watch Globosat Play outside of Brazil.
VPNs are important tools that can not only hide the location where you're browsing for, but also protect your identity online, as well as all your data. Let's see what VPNs work great with Globosat Play.
5 Best VPNs for Watching Globosat Play Anywhere!
We want to make sure you know what VPNs worth with Globosat Play, so we put together a short list of great tools that will open up the platform for you and more.
1. ExpressVPN
At the top of our list, we have ExpressVPN, one of the leading names in the industry, with numerous great reviews from professionals and users alike. The tool takes security quite seriously, providing not only tight encryption protocols but also some additional features.
A kill switch is one such tool that can immediately prevent your online activities from reaching back to your ISP if the server you're connected to fails for any reason. ExpressVPN also has a split tunneling feature that can only push some of your traffic through the VPN servers, while the rest goes through your regular ISP.
ExpressVPN comes with many dedicated apps, including for Windows, Mac, iOS, or Android, to name a few. We have a detailed review of ExpressVPN if you're looking to get all the details.
2. IPVanish
Next up on our list IPVanish, a great tool that's very easy to use. It uses 256-bit encryption protocols to secure your data and promises to keep no traffic logs on users, thus providing you with complete privacy.
There are over 1,000 servers to pick from at IPVanish, including 22 in Brazil. This should make it quite easy to find a way to watch your favorite shows while you're far away from home. There are dedicated apps for Windows, Mac, Android, iOS, and lots of others. Read our IPVanish review for all the details.
3. VyprVPN
Our next recommendation is VyprVPN, a tool that uses tough encryption protocols to protect your data. There are over 700 servers to pick from, spread through 60+ countries, Brazil included.
VyprVPN comes with special technology that makes it a perfect tool for those who are planning to stream a lot of content. The VPN works on Windows, Mac, Linux, and Android, as well as Smart TVs. We have a full review of VyprVPN so you can make an informed decision.
4. SaferVPN
Up next we have SaferVPN, a tool that uses military-grade encryption protocols to secure user data and connections. Furthermore, they also have a zero log policy set in place, so they're not holding onto any of your data.
SaferVPN has over 700 servers in 34 countries, including in Brazil, so you'll be able to not only watch Globosat Play content, but also many other platforms.
The VPN has numerous apps, including for Windows, Mac, Linux, Android, and iOS. Our SaferVPN review is ready for you whenever you feel like reading it.
5. NordVPN
Our last recommendation of the day is NordVPN, a tool that takes security seriously. The VPN uses 256-bit encryption protocols to secure your data, the same as the NSA. It also features some extra security tools, such as a double-VPN, which hides your identity behind multiple servers. Then, there's also the CyberSec feature, which lets you know when you're about to visit any dangerous websites.
Another thing that's impressive about NordVPN is its collection of over 4,800 servers in 60+ countries. The list includes about 10 servers located in Brazil.
NordVPN comes with apps for Windows, Mac, Linux, Android, and iOS. Our full NordVPN review is available so you can get all the details.
FAQ
To make sure you understand everything when it comes to accessing Globosat Play over VPNs, we'll answer some commonly asked questions. So, take a look.
What Can VPN Applications Do?
VPN stands for Virtual Private Network and it's a tool that can make it look as if you're connected to the Internet from a different location than you're actually in. It's also one of the perfect tools to use when you want to have complete online privacy.
A lot could be said about this type of software. First, we recommend you to read about the pros and cons of VPNs. Then, you can learn more by reading our VPN Buyer's Guide where we give further recommendations and answer some FAQs.
Do Free VPNs Work With Globosat Play?
We should also take the time to warn you against "free VPNs" because they're not exactly what they seem to be. One of the reasons why we don't trust these tools is because they're not really free – quite often they only come with a limited bandwidth so they'll ask you to pay once that limit is reached. A second reason is that they're not exactly the most private tools, often holding on to user traffic logs.
Why Go to All This Trouble for Globosat Play?
Globosat Play is the online platform associated with Globosat, the Brazilian TV channel, and it's the home of countless shows that are currently being broadcast on TV. You'll be able to watch the latest episodes, but it depends on the licensing deals they have going on.
One thing that should be pointed out is that you'll need to login to watch the content, and for this, you'll need to have local TV provider credentials. So, if you're planning on going anywhere out of the country anytime soon, you better remember to get those details with you.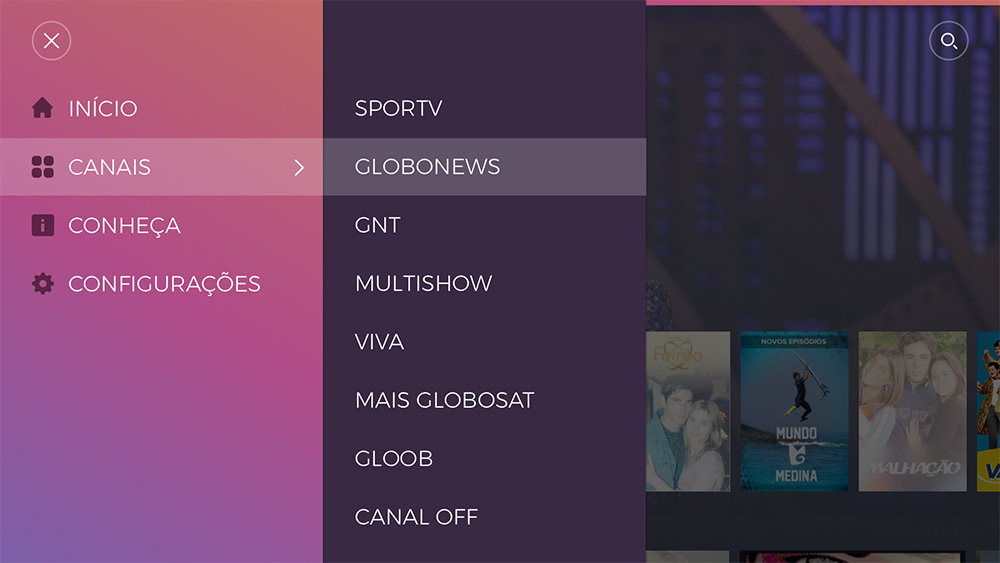 Globosat Play is home to so much content you might enjoy, from the news to shows, to sports – everything from all of its many divisions.
You can check out local shows like Chaves or Chapolin, as well as international hits like Lucifer, Broadchurch, or Liar, to name a few. There are also movies like the Transporter, When in Rome, Flightplan, or Sicario. Local TV shows, news, and more are also available.
Where is Globosat Play Available?
Unfortunately, much like any other platform that's tied to a local TV network, the online platform can only be accessed from within Brazil. This means that you're going to need a VPN that makes it look as if you're somewhere in Brazil to get over the blockade.
On What Devices Can You Access Globosat Play?
The folks that take care of Globosat Play are pretty up-to-date with what's cool and what's not, so they've arranged apps for quite a few platforms. First, there are the usual Android and iOS apps. Then, there are the apps for Smart TVs from several brands – Samsung, Philips, LG, Panasonic, and Sony.
You can have as many connected devices to your account as you want, but you will only be able to play content simultaneously on two of them. To learn more about how this service works, take a look at its official website.
Thanks for reading our guide, we hope you found it useful and that you'll be able to keep up with your Globosat Play content wherever you may go.
Let us know what you think in the comments section below, and please share the article online so others can find it too. You can check us out on Facebook or Twitter.