Upon taking a quick glance at VPN.AC's website, you'll see numerous assurances of this VPN's dedication toward preserving your privacy. Unlike many other VPN services (such as TigerVPN, Goose VPN, and TunnelBear), this one doesn't come with a mascot and comedic undertones. Instead, there's nothing funny about this VPN service – as it promises ultra-secure Web connections powered by high-end VPN technology. So, are all those claims and marketing messages true? Is VPN.AC worth your money? Let's find out! Welcome to our in-depth and hands-on VPN.AC review!
We will kick things off slowly, by introducing you to this VPN service first. For this purpose, we've prepared a series of handy tables, containing some of the most important highlights of this review. So, let's get started.
Media streaming is possible with some VPNs, and many of those also unblock new types of streaming platforms. We checked whether VPN.AC can unblock the world's most popular websites of this kind, and here are the results.
And finally, let's check the most prominent highlights of using VPN.AC. The following table shows you the biggest pros and cons of this VPN.
So, this is where we end our introductory segment. Now, it's time to take a deep dive into various aspects of this VPN service. Make sure to stick with us until the end of our VPN.AC review to learn all there's to know about this VPN.
VPN.AC – TechNadu's Hands-On Review
To compare different VPN services in an objective manner, we have a set of criteria that applies to all our VPN review articles. To learn more about these, you should check our article on how we review VPNs.
Background, Jurisdiction & Reputation
VPN.AC comes from Romania, which is seen as a VPN-friendly country. In addition, there are no reports of previous data leaks or unauthorized data logging. Our Score: 9/10.
First thing first – it's important to know about the origins of your chosen VPN. That's because some countries can be more restrictive than others – and some might come with mandatory data retention laws. This is why top-rated VPNs usually come from 'exotic' countries with user-friendly policies and laws.
Jurisdiction & Applicable Laws
The company behind VPN.AC is called Netsec Interactive Solutions, and it's based in Romania. Founded in 2009, this is a cyber-security company specializing in penetration testing, secure storage devices, and online privacy & security. Their VPN solution appeared on the market in 2012, so this isn't exactly a brand-new VPN service. As you can expect, this is a good thing as you can check the history and reputation of VPN.AC, giving you peace of mind when getting one of its long-term subscriptions.
When it comes to Romania, this country is generally seen as a favorable 'destination' in terms of VPN businesses. It's part of the European Union, which means that it shares privacy-protecting laws with other European countries. However, it's interesting to note that Romania has refused to implement the EU's Data Retention Directive, with the country's Constitutional Court declaring this set of laws to be a violation of Romanian's right to privacy. Also, Romania isn't a member country of the 14-Eyes Alliance, which is a group of countries with strong mass-surveillance practices. With this said, it's no wonder that other highly popular VPNs come from this country, such as CyberGhost VPN and ibVPN.
Previous Data Leaks
We are happy to report that VPN.AC was never associated with any data breach or unauthorized data logging. As said earlier, this VPN has been on the market for 7 years now, which is plenty of time to show its strengths and weaknesses. With this said, we conclude that VPN.AC is worthy of your trust as it most likely employs tough security protocols that protect their users.
Of course, we would have liked to see an independent audit of this VPN service, which is something that many VPNs have done in the last year or so (like NordVPN and ExpressVPN, for example). An independent audit would seal this VPN's reputation for being a trustworthy solution.
Supported Platforms & Devices
You can install and use this VPN on a wide range of devices and platforms. Web browsers and VPN-compatible routers are also on offer. Our Score: 9.5/10.
The following table shows you which platforms are supported natively by VPN.AC. Check it out, and then read the rest of this segment to learn other specifics.
VPN.AC supports pretty much any popular platform out there – via native applications. And it also offers you a way to protect your entire household at once, by installing this VPN on a router. Of course, not any router will do the job, and we recommend checking out the best VPN routers right now. In addition, you might want to learn more about DD-WRT firmware and the best DD-WRT routers.
It's also important to mention that you'll find extensions for three types of Web browsers, in case you don't want to use a standalone VPN application. However, please note that Web browser extensions can't give you the same level of security as standalone VPN applications can – but they can be very useful in terms of website unblocking.
Finally, it's worth mentioning that VPN.AC can be used on up to 6 devices at the same time, using a single subscription. This seems generous enough, especially after knowing that you can install it on a router as well (which always count as 1 device).
Installation & Initial Configuration
VPN.AC comes with a simple and user-friendly installation process. It takes no more than a few minutes to start using this VPN service. Our Score: 10/10.
Before you get to use this VPN, you first need to subscribe to VPN.AC. As you can imagine, this means going through the sign-up procedure, where you'll need to use your email account and create your password (and tell from which country you come from). Once done with the payment, you'll receive your user credentials via your inbox. This means that you can now proceed to log-in to your account on the official VPN.AC website.
Once you get access to your dashboard, download the required VPN clients from the 'Quick Links' section, under the 'Home' tab. In addition, you can check out helpful documentation related to the installation of this VPN, fixing different types of technical problems, and more. When you download the installation file, double-click to install it. You'll see a typical installation wizard (on Windows), without any distractions or bundled offers.
We have to say that VPN.AC has done a great job of offering simple installation across all of its supported platforms. Even the most complicated methods of installations (like those related to VPN routers) are nicely explained via helpful tutorials.
Prominent Features
VPN.AC covers the basics well, and it has some high-end features. However, advanced users can find more capable options with fine-tuning available as well. Our Score: 8/10.
In this segment, we'll check what kinds of features this VPN brings. In other words, we'll check how much value VPN.AC brings for its price, as well as if there's anything unique about its offer.
We can see that VPN.AC covers the basics in a nice way. To prevent any leaks, this VPN employs both DNS and IPv4 leak protection. And even though IPv6 traffic isn't filtered by default, you can disable this protocol on your device to stop any leaks. Then, there's a built-in kill-switch, which prevents any Web data from leaking unless you have an active VPN session.
What's important to be mentioned about VPN.AC is that it owns its entire infrastructure. This means that you'll find self-hosted DNS services with private DNS resolvers. There's no logging of your online activity, so the privacy aspect is covered well. And also, you get to use double-hop connections.
Finally, let's see what's missing here. You won't find any highly advanced features, like split-tunneling, for example. Also, this VPN can't block ads and it doesn't come with a built-in anti-malware tool. All in all, VPN.AC does seem like a capable VPN service, which brings just enough to make average users happy. However, if you're an advanced user who wants granular control over their Web connection, you should be able to find a more powerful VPN solution that'll meet your needs in a more comprehensive way.
Server Count
With over 120 servers on offer spread across 26 countries, VPN.AC won't impress anyone. It offers one of the smallest server networks we've seen yet. Our Score: 3/10.
When it comes to VPNs and their server networks, the competition is quite rough out there. Right now, some of the VPNs with the highest server count have from 3,000 to 5,000 servers. So, let's see how VPN.AC ranks in this aspect.
Unfortunately, we can't say that VPN.AC will blow you away by the number of its servers. Even though average home users should be happy with this VPN's 120+ servers, you can easily find better options without having to pay more. As said earlier, VPNs such as ExpressVPN, NordVPN, and Private Internet Access bring thousands of servers each, where their server coverage extends from 30+ to 90+ countries (and from 3,000 to 5,200+ servers each). On the bright side, this VPN allows you to pick specific locations (cities), which is useful for unblocking region-specific websites. And also, unlimited server switching is included in the price.
Ease of Use
VPN.AC comes with a nicely designed UI – even though it gets bloated at times. There are also occasional (and minor) UI glitches that can be somewhat annoying. Our Score: 6/10.
The home screen of VPN.AC is focused on listing the available servers and allowing you to easily secure your Web connection. You'll see a dropdown menu titled 'Location', which is where you'll see the list of servers. These are categorized by their geographic region, and there's no way to search for a specific server or to make certain pick your favorite. Instead, VPN.AC only remembers your last pick. At the top, you'll see a prominent ON/OFF switch, which secures your Web connection and then disconnects you from the chosen server.
At the top of this VPN's window, you'll see a series of icons. These allow you to dive deeper into what this VPN offers, and to make different kinds of adjustments. So, let's see what each of those tabs can do:
Connect: This is the home screen of VPN.AC – the one we explained in the previous paragraph. It lets you pick a server, connect to it, and see some real-time stats like your current location (physical and virtual) and your IP address.
Preferences: Unlike other VPNs, this one requires you to enter your username and password via a separate tab, called 'Preferences'. If you miss doing this, you'll be reminded after you try to connect to a secure server. Also, this is where you can choose how the application behaves, and you can switch between a dark and light theme.
Advanced: Now, here is something that you're going to love. The 'Advanced' tab lets you change between different VPN protocols and ports, and you can make all kinds of other changes. For example, make sure to enable the kill-switch and block IPv6 traffic.
News: This is where you'll find blog posts written by VPN.AC's team. You'll see the headings only, with links opening a new page in your Web browser.
Help: This tab gives you a series of helpful links, all of which lead to the official VPN.AC website. You get to check out various tutorials, instructions for users in China, this VPN's roadmap, and you'll find links to creating a support ticket.
All in all, VPN.AC is easy to use. However, it can be slow to load at times and there are occasional UI glitches (some of which can be resolved by disabling an alternative graphics rendering engine – via the 'Advanced' tab). Even though this VPN's UI is fully usable, we do believe that many VPNs come with a cleaner and more responsive UI that works great across various display sizes and resolutions.
Media Streaming & Torrenting Support
VPN.AC is a mixed bag in terms of media streaming. Even though it can unblock popular streaming platforms, your mileage might vary. Our Score: 6.5/10.
And now, let's see what kinds of streaming platforms can be unblocked via VPN.AC. We've tried using the world's most popular streaming services while having an active VPN session, and here are the results.
As you can see from the table above, the situation surrounding the VPN.AC is somewhat complicated. We've tested this VPN via all of its protocols and servers – and none of those managed to unblock Hulu. However, we managed to unblock Netflix after trying a bunch of servers, only to find one capable of unblocking this media streaming platform.
In case you're a fan of BBC iPlayer, you'll be happy to know that this VPN supports this media streaming service. The same can be said for Amazon Prime Video – even though we faced some serious performance issues. Despite the fact that we have a really fast Web connection, we never managed to stream any of Amazon's content in HD.
Lastly, you'll be happy to know that VPN.AC brings a series of server optimized for P2P traffic. These are mostly located around Europe, so users from this continent should enjoy the best possible Web connection speeds.
Security & Privacy
VPN.AC comes with high-end VPN protocols and incredibly strong encryption. However, we don't like the fact that it collects some data, nonetheless. Our Score: 8/10.
Let's not forget about the primary role of any VPN. These services are created to safeguard your privacy and encrypt your data. So, here's what you need to know about VPN.AC.
Supported Encryption Protocols
When it comes to encryption, VPN.AC uses high-end technology. You can count on up to AES-GCM 256-bit encryption with Elliptic Curve and/or 4,096-bit RSA authentication. In simple terms, your data should be perfectly safe even if someone manages to steal it (which is highly unlikely to happen). Then, you can count on VPN protocols such as OpenVPN, L2TP/IPsec, PPTP, and WireGuard. Once you install the application, you'll get to use the OpenVPN protocol by default, which is considered to be one of the safest right now.
Logging Policy
On the official VPN.AC website, you'll see plenty of messages saying that your personal data is never logged. However, as this VPN's privacy policy reveals, some data is still collected. This comes down to three types of information, including your email address, payment information, and your IP address.
Your email information and payment information are needed to sign-up and then use this VPN service. However, plenty of data is being collected in the background as you start using VPN.AC. This includes your IP address, start and end time of VPN connections, and the total amount of data transferred. However, your online activity is never tracked – so this VPN doesn't know what you do online. In other words, it can identify whether you use this VPN service and how much data you've transferred – but it doesn't know what kinds of files you download.
DNS Leak Test
As you can see from the image above, VPN.AC comes free of any DNS leaks. This means that your private information is properly safeguarded, and third-parties will only see your virtual information instead. This includes your virtual ISP, IP address, and more.
Speed & Performance
VPN.AC brings reliable performance without much throttling. We were slowed down by 19.8% on average, while our upload speed increased. Our Score: 8.5/10.
You probably know about the pros and cons of using VPNs. Well, one of the downsides is that some throttling can happen, slowing down your Web connection. So, to tell you what kind of performance to expect, we've done a series of speed tests.
We began by checking the baseline speed of our Web connection, without having this VPN enabled. As you can see from the screenshot above, we managed to get 147.32 Mbps for downloads and 9.50 Mbps for uploads. Then, we checked the speed of a nearby server.
Our editorial team is located in Europe, where VPN.AC offers a number of servers. So, we picked a nearby one and ran another speed test. This time around, we got 113.72 Mbps for downloads and 15.32 Mbps for uploads.

And finally, we check the speed of a remote server. After connecting to a server in the USA, we got 122.54 Mbps for downloads and 14.51 Mbps for uploads. Now, let's put all those numbers into a table to make sense of that data.
On average, VPN.AC slowed us down by 19.8% percent. However, it's also important to note that our upload speed increased, which indicates that our ISP is throttling our Web connection. All in all, not a bad result really.
Customer Support
VPN.AC comes with comprehensive customer support. The only thing that's missing is a live chat option, but you can rely on other communication channels. Our Score: 9/10.
When it comes to VPN.AC and its customer support, you'll find plenty of helpful resources on the official website. There are nicely written tutorials, explaining how to install this VPN on various platforms. There's also a handy 'Knowledge Base', where you can learn about this VPN and troubleshoot common issues. And finally, you'll find tutorials on how to use this VPN in China, along with with other helpful articles teaching you all the ins and outs of VPN technologies.
In case you'd like to contact the company, you can either use a contact form or submit an official support ticket. No matter which way to go, you should receive an answer within 24 hours – which means that this VPN's support team is pretty responsive. Unfortunately, you can't chat live with this company's representatives.
Pricing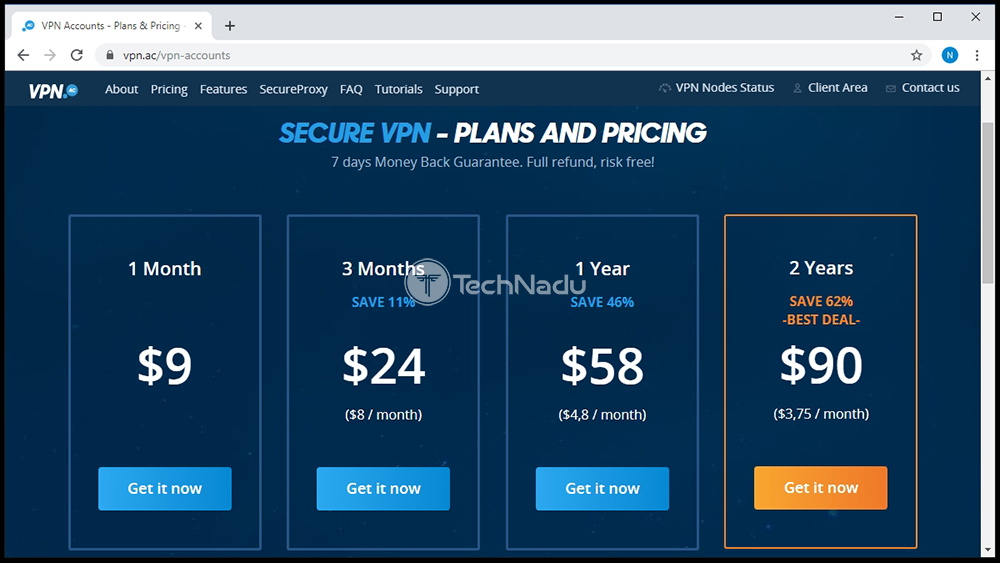 In general, VPN.AC is priced fairly. You'll find the biggest savings in its long-term plans, and there's even a (paid) trial account available. Our Score: 8/10.
At the moment, VPN.AC offers four subscription plans – all of which bringing the same set of features. The only difference is in their duration (renewal period), which affects the price as well. Here's a handy overview of how much you'll need to pay for this VPN.
Even if you decide to subscribe to VPN.AC by getting its monthly plan, you'll be paying a fair price. However, we do recommend considering this VPN's long-term plans, as they bring big savings. For example, the 2-year VPN.AC plan lets you save 62%, even though this is a long period to dedicate to a single VPN provider.
It is also worth mentioning that VPN.AC comes with a trial account. However, you need to pay $2.00 for this privilege and this trial account lasts for 7 days. And finally, you should know that numerous payment methods are supported, including Bitcoin, PayPal, credit cards, Alipay, UnionPay, and plenty more. If you decide to change your mind, you can have your money returned – but please note that VPN.AC offers a 7-day money-back guarantee.
Do We Recommend VPN.AC?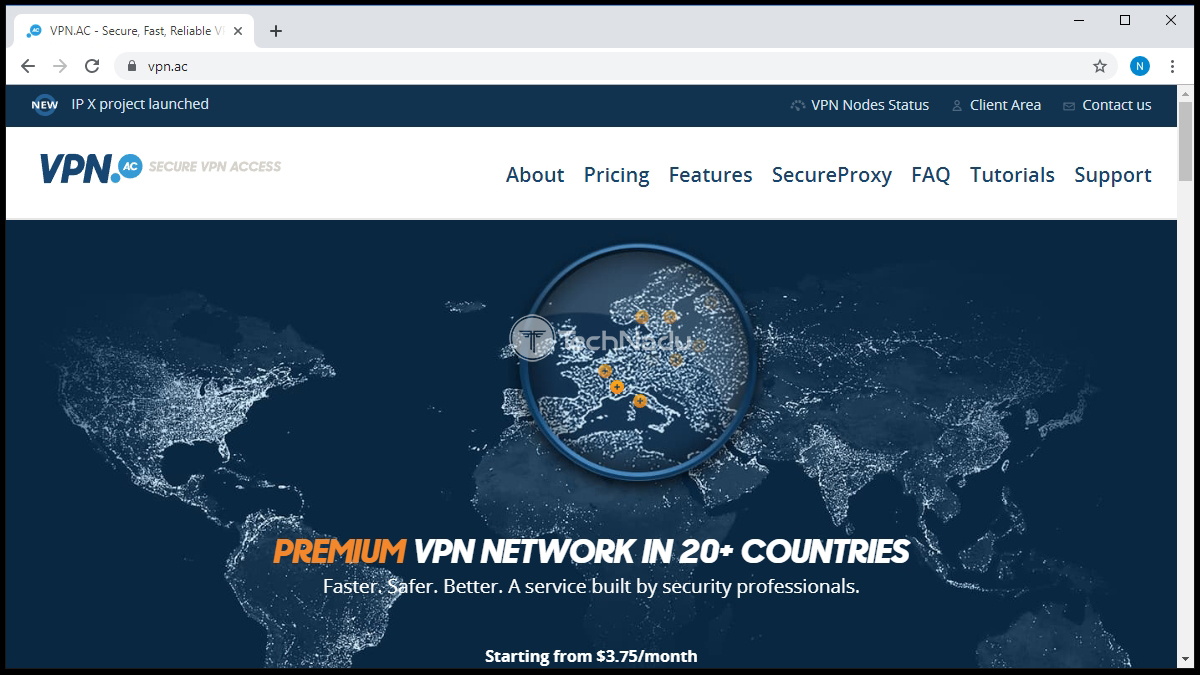 VPN.AC is far from being a perfect VPN solution – but it could make many users happy. If you're an average home user looking for an automated solution (and if you want to unblock Netflix as well), this VPN should be a good pick. However, we feel that more advanced users will easily find a better and more capable alternative.
PROS: Supports plenty of devices & platforms; Easy installation; Unblocks Netflix; Supports P2P; Helpful customer support; Affordably priced (in the long term).
CONS: Not the most polished UI design; Small-sized server network; Some logging is present.
OUR SCORE: 7.8 out of 10!
In case you'd like to learn more about this VPN or if you'd like to subscribe to VPN.AC, make sure to click on the provided link. You'll be taken to its official website, where you'll get to find additional info.
In case you liked this review, we'd like to ask you to share it on the Web. And to stay on top of the latest VPN-related coverage, don't forget to follow us on Facebook and Twitter.