Making sense out of hundreds of available VPNs can be a tough task, especially if you're new to the world of VPN services. They all promise a similar (nearly identical) set of features oriented toward protecting your privacy and hiding your Web traffic. And this is precisely why we're seeing a new breed of VPN services right now, coming up with unique features designed to set them apart from the rest. One of such VPNs is Unlocator, a 2-in-1 solution for protecting your privacy and unblocking a whole range of media streaming services (by offering both a VPN solution and 'Smart DNS' solution). So, is this VPN any good? Can you use it to fight against Web roadblocks? Let's find out. Welcome to our hands-on review of Unlocator VPN + Smart DNS!
First things first – we're going to introduce you to this VPN solution by listing some of its basic characteristics. With this said, let's go over this VPN's ID card, found in the table below.
Quick Facts
| | |
| --- | --- |
| Jurisdiction | Denmark (14-Eyes Alliance). |
| Logs | Collects some personally identifiable data. |
| Number of Servers | 39 countries; 44 servers. |
| Parallel Connections | 5 |
| Encryption Standards | OpenVPN, IKEv2(/IPsec), L2TP/IPsec. |
| Speed Reduction | 88%, on average. |
| P2P Support | YES |
| Live Chat Support | YES |
| Supported Platforms | Windows, macOS, Android, iOS, Amazon Fire OS, and compatible routers. |
| Price | Starting at $4.96/month. |
We're sure that many of you are interested in using Unlocator due to its media streaming capabilities. So, is it true that this VPN unblocks pretty much any streaming service out there? The following table will give you a quick answer.
Media Streaming Support
| | |
| --- | --- |
| American Netflix | YES |
| Hulu | YES |
| BBC iPlayer | YES |
| Amazon Prime Video | YES |
| Kodi | YES |
And finally, let's go over the most prominent highlights of using Unlocator VPN. If you don't have the time to read this entire review, check out the following table.
The Bottom Line
| | |
| --- | --- |
| Pros | Simple to use; Fully automated; Great for media streaming; Website unblocking; Easy installation. |
| Cons | Highly limited server network; Collects private information; Mediocre performance; Denmark-based. |
| The Final Verdict | Right now, we can recommend Unlocator only if you care about its website unblocking capabilities. This is a fairly 'weak' VPN service that comes at a high price. |
| Our Score | 6.3/10 |
Now, we're ready to dive into various aspects of Unlocator VPN + Smart DNS. To learn all there's to know about this application, keep on reading this review.
Unlocator VPN – TechNadu's Hands-On Review
Even though Unlocator does have some unique aspects to it, we'll follow our uniform structure used for all of TechNadu's VPN reviews. To learn more about the way we review VPN services, please use the provided link.
Background, Jurisdiction & Reputation
Even though Unlocator has never suffered a data breach or anything similar, what's troubling is that it comes from Denmark (14-Eyes Alliance). Our Score: 6/10.
One of the primary reasons for using a VPN is to safeguard your privacy. Therefore, before making your final pick, make sure to know where your chosen VPN comes from. So, here's the situation surrounding Unlocator.
Jurisdiction & Applicable Laws
Unlocator is a product of a Danish company called Linkwork ApS. It means that the laws of Denmark govern its operations. In case you're aware of the European geopolitical situation, you know that this country is a member of the European Union. So, let's see what this means for the users of the Unlocator VPN.
First and foremost, you should know that Denmark has a series of laws that protect the private data of its citizens. There's the Danish Data Protection Act that supplements the EU's GDPR (General Data Protection Regulation). All of those laws dictate the way your private data is collected, processed, and kept on any company's servers. More precisely, these laws are designed to prevent data processors (such as Unlocator) from logging data they don't necessarily need in order to operate. In other words, only the most essential data can be logged and kept for no longer than absolutely needed.
Everything said so far sounds reassuring. However, you should also know that Denmark is a member of the 14-Eyes Intelligence Alliance. These are 14 countries that have agreements regarding the exchange of different kinds of data (intelligence), including your personal information. In general, choosing a VPN based in any of those 14 countries is not a good idea. That's also the reason why many VPNs come from exotic locations such as Panama, the British Virgin Islands, or Gibraltar.
Previous Data Leaks
You must also be wondering: is Unlocator is safe to use? Well, this can be hard to tell, and here's why. In the beginning, Unlocator was simply a 'Smart DNS' service. In other words, it was used to mitigate geo-based restrictions and unblock websites. Differently said, it wasn't made to hide your data, as it didn't encrypt your Web traffic. However, that is no longer the case, since now Unlocator is a fully featured VPN service.
In other words, there are no reports of this VPN collecting user data. However, Unlocator doesn't actually have a long history, and only time will tell whether it's worth your trust. However, as of this moment, there are no reasons to believe that this VPN collects any of your personal data.
Supported Platforms & Devices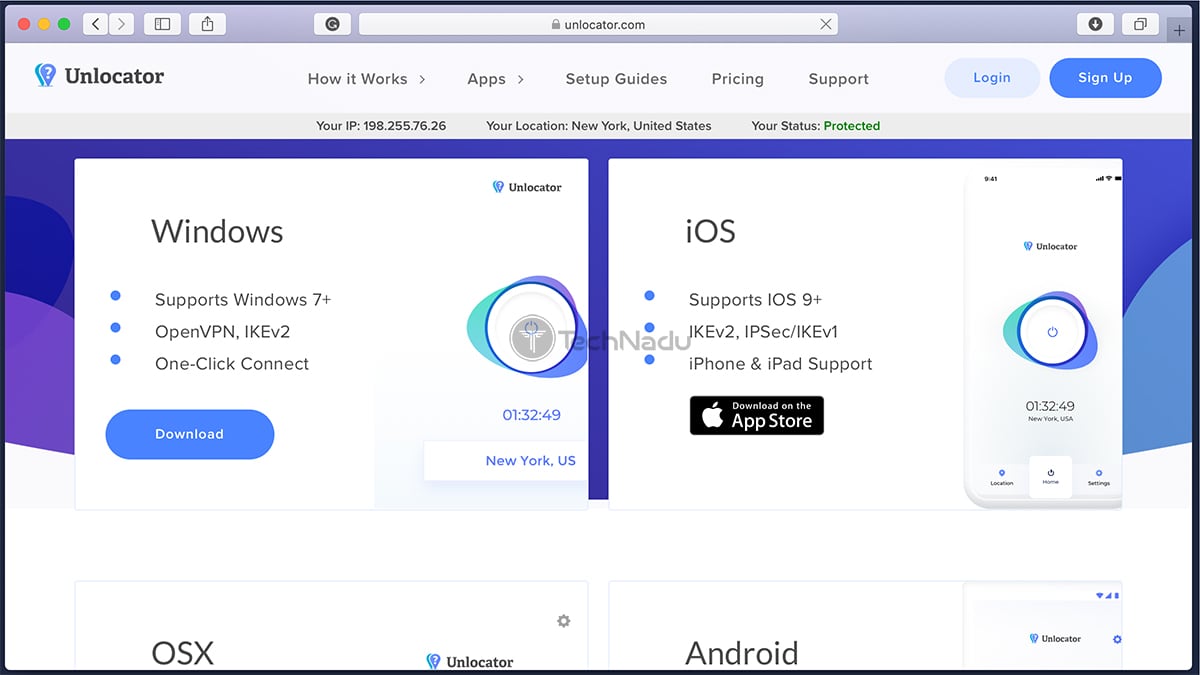 Unlocator VPN is still a relatively new VPN service. It covers the most popular platforms and routers, but it's not widely available yet. Our Score: 6.5/10.
Now, let's see what kinds of platforms this VPN supports. Checking this information on its website can be a bit confusing, so we've simplified it for you.
Platform Compatibility
| | |
| --- | --- |
| Desktop Platforms | Windows, macOS. |
| Mobile Platforms | Android, iOS. |
| Web Browsers | N/A. |
| Routers | DD-WRT, Tomato, and other routers. |
| Other Devices | Amazon Fire OS. |
At the moment, Unlocator VPN offers five native applications – for Windows, macOS, iOS, Android, and Amazon Fire OS. And that's pretty much it when it comes to this service's VPN offer. However, let's not forget that this isn't just a VPN service, as it offers a 'Smart DNS' functionality as well.
The situation is different when it comes to Unlocator's Smart DNS service. Since this service doesn't need an official app, you can configure it manually on numerous types of platforms, including desktop and mobile operating systems, media streaming devices, gaming consoles, smart TVs, routers, and more. However, please note that your data won't be encrypted while using the 'Smart DNS' service. For this purpose, you need the VPN solution, which is still not widely available across many devices.
Installation & Initial Configuration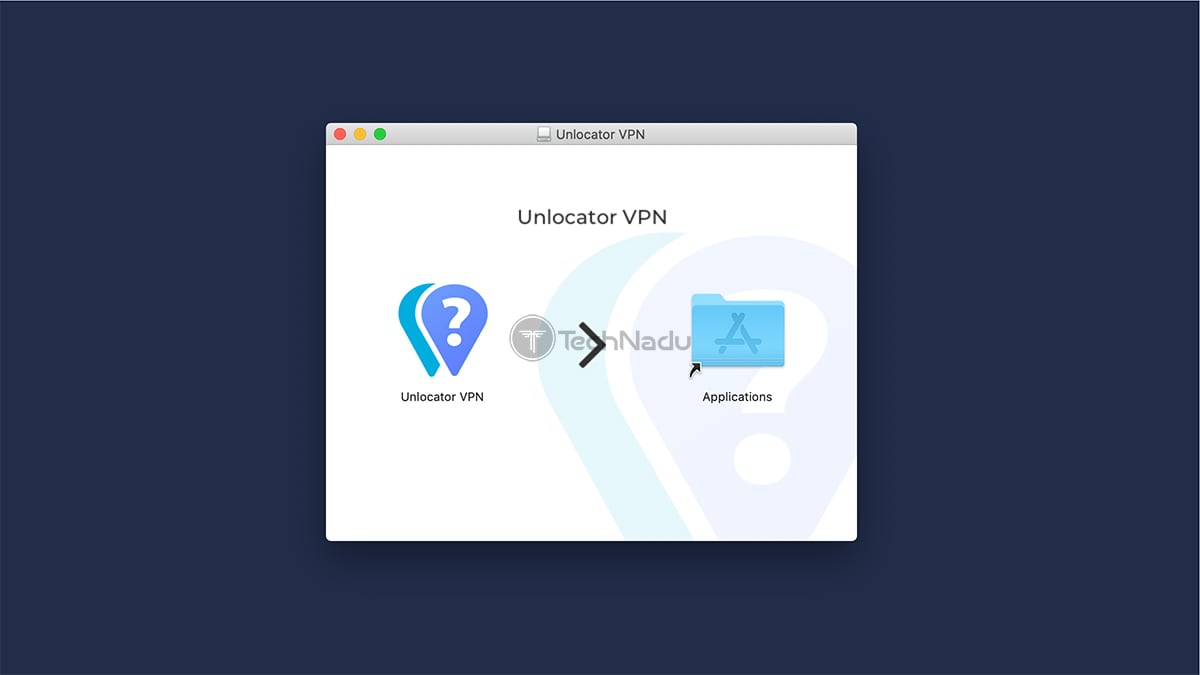 Unlocator comes with simple installation. It also offers a nicely designed user account section on its website, with helpful overviews of your subscription. Our Score: 10/10.
To get started, you first need to get a subscription to Unlocator VPN. This is done on the official Unlocator website by choosing a subscription plan and going through the payment process. Once you verify your newly created account via email, you'll be able to return to the website and log-in to your user account.
We have to say that Unlocator comes with a neatly designed user account area on its website. You'll get to see the status of your subscription, how much time you have remaining until your subscription is renewed, and you'll get to make all kinds of adjustments. Also, this is where you'll find installation instructions for Unlocator's VPN and Smart DNS services.
Downloading the official app is done easily, without any distractions. Run the installation file, choose where to the files, and that's pretty much it. Once done, Unlocator will show its 'Welcome Screen' and ask for your username and password. Fill out the required information, and that's about it.
Prominent Features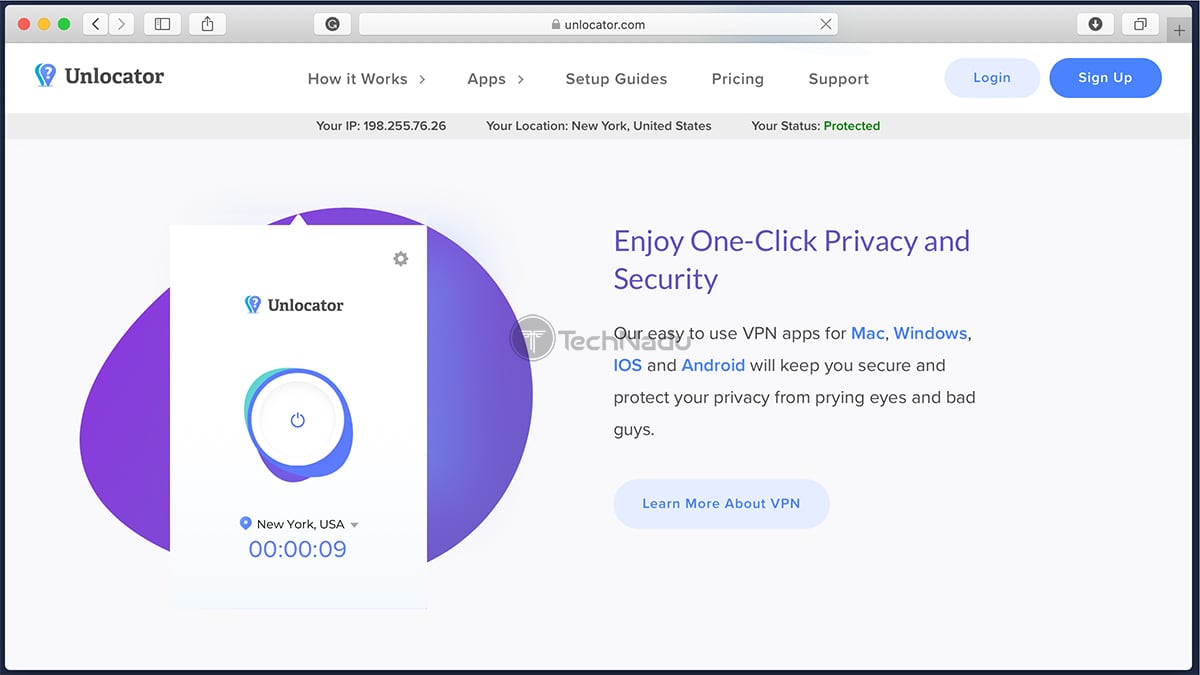 Unlocator VPN comes with a basic set of features – which should meet the needs of average home users. However, it's missing plenty of advanced options. Our Score: 7/10.
As noted earlier, Unlocator is still a new VPN service. So, does it mean you can't count on high-end features? Let's find out!
VPN Features Checklist
| | |
| --- | --- |
| DNS Leak Protection | YES |
| IPv6 Leak Protection | NO |
| Kill-Switch | YES |
| Ad-Blocker, Anti-Malware | NO |
| Unlimited Server Switches | YES |
| Unlimited Bandwidth | YES |
| Unlimited Data | YES |
We can see that Unlocator VPN comes with a relatively basic set of features. It comes with DNS leak protection, and it also says that it protects your IPv4 traffic (which we'll check later in this review). However, there's no native IPv6 filtering, so you'll have to disable this kind of Web traffic. Also, there's a built-in kill-switch, which is also a welcome thing to see. And there's a feature called 'Unlocator Shield,' which allows you to connect to the internet only when a VPN connection is present.
So, what's missing here? Well, plenty – including ad-blocking, anti-malware, split-tunneling, and more. With this said, we conclude that Unlocator is designed for average home users who might want everything to be fully automated. More advanced users will be left wanting for more.
Server Count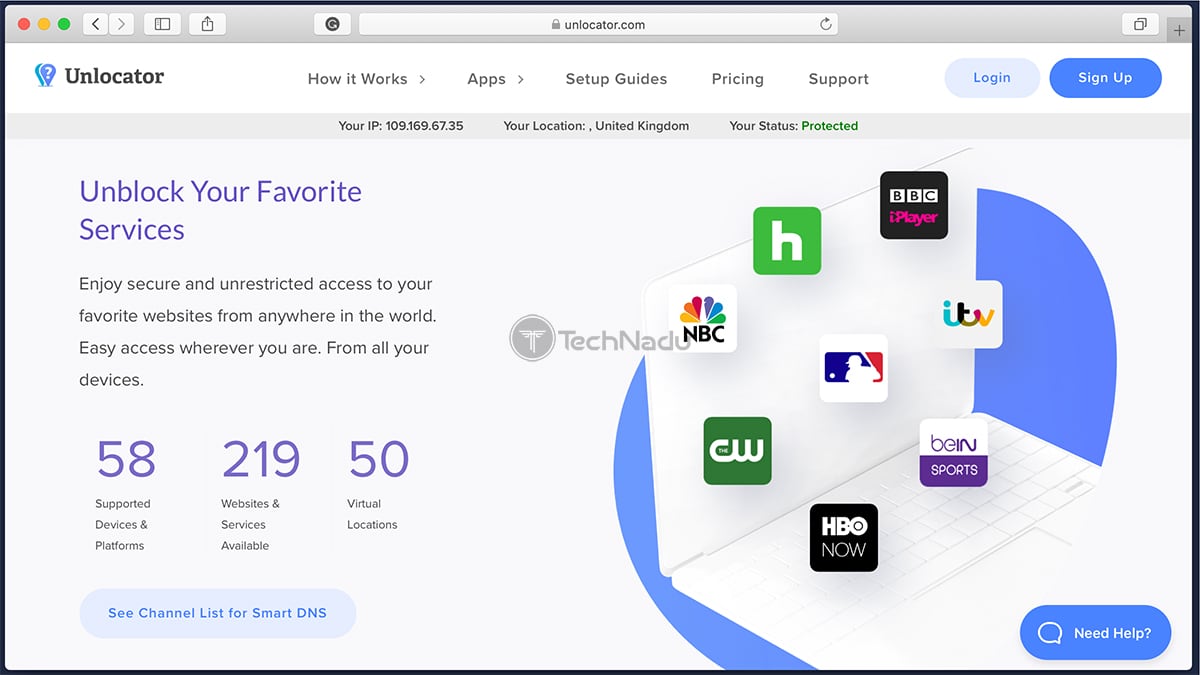 This VPN has one of the smallest server networks we've seen yet. With only 44 servers on offer, it won't leave anyone impressed. Our Score: 2/10.
Check out the following table to see how many servers this VPN offers, in how many countries and locations, and a few other useful pieces of information.
Server Count Info
| | |
| --- | --- |
| Number of Servers | 44 |
| Number of Locations | N/A |
| Number of Countries | 39 |
| Specific Cities Selection | YES |
| Unlimited Switching | YES |
As per the latest available information, Unlocator comes with 44 servers only. After having reviewed dozens and dozens of VPNs so far, we have to say that we're rather disappointed by this server count. This is one of the smallest server networks we've seen so far (if not the smallest).
The situation is not all that bad, though. You'll find servers in 36 countries, there's unlimited server switching, and you can connect to specific cities as well. All of those numbers are telling us that there aren't too many servers per each location, which means that we expect less than stellar performance.
Ease of Use
This VPN comes with a very simple UI – which is great for inexperienced users. More advanced users will want more freedom and additional fine-tuning. Our Score: 6/10.
Unlocator comes without a free-floating window. It means that no matter if you're using Windows or macOS, you need to click on the VPN's icon in the taskbar (or system bar) to use it. If you click elsewhere, the window will disappear. This isn't a major downside but can be annoying in the long run.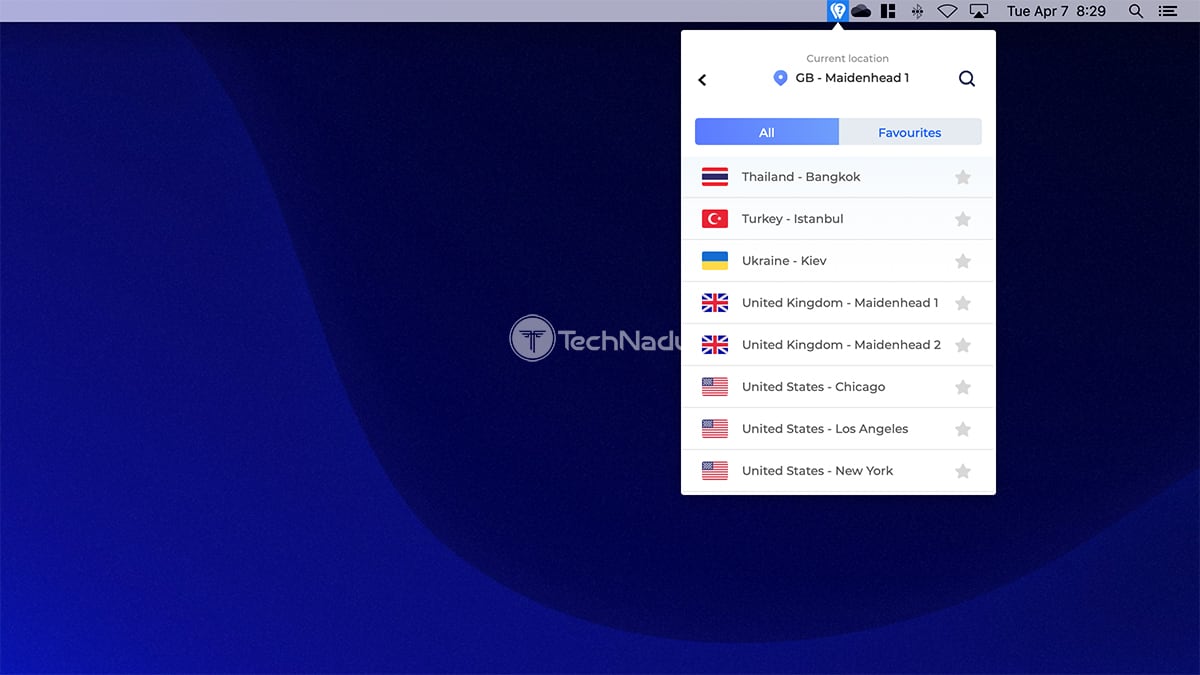 Once you click on Unlocator's UI, you'll get to pick a server. Click on the name of the last connected server, and a new panel will open. You can browse all of the available servers, and you can also choose your favorites (for quick access). Click on any server from this list, and you'll return to the home screen, from where you can finalize the procedure.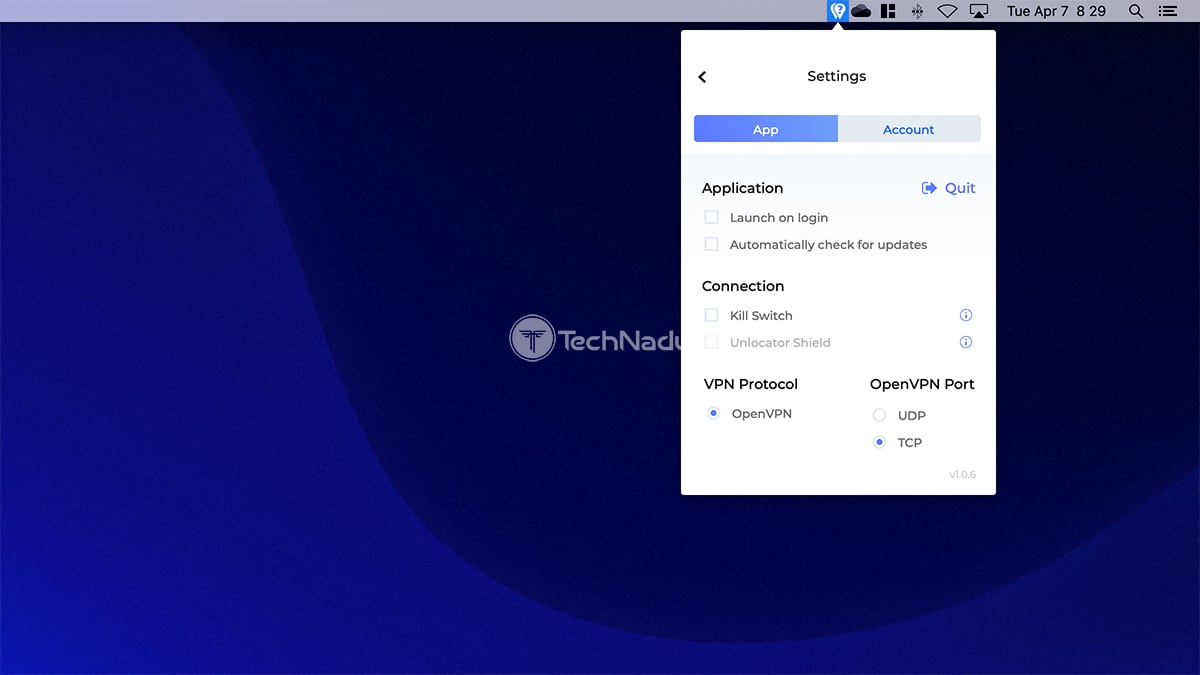 Diving deeper, there's a cogwheel icon in the top-right corner. You'll find two tabs here, so here's a quick overview of what be done.
App: This is where you can enable Unlocator to start on system startup, auto-connect to a server, and this is where you can choose from the available VPN protocols. Also, we highly recommend you enable the 'Kill Switch' to prevent your data from leaking if your secure connection becomes unstable.
Account: This tab allows you to check some very basic information about your subscription, like how much time is left before your subscription is renewed.
All in all, Unlocator VPN feels like a very basic VPN – and it brings the same interface across all of the supported devices. It's easy to use, and it seems great for beginners. However, advanced users will probably want more freedom to fine-tune things on their own.
Media Streaming & Torrenting Support
Unlocator is a highly capable VPN when it comes to unblocking a huge array of media streaming services. It also supports P2P file transfer. Our Score: 10/10.
Unlocator VPN comes with many promises of unblocking media streaming websites, and we've tested those promises. So, here are the results.
Media Streaming & Torrenting Support
| | |
| --- | --- |
| Netflix US | YES |
| Hulu | YES |
| BBC iPlayer | YES |
| Amazon Prime Video | YES |
| Torrenting (P2P) | YES |
We've tested Unlocator against the world's most popular media streaming services, and this VPN managed to unblock all of them. There's a sizeable list of supported services on the VPN's website, so you might want to check it out. Even some niche media streaming services can be unlocked with this VPN, making it a highly usable solution for media streaming.
Aside from unblocking the world's most popular media streaming websites, Unlocator is a reliable tool for watching a bunch of individual TV channels (via their official websites and apps). Some of the most noteworthy TV channels include ABC GO, A&E, City TV, CNN GO, CNBS, E! Entertainment, TVNZ OnDemand, Feeln, Fandor, FYI, IFC, Marvel, and plenty more.
When it comes to torrenting, Unlocator VPN allows this type of Web traffic. It means that downloading P2P files shouldn't be a problem. However, keep in mind that Unlocator comes from Denmark, known for its aggressive stance toward digital pirates. So, you'll want to stick to legal torrent files only.
Security & Privacy
Unlocator VPN collects plenty of PII information, which can be a reason for concern. However, it also brings strong encryption and capable VPN protocols. Our Score: 5/10.
Now, let's check what kinds of privacy protection this VPN brings. We'll also check its privacy policy and run a DNS leak test.
Supported Encryption Protocols
Unlocator is using 'military-grade encryption,' which is most probably AES (128 or 256-bit). However, finding concrete information about this has proven to be a tough task. In terms of the available VPN protocols, this depends on your platform of choice. On Windows, you'll get to see either OpenVPN or IKEv2. Then, iOS devices support IKEv2 and IPsec. And also, macOS and Android are based on the OpenVPN protocol.
Logging Policy
This VPN is claiming to be a 'no-logs' VPN, which means that it shouldn't collect personally identifiable information. However, the situation isn't that simple – which can be seen by reading its privacy policy.
Unlocator VPN collects your email, name, address, and credit card information (needed to handle your subscription). However, it also collects your IP address and usage logs that are kept up to 24 hours. Besides, the VPN shares data with data controllers and data processors. So, all in all, we like that this VPN is being transparent about what it does with your data. However, we don't think that Unlocator is the best choice if you care about your digital privacy.
DNS Leak Test
As you can see from the image above, no DNS leaks were detected. It means that Unlocator has the means to protect your private data and to show your virtual information instead. However, before using Unlocator, make sure to adjust your DNS settings. You can learn more about this after logging in to your account on the Unlocator website.
Speed & Performance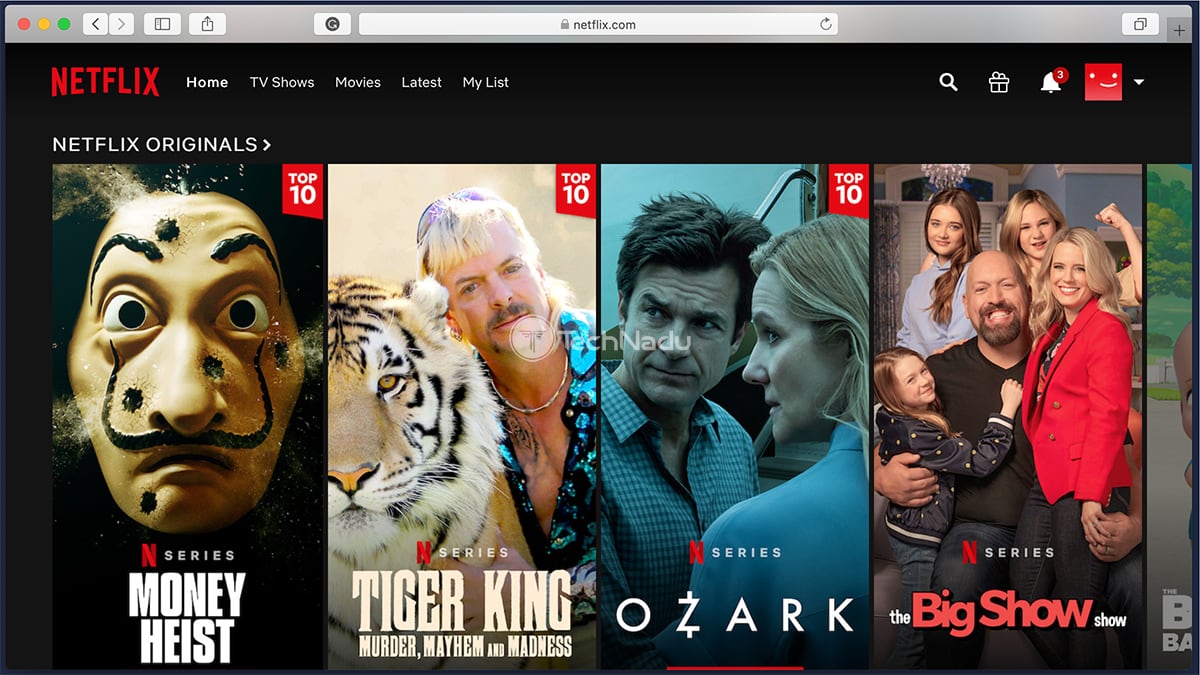 In terms of its performance, Unlocator disappoints. We can recommend it only to those with ultra-fast Web connections. Our Score: 2/10.
Now, let's see how fast this VPN performs. We've checked the speed of its nearby and remote servers as well, so here's everything that you need to know.
First, we needed to get our baseline data. This is done by checking the speed of our 'naked' Web connection, without involving this VPN. As you can see, we managed to get 478.08 Mbps for downloads and 48.55 Mbps for uploads.

Then, we made a secure connection to one of our neighboring countries (we're located in Europe). This time around, we got 69.94 Mbps for downloads and 22.54 Mbps for uploads. All there's left now is to check the speed of a remote server, found in the USA.
Once connected to a server in New York, we ran another speed test. During this round, we managed to get 43.02 Mbps for downloads and 25.28 Mbps for uploads. To make sense of all these numbers, we've put them into a table, so check it out.
| | | | |
| --- | --- | --- | --- |
| | Download Speed | Upload Speed | Speed Reduction |
| Baseline Data | 478.08 Mbps | 48.55 Mbps | 0% |
| Nearby Server | 69.94 Mbps | 22.54 Mbps | 85% |
| Remote Server | 43.02 Mbps | 25.28 Mbps | 91% |
We conclude that Unlocator VPN slowed us down by around 88%, on average. Needless to say, this is an incredibly disappointing result. However, in case you have a very fast Web connection, you can still stream HD and even 4K videos. Still, keep in mind that numerous VPN services out there come with faster and more reliable performance.
Customer Support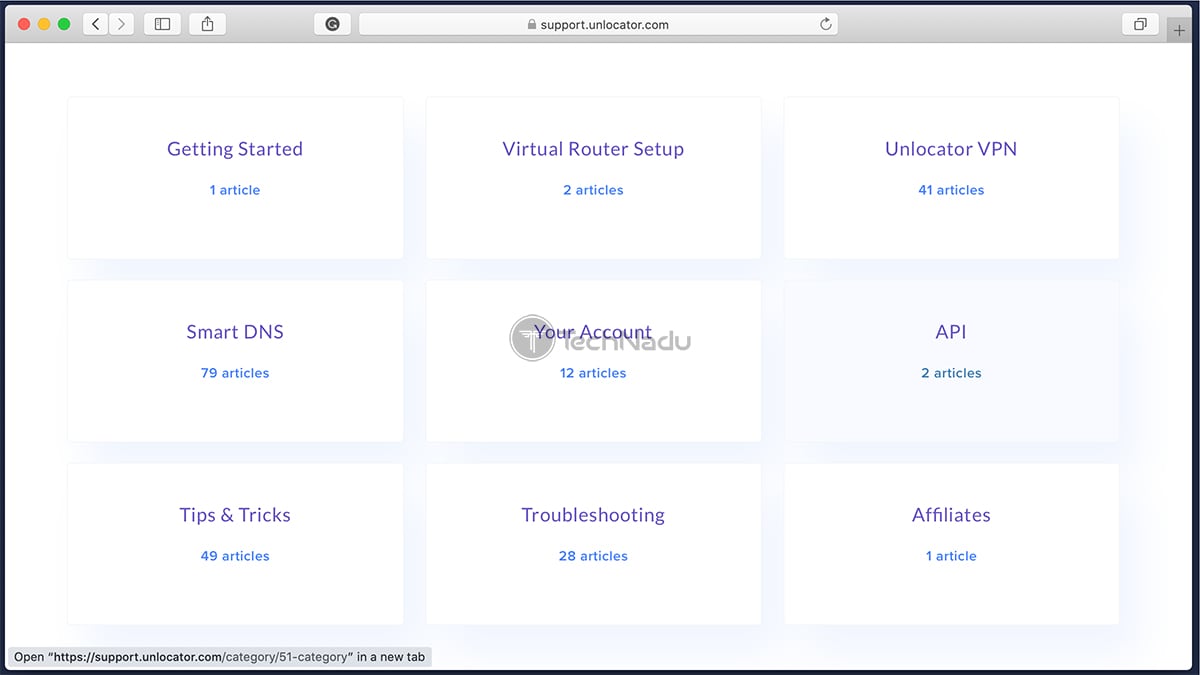 You can rely on talking to this VPN's support team via live chat, or you can dive into different types of written resources. Our Score: 9/10.
In case you have any questions, Unlocator VPN offers two ways to get help. First and foremost, there's a live chat on its official website. We've used it a couple of times while writing this review, and we managed to get in contact with a real person within a few minutes. This VPN's customer support team seems knowledgeable, friendly to talk to, and they'll do their best to answer your questions.
Then, there's also a rich source of self-help material. You'll find various tutorials, installation guides, and frequently asked questions. This written material is presented in a user-friendly tone, with plenty of screenshots and step-by-step instructions. All in all, quite helpful.
Pricing
Unlocator VPN isn't the most affordable VPN out there. However, you can find plenty of savings in its long-term plans. Plus, there's a free trial as well! Our Score: 6/10.
So, how much does Unlocator cost? Does it bring plenty of value for its price? Make sure to keep on reading to learn more.
| | | | |
| --- | --- | --- | --- |
| | Total Price | Per Month | Savings |
| 1 Month | $9.99 | $9.99 | 0% |
| 6 Months | $49.99 | $8.17 | 18% |
| 12 Months | $79.00 | $6.58 | 34% |
| 24 Months | $119.00 | $4.96 | 50% |
As you can see, Unlocator VPN is priced at $9.99 per month (if you want to be charged monthly) – which isn't quite affordable. However, if you decide to subscribe to Unlocator, we recommend considering its long-term plans. This is where you'll find plenty of savings, with the 2-year subscription bringing the price down to $4.96 per month. In other words, you'll get to save up to 50%.
You should also know that you can buy Unlocator's 'Smart DNS' service only. This one's used for unblocking media streaming websites alone. In other words, there's no encryption here, and there's no protection for your private data. The prices start at $3.29/month if you decide to get a 2-year plan.
Among other important information, Unlocator supports credit card payments, Google Pay, and Apple Pay. Strangely enough, PayPal isn't on offer, and you can't pay via crypto-currencies either. There's also a 30-day money-back guarantee, so you'll have some time to test this VPN service deeply.
And also, we'd like to note that Unlocator comes with a 7-day free trial as well. You can sign-up without having to input your payment information, which is always a nice thing to see. This also means that Unlocator is a risk-free purchase.
Do We Recommend Unlocator VPN + Smart DNS?
Even though Unlocator has several intriguing benefits, we can't recommend it to everyone. We feel that average home users (who aren't on a tight budget) might be happy with this VPN. However, more advanced users that want complete privacy protection, and plenty of value should look elsewhere.
PROS: Simple to install; Very simple UI design; Unblocks plenty of media streaming websites; Capable VPN protocols.
CONS: Comes from Denmark (14 Eyes Alliance); Collects PII data; Very limited server network; Lack of fine-tuning; Limited performance.
OUR SCORE: 6.3 out of 10!
In case you'd like additional information about Unlocator, the provided link will take you to its official website. And if you'd like to check out other options, here are the best VPNs right now (recently updated).