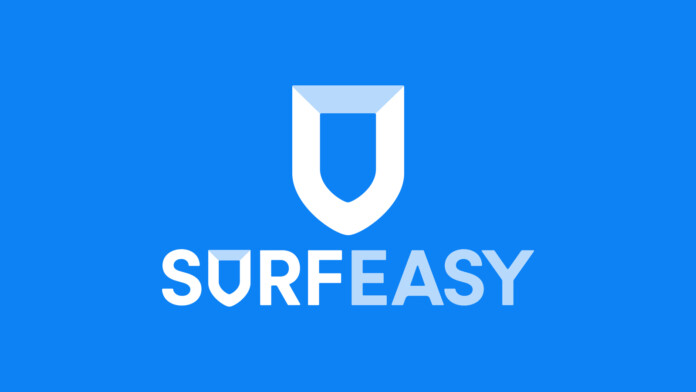 In general, you can't go wrong if you decide to buy a subscription to one of the worldwide popular VPNs. However, doing a bit of research goes a long way. Lesser-known VPNs can provide more value for their price, and some of them come with highly advanced and even unique features. So, could SurfEasy be one of those VPNs? Or does this VPN belong to a group of numerous VPNs that simply don't stand out? Let's find out! Welcome to our hands-on review of SurfEasy!
To get started, we'll take a look at this VPN's basic set of information. The following table will introduce you to SurfEasy by listing its jurisdiction, logs, number of servers, and more.
Quick Facts
Jurisdiction
Canada (5-Eyes Alliance).
Logs
Anonymous logs collected.
Number of Servers
28 countries; 1,000+ servers.
Parallel Connections
5
Encryption Standards
AES-256; OpenVPN, IPSec.
Speed Reduction
26.2% on average.
P2P Support
YES
Live Chat Support
YES (not 24/7)
Supported Platforms
Windows, MacOS, Android, iOS, Opera, Chrome, FireOS.
Price
$6.49/month.
You can use many VPNs to unblock media streaming websites. To make sure you'll get to use your favorite streaming platforms even after enabling SurfEasy, check out the following table.
Media Streaming Support
American Netflix
YES
Hulu
YES/NO
BBC iPlayer
YES
Amazon Prime Video
YES
Kodi
YES
And finally, let's go over our post-review findings. If you're in a rush, check out the following table – where you'll find the biggest pros and cons of using SurfEasy.
The Bottom Line
Pros
Easy installation; Fully automated; P2P-friendly servers; Great for streaming; Reliable and fast performance.
Cons
Doesn't support routers; Outdated UI; Doesn't allow fine-tuning; Comes from Canada.
The Final Verdict
SurfEasy isn't the most capable VPN and it has numerous limitations, but average home users should be happy with this VPN service.
Our Score
7.0/10
Finally, let's start with our full review of SurfEasy. Keep on reading, and make sure to stick with us until the end of this article. Here's what you must know about SurfEasy before you buy it.
SurfEasy VPN – TechNadu's Hands-On Review
As always, we'll follow our uniform structure for this VPN review as well. This means that we'll inspect different aspects of SurfEasy and rate those individual aspects, which will give us the final score. To learn more about this process, you can see how we review VPNs.
Background, Jurisdiction & Reputation
SurfEasy comes from Canada and it's owned by a US-based company (Symantec). This gives a problematic first impression, even though it's not all that bad. Our Score: 3/10.
Just like other businesses, VPNs need to respect the laws of their home country. And also, we hope you know that many countries have mandatory data retention laws. So, let's see where SurfEasy comes from and what it means for you – if you decide to subscribe.
Jurisdiction & Applicable Laws
SurfEasy is based in Toronto (Ontario, Canada), and it was acquired by Symantec in 2017. Therefore, here we have a Canadian company that's owned by Symantec, one of the well-known crypto-security companies from the USA. And unfortunately, both of these countries are giving their best to collect all kinds of information via mobile carriers, Internet service providers, and other telecommunication companies.
It's also important to mention that both Canada and the USA are core members of the 5-Eyes Intelligence Alliance. Since VPNs are designed to protect your privacy, there's the question of whether SurfEasy is capable of doing that. Also, we can't recommend any VPNs based in countries such as the USA and Canada to those who want to achieve total online anonymity.
Previous Data Leaks
We're happy to report that there are no reports of SurfEasy ever leaking any private information or collecting such data. This should give you a piece of mind if you're considering to use this VPN, even though we're still concerned about its country of origin and its relationship with Symantec.
Supported Platforms & Devices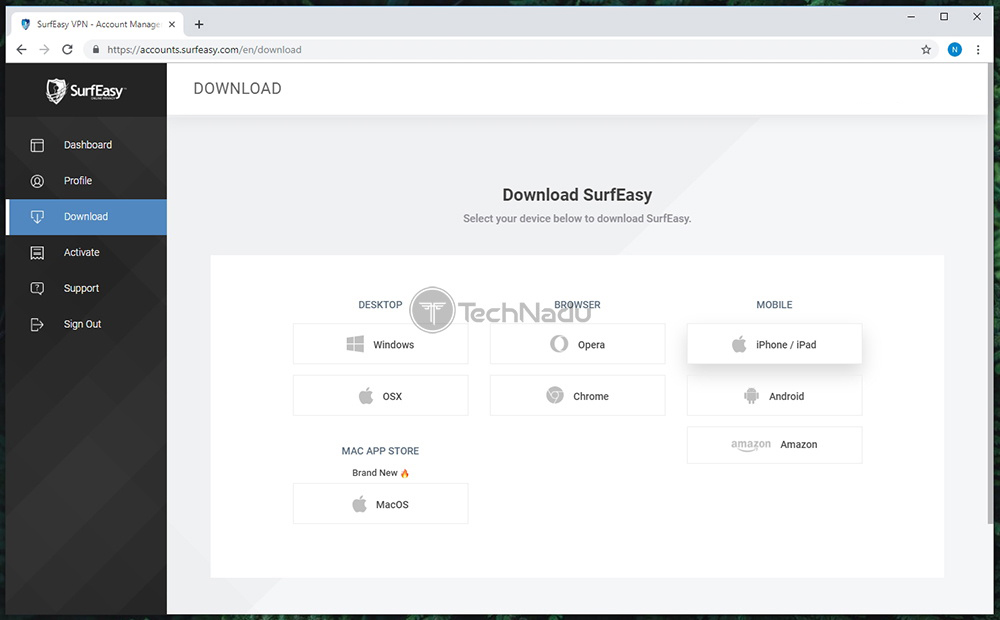 SurfEasy supports all currently popular desktop and mobile platforms, including media streamers. The only thing that's missing is support for routers. Our Score: 8/10.
The following table will tell you which platforms are natively supported by this VPN. We've done deep research, and we'll cover all currently popular devices, so take a look.
Platform Compatibility
Desktop Platforms
Windows, MacOS.
Mobile Platforms
Android, iOS.
Web Browsers
Chrome, Opera.
Routers
N/A
Other Devices
Amazon FireOS.
In general, SurfEasy is compatible with every hugely popular platform (both desktop and mobile). However, we do have to note that you can't use this VPN on a router, which comes as a surprise. There's also the limit of 5 devices per one subscription, so you'll need to plan how to use those 'empty slots.' In general, VPNs that don't support routers usually come with a limit of 10+ devices – but that's not the case here. Still, we think you'll manage to protect your home devices and even using this VPN on-the-go.
Installation & Initial Configuration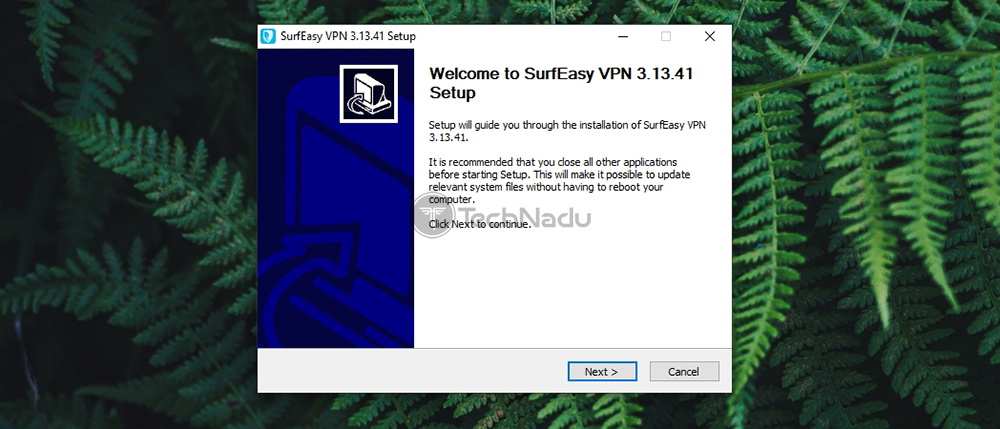 SurfEasy comes with a simple installation method. There are no unwanted distractions or bundled offers, and everything is very streamlined. Our Score: 10/10.
Before you get to use this VPN, you'll need to get a subscription. Alternatively, you can try it free of charge – and we'll talk about this VPN's free plan later in the article. Once you create your user account, you'll be able to log-in to your account on the official website of SurfEasy.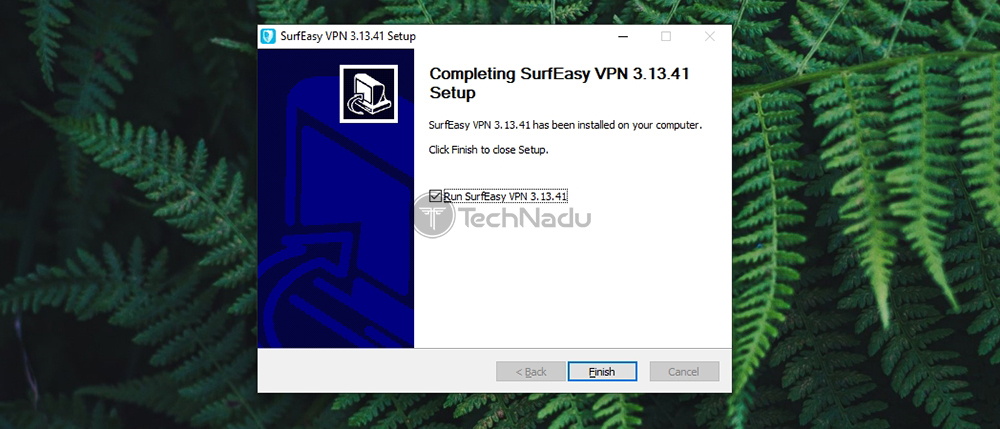 We have to praise the online user portal that SurfEasy brings. You can easily review your account information, download various versions of this VPN, review usage patterns, contact support, and more. Once you download the installation file to your computer, simply double-click on it and proceed like you normally would. The process of installation seems simple enough and comes with no unwanted distractions. Once installed, open this application, log-in to your account, and that's pretty much it.
Prominent Features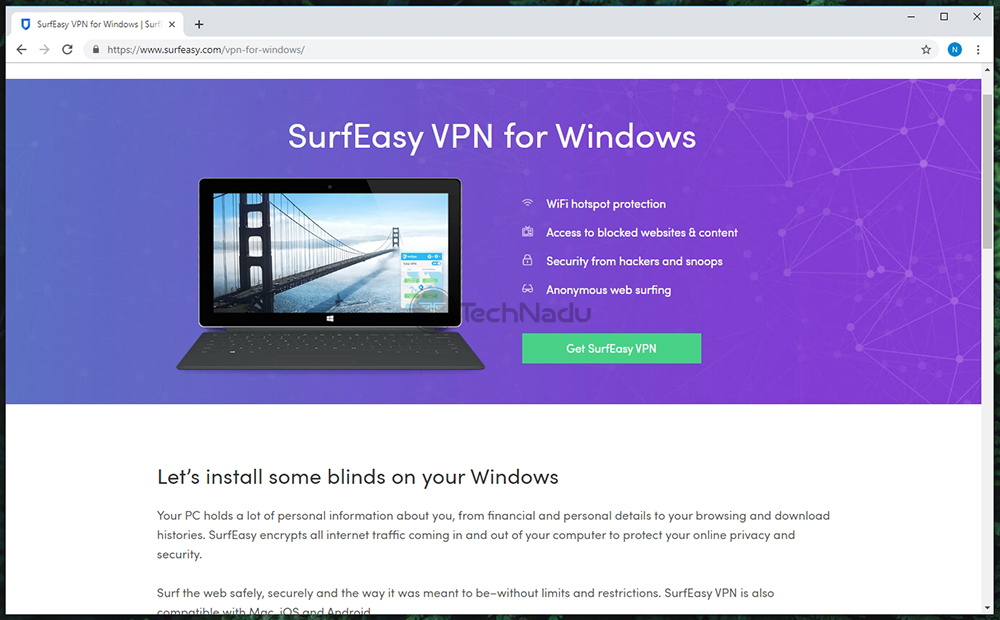 SurfEasy comes with a fairly basic set of features. More advanced VPN users will be left wanting for more, especially when it comes to their identity protection. Our Score: 6/10.
We've taken a look at this VPN's basic and more advanced features, so here's what kind of data protection you can expect out of SurfEasy and more.
VPN Features Checklist
DNS Leak Protection
YES
IPv6 Leak Protection
NO
Kill-Switch
NO
Ad-Blocker, Anti-Malware
YES
Unlimited Server Switches
YES
Unlimited Bandwidth
YES
Unlimited Data
YES
We can see that SurfEasy supports DNS and IPv4 leak protection. Sadly, it does not natively support IPv6 just yet – and there's no kill-switch, leaving your private data potentially exposed in critical situations. You'll want to have a kill-switch if you frequently download torrents or other large files. There's also an ad-blocker that prevents different kinds of trackers that follow you on the Web.
All in all, SurfEasy seems like a basic VPN, at least in terms of its features. You can easily find more capable options out there, and these can keep you protected in a better way than this VPN does.
Server Count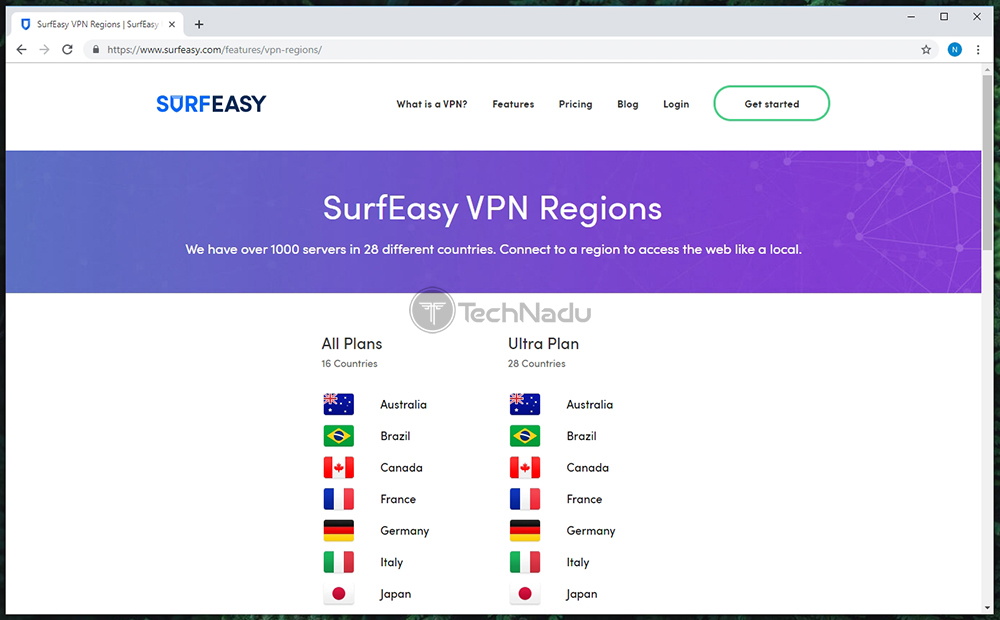 When it comes to its server count, SurfEasy falls somewhere in the middle (in comparison to other VPNs). You can't connect to specific cities though. Our Score: 5/10.
Here's how many servers SurfEasy brings, in how many countries and locations. Check out the following table.
Server Count Info
Number of Servers
1,000+
Number of Locations
N/A
Number of Countries
28
Specific Cities Selection
NO
Unlimited Switching
YES
SurfEasy comes with 1,000+ servers, which seems plenty (even though there's a number of VPNs offering 3,000 to 5,000 servers). However, there are only 28 countries on offer and an unknown number of locations (you can't select a specific city either).
It's also worth noting that SurfEasy brings two types of servers. All plans come with a set of 16 countries. However, users of the 'Ultra' plan have access to 28 countries and servers optimized for torrenting. And finally, paying customers are free to switch servers at any moment, any number of times they'd like.
Ease of Use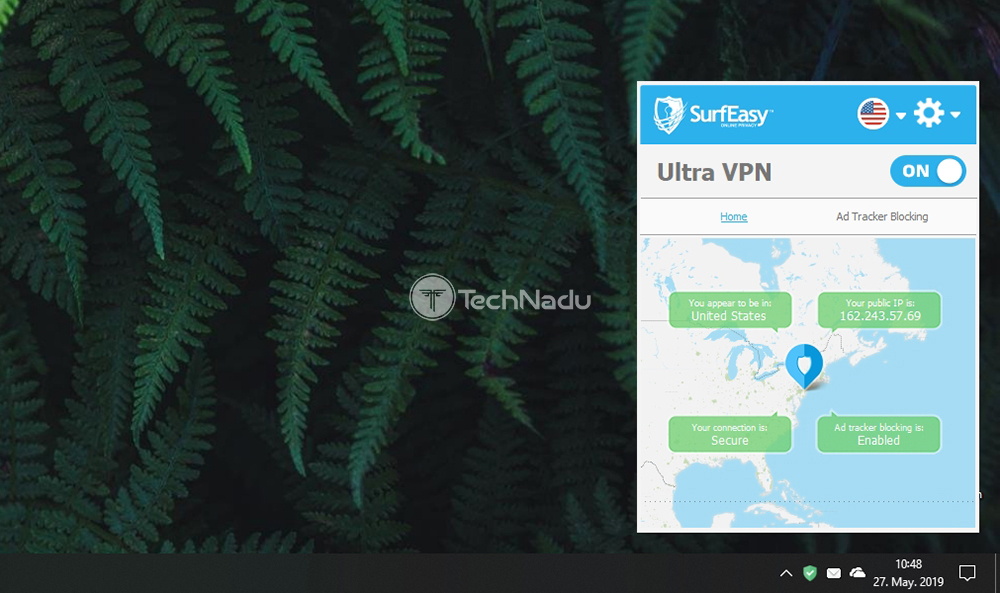 SurfEasy comes with a somewhat outdated UI. The application is fully automated, and there's not much you can customize as per your needs. Our Score: 4/10.
The home screen of SurfEasy comes with a somewhat simple interface, whose main portion takes a non-interactive map. This is where you'll see your 'true' location, which will change once you connect to a remote server. And to choose a server, you need to click on the planet-like icon in the top-right corner. This will open up a menu of different countries – so just click on any, and SurfEasy will do the job on its own.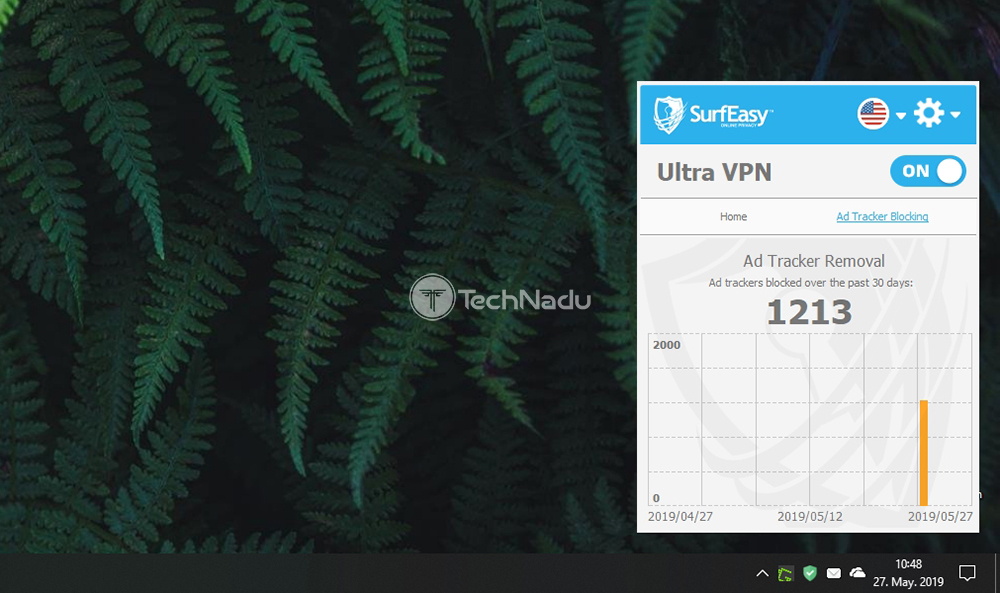 Aside from the prominent map on the home screen, you'll also see two tabs named Home and Ad Tracker Blocking. The Home tab is where you can check your current and virtual locations, while the other tab will tell you how many trackers have been blocked. Above those two tabs, you'll a prominent ON/OFF switch which enables/disables this VPN service.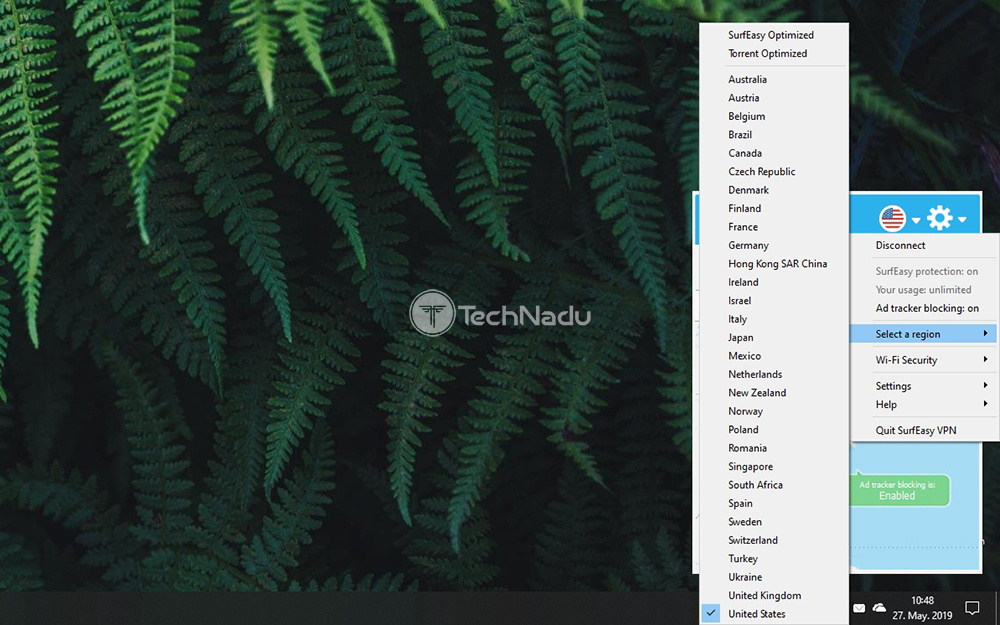 To dive deeper, you need to click on the cogwheel icon (top-right corner). This is where you'll find a series of duplicate options (present elsewhere within this application), like the ability to auto-connect to a server, choose a country to connect to, and enable/disable features like ad tracker blocking and Wi-Fi protection. Among other options, you can instruct SurfEasy to launch on startup, and you can log-out as well.
We can see that SurfEasy is extremely limited when it comes to its UI. Upon seeing its nicely designed website, we were surprised to see such an outdated interface. There are no settings that you can customize, and the level of fine-tuning is close to zero. All in all, quite barebones.
Media Streaming & Torrenting Support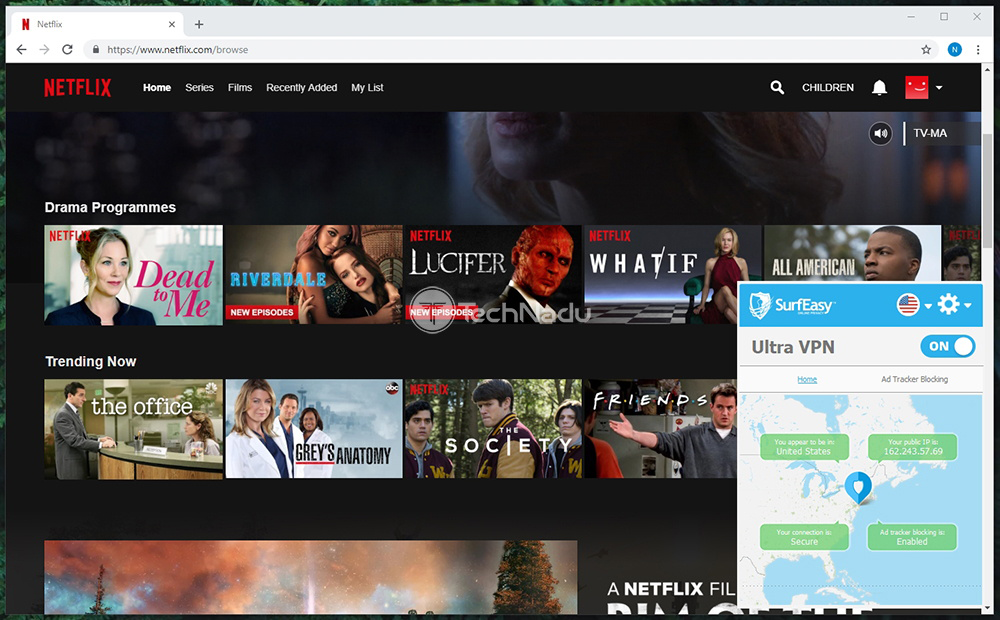 Aside from Hulu, SurfEasy should work perfectly fine with all the world's most popular streaming platforms. Torrenting is supported as well. Our Score: 9/10.
We've checked whether SurfEasy works with the world's most popular streaming platforms, and here are the results.
Media Streaming & Torrenting Support
Netflix US
YES
Hulu
YES/NO
BBC iPlayer
YES
Amazon Prime Video
YES
Torrenting (P2P)
YES
SurfEasy seems like the perfect solution for media streaming. Using its American server, we managed to unblock Netflix, Amazon Prime Video, and Hulu. However, please note that your mileage might vary with Hulu and we've experienced heavy throttling (which downgraded the video quality in a big way). And using this VPN's British server, we managed to unblock BBC iPlayer just fine.
In terms of torrenting, SurfEasy comes with P2P-friendly servers. As soon as it detects that you're downloading a torrent file, this VPN will enable its automatic protection.
Security & Privacy
SurfEasy does collect some data – but this data is anonymized. It uses highly secure encryption and VPN protocols, and it doesn't have any leaks. Our Score: 8/10.
Next, we'll check what kind of protection this VPN brings. So, make sure to pay special attention to this part of our SurfEasy review.
Supported Encryption Protocols
SurfEasy relies on AES-256 encryption, which is the VPN industry standard. Paired with OpenVPN, you should be able to browse the Web carefree. Both OpenVPN and AES-256 are among the most secure ways to protect your online identity and stop anyone from spying on you. It should be also noted that this VPN's MacOS and iOS clients rely on IPSec, which is also considered to be a highly secure protocol.
Logging Policy
On its official website, you'll see numerous messages saying that SurfEasy is a 'no-logs' VPN service. To check whether this is true, we've read this VPN's privacy policy. So, here's what this document says.
SurfEasy can't identify what you do online, as it doesn't store this type of information. However, some types of data are still stored, and this includes – aggregate bandwidth usage, temporary usage data, and in-app telemetry data. In addition, SurfEasy has access to 'Internet and data traffic – including destination websites or IP address and originating IP address'.
So, is SurfEasy a 'no-logs' VPN? We beg to differ. However, this doesn't mean that SurfEasy can see what you do online – as all of the data it collects is (reportedly) anonymized. Still, this isn't the best option out there for those seeking total online anonymity.
DNS Leak Test
As you can see from the screenshot above, SurfEasy does not leak any data. This means that once you enable this VPN and connect to a secure server, all your private information stays protected. Third-parties will only see your virtual IP address, hostname, virtual ISP, and more.
Speed & Performance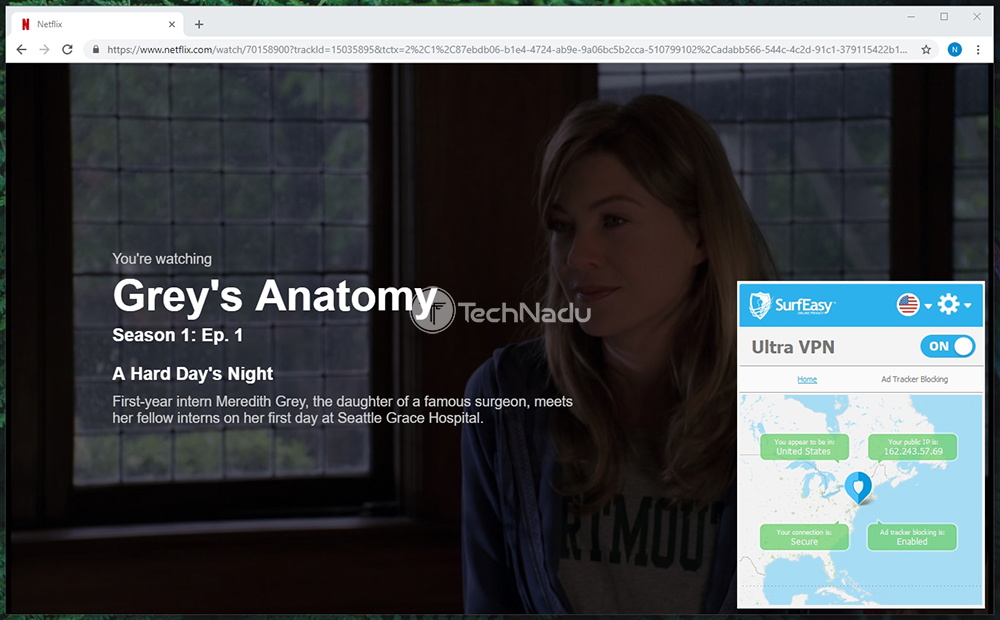 SurfEasy made our Web connection slower by a bit over 26% – which is a good result. It even managed to improve our upload speed on one occasion. Our Score: 8/10.
We've done a round of speed tests by both connected to nearby and remote servers. Of course, your mileage might vary depending on numerous factors, but here's our experience with SurfEasy.

To begin with, we've set up some baseline data. To do that, we've checked the speed of our Web connection, without having this VPN enabled. After doing this speed test, we managed to get 147.70 Mbps for downloads and 11.35 Mbps for uploads.

Then, we connected to a nearby server. We are located in Europe, where SurfEasy offers a number of options. This time around, we managed to get 84.56 Mbps for downloads and 12.51 Mbps for uploads.

And finally, we've checked the speed of a remote server (located in the USA). As you can see from the screenshot above, we got 133.12 Mbps for downloads and 9.30 Mbps for uploads.
| | | | |
| --- | --- | --- | --- |
| | Download Speed | Upload Speed | Speed Reduction |
| Baseline Data | 147.70 Mbps | 11.35 Mbps | 0% |
| Nearby Server | 84.56 Mbps | 12.5q Mbps | 42.7% |
| Remote Server | 133.12 Mbps | 9.30 Mbps | 9.8% |
On average, SurfEasy made our Web connection slower by 26.2%, which is actually a pretty good result. You'll find VPNs that come with better performance and faster speeds, but SurfEasy does show a lot of promise.
Customer Support
There are several ways to contact SurfEasy, and you can also use live chat (which is somewhat hidden and not available 24/7). Our Score: 8/10.
Since VPNs are premium-priced tools, you can expect a comprehensive set of customer support channels. So, here are all the ways that SurfEasy will be able to assist you.
Frequently Asked Questions: There's a range of questions regarding different platforms that SurfEasy supports. These might be able to provide an answer in certain cases, but they aren't really all that comprehensive.
Email & Telephone Support: You can send an email to the support team of SurfEasy and open an official support ticket that way. There are also two toll-free telephone numbers from the United States and the United Kingdom.
Live Chat: Finally, there's also an option to chat live with this VPN's support team. However, this option is hidden within this VPN's support pages and it's not available at all times.
Pricing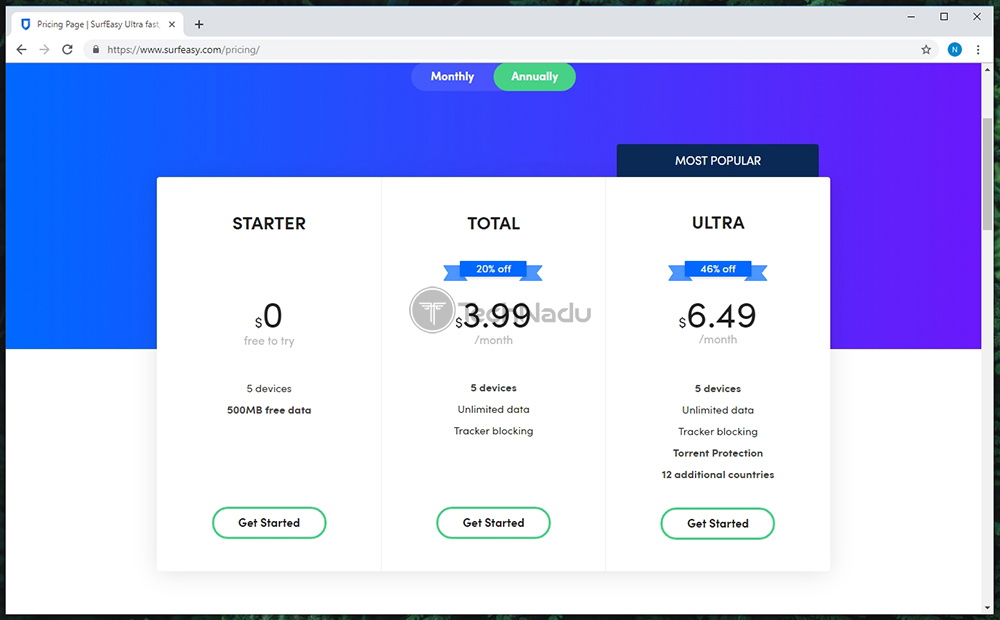 Even though its monthly plan is quite expensive, you'll find big savings in this VPN's annual plan. There's also a free plan, letting you test-drive this service. Our Score: 7.5/10.
Before we lay out this VPN's pricing plans, you should know that we've tested the 'Ultra' plan – which brings you 28 countries to connect to, in addition to protecting your P2P downloads. So, here's how much you'll need to pay for this plan.
| | | | |
| --- | --- | --- | --- |
| | Total Price | Per Month | Savings |
| 1 Month | $11.99 | $11.99 | 0% |
| 1 Year | $77.88 | $6.49 | 46% |
The monthly plan of SurfEasy is priced at $11.99, making it one of the least affordable options among today's popular VPN services. However, you'll find big savings in its annual plan. You can get a SurfEasy subscription for $6.49 per month if you pay for a whole year ahead.
It's also important to be said that SurfEasy offers a more affordable plan, called 'Total'. This one is priced at $4.99 if you pay monthly, or $3.99 if you pay yearly. However, this one comes with 16 countries on board, unlimited data, and 5 simultaneous connections. This means that you'll be missing out on 12 countries, ad tracker blocking, and torrent protection.
Differentiating Free Vs. Paid
SurfEasy also comes with a limited free plan. You can use it to test-drive this service and perhaps upgrade to a premium plan down the line. So, here's what you'll be getting (and what you'll be missing out on).
| | | |
| --- | --- | --- |
| | Free Plan | Ultra Plan |
| Data Limit | 500MB/month | Unlimited |
| Number of Connections | 5 | 5 |
| Number of Countries | 16 | 28 |
| Performance (Speed) | Limited | Unlimited |
All in all, the free plan sounds like a good way to test this service. It's highly restricted in terms of its monthly data limit, as you'll spend your 500MB fairly quickly.
Do We Recommend SurfEasy?
SurfEasy has some serious limitations. You can't install it on routers, it doesn't have the most polished UI, doesn't allow you to fine-tune your user experience and more. However, this is a fast-performing VPN that unblocks various streaming platforms – and it keeps your privacy safe. So, yes – we recommend SurfEasy to average home users.
PROS: Easy to install; User-friendly; Fast performance; Great for media streaming; Strong encryption; Capable VPN protocols; Helpful customer support.
CONS: Outdated UI; Logs some anonymized data; Limited server network; Not compatible with routers.
OUR SCORE: 7.0 out of 10!
In case you believe this VPN could be a good fit for you, don't hesitate and subscribe to SurfEasy today. We're sure that many of you are going to be more than happy with this VPN provider.
In case you liked this review, we'd like to ask you to share it on the Web. And to stay on top of the latest VPN-related coverage, don't forget to follow us on Facebook and Twitter.