Many Internet-capable devices are unfortunately incompatible with VPNs. But just imagine being able to use a VPN on your smart TV. You could unblock streaming content from around the world from the comfort of your couch instead of hunched over a laptop. Sound like a cool idea? Then here's how to share a VPN connection over Wi-Fi.
How to Share a VPN Connection Over Wi-Fi (Windows 10 Guide)
Before we even begin, you need to check whether your Wi-Fi adapter can share a connection with other devices. No use wasting time following the guide only to realize that it's not possible later on.
Getting Started
Here's what you need to do to see if you have a compatible Wi-Fi adapter.
1. Type in "cmd" in the Windows 10 search bar (or right-click the Start button) and click on Command Prompt.
2. Copy and paste this command line: netsh wlan show drivers. Then, press Enter on your keyboard. Note that you'll need to paste the line with right-click, as the CTRL+V shortcut won't work in the Command Prompt.
3. If the "Hosted network supported" line says "Yes" then move on to the next steps. Otherwise, you may need to update your Wi-Fi drivers or purchase a compatible USB Wi-Fi adapter to proceed.
Alternatively, see how to share a VPN connection over Ethernet on Windows.
The Setup
1. Right-click on the Network icon in the Windows toolbar (the Wi-Fi icon in the bottom-left corner of the screen). Click on Network & Internet settings.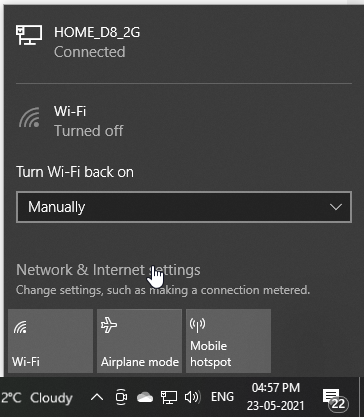 2. Click on Mobile hotspot in the menu to the left. Toggle the switch to On and write down the network name and password. You'll need them later.
3. Connect to your VPN app. (Our top recommendation is ExpressVPN or you can try any of the other best VPNs)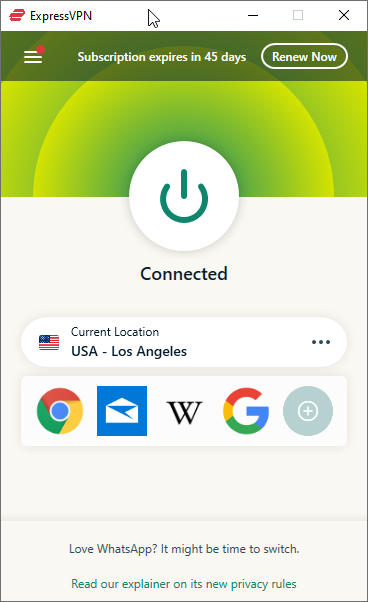 4. Once again, click on the Wi-Fi icon in the Windows toolbar, then Network & Internet settings. In the Status menu, click on Change adapter options.
Your mobile hotspot should now be active (you can recognize it through the text "Microsoft Wi-Fi Direct Virtual Adapter").
5. Locate your VPN's virtual adapter. You can usually find your VPN provider's name in its description. If not, look for the "TAP-Windows-Adapter VPN" label.
6. Right-click on your VPN adapter and click Properties.
7. Click on the Sharing tab. Tick the checkbox that says "Allow other network users to connect through this computer's Internet connection." Then under the "Home networking connection" drop-down, select the name of your VPN-enabled mobile hotspot. Click OK to save your settings.
Now all you need to do is connect the device you want to share a VPN connection with to the Wi-Fi hotspot. Use the network name and password from step 2 to do so.
How to Share a VPN Connection Over Wi-Fi (macOS Guide)
Things get a bit more complicated if you want to share a VPN connection over Wi-Fi on Mac.
Getting Started
First, your Mac needs to use an Ethernet cable to connect to the Internet, or at the very least a secondary Wi-Fi adapter (e.g., a USB one). Why? Well, it simply isn't possible to create mobile hotspots on macOS without using a separate adapter.
Second of all, this method does not work with the usual OpenVPN configurations. As such, you'll need to manually configure your Mac VPN and use another protocol (such as IKEv2 or L2TP/ IPSec). We've got you covered on that end, too - simply check out our guide on how to set up a VPN on Mac manually. The guide uses ExpressVPN as a base provider and focuses on the L2TP/ IPSec protocol.
The process shouldn't be too different for other VPNs, and your provider may have a manual Mac VPN setup guide of their own. Check their website if you're not sure. Once you have everything ready, proceed to the next section.
The Setup
Make sure you're connected to the Internet via Ethernet cable (or your primary Wi-Fi adapter - i.e., the one you won't be using to share a VPN connection). You should also be connected to the VPN as per the manual setup instructions.
Then follow these steps:
1. Click on the Apple Logo in the top-left of your screen. Choose "System Preferences...".
2. Then go to Sharing.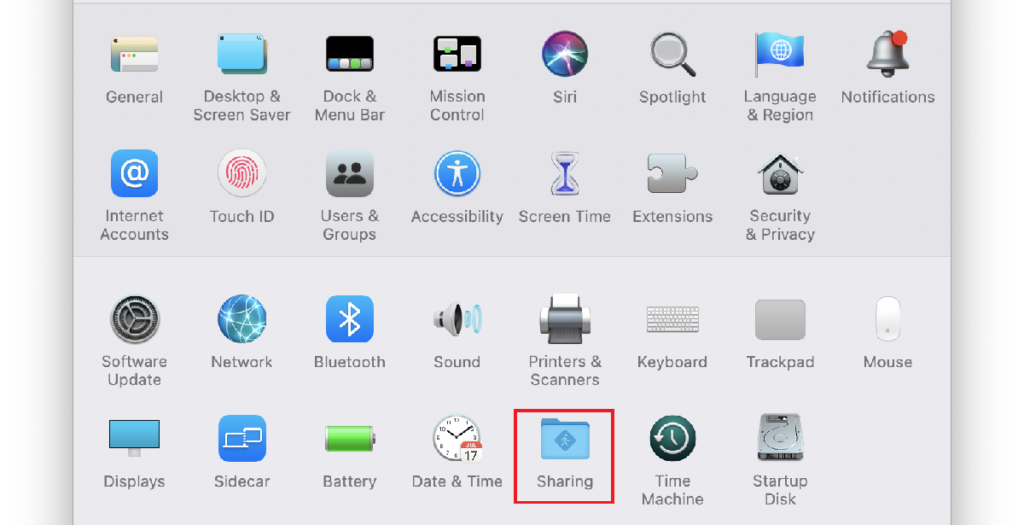 3. In the Sharing menu, select Internet Sharing. Do the following in this section:
Select the manual VPN connection you've created from the "Share your connection from" drop-down.
Check the box that says Wi-Fi, to the right of "To computers using:"
4. Click on "Wi-Fi Options..." and input your desired Network Name and Password. Leave Channel and Security as the defaults (security is usually WPA2 Personal).
5. Check the box for Internet Sharing to turn it on.
And that's it! Now you can connect to this new Wi-Fi hotspot to share a VPN connection with any of your devices. To turn off the option, simply uncheck the box for Internet Sharing.
How to Check If Your Device Shares the VPN Connection
Whether you've followed the guide on Windows 10 or macOS, checking to see if it works is the same on both platforms. Simply use a service such as WhatIsMyIP on the device you use to connect to the VPN-enabled Wi-Fi hotspot. Your IP address should reflect the server country you've connected to on your Windows or Mac computer.
Alternatively, test out your new VPN connection on a service like Netflix and see if you can unblock Netflix shows unavailable in your area. Geo-blocked YouTube videos will do the job nicely as well.
Let us know in the comments if you're having trouble with any step of the process!