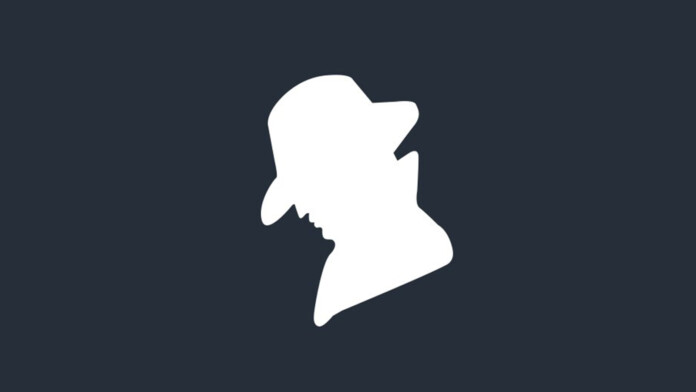 Choosing a VPN is not an easy decision. You want to make sure that your chosen VPN can protect your online identity in the best way possible, without overcomplicating things. Considering that you'll find hundreds of VPNs offering the same thing, how can you know which one to pick? Well, hands-on reviews like this one are here to help. Today, we will be telling you about ibVPN (Invisible Browsing VPN), which can often be found on the lists of recommended VPNs. As always, we'll be testing this VPN from the ground up, which will tell you if this VPN is worth your money.
Let's start with the basics. We'll familiarize you with this VPN by introducing you to its most prominent features. This is where our following table comes into play, so make sure to take a quick look.
Quick Facts
Jurisdiction
Romania (the EU).
Logs
No logs, whatsoever.
Number of Servers
50+ countries; 180+ servers.
Parallel Connections
5
Encryption Standards
AES-256; OpenVPN, L2TP, PPTP, SSTP, SoftEther, IPSec, StealthVPN.
Speed Reduction
42%, on average.
P2P Support
YES
Live Chat Support
YES
Supported Platforms
Windows, MacOS, Android, iOS, Web browsers, compatible routers.
Price
$4.83/month
We understand that VPNs have become essential tools for media streaming, especially if you want to unblock services not available in your country. For this purpose, we've tested ibVPN with the world's most popular websites, so here are the results.
Media Streaming Support
American Netflix
YES
Hulu
YES/NO
BBC iPlayer
YES
Amazon Prime Video
YES
Kodi
YES
And before we dive into our full review, let's take a moment to share our (post-review) findings. The following table is here for those who are in a rush, giving you a quick glimpse of the most important information. So, here's what we think about ibVPN.
The Bottom Line
Pros
Broad platform support; Easy to use; Privacy-oriented; Doesn't collect any data; Unblocks Netflix, Supports torrenting; Helpful customer support.
Cons
The UI needs some updating; Small server network.
The Final Verdict
Despite a few flaws, this is a hugely capable VPN service. You can count on it to protect your data, unblock websites, and secure any Web connection.
Our Score
8.5/10
We're now ready to dissect ibVPN into its smallest bits and check out whether it's worth recommending. Keep on reading as our full and hands-on review follows.
ibVPN – TechNadu's Hands-On Review
We've developed a methodical approach to how we review VPN services. We'll score this VPN's individual aspects, beginning with the basics. With this said, we'll start this review with some background information about ibVPN.
Background, Jurisdiction & Reputation
Being based in Romania, ibVPN is protected by this country's laws. In addition, it was never connected to any data leak in the past. Our Score: 9/10.
This VPN provides comes from Romania, which means that it falls under the laws of the European Union. Let's see what that means for its subscribers.
Jurisdiction & Applicable Laws
Coming from Romania, this VPN is under the influence of two different sets of laws. There are (first and foremost) the national laws related to data collection and privacy rights. And since Romania is a member of the European Union, there are more comprehensive laws that come from a higher level. With this said, you must think that ibVPN has no chance to avoid collecting data. However, being based in Romania is a very clever decision, and here's why.
Under the pressure of the EU, Romania has enacted the EU's Data Retention Direction in 2009 and 2014. However, the Constitutional Court of this country has declared twice that the Direction was a violation of Romanian citizens' rights to privacy. In fact, this country has its own laws that dictate the way personal information is treated. And let's not forget that it's not a member of the 14-Eyes Alliance.
It's also interesting to note that Romania doesn't have a firm stance toward digital piracy. Even though the country has its own regulatory bodies, they are far from being active. In the past, Romanian authorities have insisted that copyright violations are 'victimless' crimes.
As you can see, there's nothing to worried about ibVPN's home country. Maybe it's not the most privacy-friendly country in the world, but it's far from being problematic.
Previous Data Leaks
We are happy to report that ibVPN has never been connected to any data leak in the past. This means that they stay true to their privacy policy of not collecting your data. And even if they do collect data (which we highly doubt), they're not cooperating with any authorities.
After everything we said so far, we can conclude that you can use ibVPN without any fear. This VPN comes equipped with everything you need to protect your identity from third-parties on the Web.
Supported Platforms & Devices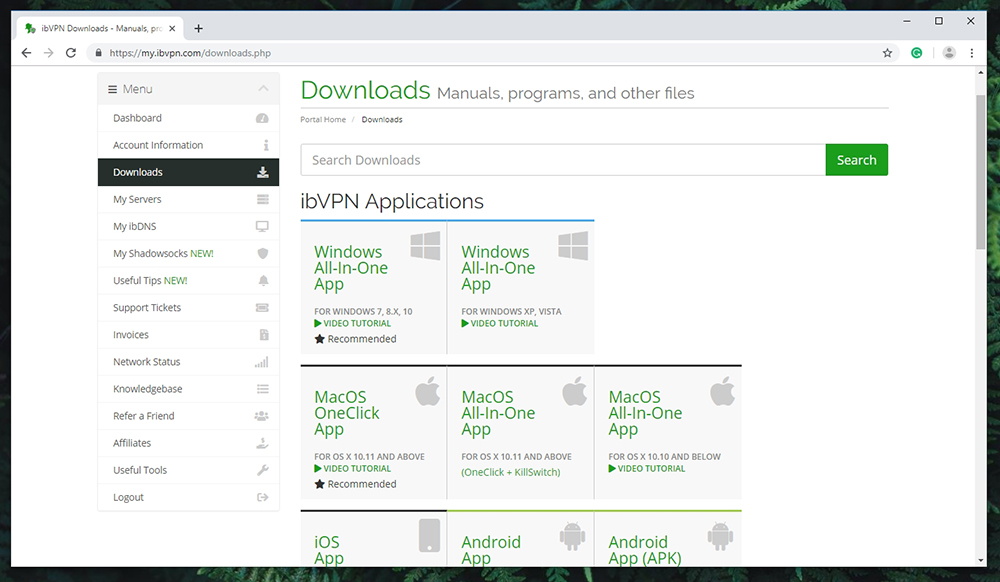 With numerous native apps across the board, ibVPN leaves little to be desired. Even FireOS is supported by a native app as well. Our Score: 10/10.
No matter which VPN you pick, you need to make sure that it covers all your devices. After all, you want to be protected in your home and on-the-go as well.
Platform Compatibility
Desktop Platforms
Windows, MacOS, Linux.
Mobile Platforms
Android, iOS.
Web Browsers
Chrome, Firefox, Opera.
Routers
DD-WRT, Sabai, Tomato.
Other Devices
Amazon FireOS.
We can see that ibVPN has done a wonderful job of supporting numerous platforms. When it comes to desktop systems, there are native applications for Windows and MacOS. Even though this VPN is compatible with Linux as well, there's no native software for this platform. This means that you'll need to configure it manually.
In terms of Web browsers, we have a full set here. Chrome, Firefox, and Opera are all on the list. However, these mostly act as proxies. That's why we highly recommend using a native ibVPN app if you want to enjoy all the benefits it offers.
Among other devices, there are native apps for Android and iOS. And there's even a native app for Amazon FireOS (including Fire TV / Stick). Finally, to protect any other device, you can install this VPN on a wide range of compatible routers.
Installation & Initial Configuration
Since it offers native apps for various platforms, the process of installation is very simple. Even complete beginners won't encounter a single issue. Our Score: 10/10.
To get started, you first need to subscribe to ibVPN. You can either go for one of its premium-placed plans (all of which comes with money-back guarantees), or you can create a 24-hour trial account. No matter which way you go, you'll end up with your new user credentials. Use that information to log in to your account (on the website) and download the required application from there.
Since ibVPN supports a large number of platforms natively, you don't have to do any manual configuration. Instead, double-click on the installation file, select a directory to copy the files, and you're done. Within a few seconds, the application will be installed and ready to be used. Log in to the application, and that's pretty much it.
No matter which platform you use, the process of installation is very simple. As you can guess, you only need to configure it manually on compatible routers. However, nicely written installation guides found on the website are here to help as well.
Prominent Features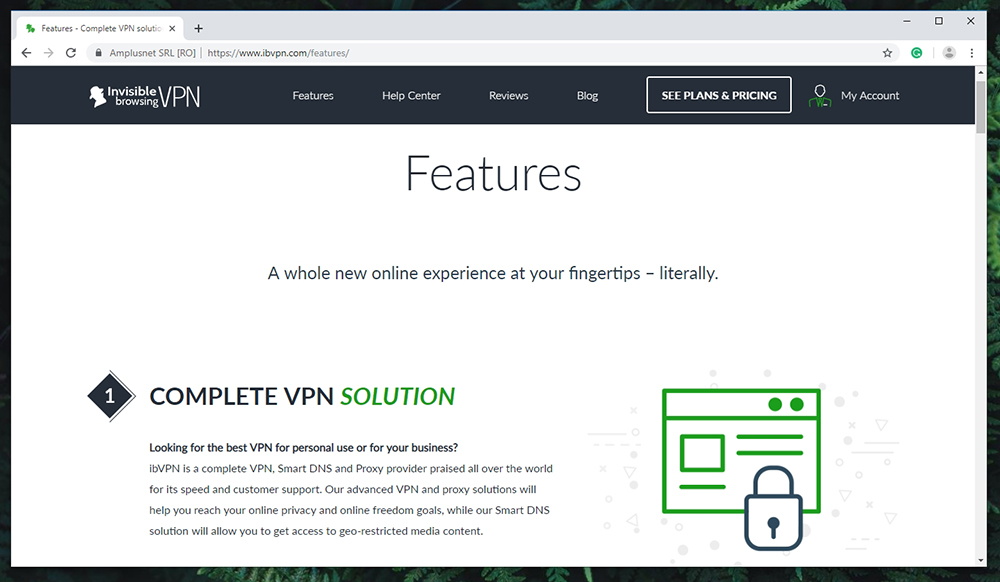 No matter if you need basic or highly advanced features, ibVPN will meet your needs. This is a highly capable VPN service. Our Score: 10/10.
There's a set of features that every reliable VPN should meet. These are designed to safeguard your privacy and allow you to use your chosen VPN with no limitations. Here's how ibVPN ranks in those aspects.
VPN Features Checklist
DNS Leak Protection
YES
IPv6 Leak Protection
YES
Kill-Switch
YES
Ad-Blocker, Anti-Malware
YES
Unlimited Server Switches
YES
Unlimited Bandwidth
YES
Unlimited Data
YES
In terms of preventing data leaks, ibVPN comes with the best possible approach. There are DNS and IPv6 leak protections, with the latter one being present on a number of servers. Then, there's a kill-switch included which stops all your Web traffic if your data becomes exposed. In other words, it shuts down your access to the Web when you disconnect from a secure server.
When it comes to keeping malicious scripts and trackers at bay, ibVPN comes with an experimental feature. You can enable a feature called 'ibVPN DNS' which should in turn block ads as you browse the Web. It seems like this ad-blocker is working for the most part – but don't forget that it's still in beta.
Lastly, you should know that buying a subscription fully unlocks this VPN. This means that you get unlimited server switches, and there are no bandwidth or data limitations.
Server Count
Unfortunately, ibVPN takes one of the last sports on our list of VPNs with most servers. With only 180+ servers, it won't leave anyone impressed. Our Score: 3/10.
Having numerous servers on disposal means having plenty of freedom. In general, you should always go for VPNs with higher server counts, especially if those servers spread across the world evenly.
Server Count Info
Number of Servers
180+
Number of Locations
100+
Number of Countries
50+
Specific Cities Selection
YES
Unlimited Switching
YES
As we can see, ibVPN currently offers around 180 secure servers. This isn't much, especially considering that some VPNs have more than 5,000 servers on offer. Still, this doesn't mean that you'll face overcrowded servers. This VPN is still relatively new with plenty of bandwidth to go around. However, this network will need to be expanded in the future to ensure smooth performance.
On the plus side, many of these servers are specialized. You'll find servers for media streaming, torrenting, gaming, and 'Tor over VPN' servers. In addition, you can connect to specific cities, which is handy for local websites available in specific regions only. And of course, there are no limitations in terms of how many times you can jump from one server to another.
We have to say that we like what ibVPN is offering. However, we can't oversee the fact that it has a very small server network – which is a major downside.
Ease of Use
The UI of ibVPN is a bit outdated. However, it allows you to dive deep into everything this VPN offers and isn't overly complicated to use. Our Score: 8.5/10.
Upon launching ibVPN for the first time, you might get overwhelmed by a bunch of different options and buttons. However, take a deep breath and start inspecting different visual elements. Soon enough, you'll make sense of everything and realize the numerous options this VPN offers.
The home screen of ibVPN (called 'Dashboard') gives you a quick overview of different options. You can choose from different servers and check out real-time stats (once connected, of course). There are also shortcuts to enabling the application's Kill-Switch and ibDNS (for unblocking media streaming websites). Many of the options found here are simply shortcuts to various parts of the app, as you're about to see. So, let's take a close each at each available tab, found on the left side of the application's UI.
Servers: This tab lets you check the available servers. A handy list pops up on the right side, providing you several ways to find a server that fits your needs. You can browse manually while seeing real-time stats on the available server bandwidth. Then, you can select a server by picking a protocol. And finally, there's even a handy wizard that lets you pick a server based on your needs.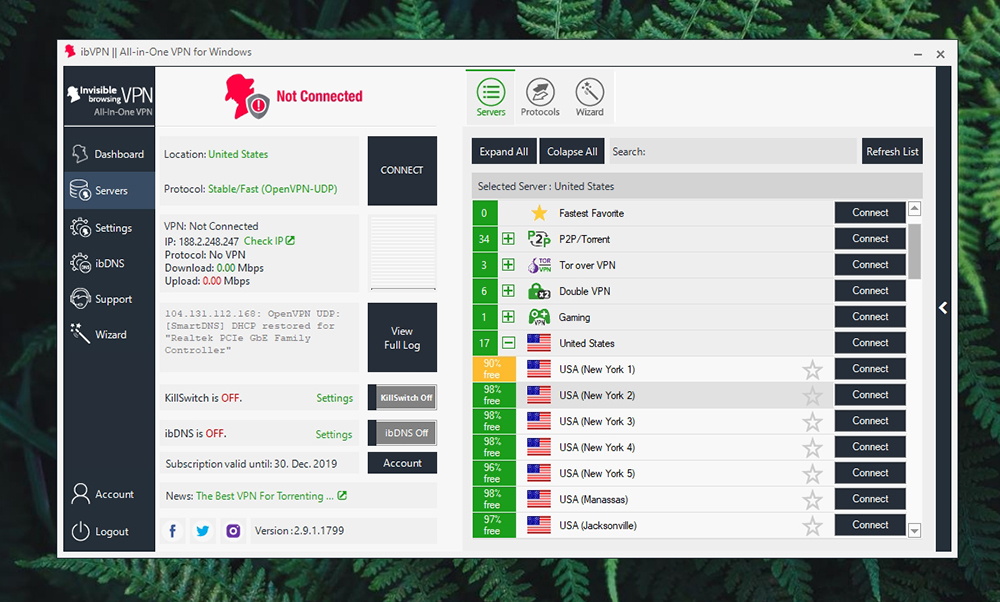 Settings: There are three tabs here – Privacy, Kill Switch, and Behavior. The first one lets you enable/disable IPv6 traffic, force the application to use ibVPN DNS servers only, block ads, and similar stuff. When it comes to the Kill-Switch, you can enable it globally or only for specific applications. And the final tab (called Behavior) lets you launch the VPN on system startup, auto-connect, enable/disable notifications, and do all kinds of tweaking.
ibDNS: If you want to unblock media streaming websites, this is what you should use. Called ibDNS, these are specialized servers whose primary goal is to unblock websites such as Netflix, for example. In other words, don't expect maximum protection out of these – as these are 'SmartDNS' servers (not made for privacy).
Support: We were surprised to see ibVPN offering a dedicated support section within the app. You can use it to contact the company, copy/paste/delete logs, perform troubleshooting, update the software, and plenty more.
Wizard: We've already explained this option, as this is just a shortcut. The Wizard lets you pick a server by answering a few questions. You can decide between performance and security, different use cases and more.
Account & Logout: Two of the final tabs allows you to review your account information. You can see which package you're using, as well as when it's due to expire, and which servers are included in your subscription plan.
We can't say that ibVPN is the most polished VPN out there (visually). However, it gets the job done. This is an incredibly comprehensive option that lets you dive deep into its settings – and we're huge fans of that.
Media Streaming & Torrenting Support
This VPN seems like a good solution for Netflix, BBC iPlayer, and Prime Video. It also supports torrenting via specialized servers. Our Score: 7.5/10.
We're sure you want to know if ibVPN can help you unblock Netflix and other popular websites. You'll be happy to know that we've tested it with a number of popular websites, so here are the results.
Media Streaming & Torrenting Support
Netflix US
YES
Hulu
YES/NO
BBC iPlayer
YES
Amazon Prime Video
YES
Torrenting (P2P)
YES
If you're after the American version Netflix, you're in luck. You can use ibVPN to unblock and stream media from this website with no issues, whatsoever. Our tests have proven that the same applies to BBC iPlayer and Prime Video. When it comes to Hulu, the situation is a bit different. At times, this service might work flawlessly. However, it sometimes stutters, making any type of playback close to impossible.
If you're into torrenting, you should know that there's an away of specialized P2P servers. These are found in the Netherlands, Luxembourg, Canada, Bulgaria, Russia, Sweden, and Hong Kong. This means that you'll get the best possible speeds if you live in any of those countries. If you're somewhere far from the countries with P2P servers, your download/upload speeds might suffer.
Security & Privacy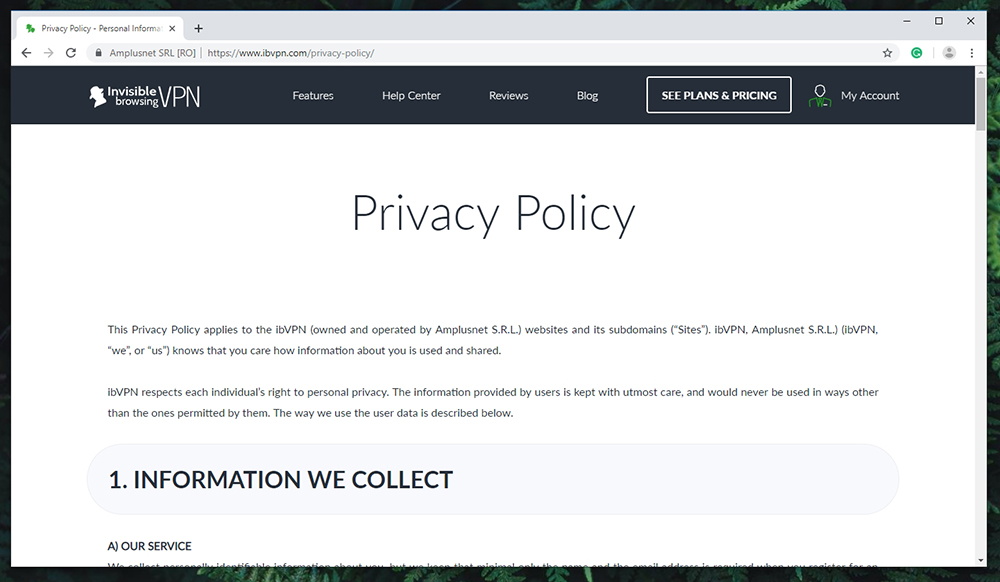 It's clear that ibVPN does well on the security front. It uses the latest VPN protocols, doesn't leak your data, and doesn't collect your personal data. Our Score: 10/10.
How well can ibVPN protect your personal data? What kind of encryption and VPN protocols you can use? Let's find out.
Supported Encryption Protocols
Backed up by AES-256 bit, ibVPN uses a whole range of VPN protocols to secure your data. You get to use from OpenVPN, PPTP, L2TP, SSTP, IPSec up to Stealth VPN, SoftEther VPN, and Shadowsocks (which isn't a VPN protocol, per se). Of course, not all of those are available on all of ibVPN's apps, as these are influenced by different platforms and devices.
It's worth noting that with ibVPN, you get a larger number of protocols than with most other VPNs. And this should be especially important in countries with heavy Web censorship (like China, for example). The bottom line is that there's plenty to choose from, and you can decide whether you want to prioritize performance or security.
Logging Policy
This VPN promises not to collect any of your personal data. Therefore, no data is collected, whatsoever. This is further explained via the company's Privacy Policy which says that ibVPN doesn't collect any traffic. Still, they will process any legal notices – but they can't be compelled to hand over information which they don't have.
Knowing that ibVPN has never been linked to any data leak in the past, we can say that we believe them – and so should you.
DNS Leak Test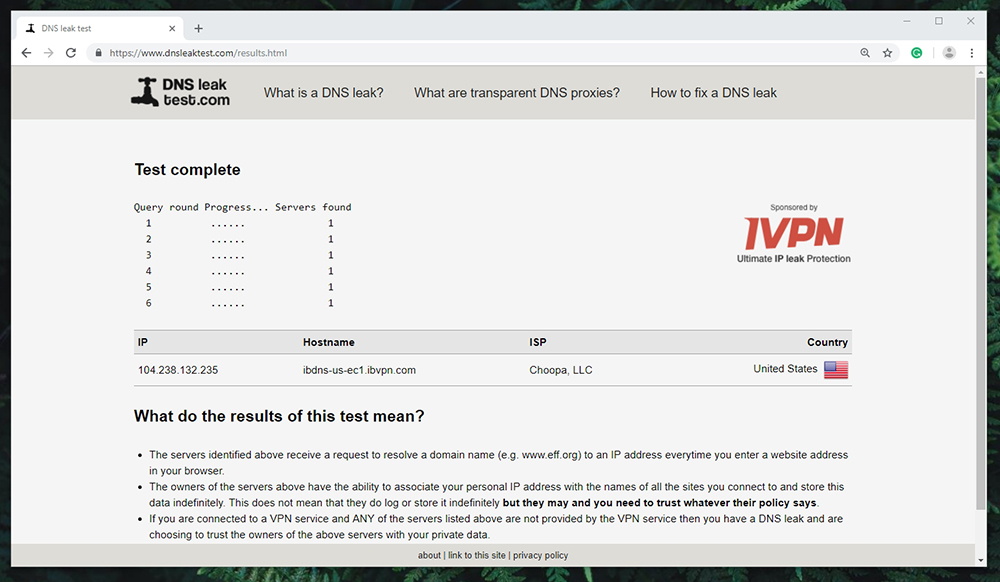 As you can see from the screenshot, ibVPN doesn't actively leak any data. We've run a DNS leak test to check what kind of information third-party website see, and whether they can see our real IP address. The answer is – no. Third-parties can only see what ibVPN serves them, and that's your virtual IP, DNS, and ISP.
Speed & Performance
As per our tests, ibVPN slowed us down by 42%. When compared to other VPNs, this is slightly better than the average result (25-35%). Our Score: 6/10.
Next, we're going to check what kind of performance this VPN offers. This means that we'll connect to both its nearby and remote servers and draw our conclusions out of those numbers.

First, we want to get our baseline stats, which is done by testing the speed of our Web connection. As you can see, we got 147.61 Mbps for downloads and 9.63 Mbps for uploads. This is the speed of our connection without any VPN involved.
Then, we used ibVPN to connect to a server that's close to our physical location. We're located in Europe, and we managed to find a server in one of our neighboring countries. We managed to 87.78 Mbps for download and 7.59 Mbps for uploads. You can see there's already some throttling, perhaps even greater than we expected.
Lastly, we've also tested the speed of a connection to a remote server. We chose a USA-based server and got 81.81 Mbps for downloads and 4.54 Mbps for uploads. To put everything into perspective, take a look at the following table.
| | | | |
| --- | --- | --- | --- |
| | Download Speed | Upload Speed | Speed Reduction |
| Baseline Speed | 147.61 Mbps | 9.63 Mbps | 0% |
| Nearby Server | 87.78 Mbps | 7.59 Mbps | 40.5% |
| Remote Server | 81.81 Mbps | 4.54 Mbps | 44.5% |
On average, ibVPN slowed us down by 42.5% on average. In comparison to other VPNs, this result is somewhere in the middle (perhaps a bit above the average result).
Customer Support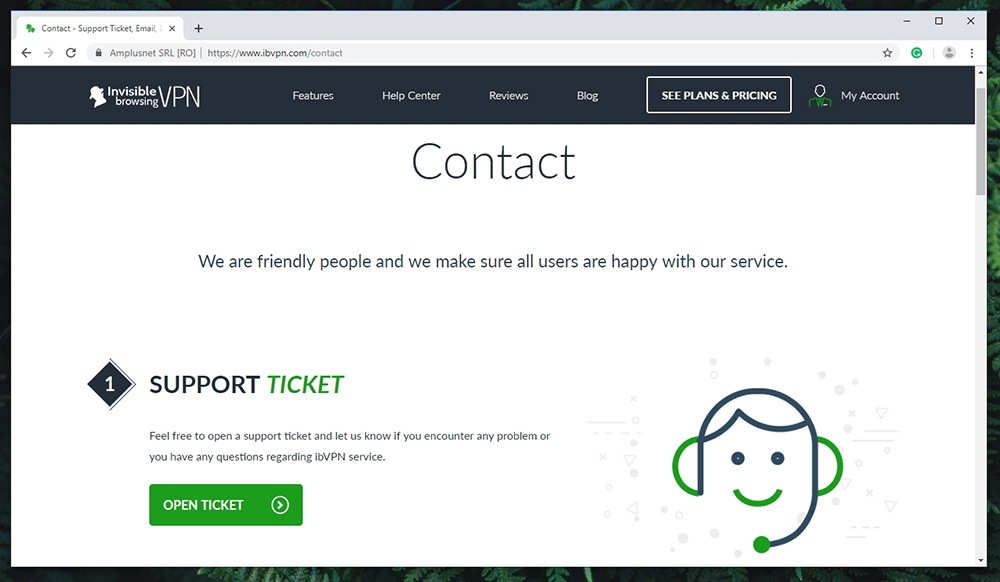 We have to say that ibVPN impressed us by its customer support. You can count on chatting live, self-help material, and even remote assistance. Our Score: 10/10.
We sincerely hope that ibVPN won't give you a hard time. However, it's good to know that help is on the way if things take a sudden turn for the worse. With this said, here's a brief overview of different customer support channels:
Live Chat: You'll be happy to know that there's a live-chat functionality on the official website of ibVPN. You can use it to talk to customer support agents, who are quick to respond. We've used this option a few times and it always worked without a hitch.
Dedicated Help Center: In case you'd like to explore some troubleshooting options on your own, there's a dedicated help center. This is where you'll find a comprehensive knowledge-base, frequently asked questions, and nicely written setup guides.
E-Mail & Support Tickets: Of course, you can always open a support ticket or write to this company via email. In general, it takes up to 24 hours to have your question answered.
Remote Assistance: Lastly, you can free to set up an appointment with ibVPN's support agents. Remote assistance is done via TeamViewer, which is perhaps the easiest and most effective way to have your issue resolved.
Pricing
It's evident that ibVPN comes with highly competitive pricing. Considering everything it offers, there's plenty of value here. Our Score: 9/10.
Unlike other VPNs, this one comes with a broad range of subscription plans. These are tailored to different needs, so you can pick only what you want to use. First, let's take a look at the entire offer by ibVPN.
| | | | |
| --- | --- | --- | --- |
| Subscription Plan | Included | Per Year | Per Month |
| Torrent VPN | VPN | $36.95 | $3.08 |
| ibDNS | SmartDNS / Proxy | $36.95 | $3.08 |
| Standard VPN | VPN / Proxy | $36.95 | $3.08 |
| Ultimate VPN | All-In-One | $58.06 | $4.83 |
Now, you need to know that we've tested the 'Ultimate VPN' version of ibVPN. So, everything said in this article applies only to that particular version. This is why we'll now take a closer look at the available plans of the 'Ultimate VPN'.
| | | | |
| --- | --- | --- | --- |
| | Total Price | Per Month | Savings |
| 1 Month | $10.95 | $10.95 | 0% |
| 12 Months | $58.06 | $4.83 | 55% |
In general, top-rated VPNs are priced between $10.00 to $15.00 per month, which means that ibVPN is on the lower end of this spectrum. You can get an ibVPN subscription for only $10.95, which means that you'll be charged on a monthly basis. However, our strong recommendation is to consider its long-term plan. You can save 55% off ibVPN by going for its 12-month plan, priced at only $4.83 per month.
When it comes to other aspects, there are over 50 international payment options available. Also, all of ibVPN's plans come with a 15-day money-back guarantee.
Do We Recommend ibVPN?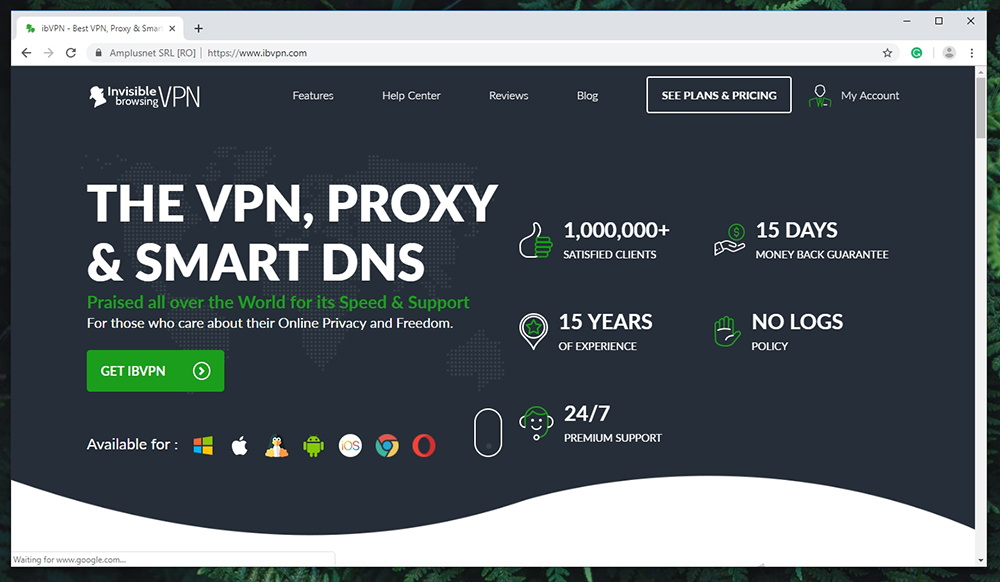 Considering that it brings plenty of interesting features, it's easy to recommend this VPN. No matter if you want to protect your online data, or if you simply want to unblock Netflix, you'll find your needs to be met by ibVPN. We only wished to see its server network being more comprehensive, but we hope this will be resolved in the future.
PROS: Compatible with numerous platforms; Very easy to install; Rigorous encryption and strong VPN protocols; Unblocks Netflix; Amazing customer support; Good value for the price.
CONS: Somewhat outdated UI; Relatively small server network.
OUR SCORE: 8.5 out of 10!
The fact is that ibVPN offers a lot of value for its price – which makes it hard not to recommend it to everyone. We believe you're going to love this VPN service, so go ahead and check out ibVPN on your own.
In the end, we'd like to ask you to share this article online. And to stay on top of the latest VPN-related news, you can follow us on Facebook and Twitter. Thanks!