Today's VPN market is overcrowded with all kinds of options, with many VPNs trying to present themselves as all-in-one solutions. However, Mullvad VPN does things a bit differently as it's dedicated to its primary purpose of keeping you safe on the Web. So, the question is - how well does this VPN do its job? Well, that's what we're here to help you find out. Welcome to TechNadu's hands-on Mullvad VPN review!
We'll start things slowly by introducing you to this VPN. We've prepared several handy tables, with the first one extracting the essential information about this VPN. Check it out below.
Quick Facts
| | |
| --- | --- |
| Jurisdiction | Sweden |
| Logs | No activity logs / No connection logs |
| Number of Servers | 38 countries / 760+ servers |
| Parallel Connections | 5 |
| Encryption Standards | AES-256 / OpenVPN and WireGuard |
| Speed Reduction | 69.9% on average |
| P2P Support | YES |
| Live Chat Support | NO |
| Supported Platforms | Windows, macOS, Linux, iOS, Android (TV), Firefox, and routers |
| Price | €5.00/month ($5.70/month) |
As you can see in our article on how we review VPNs, we think that media streaming is a crucial aspect of any VPN. So, here's what to expect from Mullvad in that regard.
| | |
| --- | --- |
| American Netflix | YES |
| Hulu | NO |
| Disney Plus | NO |
| BBC iPlayer | NO |
| Amazon Prime Video | NO |
| Kodi | NO |
Lastly, we are going to provide a quick look at our findings. However, we do suggest reading this entire review for an in-depth look at Mullvad VPN. So, here are our quick conclusions.
The Bottom Line
| | |
| --- | --- |
| Pros | Total online security and anonymity; High-end VPN protocols; No data logging; Unblocks Netflix; Easy-to-understand pricing structure. |
| Cons | Relatively small server network; Limited customer support; Not the fastest VPN out there; Not the best option for media streaming. |
| The Final Verdict | If you care only about privacy and online safety, Mullvad provides an answer to your concerns. However, if you care about speed and media streaming, you'll have an easy time finding a better option out there. |
| Our Score | 7.6/10 |
Now, we are ready to dive deeper and see what Mullvad has on offer. We will dissect this VPN into its smallest bits to find out whether you should trust this VPN and if it's worth the money.
Mullvad VPN Review
First of all, you should know that we've spent quite some time testing Mullvad. Unlike most other reviews on the Web, everything found in this article is a result of thorough testing. With this said, we'll begin by taking a look at this VPN's reputation and background.
Background, Jurisdiction & Reputation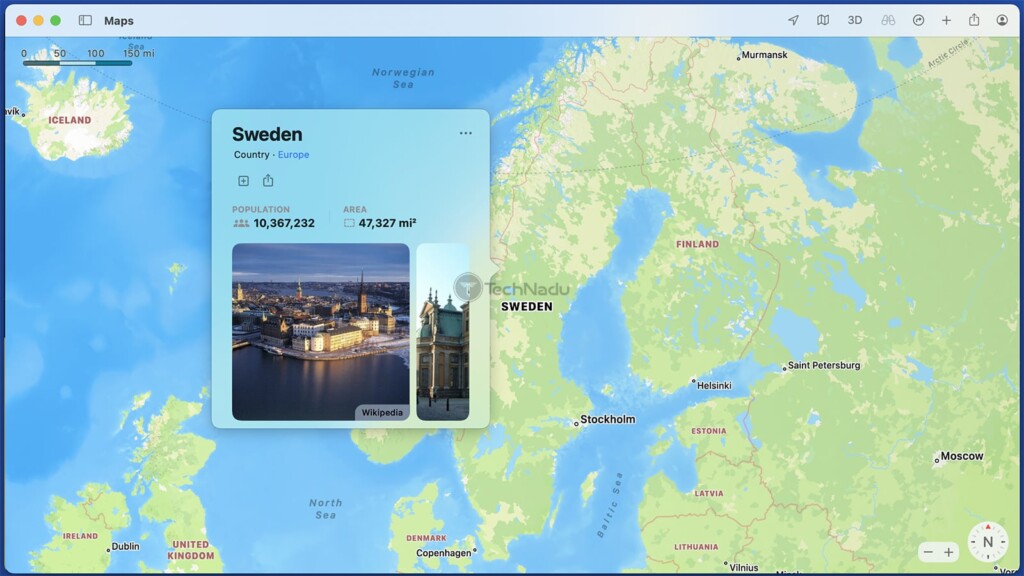 Mullvad is based in Sweden and has done plenty to protect each individual customer. Also, there are no records of previous data leaks. On top of that, Mullvad is happy to go through independent audits, proving its high level of security. Our Score: 10/10
You need to be aware of where your chosen VPN comes from, as that dictates how your sensitive data is handled. Each country has its own set of laws, and some can be quite restrictive in that regard. That's why top-rated VPNs pick exotic locations as their base of operations, giving them a competitive edge.
Jurisdiction & Applicable Laws
Mullvad comes from Sweden, and this country is a member of the 14-Eyes Alliance. That could be seen as a major red flag, especially since you'll have an easy time finding a VPN that comes from a "safer" territory and jurisdiction. So, does that put Mullvad in a bad position?
Well, Mullvad VPN understands that many might think that Sweden isn't a good place for a VPN-focused company. However, you should know that this country is one of the most progressive countries in terms of personal data protection.
First of all, there's the General Data Protection Regulation act that all EU members share. Then, there's the Electronic Communications Act (LEK) that covers the entities that must store and process data. As per this law, VPN services are not included – providing a way for Mullvad to avoid data collection.
As this VPN states, the key to running a successful VPN business is to store as little data as possible. If they don't have any data about you, they won't be able to give anything even when and if forced. On top of that, Mullvad supports a wide range of anonymous payment options. So, you can quite easily hide the fact that you're using this VPN, which is something you'll have a tough time finding elsewhere.
We'd also like to point you to Mullvad VPN's owner directive (in Swedish), where you'll see that the VPN is owned by Daniel Berntsson and Frederik Stromberg, holding 50% of Mullvad's shares each. That means Mullvad is a 100% independent VPN without being connected to outside investments, corporations, or venture capital flows.
With that said, we conclude that Mullvad has covered the basics quite well. If you're obsessed with your digital privacy, this VPN offers a solution to get the highest possible level of protection among today's commercially available VPN services.
Previous Data Leaks
A few years back, Mullvad was suspected of having certain vulnerabilities. More precisely, it was said that Mullvad allowed DNS hijacking. This report included a large number of top-rated VPN providers, many of which issued their response saying that the report was false.
In the meantime, Mullvad remained silent, letting others do the job of discrediting the report. In the end, this report failed to cause any commotion on the Internet, as it was described as 'sensationalistic' in the end.
What's important to be said is that Mullvad is often regarded as one of the most secure VPNs on the market. It comes with no data leaks or data breaches in the past, which is good news. This VPN has been on the market for 10+ years now, so it's quite an achievement that it comes with a clean slate in terms of its reputation.
And also, this VPN went through an independent audit done by Cure53, a highly reputable cyber-security company (completed in December 2020). That audit proved that no PII (personally identifiable information) could be attached to any individual Mullvad user. In other words, the audit confirmed that Mullvad's infrastructure is in full compliance with its no-logs policy.
In June 2020, Cure53 was hired to check the VPN's level of security. The audit proved that no dangerous or critical vulnerabilities were present in any of Mullvad's apps by doing penetration testing. So, once again, another proof of this VPN's level of security.
Supported Platforms & Devices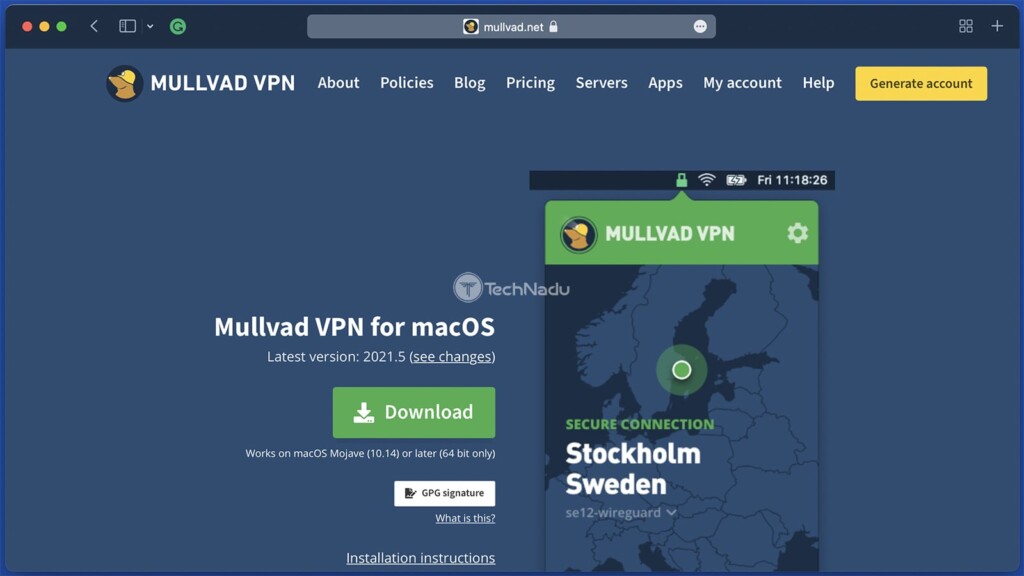 Mullvad comes as a native application for desktop and mobile devices. Aside from that, it's available for Firefox (other Web browsers are missing) and Android TV (support for other streaming devices is also missing). Our Score: 7.5/10
In this segment, we'll talk about the platforms and devices supported by Mullvad VPN. Keep in mind that today's VPNs have the power to protect pretty much any Web-connected device.
Platform Compatibility
| | |
| --- | --- |
| Desktop Platforms | Windows, macOS, Linux |
| Mobile Platforms | Android, iOS/iPadOS |
| Web Browsers | Firefox |
| Routers | DD-WRT, OpenWRT, Tomato routers, and more |
| Other Devices | Android TV |
Regarding Mullvad's native apps for desktop platforms, you can use it on Windows, macOS, and Linux – so the big three most popular platforms are covered well. The situation is also good on iOS/iPadOS and Android, where you'll find native apps that can be downloaded from the iOS App Store or the Google Play Store.
In the past, Mullvad only offered manually configured connections for mobile users. With that said, we're more than happy to see a significant improvement in that aspect. On top of that, this VPN is now available as a Firefox extension, with no news about whether we can expect a Chrome extension in the future.
We'd like to note that since recently, Mullvad VPN is also available on Android TV, making it available on a range of smart TVs and dedicated media streaming devices. Still, this VPN doesn't offer an app for Fire TV (sideloading is possible, though), which is a letdown.
Finally, keep in mind that Mullvad VPN supports up to 5 simultaneous connections. That's not the most generous offer, but it should still be enough to protect Web-connected devices at your home as well as on the go.
Installation & Initial Configuration
Getting started with Mullvad is easy, no matter you want to install it on your computer or a mobile device. Also, there are nicely written guides that can assist you every step of the way. Our Score: 10/10
To get started, you first need to sign up for a new account. This VPN takes a different approach to this process as it tries to avoid collecting any personal data. Instead of signing up with an email and password, you'll be assigned a random set of numbers. Since you can pay via Bitcoin (and other anonymous payment methods), you can be 100% anonymous right from the start.
If you use Windows, macOS, or Linux, you can download the official application from the VPN's website. And if you use iOS/iPadOS or Android, you need to turn to Apple's App Store or Google's Play Store. Therefore, the process of installing Mullvad VPN and making it ready for use is quite simple and without any unneeded distractions.
When it comes to installing this VPN on a router, Mullvad's site does an excellent job of explaining how that can be done. You'll find guides for OpenWRT, DD-WRT, Tomato, and Asus Merlin routers, with nicely explained step-by-step instructions.
Prominent Features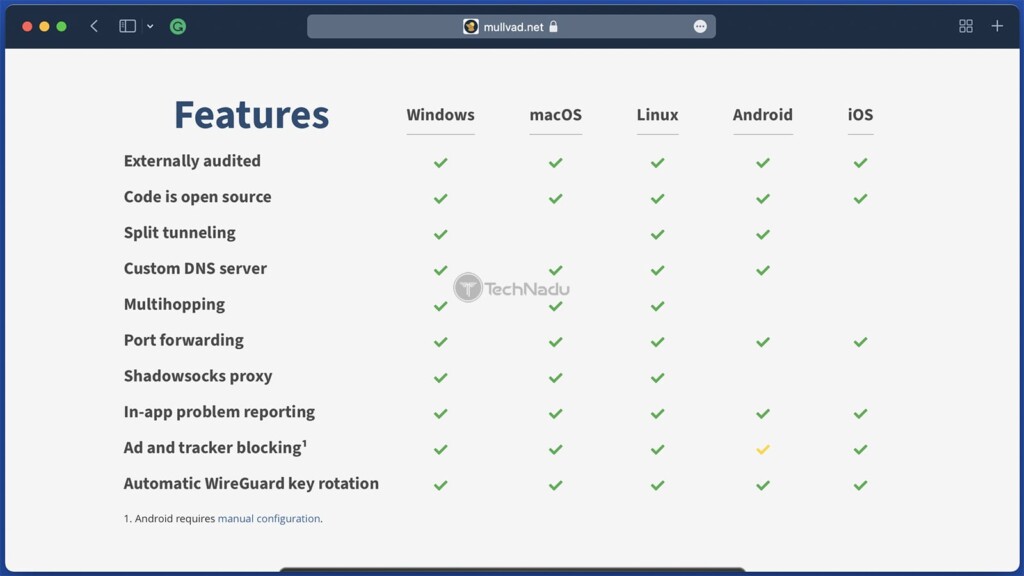 Mullvad covers the basics quite well while also offering a set of advanced features such as split tunneling, ad blocking, and there's a kill switch as well. Our Score: 9/10
During the last year, Mullvad VPN brought a number of modern features that make it more competitive in today's overcrowded VPN market. With that said, let's take a close look at the features this VPN offers to its subscribers.
| | |
| --- | --- |
| DNS Leak Protection | YES |
| IPv6 Leak Protection | YES |
| Kill Switch | YES |
| Split Tunneling | YES (Windows, Android, Linux) |
| Dedicated/Static IP | NO |
| Ad-Blocker, Anti-Malware | YES/NO |
| Unlimited Server Switches | YES |
| Unlimited Bandwidth | YES |
| Unlimited Data | YES |
When it comes to the basics, you should be covered more than well. Mullvad protects your DNS queries as well as your IPv4/v6 address, which means that your "true" location will remain safe within Mullvad's tunnel. However, this VPN now also brings a whole slate of advanced features that seasoned VPN users are going to love.
First of all, there's a kill switch. However, it comes built-in and works in the background. That means that you can't enable or disable it manually. Instead, Mullvad's kill switch kicks into action once your VPN connection becomes unstable as a precautionary measure that prevents your personal data from leaking on the Web (and revealing your "true" information).
Then, split tunneling is on offer as well. It's built into Mullvad's apps for Windows, Android, and Linux. You can also use it on macOS via manual configuration (for the OpenVPN protocol only). And aside from that, Mullvad now protects you against digital trackers and ads (you need to enable this feature by visiting the VPN's settings).
When it comes to other features, know that Mullvad offers multi-hopping (on Windows, Linux, and macOS). On those platforms, you can also configure a Shadowsocks proxy. That makes it clear that Mullvad VPN is usable enough for both complete beginners and advanced users.
Server Count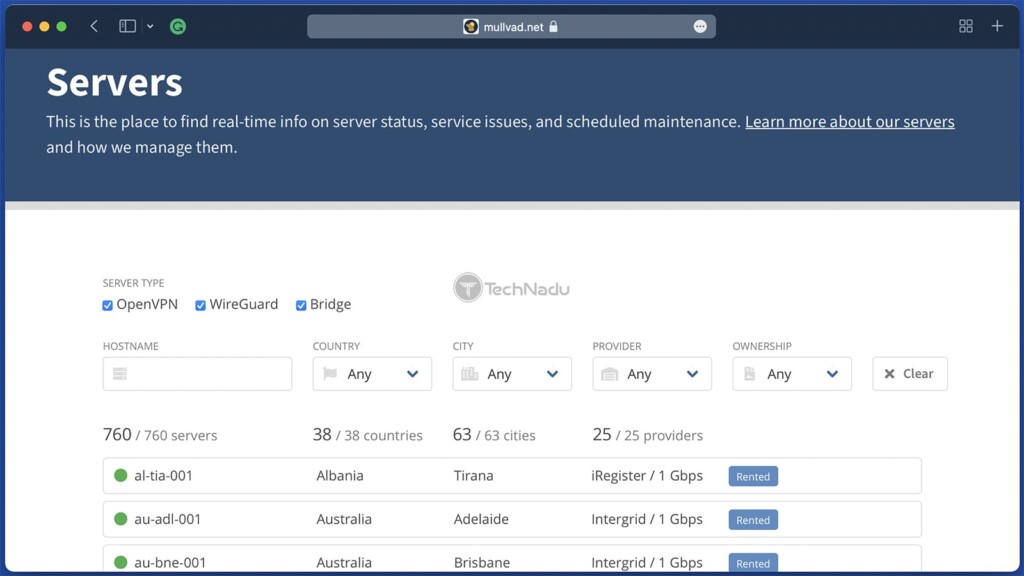 This VPN comes with a relatively small network of 760+ servers. That should be enough for average home users, but we can't hide the fact that top-rated VPNs typically offer 3,000+ strategically placed servers. Our Score: 6/10
Let's check the size of Mullvad's server network, whether it rents or owns its network, and other important information directly affecting the privacy of your personal data.
Server Count Info
| | |
| --- | --- |
| Number of Servers | 760+ |
| Number of Locations | 60+ |
| Number of Countries | 38 |
| Specific Cities Selection | YES |
| Unlimited Switching | YES |
Know that today's top-rated VPNs come with thousands of servers. For example, NordVPN has more than 5,000 VPN servers in 60 countries, while ExpressVPN has more than 3,000 servers in 90+ countries. And as you can see, Mullvad offers around 760 servers in 38 countries. So, knowing that this VPN has been on the market for 10+ years now, we have to say that we've expected to encounter a more extensive network.
However, it's worth mentioning that average home users should be pleased with this VPN's 760+ servers, as they're spread throughout the world. You'll find many servers across North and South America as well as Europe, which are seen as popular "destinations" for VPN users. The situation isn't that great if you want servers in Africa or Asia, especially in countries like India and Thailand.
It's also worth mentioning that Mullvad VPN owns around 160+ servers, while the rest are rented. However, even in the case of rented servers, they're encrypted at all times, and they have their own private keys for the VPN tunnels that are unique for each server.
Ease of Use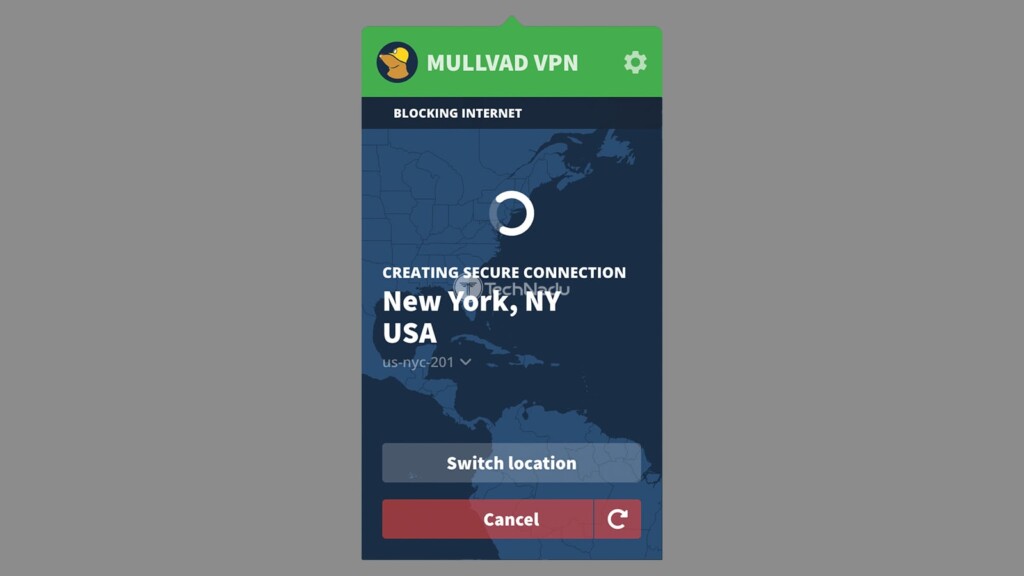 Mullvad's UI is nicely designed but can be somewhat frustrating to use in the long run. It also brings a very limited option of fine-tuning. As such, it seems to be oriented more toward users looking for a fully-automated VPN. Our Score: 8/10
No matter on what platform you decide to use Mullvad, you'll always get the same experience. That's because Mullvad VPN comes with a uniform design (applying both to its UI and UX), following the same pattern across all of its supported platforms.
The home screen of Mullvad brings a non-interactive map alongside two prominent buttons at the bottom of its interface. You can browse the list of available servers, or you can click on the 'Secure My Connection' button to connect to a secure server.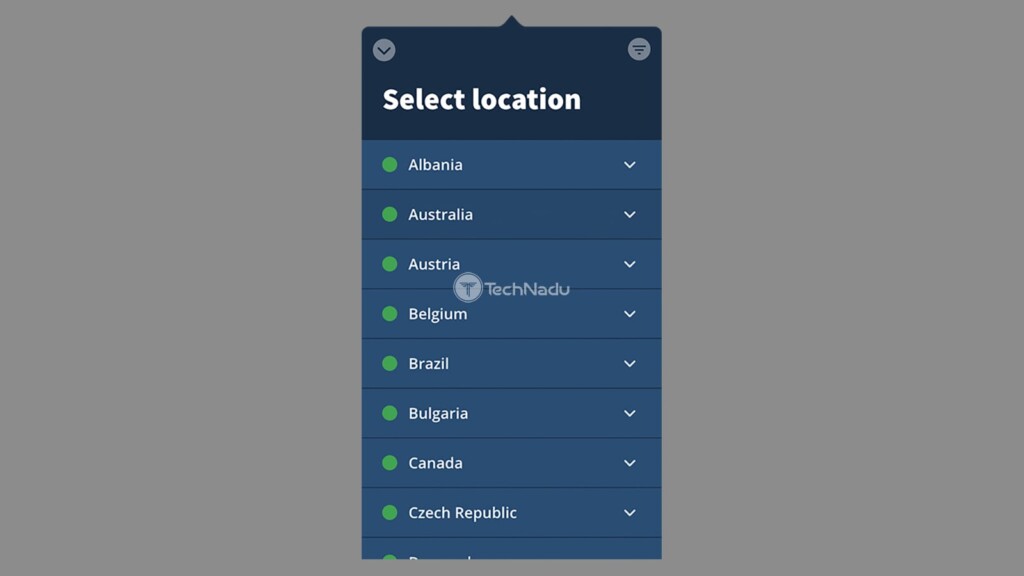 If you decide to browse the list of VPN servers offered by Mullvad, you'll see a long list of countries, and many of them let you pick an individual city. This is especially handy for US-based servers, allowing you to find a server that's closer to your physical location.
To dive deeper into the application, click on the cogwheel icon you'll see in the top-right corner. Using that icon, you'll access Mullvad's settings, letting you adjust the following:
Account: This is where you can check when your account is due to expire, and you can extend your subscription's duration from here as well. There's also a button that lets you log out of the application.
Preferences: This tab allows you to auto-initialize the VPN upon system start-up. You can enable the VPN's ad-blocking tool, allow connections to local devices, as well as enroll in Mullvad's beta program if you're eager to try experimental features.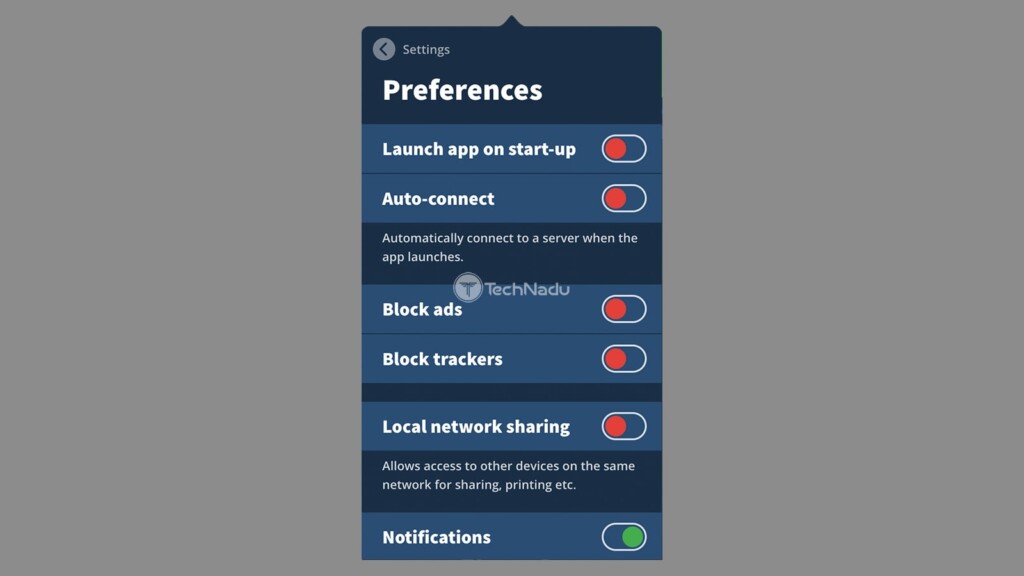 Advanced: In this segment, you can enable/disable IPv6 data protection and you can choose from the available VPN protocols that we'll discuss later on in this review.
App Version: This is where you can check the current version of Mullvad's client. By clicking on this segment, you'll be taken to the VPN's site, where you can check what's new.
Report a Problem: If you're facing any kind of problem while using the VPN, this is from where you can create a support ticket. Describe your issue while providing as many details as possible, and then send your message to Mullvad's team by clicking on 'Send.' As easy as that!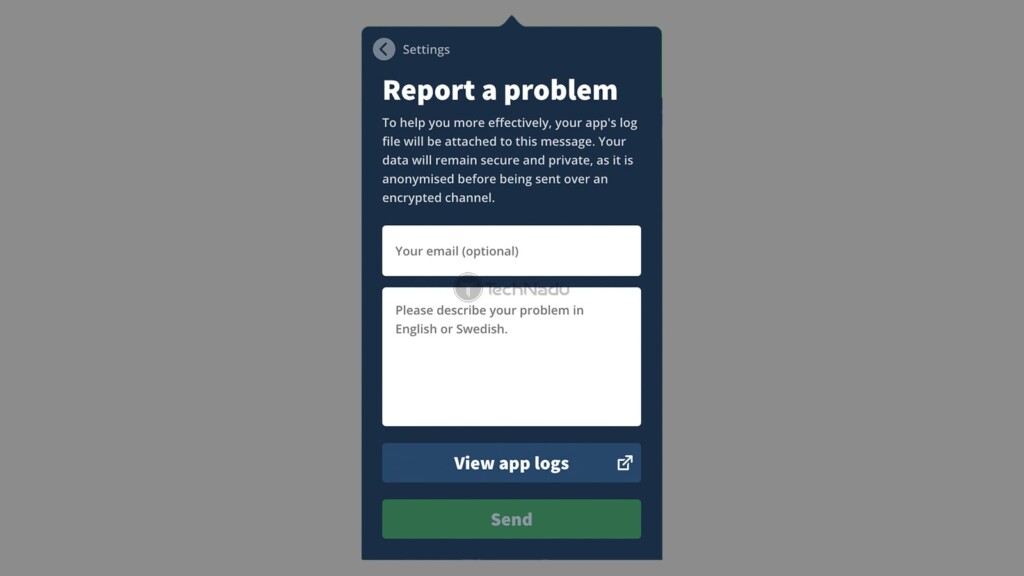 FAQs & Guides: The final option serves as a link to Mullvad's website, where you can check helpful support resources, answering questions regarding the VPN's features and more.
Everything said above applies to Mullvad's desktop apps. However, as noted earlier, you can expect to find a similar concept while using Mullvad's smartphone apps as well.
You can check our screenshots of the VPN's iPhone app just below. You'll see that a pretty basic interface is available, letting you pick a server manually, connect to the fastest server available, as well as dive into the VPN's settings (there's not much you can fine-tune on iOS, though).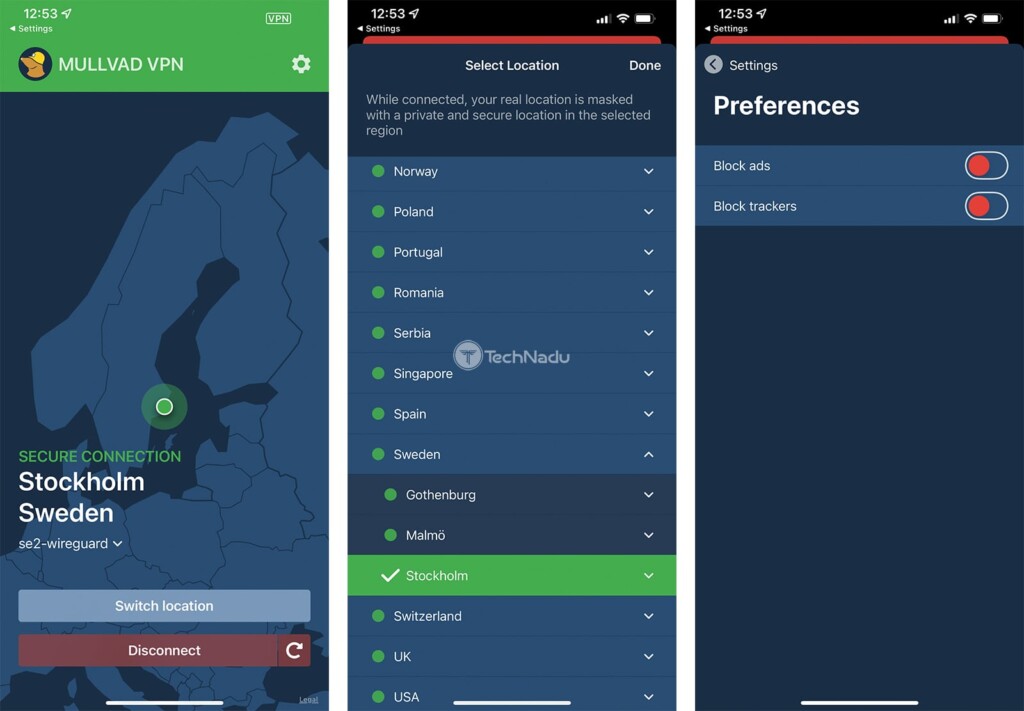 All in all, we like how Mullvad is designed. However, compared to other VPN apps, we have to say that Mullvad is a bit behind its competitors. It does have a nice interface, but a lot of clicking and tapping is involved, even for the simplest of tasks.
With that said, those looking for a straightforward VPN app will love this UI. More advanced users will be left wanting more, especially when it comes to customizing their VPN tunnels.
Media Streaming & Torrenting Support
Mullvad lets you unblock and stream Netflix, and that's it. Other streaming services simply don't work with this VPN. And, it also fully supports downloading torrents. Our Score: 3/10
We've spent some time testing Mullvad's media streaming capabilities. So, let's see how good this VPN is when it comes to streaming.
Streaming and Torrenting Support
| | |
| --- | --- |
| Netflix US | YES |
| Hulu | NO |
| Disney+ | NO |
| Amazon Prime Video | NO |
| BBC iPlayer | NO |
| Torrenting (P2P) | YES |
We had an easy time unblocking the American version of Netflix using a range of Mullvad's US-based servers. On top of that, this VPN lets you unblock other versions of Netflix, reserved for countries like the UK, Germany, and Japan, for example. Therefore, if you're a Netflix user, know that Mullvad should meet your needs quite easily.
When it comes to other streaming services, we have to say that Mullvad can't unblock any of those. We've tried accessing Hulu, Disney Plus, Prime Video, and BBC iPlayer - but without any success. Therefore, we conclude that Mullvad's media streaming capabilities are quite limited.
When it comes to torrenting, we have some good news. Mullvad fully supports torrenting, and it even offers a guide on how to secure your connection when downloading P2P files. This VPN recommends using qBittorrent, but any other torrent client should work just fine.
Security & Privacy
Mullvad is one of the most secure VPNs. It doesn't collect your personal data, uses the latest VPN protocols, and comes free of DNS leaks. Our Score: 10/10
To see how successfully Mullvad can keep you protected on the Web, we'll check its security-related features. And of course, we'll also take a close look at the VPN's privacy policy. So, here's what you need to know.
Supported Encryption Standards
To ensure no one can read your data, Mullvad uses AES-256 for the OpenVPN protocol and ChaCha20 for the WireGuard protocol. That means that no matter which of those protocols you pick, you can be sure that your VPN tunnel is encrypted in a reliable and secure way.
Aside from that, both OpenVPN and WireGuard are great options, so you won't make a mistake no matter which of those you pick. While OpenVPN has been in use for many years now and comes without any vulnerabilities, WireGuard is a brand-new protocol that's not only lightweight and secure but also incredibly fast.
Logging Policy
In terms of the way it handles your data, Mullvad is one of the most exciting VPNs right now. As said earlier, it even doesn't store your email address. Instead, you get an account number that is used to track your payments. And to be 100% anonymous, you can pay via Bitcoin.
When it comes to the information that Mullvad collects, there are two types of data. The VPN collects aggregated application data (allowing the VPN to ensure that you're under your limit of 5 simultaneous connections). And also, Mullvad collects generic system metrics, such as CPU load per core and total bandwidth used by individual servers.
With that said, we conclude that Mullvad VPN is one of the most secure VPNs out there. It's been available for 10 years now, without any incidents of leaking or collecting user data. So, it's safe to say that you're 100% protected if your device goes with this VPN.
DNS Leak Test
Finally, we also tested whether Mullvad's VPN tunnel reveals any personal data, such as our IP address, DNS queries, and similar. Just below, you'll find the results of that test.
As you can see from the screenshot above, Mullvad comes free of DNS leaks. We've connected to a server in the UK, and that's the only thing that websites can see. Differently said, your personal information, along with your actual IP address, will be hidden at all times.
Speed & Performance
When it comes to connections to nearby servers, they work fine for the most part. However, Mullvad's remote connections can be quite unpredictable and slow. Our Score: 5.5/10
To check Mullvad's performance, we connected to both nearby and remote servers, checking their individual download and upload speeds. Also, we made sure to use the OpenVPN protocol, allowing you to compare Mullvad to other VPN services. So, here's what you need to know.
First, we tested the speed of our Web connection without having Mullvad active. We managed to get 487.38 Mbps for downloads and 48.49 Mbps for uploads. That's our baseline data.

Then, a server in Italy gave us 440.67 Mbps for downloads and 46.41 Mbps for uploads. We're located in Europe, which means this is a nearby VPN connection. Without any surprise, Mullvad worked just fine, managing to maintain our connection's performance.

A server in the United Kingdom (another nearby connection) performed slower than expected. We managed to get 257.66 Mbps for downloads and 46.31 Mbps for uploads.

Then, we started to test remote connections, with the first one being to a server in the US. It came as a surprise that we got only 58.65 Mbps for downloads and 10.31 Mbps for uploads.

A server in Canada (another popular VPN "destination") performed similarly to the previously tested server. It gave us 59.89 Mbps for downloads and 1.97 Mbps for uploads. We have to note that our upload speed went down in quite a prominent way.

We typically test VPN servers in India in our reviews, but since Mullvad doesn't offer servers in that country, we decided to connect to Hong Kong. During this round of testing, we ended up with 33.97 Mbps for downloads and 12.10 Mbps for uploads.

And finally, we connected to a server on the other side of the world, in Australia. The final round of our tests indicated that the speed of our Web connection went down to 26.50 Mbps for downloads and 7.50 Mbps for uploads.

Now, let's make some sense of all those numbers, shall we? The following table will give you an idea of what to expect from Mullvad VPN's nearby and remote servers.
| | | | |
| --- | --- | --- | --- |
| | Download Speed | Upload Speed | Speed Reduction |
| Baseline Speed | 487.38 Mbps | 48.49 Mbps | 0% |
| Italy | 440.67 Mbps | 46.41 Mbps | 9.5% |
| United Kingdom | 257.66 Mbps | 46.31 Mbps | 47.1% |
| United States | 58.50 Mbps | 10.31 Mbps | 87.7% |
| Canada | 59.89 Mbps | 1.97 Mbps | 87.7% |
| Hong Kong | 33.97 Mbps | 12.10 Mbps | 93.0% |
| Australia | 26.50 Mbps | 7.50 Mbps | 94.5% |
We conclude that Mullvad VPN made our Web connection slower by 69.9% on average. It's true that any VPN will slow you down, but we have to add that Mullvad's performance didn't impress us. That especially goes for long-distance connections, which have proven to be quite slow and often unreliable.
Customer Support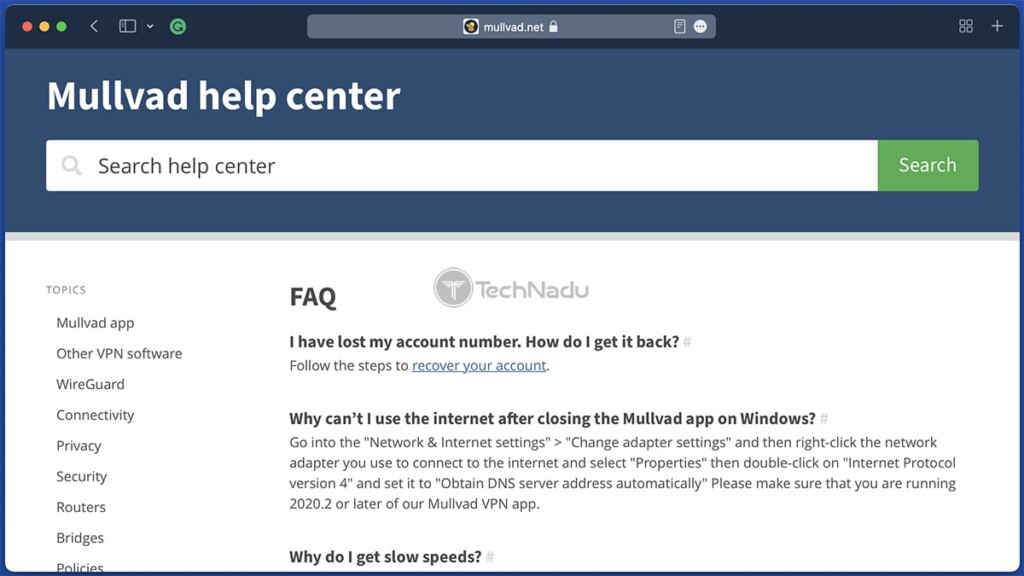 There are different ways to get help – but live chat isn't an option. In case of any issues, you'll be forced to wait until you get a response and try a possible solution. Our Score: 6/10
When you're buying any type of product, especially a digital one, you want to know what kind of support you'll be getting. Even though VPNs are usually stable applications, something can go wrong at times. So, here are all the ways that Mullvad can help you.
Written Guides: Mullvad has a dedicated page on its website containing a number of helpful guides. You can learn how to install it on a range of devices, and there are guides related to privacy, security, troubleshooting, and more. All of those come written in a friendly tone, great for inexperienced users.
FAQs: There are numerous questions answered on Mullvad's website that you can check. Many of these have links where you can find in-depth information. With this said, we recommend this to be your first resource when trying to get help.
Support Tickets (Support via Email): You can submit a support ticket from within Mullvad's software, or you can write to this VPN's team via email. This VPN provider has a reputation for providing timely responses, which usually come within a few hours once you send a message.
As you can see, Mullvad is missing live-chat support. This seems quite strange considering that this isn't a brand-new VPN. With other 10 years of being available, this company could have developed a more reliable customer support system.
Pricing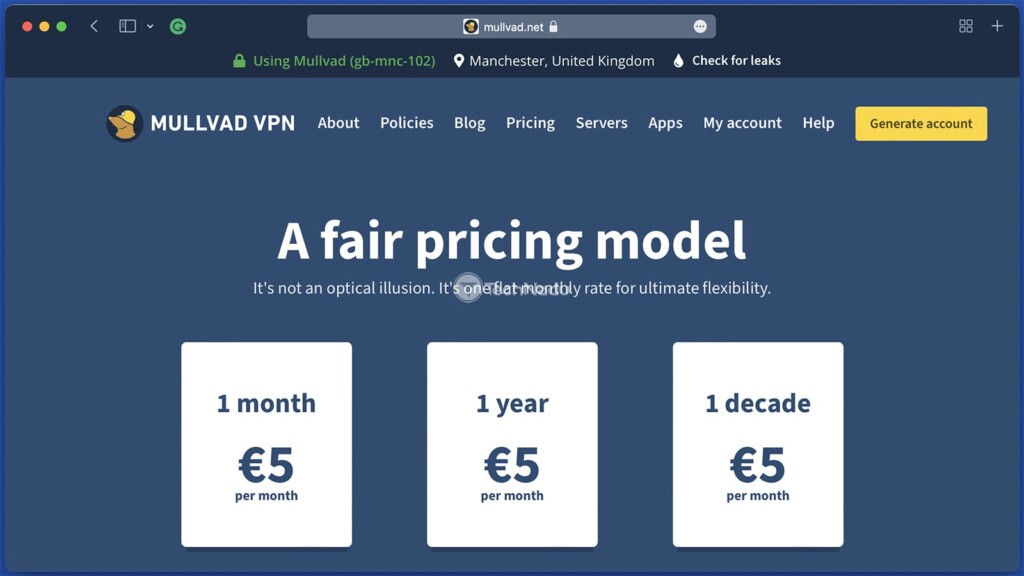 Mullvad comes with a simple pricing structure, which comes down to around $5.70 per month - which certainly seems like a fair deal. Our Score: 9/10
When it comes to its pricing scheme, Mullvad VPN keeps things rather simple. There's a single subscription plan where you pay €5.00 per month – which is around $5.70 if you're not in Europe. Unlike other VPNs, this one doesn't provide long-term plans that bring its price down, and that has never been the case with Mullvad VPN in the past.
It's also worth mentioning that you won't find any sales or deals here, as the VPN has a strict policy of offering the same price year-round.
Paying $5.70 for Mullvad's monthly subscription isn't much – especially considering all the nice features this VPN brings. To put things into perspective, most VPNs charge around $10-$12 per month, where the price goes down to between $4.00 and $6.00 per month if you go for an annual plan.
You can subscribe to Mullvad VPN by using a large array of payment options. For complete anonymity, you can go with Bitcoin. However, you can also pay with cash, credit cards, bank wire, PayPal, and other ways.
Finally, know that Mullvad doesn't offer a trial account. In the past, it used to provide 3-hour trials, but you won't find that option anymore. Still, you can count on this VPN's 30-day money-back guarantee, which is always a welcome thing to see.
Do We Recommend Mullvad VPN?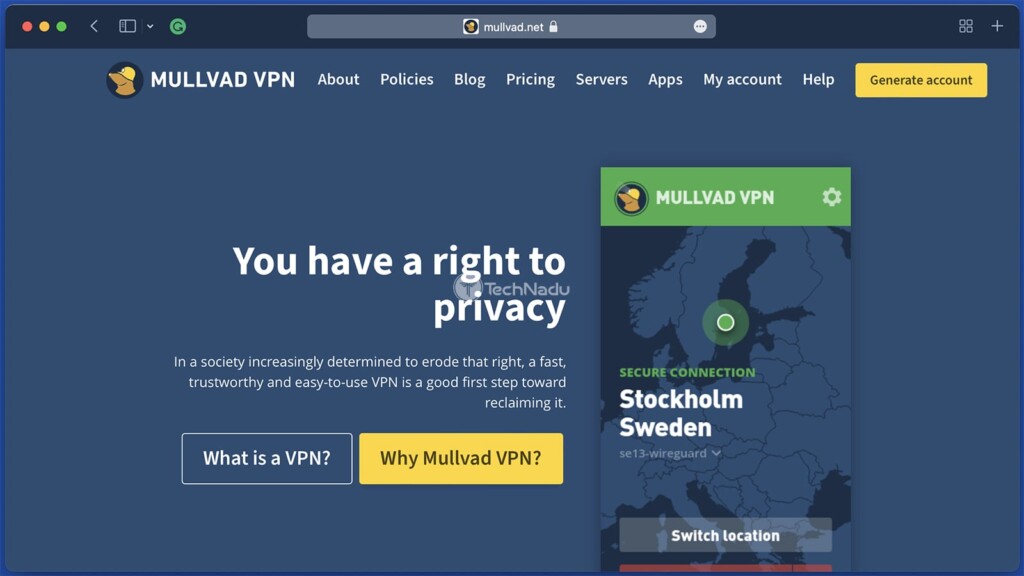 If you're looking for a VPN that protects your digital privacy, you'll have a hard time finding a better VPN than Mullvad. It's equipped with a whole range of technologies designed to avoid collecting your data, leaving you without a trace online. However, it's not the fastest VPN out there, and it's not usable for media streaming. So, it does have its downsides.
PROS: Incredibly strong encryption; High-end VPN protocols; No data leaks; No data logging; A simple pricing scheme; Anonymous payment options available.
CONS: Not the fastest VPN out there; Not the best option for media streaming; Doesn't offer customer support via live chat; Relatively small server network.
OUR SCORE: 7.6 out of 10!
Mullvad is made for those who need the latest security features and don't want anyone to track their whereabouts. Considering it's one of the safest VPNs out there, it's easy to recommend it to those who need complete online freedom. So, go ahead and subscribe to Mullvad today!