Without any doubt, Chrome is the world's most popular Internet browser. However, we all know that this Web browser isn't the best option for those looking to be anonymous online when it comes to privacy. Of course, there is plenty you can do to regain control over your data. And as you can already guess, this is where VPN applications appear as a perfect solution. So, let's talk about how to set up a VPN for Chrome in 2020.
Before diving deeper, let's explain something briefly – there's only one method of setting up a VPN on Chrome, and it involves installing and using a Chrome extension. We're going to show you how this is done, but keep in mind that an extension can only safeguard your privacy up to a certain point. This is why we also recommend installing native VPN software on your computer, as this is how you protect everything that happens "outside" of Chrome as well. Even better, there are apps that bring both of those solutions simultaneously, so you can easily switch to what works for you at any given moment.
Also, know that we'll recommend Surfshark in this article, in case you just want a Chrome VPN extension. However, to give you an example of an ultra-powerful VPN that combines native software with a Chrome extension, we'll use ExpressVPN to illustrate this process. With this said, both Surfshark and ExpressVPN are among the best VPNs for Chrome in 2020, bringing plenty of value for their price.
So, there are 3 methods to set up a VPN for Chrome in 2020:
Method #1: Get a VPN Extension for Chrome
Good to Know: VPN extensions for Chrome (and any other Internet browser) typically act as proxies. It means that they don't bring the best possible encryption and privacy for your sensitive data. However, they can be useful for media streaming and unblocking certain websites.
Getting a VPN extension on Chrome is unbelievably simple. However, make sure to use a reliable VPN for this purpose and take your time to find a truly capable and trustworthy option. Our recommendation would be Surfshark, which won't only unblock websites but will also upgrade your entire Internet browsing experience.
So, here's how to use Surfshark to set up a VPN for Chrome – if you only want to use a VPN extension and nothing besides that.
First, you need to have an active VPN subscription at this point. So, in case you haven't done that already, proceed to subscribe to Surfshark. You can pick any of the currently available plans and go through the initial sign-up procedure. Soon enough, you'll get your Surfshark username and password.
Now, you need to proceed to Chrome's Web Store, where you'll find a dedicated page for Surfshark's Chrome extension.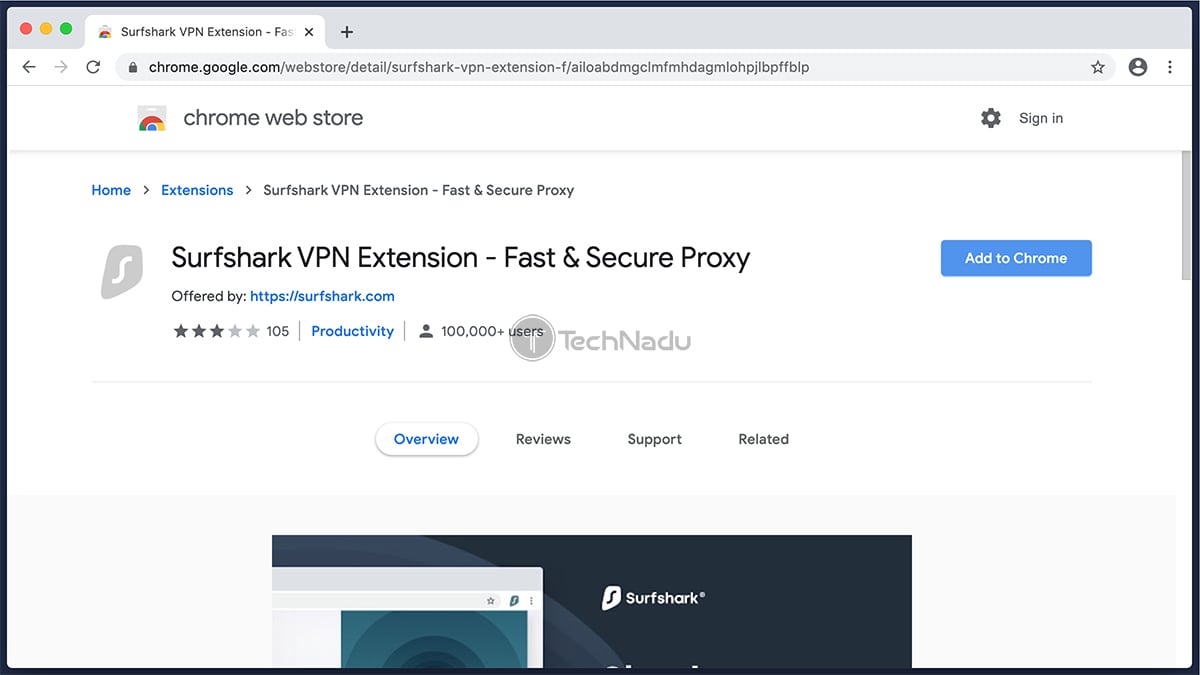 Take a look at the right side of the screen, and you'll see a prominent "Add to Chrome" button. Click on it and agree to the prompts that Chrome will show. After a few moments, you should see Surfshark's icon in the top-right corner of your Internet browser.
Click on Surfshark's logo to initialize the extension. Log in to your account by using your username and password. Soon enough, you should get to Surfshark's home screen to connect to any of its available servers.
As you'll see, Surfshark's Chrome extension comes with four tabs at the bottom of its interface. The first is the extension's home screen. The "Locations" tab allows you to manually pick a server or connect to the closest available server. Then, the "CleanWeb" tab blocks ads and malicious links that may appear via pop-ups in your browser. And using the "Settings" tab, you can change your password, check your account information, switch to a different language, and more.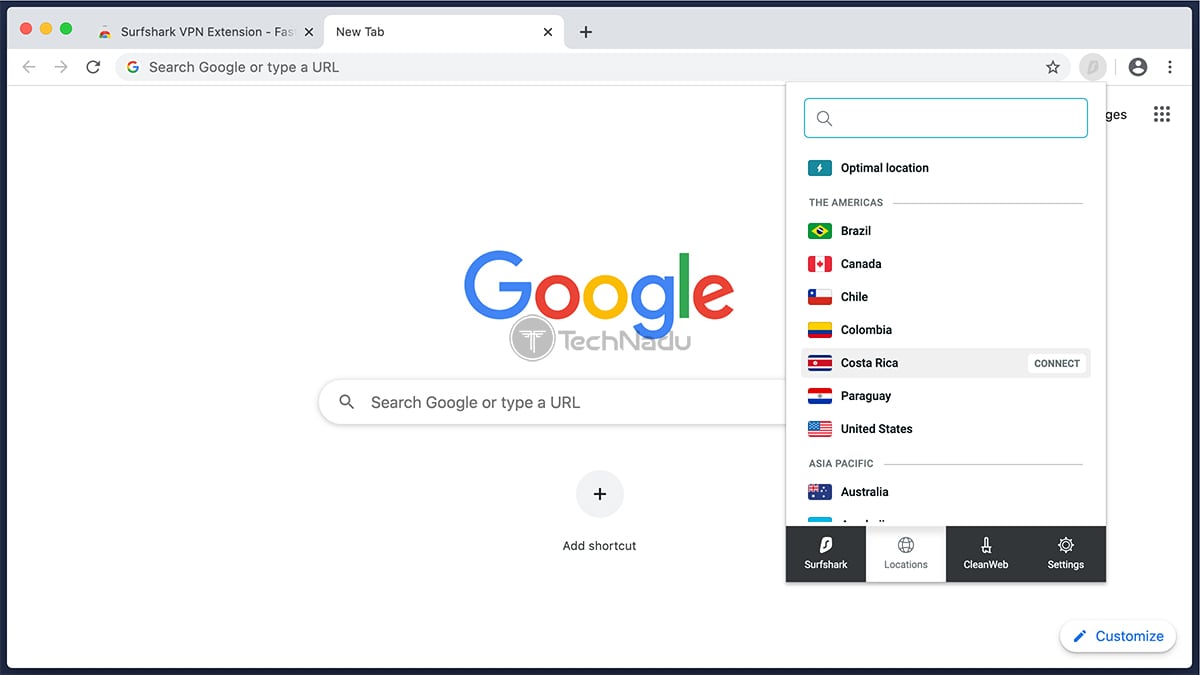 As you can see, Surfshark goes beyond what a typical VPN extension offers. It blocks ads and prevents malicious links from opening. In addition, you'll get to use Surfshark's privacy-first Web search engine and even check if your email has been affected by any breach in the past. To learn about these features, make sure to read our Surfshark review.
Method #2: Use a Native VPN Application on Your Device
Good to Know: This method will help you set up a VPN on your device – and run this VPN natively. This is how you can protect not only your Web browsing in Chrome but all your incoming and outgoing Web browsing data at once.
In case you're looking to protect your Web browsing beyond Chrome, you need something other than a typical VPN extension. You need a fully-featured VPN application instead, which should be powerful enough to encrypt all your Internet data. This is precisely why we recommend using ExpressVPN.
Here's how to use ExpressVPN to set up a VPN for Chrome – by installing its native app and protecting all your Web-related tasks.
As you can imagine, you need an active VPN subscription for this procedure. In other words, you need to subscribe to ExpressVPN, after which you'll get your credentials.
Then, visit ExpressVPN's website and log-in to your account. You can do this by clicking on the "My Account" link in the top-right corner of its website. Supply your credentials and open your account dashboard.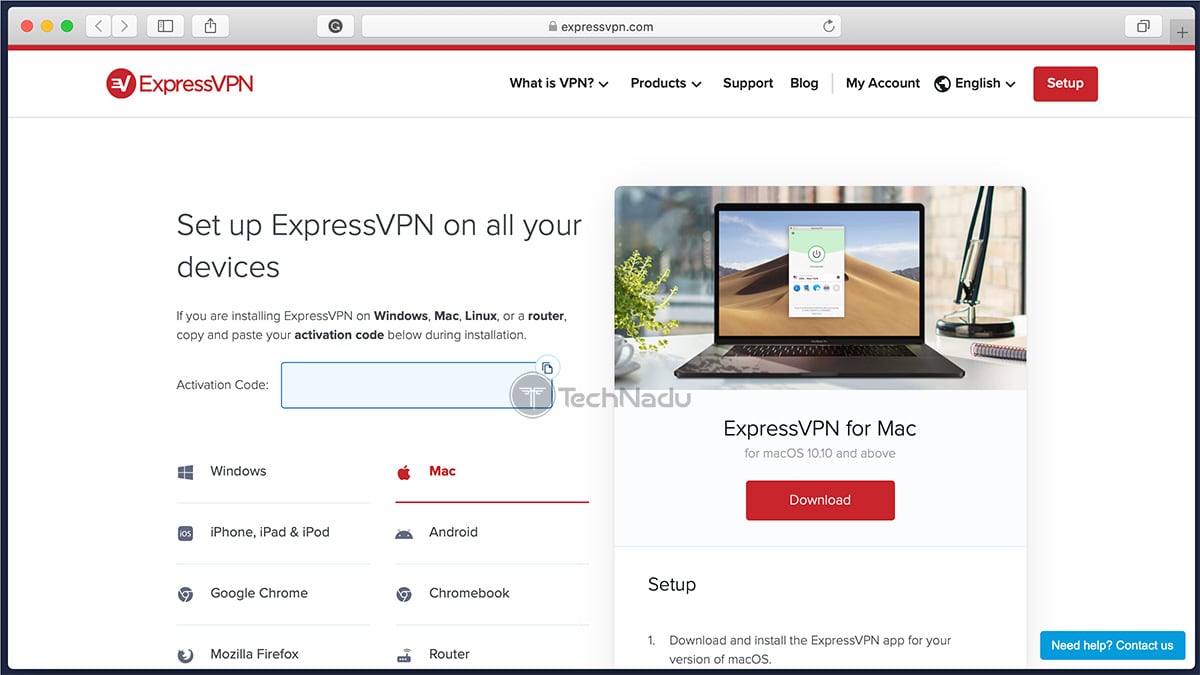 ExpressVPN should automatically recognize your operating system, so you need to click on the corresponding button at the top of the page. In case ExpressVPN doesn't recognize your operating system, click on the "Set Up Other Devices" button. A new page will open, so go ahead and select your operating system there.
Once you download ExpressVPN, install it as you would normally install any other type of software. Then, launch the application and log in. You can use your activation code for this purpose, found on your account dashboard (back on ExpressVPN's website).
Once you log in, you're free to use ExpressVPN without any limitations and connect to any server – and change your IP address along the way. As soon as you connect, all your Web data will be encrypted, meaning that you can now open Chrome and browse the Internet safely and securely. Once you no longer need your VPN connection, use ExpressVPN's interface to disconnect.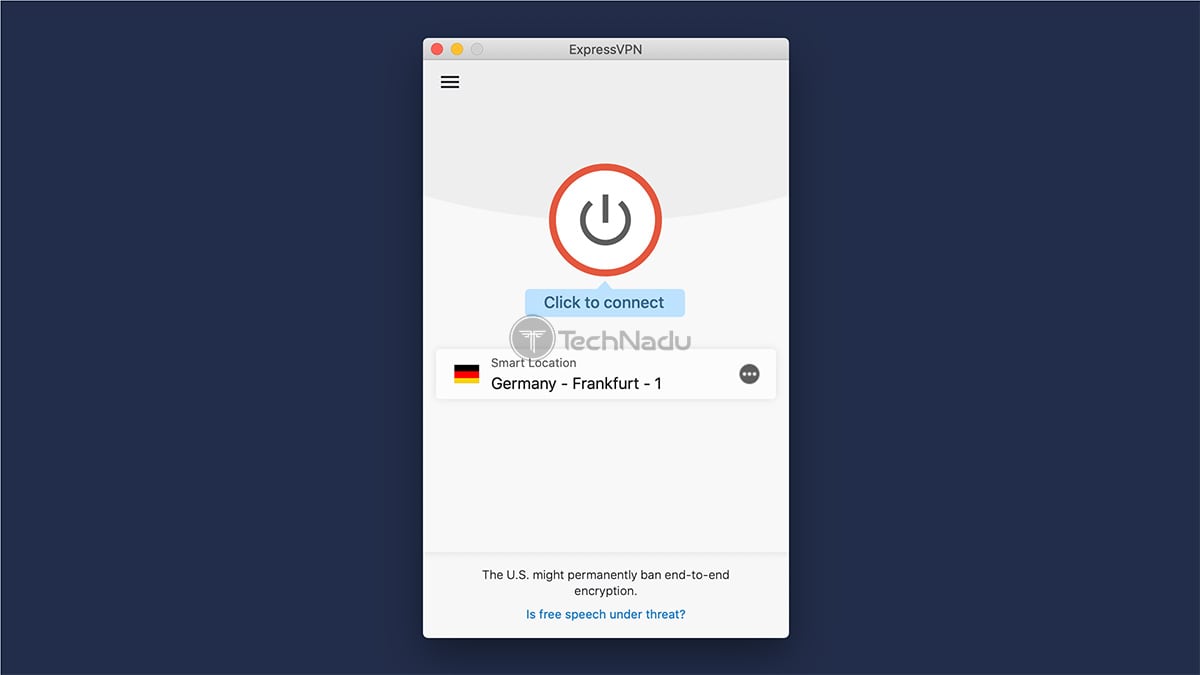 The above-explained method allows you to install a VPN application and run it separately from your Chrome. Aside from protecting your Web data that doesn't "flow" through Chrome, this method also helps you avoid installing a Chrome extension, which means that your browser's performance stays intact.
Method #3: Combine a VPN Extension With a Native Application
Good to Know: This method will teach you how to use a VPN extension along with a native VPN application. This way, you get the most out of your VPN subscription, and you can easily switch between these two options at any given moment.
If you want to get everything that your VPN subscription has to offer, you can combine a VPN extension with a native VPN application. However, there's only a handful of VPNs that do this in the best way possible. ExpressVPN doesn't have a standalone Chrome extension – but it offers another type of extension, one that relies on its native software. By using this kind of extension, you get the highest possible encryption level, which no other VPN service offers.
Here's how to use ExpressVPN to set up a VPN on Chrome – allowing you to use a VPN extension and a native VPN application at the same time.
First, make sure to set up ExpressVPN's application by downloading and installing in on your operating system. We've already explained this procedure above, so here's a quick-jump link to installing a native VPN application.
Once you're done, you can proceed to download and install ExpressVPN's Chrome extension. You can install it from Chrome's Web Store directly, so go ahead and open ExpressVPN's extension overview.
To install the extension, simply click on the prominent "Add to Chrome" button on the right side (once you get to its Chrome Web Store overview). Chrome will ask for your permission, and Chrome will automatically download and install the corresponding extension.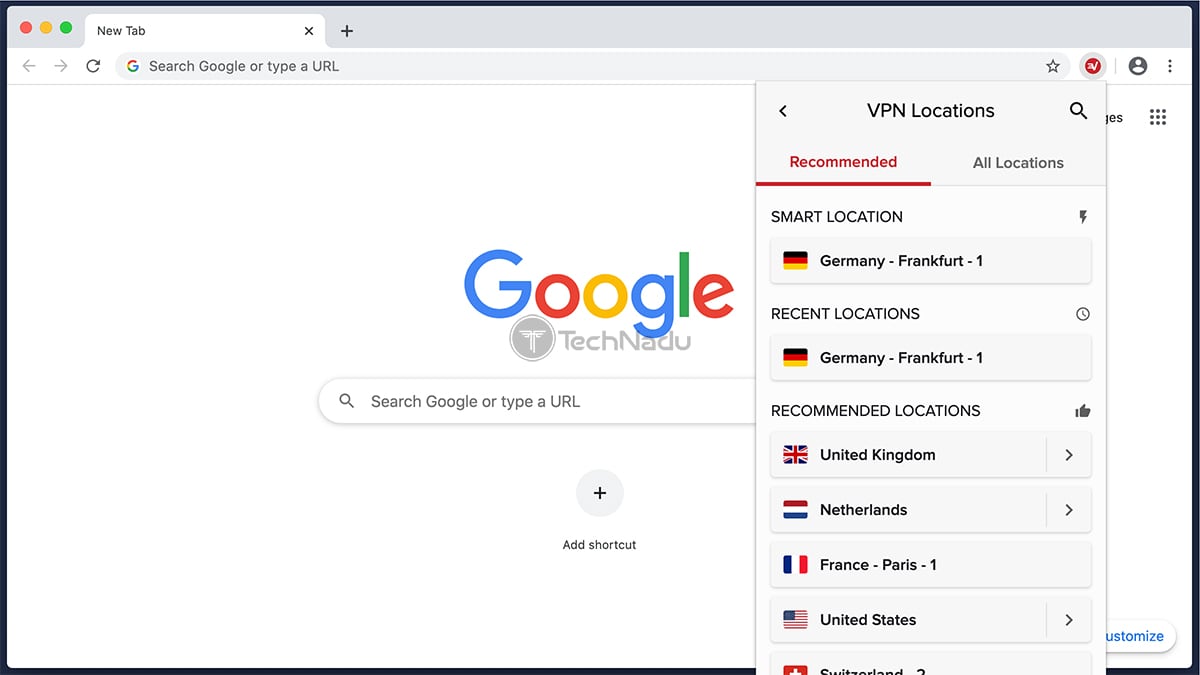 Take a look at the top-right corner of your Chrome window and click on ExpressVPN's icon. Log-in using your credentials, and you should be ready to use ExpressVPN in no time. Feel free to select any server and connect to it. As long as your Internet session is active, all your data will be encrypted by the VPN's servers, and you should be invisible online. Once you no longer need the VPN, click on ExpressVPN's icon and disconnect.
What you need to know about ExpressVPN's extension is that it requires the VPN's native application to be installed, meaning you won't get a proxy or any other half-baked solution. ExpressVPN's Chrome extension is a gateway to its app (that you have installed on your computer), so you get 256-bit AES encryption, protection against any Web leaks, and WebRTC leak protection. The extension will also check if you're connecting to HTTPS websites (great for preserving your privacy).
In times when you no longer need to be protected only via Chrome, you can go back to ExpressVPN's official native app. Connect to any server there, and you'll safeguard everything Web-related that you do outside of Chrome.
So, that would be all on how to set up a VPN for Chrome. We hope that you have found this guide to be helpful and informative. In case you have any problems or additional questions, let us know via the comments section below. We'll do our best to respond as soon as possible.