One of the most effective responses to the ongoing COVID-19 outbreak is a simple one, really. All you need to do is stay at home as much as you can. With this said, we sincerely hope that you're staying in the loop about how to behave during the outbreak, as well as that you're sticking to social distancing and self-isolation. However, this also means that many of you are resorting to working remotely. And in this case, you should seriously consider investing in a VPN - just as many other individuals are already doing. VPN usage is indeed booming right now, but this is also an opportunity for less-than-honest individuals to target you. With this said, we'll talk about many VPN scams we've seen during the Coronavirus outbreak. Don't worry, we're here to help you find a trustworthy VPN. 
As you can already tell, we're written this guide for inexperienced users who are thinking of signing up for a VPN. First of all, rest assured that you're making the best possible decision right now. A VPN can help you get better information during this crisis, it helps you secure unknown Wi-Fi networks, and it enables you to protect your confidential and private data. Still, the truth is that you'll find hundreds of VPN services out there. All of them are promising a very similar set of features, making it hard to differentiate them. And of course, VPN scams add another variable to this equation, complicating the situation even more.
If you stick with us until the end of this article, you'll get to know how to avoid common VPN scams. And then, you'll get to learn about the VPNs that truly deserve your attention. So, let's get started, shall we? 
What Types of VPN Scams (Exploiting Coronavirus Fears) Are There?
Unfortunately, malicious actors and fraudulent entities are taking advantage of the COVID-19 outbreak. They're working harder than ever before, coming up with all kinds of VPN scams. So, here's everything you need to know right now. 
1. Enticing Promises of "Free VPN" Services
You probably know that VPNs are subscription-based services. So, if you encounter a VPN promising a full set of features without charging you anything, you have every right to be suspicious. Keep in mind that big networks of servers power VPNs and these require a significant investment to maintain. With this said, you must be wondering - how do free VPN services generate revenue? Well, if you're not paying for something, that means that you're the product.
Well, as per numerous reports, VPNs aren't safe to use. They collect your personal data, including your Web browsing information. This data is then sold to advertisers and other third-parties. And on top of this, free VPNs are proven to leak data, which means that they can't give you the cyber-sec protection that you need.
How to Stay Safe? - We recommend avoiding free VPN services, as we guarantee that you won't be happy with their performance. Also, they violate your privacy and take advantage of your trust. So, don't even consider using these. 
2. Fake VPN Reviews on iOS/Android App Stores
Did you know that Google's Play Store and Apple's iOS App Store aren't exactly the best examples of cyber-security? This is especially true for Android, as its Play Store is plagued by malware and highly dangerous "dropper" apps. And from time to time, we also get to hear about Apple's App Store being infiltrated by malware. On top of this, we have another major problem here - we're talking about fake user reviews.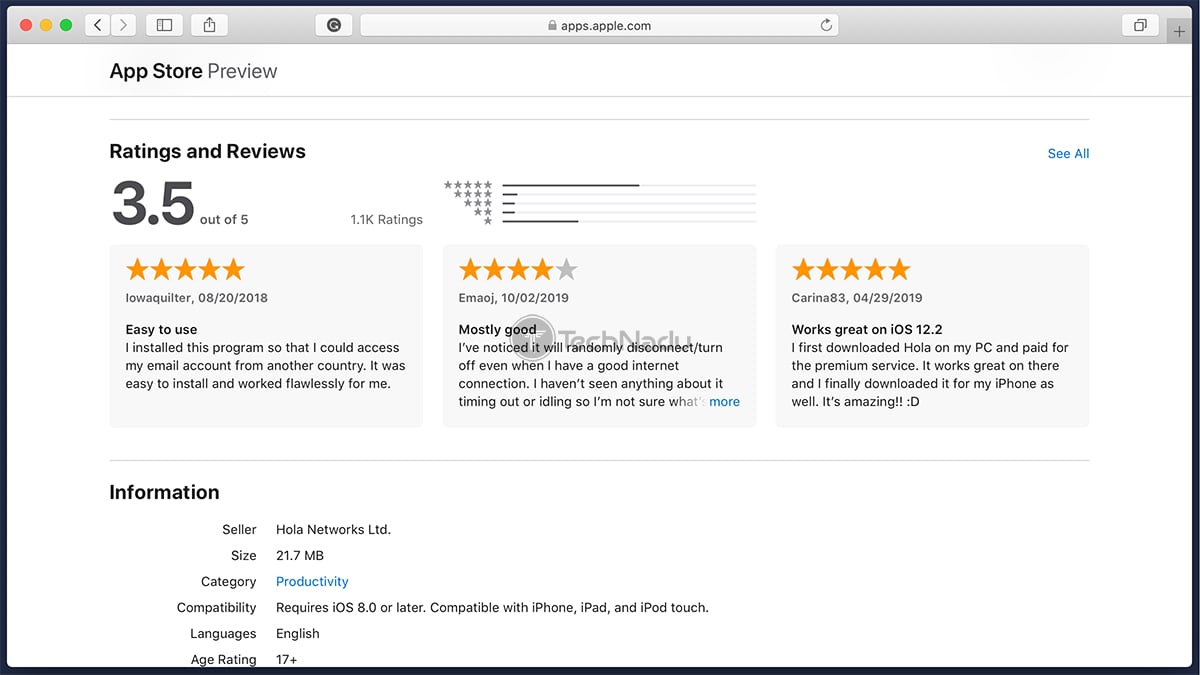 The majority of the search results for "VPN" across the App Store and Play Store lead to dubious and dangerous VPN services. As cyber-security researchers have pointed out, many of these come from unknown companies in China, and some of those have 50+ million downloads. They've reached these high positions via fake reviews and by manipulating App Store's and Play Store's algorithms. 
How to Stay Safe? - Don't just download the first VPN app you see on the App Store or Play Store. Do your research and find the VPN aligned with your needs, and only then download the app from the official source. 
3. Fake VPN Reviews on Third-Party Websites
When searching for a VPN, doing plenty of research online is beneficial. And for this, Google is your best friend. However, how do you know if you've landed on a legitimate VPN review website? What if that website is actually made by a VPN company promoting their product by giving false information? Trust us, this isn't far-fetched, as this has happened before. It is why you should always get your information from several different sources. 
We're hugely proud to say that our editorial team is 100% independent when testing VPNs. Any recommendations we make are based on our hands-on tests and our belief that we're recommending truly the best VPNs for certain activities. We were never forced to edit any VPN review, and we strive to bring you up-to-date information only. 
How to Stay Safe? - Make sure to get your information from multiple sources. You can be 100% sure that TechNadu will give you true, up-to-date, and unbiased information, helping you find the perfect VPN.  
4. Cleverly Designed Fake VPN Websites
It is actually a pretty old technique of tricking individuals of giving away their private information. It's done by imitating other websites, making you believe that you're buying a legitimate VPN service. However, these are 100% fake websites, and they won't give you access to the VPN you're planning to use. Instead, they'll steal your private information, and this also includes your payment info. As such, we're talking about one of the most dangerous types of VPN scams right now.
Not too long ago, we had several instances of fake VPN websites managing to trick a large number of individuals. A fake NordVPN website used to spread banking trojans, while another managed to spread Vidar and CryptBot trojans. Once your computer gets infected with any of these, it can be tough to restore your files without any permanent damage. 
How to Stay Safe? - Always check URLs of the websites you visit. In the case of VPNs, they should contain the name of the VPN in question, without any unusual extensions. Also, it's a good idea to use a powerful antivirus solution. 
5. Questionable Lifetime VPN Subscriptions
When buying a VPN, you will usually get to see several pricing plans. All of them come with monthly subscription plans, but they also provide massive discounts if you're willing to invest in a long-term plan (like an annual subscription, for example). However, none of the highly reputable VPN services has ever offered "lifetime" subscriptions.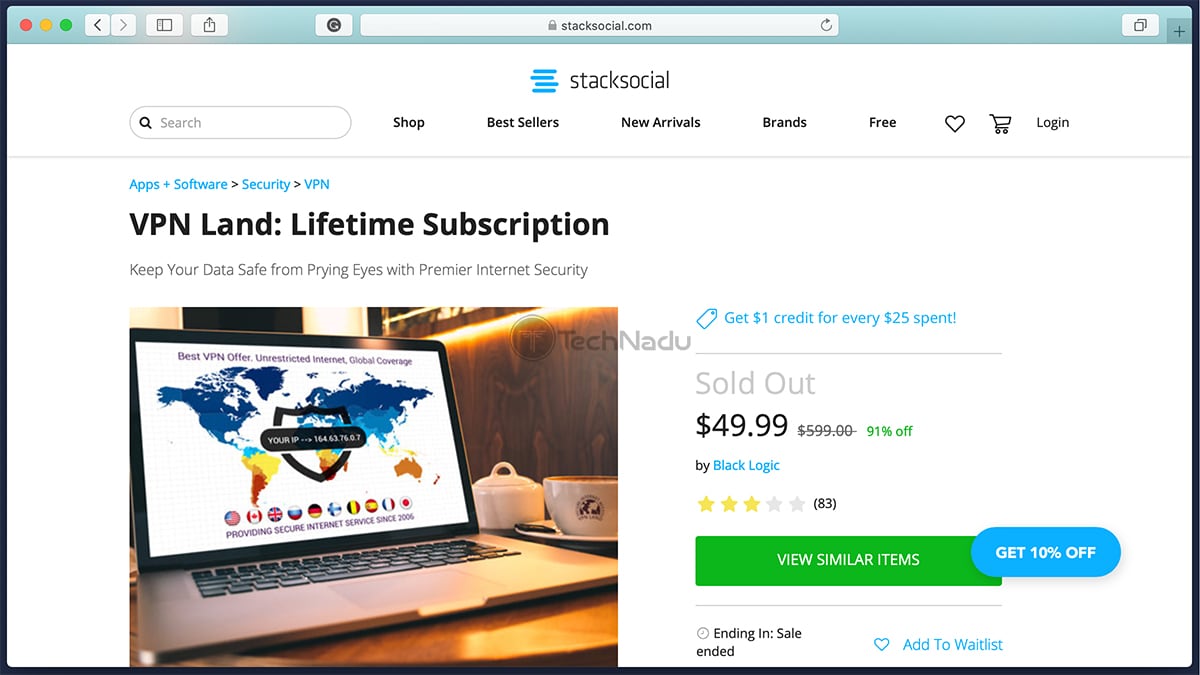 This is one of the recurring VPN scams, quite similar to a Ponzi-scheme. The goal here is to trick individuals into paying a relatively small price and then to either end these lifetime subscriptions or turn them into recurring payments. One of the latest examples of this VPN scam comes from VPN Land. This one sold lifetime subscriptions for $49.99 and then ended those subscriptions after one year. Of course, once the VPN switched to recurring charging, numerous individuals were charged immediately, without having an option to have their money returned. 
How to Stay Safe? - Remember that VPNs need a constant flow of income to maintain their infrastructure. Therefore, lifetime subscriptions are a typical VPN scam. Even though these offers might sound enticing, make sure to avoid them at all costs. 
6. Bogus & Unsubstantiated VPN Claims
VPN companies want to show their products in the best light possible, which often means using misleading marketing messages. More often than not, you will see VPNs claiming to be the fastest on the planet or to have the highest number of servers. And of course, they supposedly all bring the highest level of protection currently available in the IT world. And you already know that there can be only one winner, right?
Once again, we recommend getting your information from several sources. For example, here on TechNadu, we have helpful overviews of VPNs based on our hands-on testing. You can check the fastest VPNs out there as well as VPNs with the highest number of servers. However, keep in mind that this information changes quite often, so make sure to stay up to date at all times. 
How to Stay Safe? - Don't trust any marketing messages you see on the official VPN websites. Instead, do rely on third-party sources, such as TechNadu. You need an up to date and unbiased opinion, deduced after testing VPNs hands-on. 
7. Misleading "No Logs" Marketing Messages
The primary purpose of VPNs is to prevent anyone from tracking you online. It is why VPNs encrypt your Web traffic and route your data through a secure tunnel. Also, this is precisely why numerous VPNs claim not to log any of your personal data, which is often not the case in practice. So, first, you need to understand the situation surrounding VPN connection and usage logs. 
Any claim that any VPN makes must be supported by evidence. It is precisely why reputable VPNs such as TunnelBear, ProtonVPN, NordVPN, PureVPN, and ExpressVPN are regularly publishing the results of independent audits. So, unless there's some proof that a VPN doesn't log data, this usually means some data is collected in the background. To learn more, here are the best 'no-logs' VPNs. 
How to Stay Safe? - A VPN claiming not to collect your personal data should prove this via an independent audit. This is the only way to ensure that your PII data remains on your device and that your privacy is intact. 
8. VPNs Designed to Exfiltrate Your Personal Data
There are numerous examples of VPNs designed to serve malware and steal your private information. First, you need to understand that VPNs are in charge of your incoming and outgoing data. It means that if a VPN has malicious goals, it can easily grab all your personal information, including your payment info, passwords, usernames, and pretty much anything else. So, be very (yes, very) careful about which VPN you decide to pick. 
One of the best-known cases of a malicious VPN is Hola VPN. Among numerous other examples, we have MySafeVPN, CrossVPN, Easy VPN, and Hotspot Shield. All of those were tricking their users by using vulnerabilities to track their personal data, inject code into websites, and more.
How to Stay Safe? - Once again, Google is your best friend. Make sure to do your research about any VPN you're interested in using. And don't be afraid to dive deep into the past, as VPN often change their names and owners. 
9. Learn How to Avoid "Dead" VPN Services
Let's say that you've read a few lists of popular VPNs and that you've found the one you'd like to use. Naturally, the next step is to visit that VPN's website - which might appear fully functional. You can even pay for the VPN, and you might receive your credentials. However, once you download and install the application, nothing happens - the VPN simply doesn't work. Well, that's precisely what happened with EarthVPN, not too long ago. 
Despite still having a seemingly functional website, EarthVPN is no longer operational. You can sign up, but you can't use any of its servers. And if you decide to contact this VPN, you won't receive any reply. This means you've wasted your money, as your chances of getting them back can be pretty slim. 
How to Stay Safe? - When reading VPN reviews online, make sure to check how old those reviews are. You can usually find the date of publishing just below the headline. And of course, do your online research well. 
10. Misleading & Unclear VPN Pricing Structure
VPNs have an unusual way of showing their pricing structure. You'll usually get to see their price in the "per month" format. However, you'll be charged each month only if you buy a VPN's monthly subscription plan. To save some money, we recommend checking if there are annual plans. These typically bring steep discounts. Do remember that you won't be charged by month, but per year (once a year). So, take a good look at those numbers and make sure to check out the total amount before hitting that 'Pay' button.
It's important to note that the majority of VPNs display their "per month" prices. And also, this doesn't mean that you're dealing with a VPN scam. This is just their way of selling their services, and it's up to you to do the math. 
How to Stay Safe? - This isn't actually a VPN scam, per se. it is more of a warning to make sure that you understand how much you need to pay. Remember that you'll be charged per month only if you pick a VPN's monthly subscription plan. 
So, Which VPNs Can I Trust? What Are The Safest VPNs Right Now?
After reading everything found above, choosing a VPN might be a bit intimidating. However, the most important thing you need to do is to use your common sense. Of course, we also understand if you need some on-point recommendations, and we're here to help. 
We highly recommend you to read our overview of the best VPN services in 2020. As you'll see there, our top picks are ExpressVPN, CyberGhost VPN, Surfshark, NordVPN, and TorGuard. No matter which one of these you pick, you won't make a mistake. Also, make sure to use the provided links in this paragraph to learn more about each of the recommended VPNs. 
So, you've reached the end on your guide on avoiding VPN scams during the Coronavirus pandemic. Remember to stay safe both offline and online, as this crisis will most certainly make malicious actors more aggressive than before. In case of any questions, don't hesitate to post a comment below.