If you're worried about whether installing and using a VPN on your macOS computer is hard, rest assured that anyone can do this. In this article, we'll do our best to provide up-do-date guides, giving you a clear idea of how to get started with VPN applications. More precisely, you have three options in front of you. You can use an official macOS VPN app, you can configure a VPN manually, or you can rely on third-party apps for certain protocols. Each of those has its benefits, so let's start explaining those. Welcome to our guide on how to set up a VPN on a Mac!
Before we get started, we have an important note for you. To give you a concrete example of how VPNs are configured on Mac computers, we chose to go with ExpressVPN. This VPN uses the best possible protection for your private data, unblocks websites, supports media streaming, and plenty more. As such, we believe it's one of the best VPNs overall. Of course, you have other options as well, so you'll want to check out the best VPNs for Mac.
So, here are 3 different methods to set up a VPN on a Mac in 2020.
Method #1: Use Your VPN Provider's macOS App
The easiest way to install a VPN on your Mac is by using your VPN's official app. It means that you'll need to turn to your VPN's website. Here's how ExpressVPN simplifies this procedure, as it gives you an intuitive user dashboard for all your VPN-related needs.
First, you need to visit ExpressVPN's website, where you need to log in to your account. To do this, click on "My Account," fill out the required information, and you'll access your user account dashboard.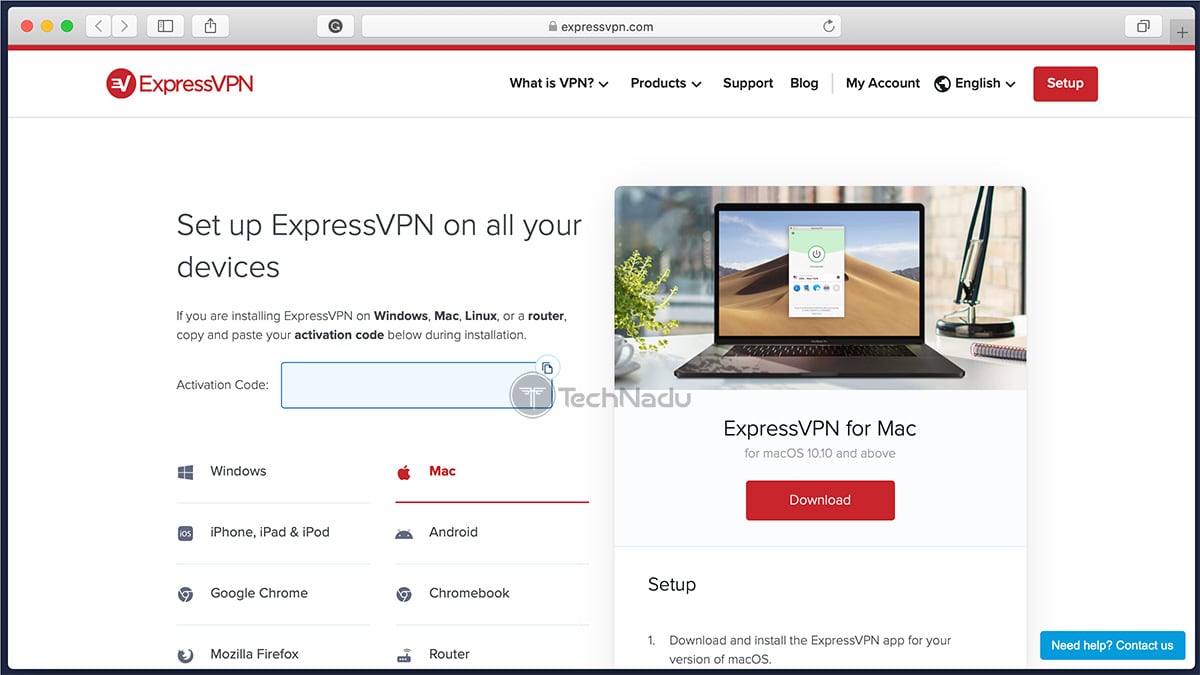 ExpressVPN should recognize your operating system automatically. So, you can click on the "Download for Mac" button. After a few seconds, ExpressVPN's installation file will download to your computer. A new Web page will also open in your Internet browser, so make sure to keep it handy (we'll need it soon enough).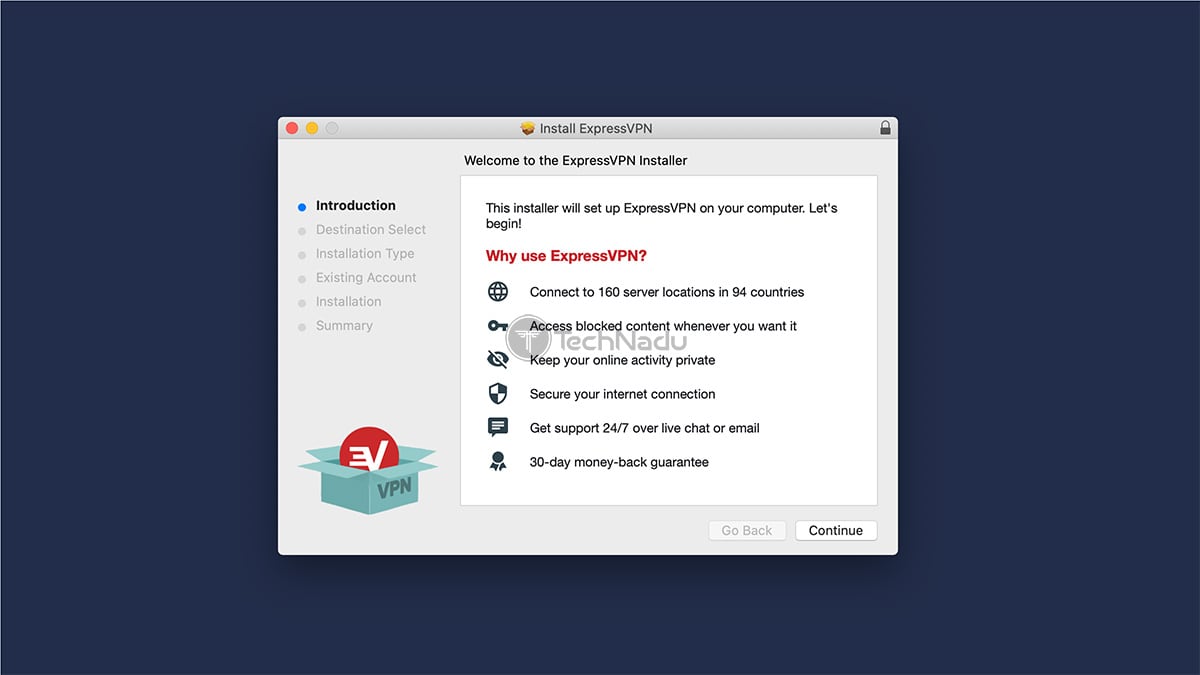 Now, go through the installation procedure by double-clicking on the file you've downloaded just now. You'll need to provide your macOS user account password, and ExpressVPN will finalize the process on its own.
Open the VPN app and log in to your account. For this purpose, you can copy the activation code you'll see on the Web page that ExpressVPN opened once you started to download its installation file. You'll be asked to choose if you want ExpressVPN to launch on startup, and you can opt-in/out of anonymous data logging.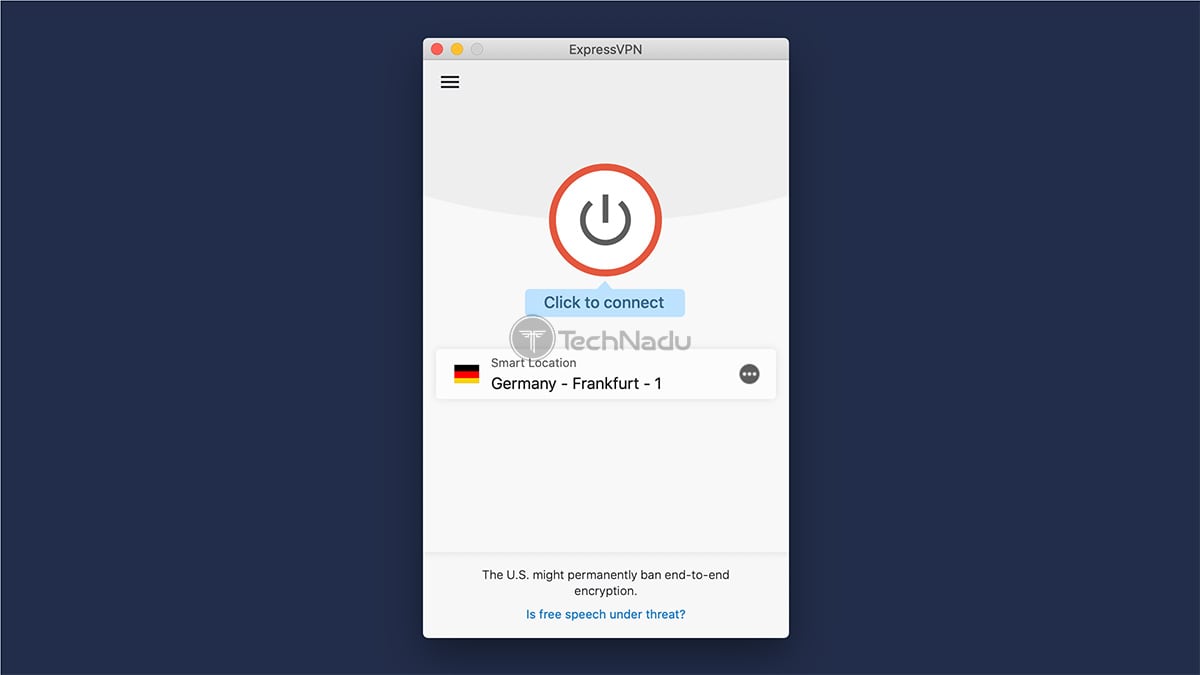 That's it! You're now free to start using the VPN. By default, you'll see the fastest server presented by ExpressVPN. However, you can always click on the "three dots" button to review all of the available servers and pick one manually.
Good to Know: Some VPN services have also listed their apps on the Mac App Store. They come with an even faster download method – but they're also generally less secure since they're bound by Apple's strict App Store submission guidelines. One example of this is NordVPN, where you can choose to download its App Store app or the official macOS app from its website.
Method #2: Set Up a VPN on a Mac Manually
If you don't want to install another app on your Mac, you can always configure your VPN manually. Keep in mind that your VPN needs to supply you with certain information, like its server addresses. Once again, ExpressVPN is the best choice here as it provides everything you'll need on its user account dashboard.
First, you'll have to prepare some information related to your VPN. More precisely, you'll need your username and password (these are not your VPN's regular credentials, keep in mind), a server address, and more. When it comes to ExpressVPN, you'll find this information by logging to your account on its official website.
Once you get to your account dashboard, click on "Set Up Other Devices" and then choose "Manual Configuration." On the right side, click on "PPTP & L2TP/IPSec," and you'll see all of the required information below. Make sure to keep this page open, as we'll need it soon enough.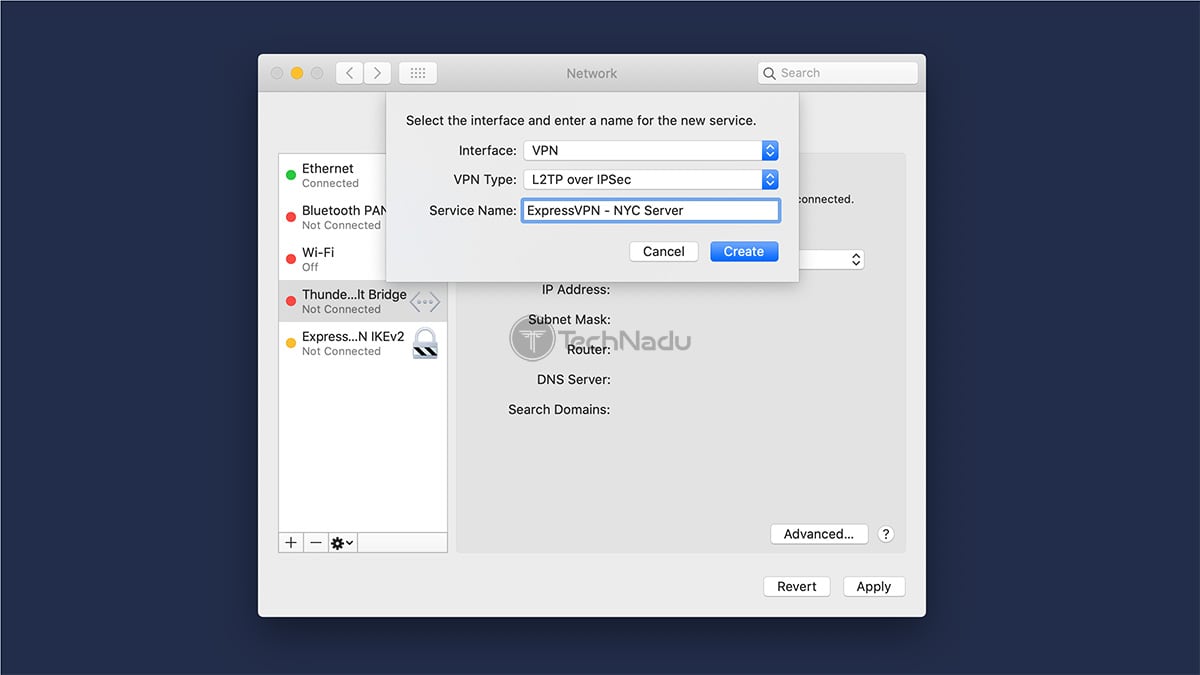 Now, go to System Preferences > Network and click on the "+" sign in the bottom-left corner. Pick "VPN" for the interface, and "L2TP over IPSec" for the VPN type. Give a name to this VPN connection, but make sure to keep it easy to memorize. You'll want to create a connection to a specific server, so it's a good idea to say what server is that.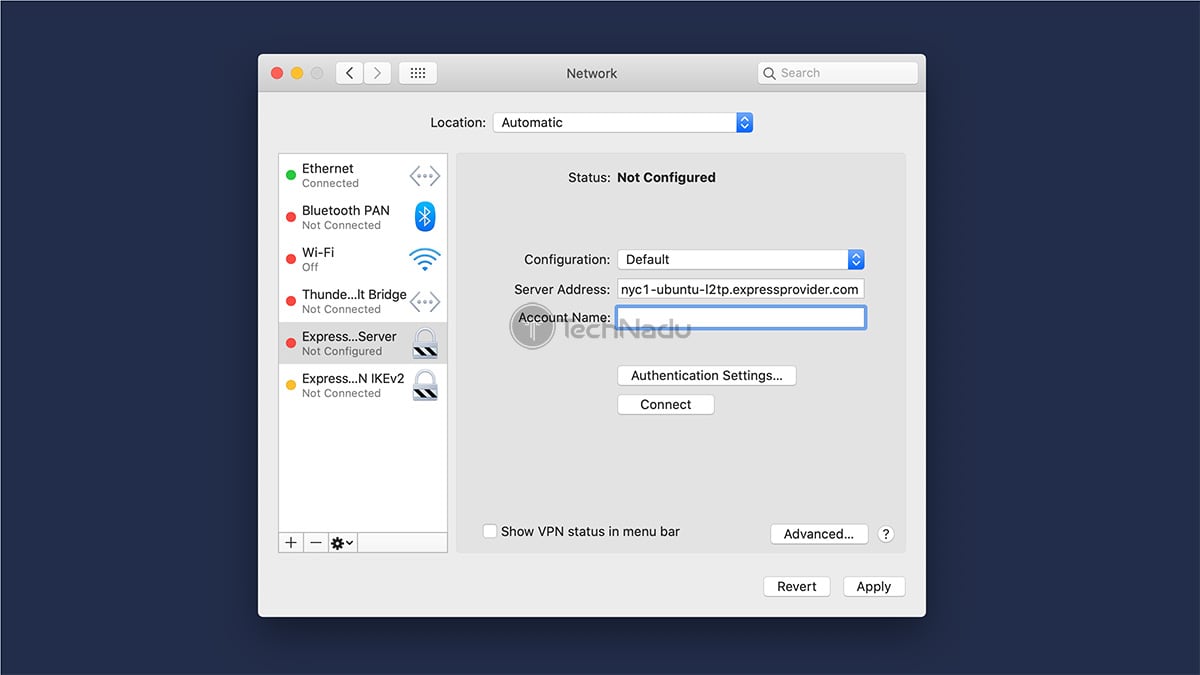 Then, check out the ExpressVPN Web page you've previously opened, as we now need the information found there. You'll need to fill out two fields here (server address and account name), so check out this information back on ExpressVPN's website. By the way, your account name is your username, usually a string of numbers and letters.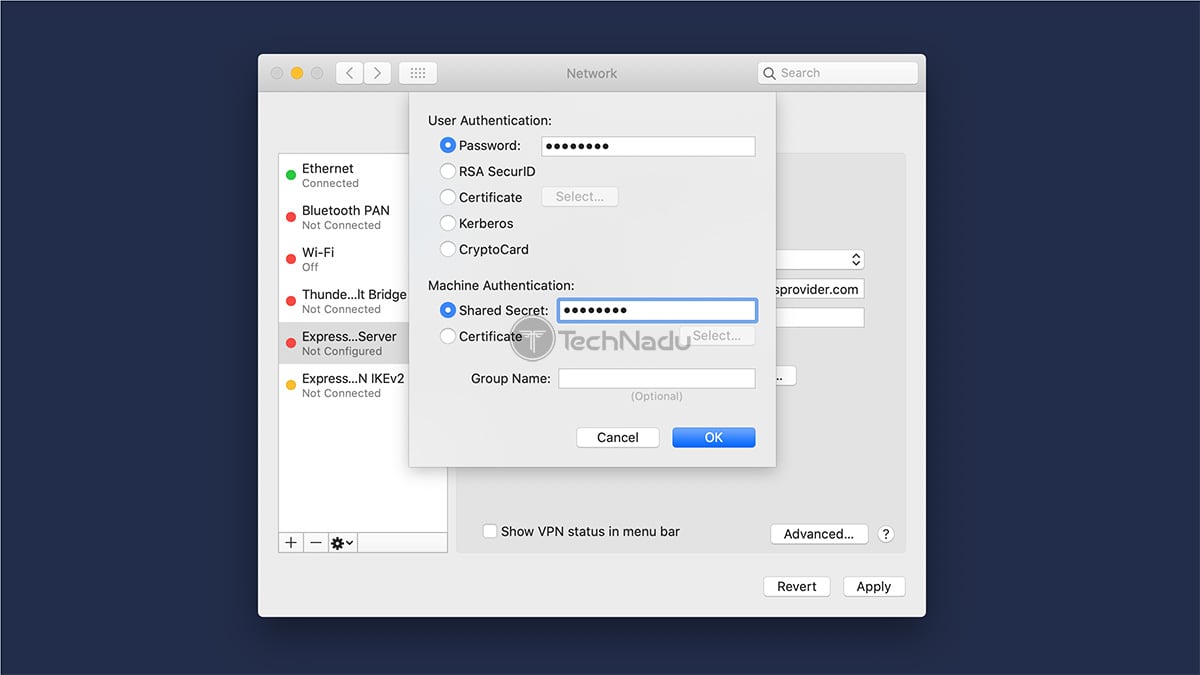 Select "Authentication Settings" to proceed. In the "Password" field, you need to enter your custom password (once again, this is visible on ExpressVPN's website). And also, enter "12345678" in the "Shared Secret" field. Click on "OK" to apply and input all of this information.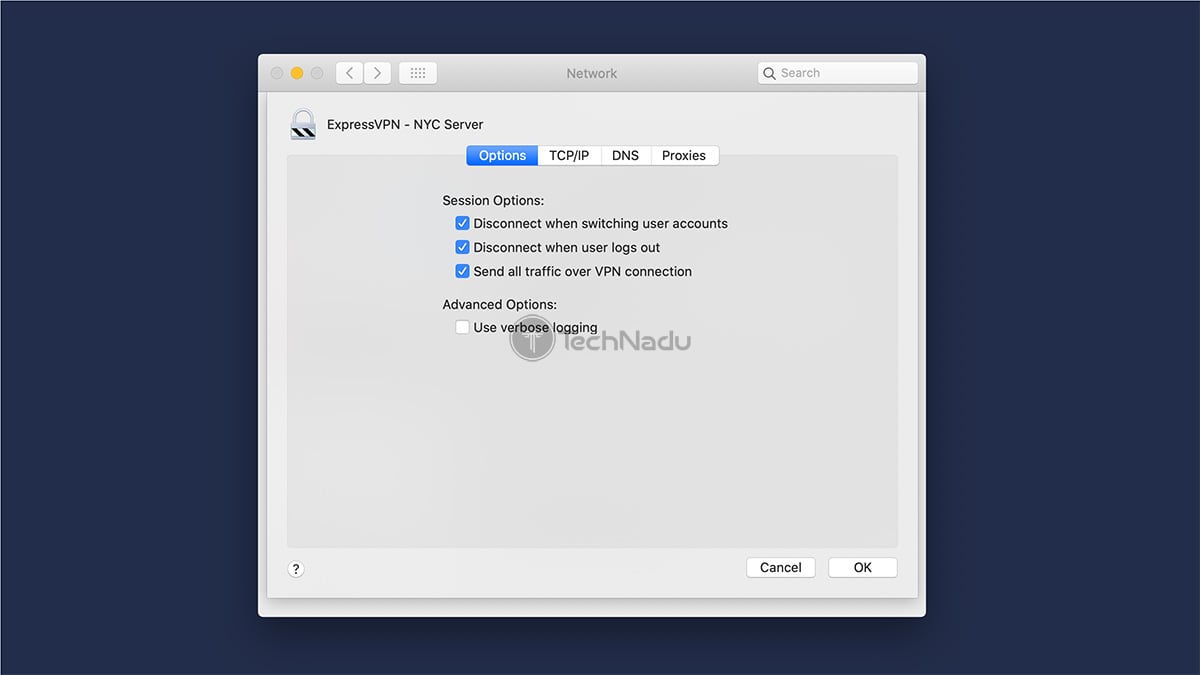 Then, click on "Advanced" – found in the bottom-right corner. Make sure to check the box for "Send all traffic over VPN connection" to avoid any leaks. Confirm your decision, also check the box for "Show VPN status in menu bar."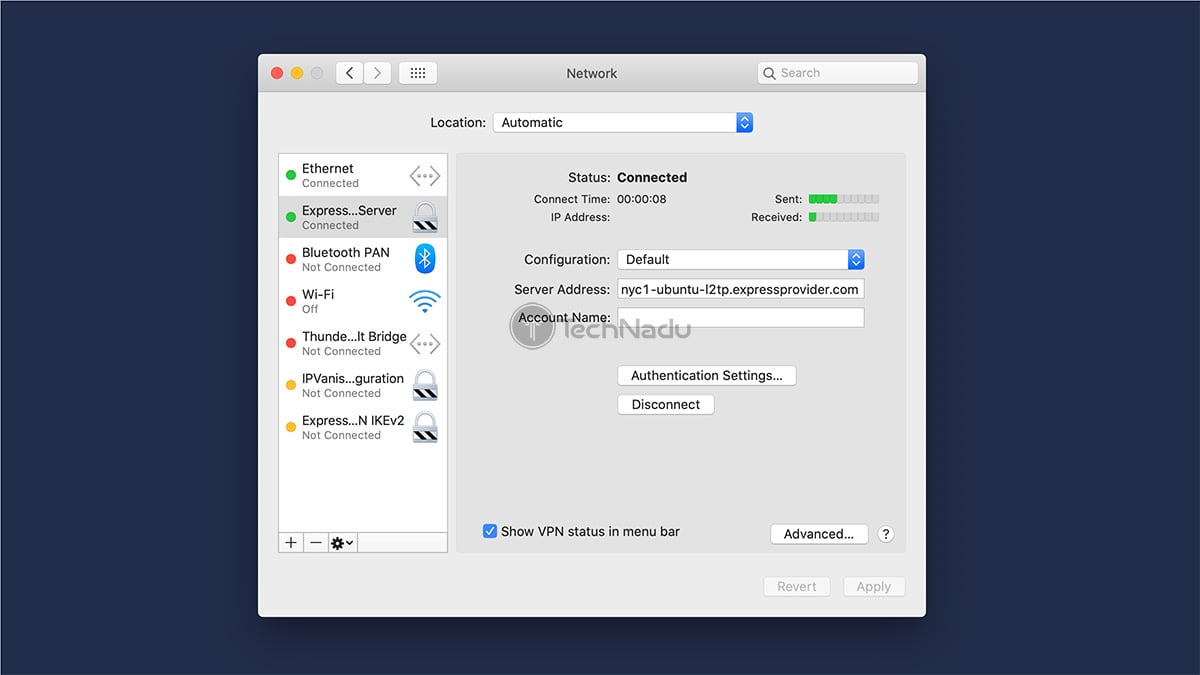 That's it! You're now free to connect to your newly created VPN connection. This can be done by doing to System Preferences > Network, or by clicking on the newly created menu bar icon. Repeat the same procedure to disconnect once you no longer need your VPN.
Good to Know: As you can see, macOS allows you to add three types of VPN connections manually. These are L2TP/IPsec, Cisco IPSec, and IKEv2. All of these are secure, but you should go for OpenVPN if you need the best protection for your data. You can get OpenVPN by following the methods explained above and below this segment.
Method #3: Use a Third-Party macOS VPN App (Tunnelblick)
If you only need the OpenVPN protocol and don't want to use a dedicated VPN app, you can use a third-party app for this purpose. Of course, you'll need a VPN that supports this protocol, and once again, we believe that ExpressVPN is your best bet.
First, you need to download corresponding OVPN files from your VPN provider (and gather other information along the way). So, if you're an ExpressVPN user, simply login to your account panel on the VPN's website, then click on "Set Up Other Devices" and select "Manual Configuration" on the new page that should appear now.
Now, check out the right side of that page. This is where you'll see your OpenVPN username and password, along with OVPN files. So, download OVPN files of those servers that you plan on using.
To create an OpenVPN connection on macOS, it's recommended to use Tunnelblick. Click on the provided link to visit its official website and then download the app to your Mac. Then, double-click on the installation file and follow the steps you'll see on your screen. Launch the application once it is installed (if it doesn't launch on its own).
Right now, Tunnelblick should show you two options – to supply a configuration file or to set up a new connection manually. Since you have the required OVPN file ready, you need to click on "I have a configuration file," which should open another window – where you can add your OpenVPN configuration.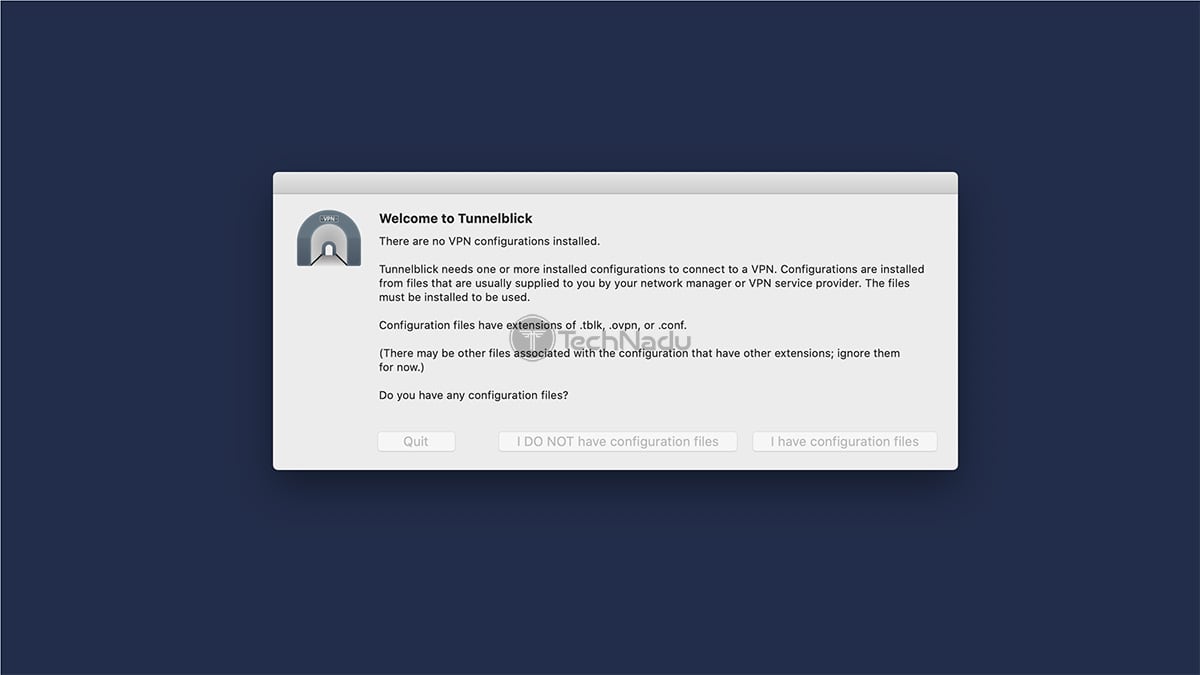 Drag-and-drop the recently downloaded OVPN file on the left side of Tunnelblick's interface, where it says "Configurations." The application will now ask for your username and password, so you can return to ExpressVPN's website to get your OpenVPN credentials. Input the required information (you can also save them in your Keychain) and confirm your input.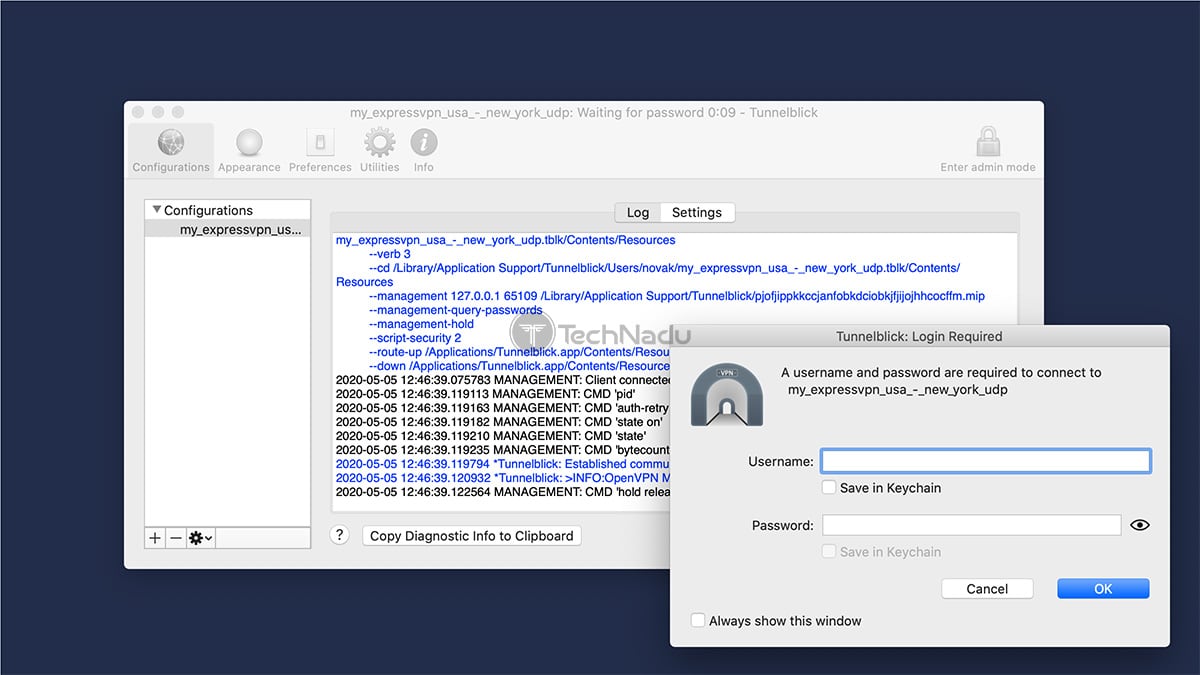 Finally, you can use this same interface to connect to your newly added server. Repeat the procedure to add multiple servers. And finally, you can easily connect and disconnect from various servers by clicking on Tunnelblick's menu bar icon (in the top-right corner of your screen).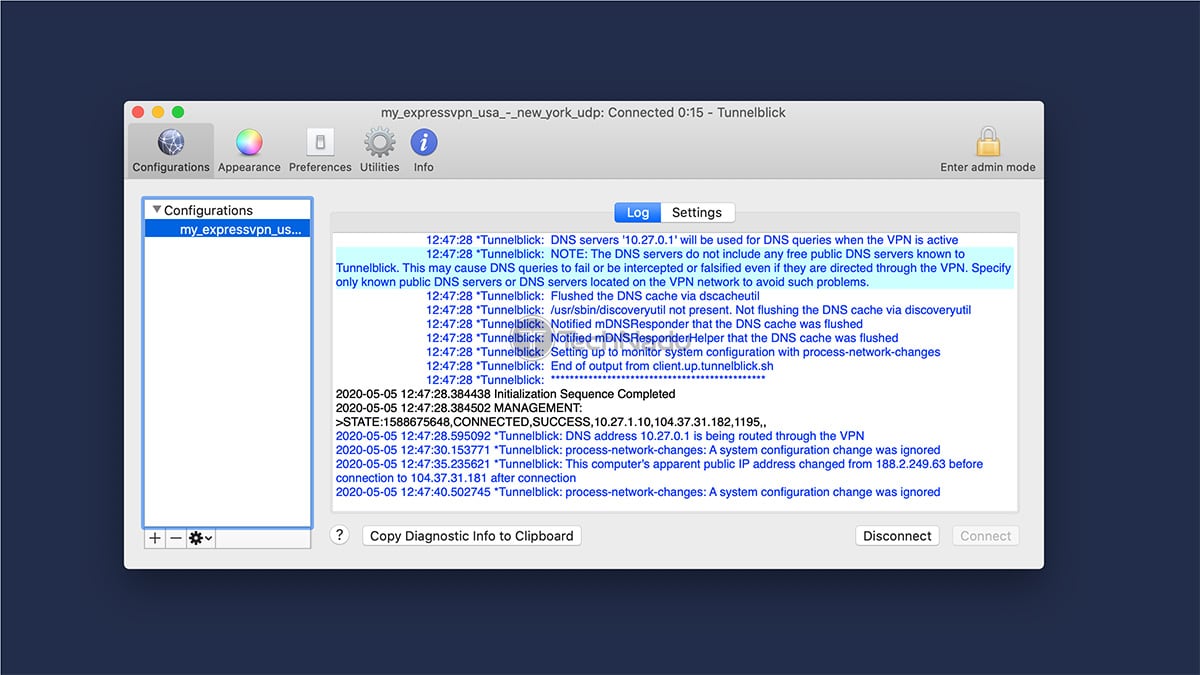 You've reached the end of our guide to setting up a VPN on macOS. We hope that you'll manage to go through this procedure without any problems. However, if you face any roadblocks, don't hesitate to let us know via the comments section below.