As you probably know, your PlayStation account is tied to a specific region (country). You are free to select any country when creating your account, but accessing region-blocked content requires you to have an IP associated with the desired country. In other words, you can access apps available in the USA only if you have a US-based IP address. However, there's a solution to this problem. This is precisely where VPN applications come into play, so let's talk about how to set up a VPN on PlayStation 4.
Before we begin explaining your options in-depth, we have an important piece of information. You can't install a VPN on your PlayStation natively, as your gaming console doesn't support this type of software. However, there are three viable workarounds. You can use a custom DNS address (provided by a VPN), install a VPN on your router, or share your VPN connection from your computer. As you can imagine, we'll explain all those methods via our step-by-step guides below, so keep on reading.
Also, keep in mind that we'll be using ExpressVPN in this article. That's because - based on our hands-on experience - this is definitely the best VPN you'll find available today. It allows you to unlock your PS system, gain access to pretty much any app available, and it's suitable for online gaming. To take a look at other viable alternatives, here's our overview of the best VPNs for PlayStation.
And now, here are 3 different methods to set up a VPN on PlayStation 4 in 2020:
Method #1: Use a Custom DNS Address
Good to Know: This method will help you unlock new types of apps and games on your PlayStation 4 that are available exclusively in the USA. However, you won't receive VPN-related benefits such as anonymization and encryption.
To go through this method, you need a VPN that gives you a custom DNS address capable of unblocking new types of digital services. Our strong recommendation would be ExpressVPN, so let's see how to set up this VPN on your PlayStation 4.
Create a Custom DDNS Hostname (Free of Charge)
Since ISPs (Internet Service Providers) feature dynamic IP addresses, this means that your IP is changed quite often. For ExpressVPN to identify you and your device, you'll need to get a custom DDNS hostname. Don't worry - this is a free-of-charge and simple procedure.
There are plenty of free-of-charge DDNS hostname services, and many of those should do the job. However, we recommend going with Dynu. Click to open its website and then click on "Create Account" found at the top of the page.
Create your new account by inputting your desired username, password, and email address. Within a few seconds of submitting your information, you should receive a verification email message from Dynu. Check your inbox (and your spam folder) and click on the link found there.
Now, once you get to your account on Dynu's website, click on "DDNS Services" and wait until a new page fully loads. Click on "+Add" (on the right side) to start creating your DDNS hostname.
You can use your own hostname or create a new one for free. As you'll see, this is a very easy process where you basically need to pick a custom name followed by Dynu's extension. Once done, the website will show you an overview of your newly created hostname.
Feel free to turn off a series of options you'll see in your screen's central portion (Enable IPv6 Address, Wildcard IPV6 Alias, and Wildcard IPv4 Alias). What you need to pay attention to is your new hostname and your IPv4 IP address, as we'll use this one soon enough.
Finally, it's advisable to use Dynu's IP Update Client. This application checks for any changes in your IP, and it automatically updates your hostname. So, download the app on your computer and sign in using your Dynu username and password.
Set Up a VPN on Your PlayStation 4 Console
Right now, you have your custom DDNS hostname. However, we'll now use ExpressVPN to register that DDNS hostname and get your custom DNS IP address (that you need to set on your PlayStation as well).
We hope that you've subscribed to ExpressVPN by now. If not, click on the provided link and finalize the procedure you'll see on your screen. Then, go back to ExpressVPN's website and log-in to your account by clicking on "My Account."
Look at the left side of the page and click on "DNS Settings." Now, enter your custom DDNS hostname in the "Dynamic DNS Hostname" field. Make sure to save your input, and then you'll see a message saying "Updated."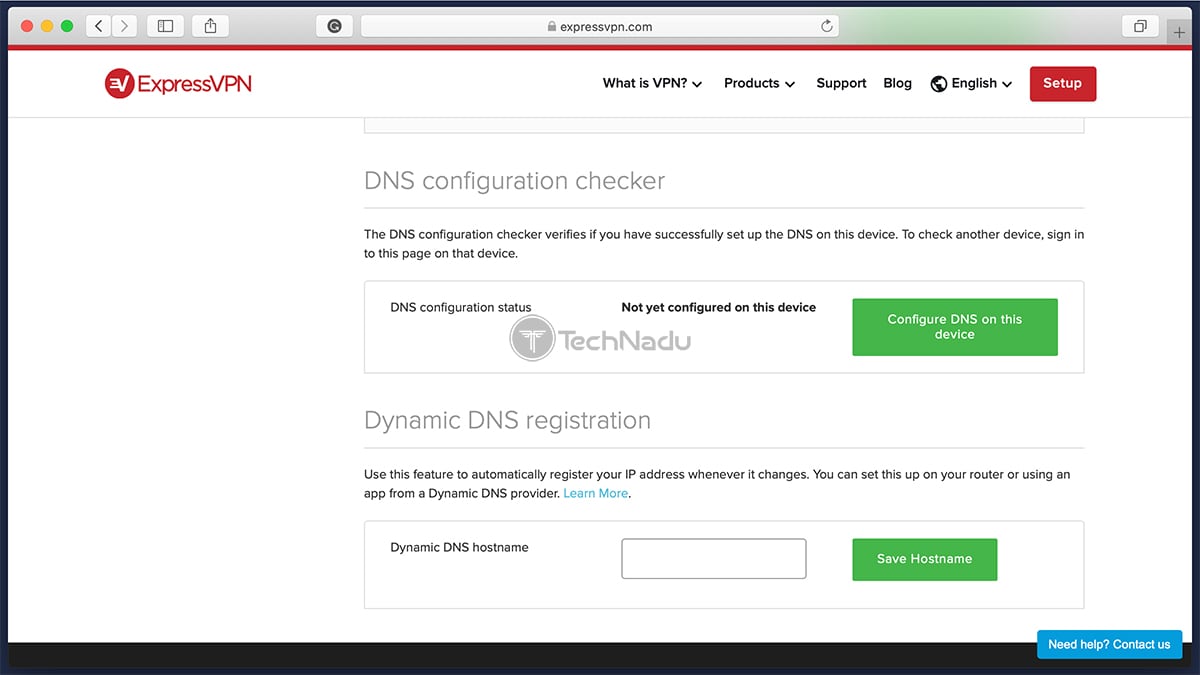 Now, return to your ExpressVPN account overview. Click on "Set Up Other Devices" and then select "PlayStation" on the left. This is where you'll see your DNS server IP, on the right side. Keep this window open and finalize this procedure on your PlayStation console.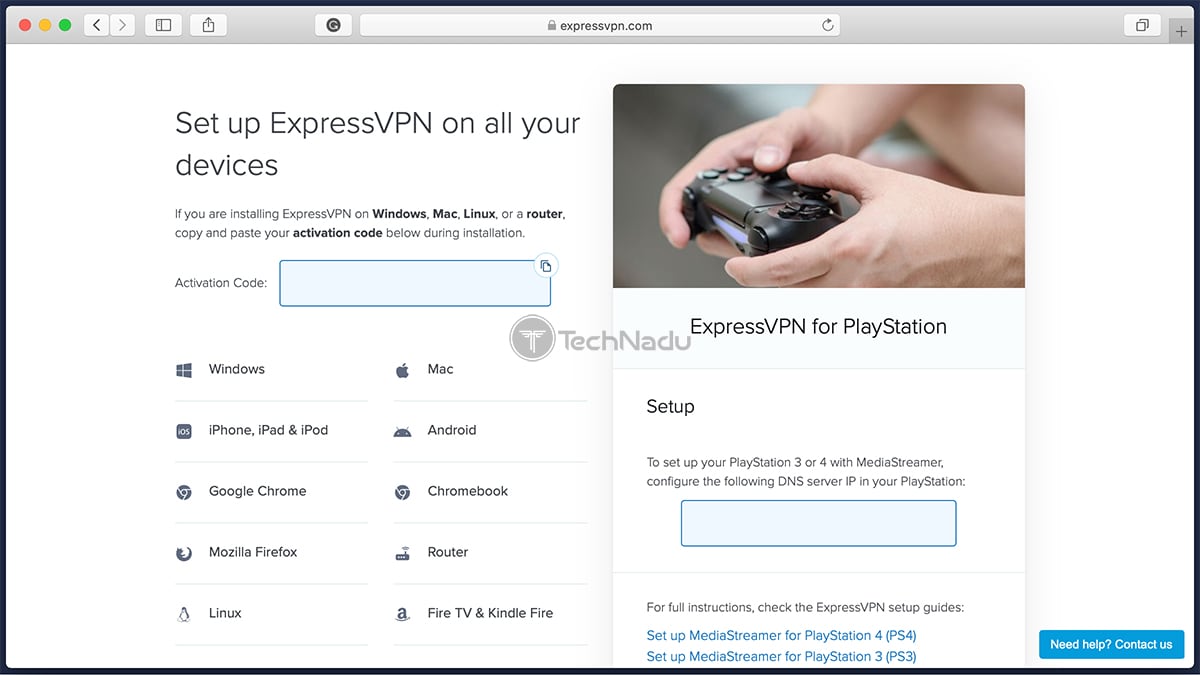 On your PS4, navigate to Settings > Network > Set Up Internet Connection. Choose either "Wi-Fi" or "LAN," depending on how you connect to the Web. Once asked about how you want to set up your Internet connection, make sure to pick "Custom."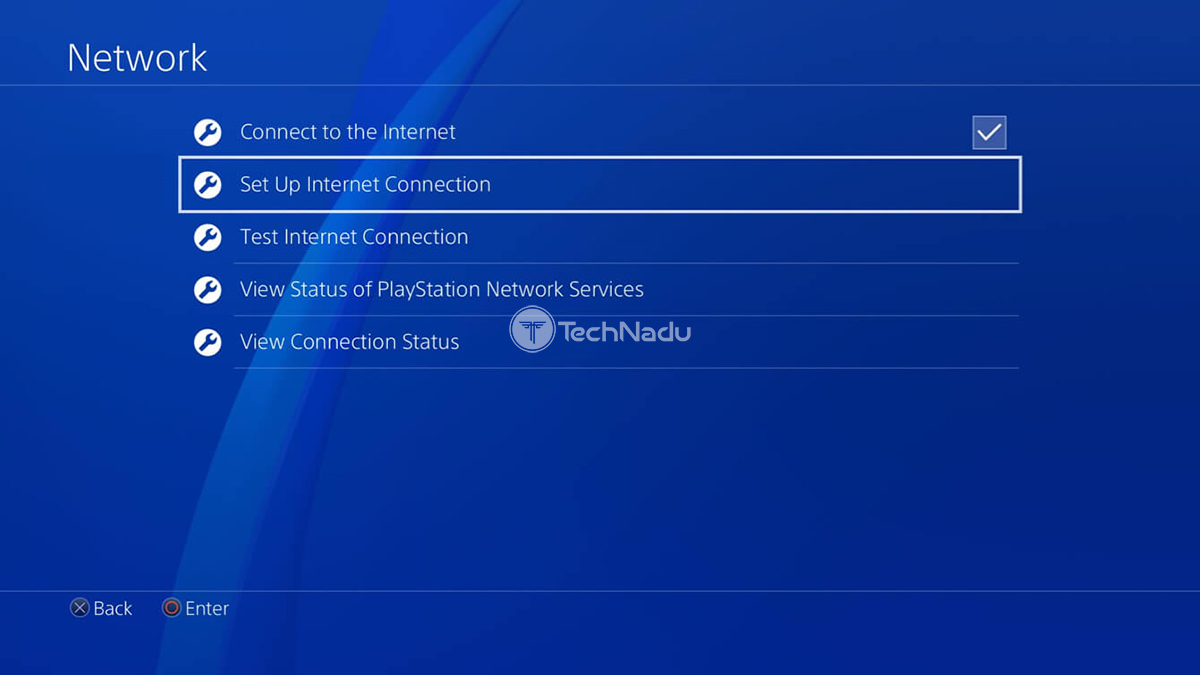 Select "Automatic" for "IP Address Settings" and "Do Not Specify" in the "DHCP Host Name" step. Once you get to the "DNS Settings," don't forget to pick "Manual" and finally enter ExpressVPN's custom DNS address in the "Primary DNS" field.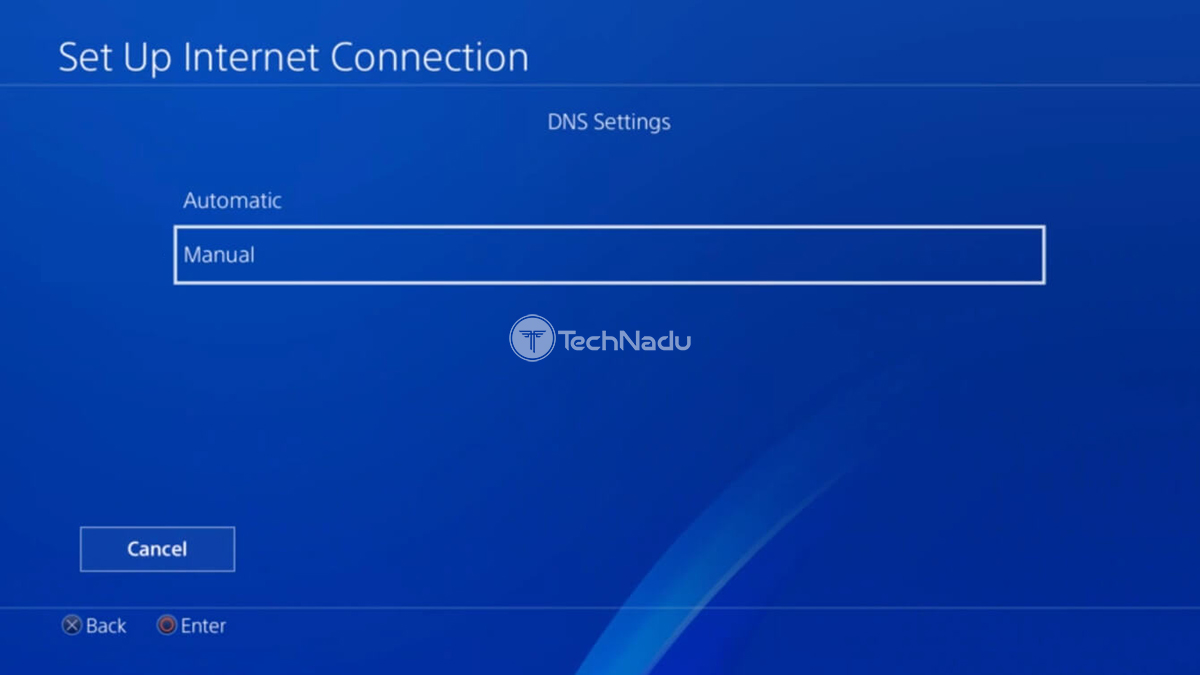 To finalize this process, select "Automatic" for "MTU Settings." And also, set "Do Not Use" for "Proxy Server." Lastly, test your Internet connection and see if everything works as it should.
That would be it! You can now restart your PlayStation to make sure that the DNS changes are applied. And then, continue using it like you normally would.
Method #2: Install a VPN on Your Router
Good to Know: Installing a VPN on your router counts as using a single device towards your subscription limit (no matter how many devices you connect to your router). This means that you can also protect your handheld devices with a VPN.
For this procedure, you need a capable home router along with a VPN that supports this kind of setup. Keep in mind that installing a VPN on your router isn't the simplest thing to do, but you don't have to be an IT expert either. Don't worry - we got you covered by our step-by-step instructions.
First, let's talk about what kind of router you need. Not just about any router will do the job, as you need a device with a powerful processor and plenty of storage space. So, you should think of how to choose a VPN router based on your needs, priorities, and budget. The provided link will take you to our article, which serves as a starting point for choosing a router capable of running a VPN.
If you need some concrete recommendations, check out the best VPN routers. We've put together seven of truly the best devices right now. However, we'd like you to pay attention to DD-WRT as well. This is a type of custom firmware that you can install on your router, and it basically acts as an operating system for it. In terms of running a VPN service, DD-WRT is perhaps the best option right now. Here are the best DD-WRT routers overall. If you want to keep your budget under control, check out the best cheap DD-WRT routers.
Then, you'll need a VPN service that allows you to install it on a router. Considering its capabilities and price, your best option would be ExpressVPN. It comes with an easy installation method, complemented by easy-to-follow tutorials. You can use ExpressVPN on up to five devices simultaneously, so you're protected on-the-go as well.
Finally, the last step is to combine your VPN and your router. It means that you'll need to learn how to set up a VPN on a router. The provided link will take you to our detailed instructions, explaining everything you need to know, starting from scratch.
Method #3: Share Your VPN Connection From Your Computer
Good to Know: For this process, you will need a crossover cable such as this one by Belkin (via Amazon). Make sure to get a high-quality LAN cable to ensure clear transmission and the best possible Internet connection speed.
In case you don't want to invest in additional hardware (such as buying a new router), you can use your computer to pass on your VPN connection to your gaming console. It means that you need to install a VPN on your computer and stay connected to a secure server of your choosing. Then, you share that connection with your PlayStation 4 by connecting your computer to your console via an Ethernet crossover cable.
We won't explain how this process works in this article, as we've prepared a very detailed guide on using your console with a VPN - without involving a router. That's where you'll find our step-by-step instructions on how to complete this procedure on Windows and macOS.
Once again, keep in mind that you need a powerful VPN for your PlayStation, as most users will rely on media streaming and online gaming. This is something that only a few VPNs can execute properly, and your best options right now would be none other than ExpressVPN.
So, that would be all on how to set up a VPN on PlayStation 4. We hope that you've found this article to be helpful. However, if you're facing any issues or dilemmas, don't hesitate to let us know. You can use the comments section (found below) to contact TechNadu's team.