Maui Linux is a fully functional Linux distribution, coming with everything you need for your daily computing activities. However, it's missing one thing – and yes, we're talking about a VPN. So, here's how to set up and use ExpressVPN on your Maui Linux computer. 
Warning
ExpressVPN doesn't offer support for Maui Linux – even though this VPN works on this operating system just fine. The only downside is that ExpressVPN's team won't help you troubleshoot issues that may be specific to Maui Linux. 
1. The first step would be to sign up for ExpressVPN. 
2. Once you land on the VPN's website, click on 'Get ExpressVPN.'
3. Then, pick a subscription plan (long-term ones come with hefty savings, by the way). 
4. Provide your email address and finalize the sign-up procedure. 
5. Once done, you'll receive an email from ExpressVPN's team. So, check your inbox.
6. Now, return to ExpressVPN's website. Go to its home page.
7. In the top-right corner, you'll see the website's main menu. Select 'My Account.'

8. Provide your ExpressVPN credentials and then proceed to click on 'Sign In.'
9. When asked for a verification code, copy it from your email inbox and log in. 
10. At this moment, you'll access your ExpressVPN online dashboard.
11. Take a look at the top of that page, and then click on 'Set Up Other Devices.'
12. A new page should now open. Select 'Linux' on the left-hand side. 
13. Then, pick 'Ubuntu 32-bit' or 'Ubuntu 64-bit' based on your Maui Linux version.
14. Proceed to click on 'Download' to download ExpressVPN's installation file. 
15. Now, we will proceed to first download and then activate ExpressVPN on Maui Linux. 
16. Launch 'Konsole' and access the folder where ExpressVPN's file is located. 
17. By default, it's in the 'Downloads' folder. So, use this command: cd ~/Downloads/.
18. Then use this command to install the VPN: sudo dpkg -i [file_name].
19. Wait a couple of moments until ExpressVPN installs (you'll see a confirmation).
20. Now, use the following command to activate the VPN: expressvpn activate.
21. Paste your ExpressVPN activation code from your online dashboard.
22. When asked about sending anonymous data, answer with Y or N. 
23. Starting this moment, you can begin to interact with ExpressVPN's servers. 
24. Use 'expressvpn connect' to connect to the nearest (fastest) server. 
25. Use 'expressvpn disconnect' to disconnect from any server at any given moment. 
26. Then, try the 'expressvpn list' command to list all of the available servers.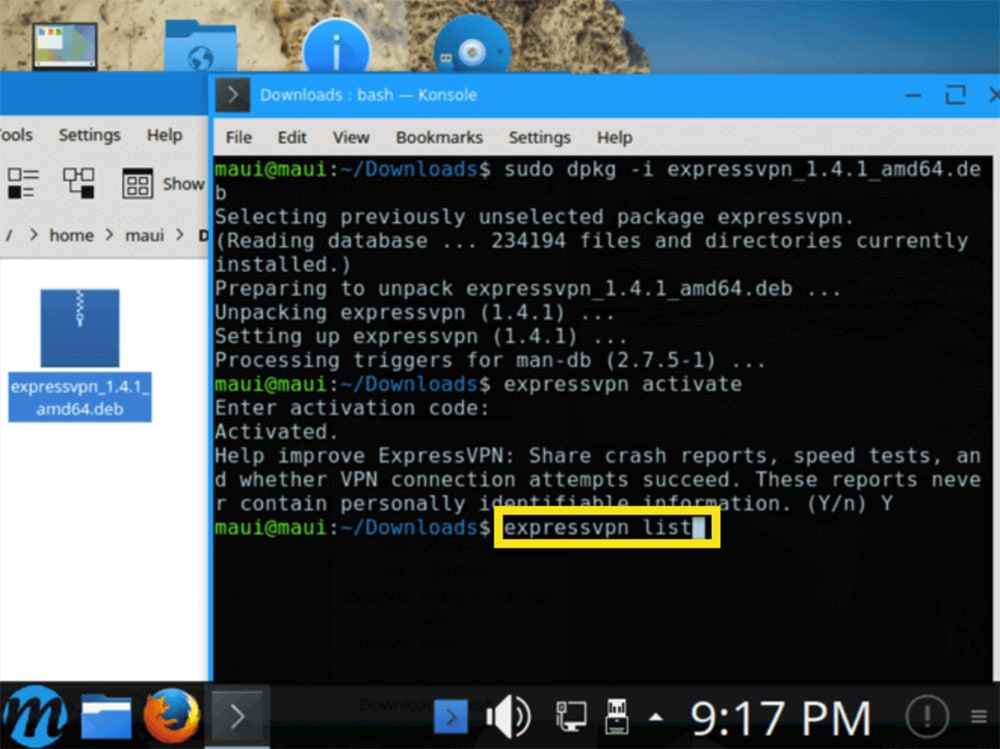 27. Take a good look at the table visible in the 'Konsole' window on your screen.
28. Make a note of any server's code, country, or location – as you'll need to use those. 
29. To connect to a specific country, use this command: expressvpn connect [COUNTRY].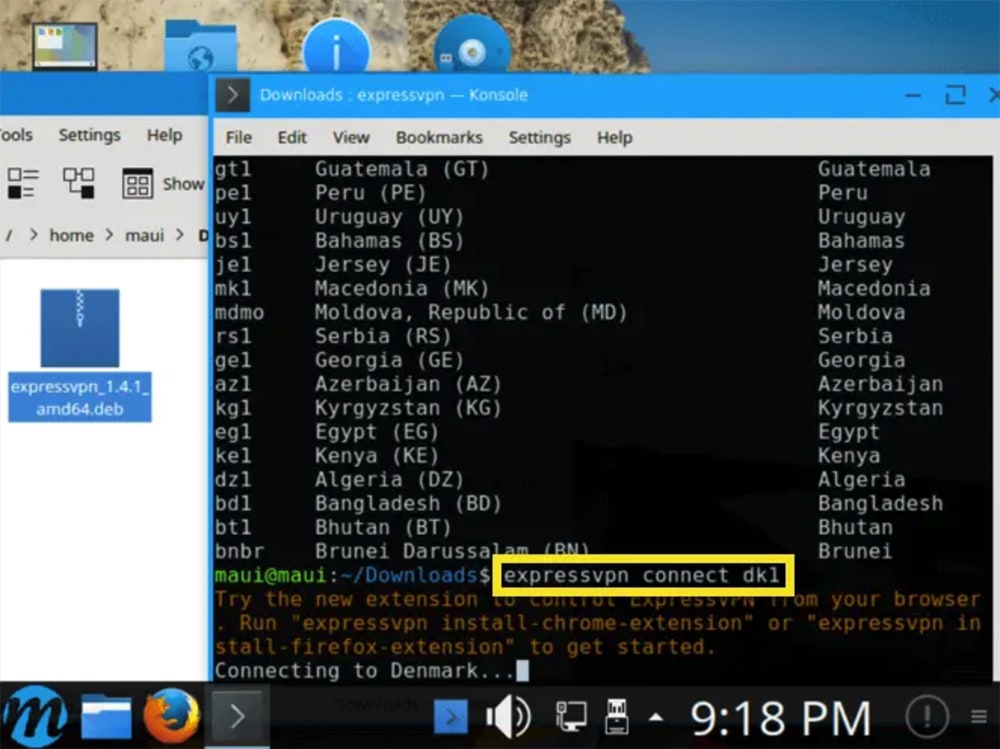 30. To connect to a specific location, use this one: expressvpn connect [LOCATION].
Tip
Let's say that you want to connect to a server in Egypt. To connect to any server in this country, you need to go with 'expressvpn connect Egypt.' If there are multiple servers available in that country, you pick a specific server's name or code. For example, you can use this command: 'expressvpn connect eg1.'
31. We also recommend trying out the 'man expressvpn' command (to access the manual).
32. Using ExpressVPN's manual, you can reveal the full list of supported commands. 
That's it! You now know how to set up ExpressVPN on Maui Linux. In case you have any questions, make sure to let us know via the comments section below. And finally – thank you for reading!