We are sure that those of you who enjoy watching anime rely on a couple of popular websites. The culture of anime has spread all over the globe, and that reflects on our online world as well. The same applies to Kodi, which can be your go-to source for anime movies and TV shows. Among numerous repositories and popular addons, Kodi acts a repository on its own. This is because you can use this home theater software to access different sources of content from one place. This is why, in this article, we'll be taking a look at the best anime Kodi addons.
Here at TechNadu, we are dedicated to bringing you useful articles that teach you how to get the most out of Kodi. This article won't be any different. Aside from showing you anime Kodi addons and their offerings, we'll be also talking about their installation methods. Don't worry; you'll learn how to watch anime by the end of this article even if this is the first time you handle Kodi addons.
Also, we would like to say that the following suggestions are fully working and up-to-date. As you probably know, some addons lose their functionality over time forcing us to look for alternatives. The same applies to popular builds for Kodi, which are custom installations that contain preloaded software. This is why we wanted to make sure the following addons work, which is why we tested them on our own. By the end of this article, you'll have all you need to watch hundreds of anime movies and TV shows.
Disclaimer: The software in this article comes from free and open sources. While some addons are offered and maintained by the company behind Kodi, other addons are considered unofficial. Please note that we don't condone piracy or copyright infringement. In addition, we don't take any responsibility for how our readers decide to use the software mentioned in this article. Finally, TechNadu isn't connected to any of the following third-party Kodi addons, in any way. Please make sure to read the above-said disclaimer content carefully, and ensure the fair use of the software.
WARNING: Before You Continue…
Even without your explicit consent, your ISP (Internet Service Provider) is collecting and filtering your Web browser data. This means that using Kodi to stream copyrighted content might get you into legal trouble. Also, your ISP might block access to specific streams, which leads to Kodi errors, or entirely blocked and throttled streaming. This is why users of Kodi should always use a VPN to make sure their identity and privacy are protected while streaming.
TechNadu's editorial team uses and strongly recommends ExpressVPN. This is, by far, the fastest and most reliable VPN with the power to unblock any website and service. Once activated, ExpressVPN encrypts your Web traffic and makes it anonymous – keeping it away from your ISP's prying eyes. In fact, you will become invisible on the Web since your user logs, and your traffic history isn't stored on any server.

Make sure your Web browsing and streaming aren't used against you. Subscribe to ExpressVPN and enjoy using Kodi without any restrictions!
Best Anime Kodi Addons: Official Addons
First, we'll show you a couple of official anime Kodi addons. These can be found within Kodi's own repository, which makes the installation incredibly simple. Then, we'll discuss unofficial options that unlock hundreds of sources of video content.
Before we continue, let's see how to install official anime Kodi addons:
Open Kodi and wait a couple of seconds until it loads. You should see the Home screen;
In the left-positioned menu, find the Addons Section. Click to open it;
Next, click on the Download button from the left-positioned menu;
What you'll see on the right side of the screen are different categories. Find the one called Video Addons. Click to open it;
This is where the official Kodi addons are located. If you click on any of them, you'll get to see more details and a screen from where you can perform installations.
Once the installation is complete, you'll receive a notification in the top-right corner. After that, return to the Addons Section to use your newly installed addons.
Funimation NOW
Funimation NOW is one of the best-looking anime Kodi addons. It comes with a custom design and features beautiful transitions and animations. However, we are sure you'll like its content the best. Speaking of official anime Kodi addons, this one should be at the top for any anime lover.
Once you open the addon, you'll see a nice animation until the addon fully loads. Then, you'll be greeted with a login screen. What this means is that you'll need to sign up for a new account to fully access Funimation NOW. If you opt for a free account, you'll occasionally see ads. Furthermore, you won't be able to explore its library of content fully. If you decide to upgrade, you'll need to pay $5.99 per month. This seems like a fair price considering how much content there is. All streams are HD and work without any issues. In addition, videos are dubbed in English. It's easy to see why this addon is at the top of our list of the best anime Kodi addons.
Crunchyroll
This is a well-known Web service that brings numerous popular titles of Japanese anime movies. As you can see, it has an addon for Kodi as well.
In many ways, Crunchyroll is similar to Funimation NOW. It has an incredibly extensive library of content divided into movies and TV shows. The addon is nicely designed and allows different ways of filtering the content. However, be prepared to occasionally encounter some streaming issues. Sadly, it seems like the Kodi addon isn't at the top of priorities for this company since the addon is rarely updated.
You can try Crunchyroll free of charge. However, it does come with a subscription priced at $6.99 per month. If you decide to pay, you'll benefit from hundreds of available anime movies and TV shows. There's also a vibrant community of anime fans on the website.
Best Anime Kodi Addons: Unofficial Addons
Now is time to take a look at unofficial addons. If addons like Funimation NOW and Crunchyroll fail to meet your expectations and cravings for anime video content, we're sure you'll find something of interest if you continue reading.
The only downside to unofficial anime Kodi addons is their somewhat complicated installation method. However, you'll see that it's not that bad after installing one or two addons. Don't worry; we'll take you through every step of the way.
9Anime
You've probably heard of 9Anime before. This is a popular online source of anime movies and TV shows, which has been around for quite some time. We are glad to say that now you can enjoy 9Anime on your Kodi as well.
The main screen of 9Anime shows a nice list of different options for filtering. You can browse the addon's content by genre, date added, and recently added. What you'll find here are several categories that show subbed and dubbed movies. This kind of easy navigation is incredibly helpful, and we are glad to see an addon that's maintained this well.
If you open any of the main categories, you'll see a nice list of available video content. TV shows are organized by their release date so that you can watch episodes one by one. What more could we ask for? This is truly one of the best anime Kodi addons.
Let's see how to install 9Anime to your Kodi:
First, we'll need to install the 9Anime repository. However, we'll be installing from a GitHub. Click here to download this repository's ZIP file to your computer. Use the provided link and then click on the green-colored button that says 'Clone or Download'. Then, select 'Download ZIP'.
If you're using Windows, the file will be located on your desktop or in the Downloads folder. If you're using a Mac, the file will be inside the Downloads folder accessible via Dock.
Now go to the Addons Section of Kodi, found in the left-positioned menu;
You will see an icon symbolizing an Open Package. Click on it;
One of the available options on this screen is to Install from ZIP file. Click on it;
Now you need to locate your file on your computer. Once you find the ZIP file, click on it and wait a couple of seconds to be installed.
That's it! You can now return to the Add-ons section of Kodi and 9Anime will be waiting there. Click on its icon to launch the addon.
Incursion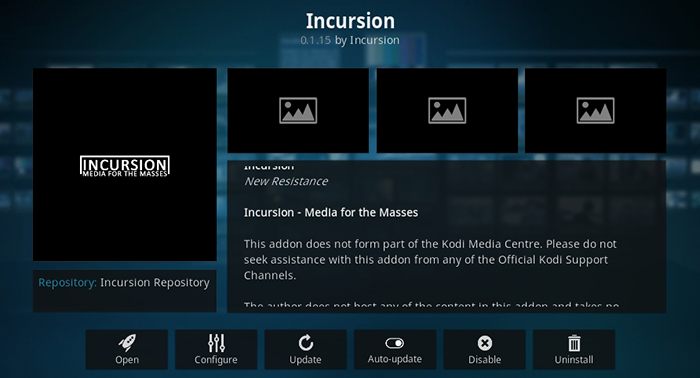 Those of you who are long-term Kodi users know all about Exodus. Even though you can still install a fully-working version fo Exodus, there are some interesting alternatives as well. One of them is Incursion, a freshly released addon that goes well beyond anime. You can use it stream movies and TV shows.
Incursion is a fork of Exodus. In other words, these two addons are close to identical. The only difference is subtleties in the number of available scrapers. When it comes to anime, you will find a dedicated content category. There are both anime movies and TV shows.
To learn more about this addon, head over to our installation guide for Incursion.
Covenant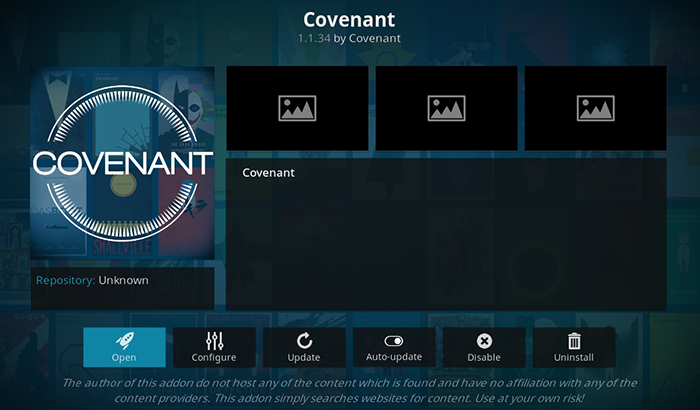 We are sure that long-time Kodi users don't need to be introduced to Covenant. Even though this addon was offline during the last couple of months, it has been brought back to life by a new developer.
Since Covenant shares its code with Exodus, this means that these two look close to identical. Moreover, there are many similarities with our previous suggestion as well. You will see nicely organized menus and different ways to browse the available content. Covenant brings anime movies and TV shows, with a number of titles available. Also, it relies on a number of different scrapers, giving us hope that you'll find a working link.
Aside from anime content, this addon caters to fans of movies and TV shows. Here's how to install Covenant on Kodi.
Wolf Pack
Next on our list of suggestions is Wolf Pack. Even though it has the same name as one of the previously popular addons, this is a brand-new Wolf Pack. The best thing is – there is a dedicated anime section on the home screen.
If you're a hardcore anime fan, you are going to love what this addon offers. At the moment of writing this article, there are over 20 titles available separated into seasons. We have tested a dozen of those, and all of those played without any issues. What more can we ask for, really?
You don't want to miss out on this amazing addon. Here's how to install Wolf Pack.
Genesis Reborn
We'd like to finish our list of the best anime Kodi addons with Genesis Reborn. This is yet another highly popular addon that deserves to be mentioned in this article.
Genesis Reborn isn't all about anime. It brings movies and TV shows of various genres, nicely organized and searchable. Once you enter any of these two content categories (movies or TV shows), you will see that both of these come with a dedicated section for anime content. Dozens of titles await with several source links for each of them. If one of them isn't working at the moment, you can always try other source links. This way, you're sure you'll find a working link.
When it comes to installation, we'd like to refer you to a previously published article: How to Install Genesis Reborn on Kodi.
Additional Resources: What's Next?
Before we let you go, we'd like to provide a few useful resources. The world of Kodi addons is a big one, and we are sure you need some help to navigate it. Therefore, check out these articles:
Conclusion
So, that's it, folks. We hope you managed to find something useful on our list of anime Kodi addons. Combined together, they bring thousands of titles ready to be streamed right away. We're sure you'll enjoy having such large online library of anime content.
What are your favorite anime Kodi addons? Do you think we missed something out? Let us know in the comments section below. In addition, feel free to share this article with other fans of anime shows.