PrivadoVPN is a privacy-focused VPN service based in Zug, Switzerland. It has some advantages from Switzerland's strong privacy laws and favorable jurisdiction, but it also has some red flags that might turn off potential users.
Even though PrivadoVPN is outside intelligence-sharing alliances like the 5 Eyes or 14 Eyes, it tracks individual bandwidth usage and device information. This raises privacy concerns, especially since it claims not to log sensitive data. The lack of independent audits or transparency reports doesn't help either.
However, PrivadoVPN can unblock popular streaming platforms and offers good speeds for watching content. For torrenting, the service supports P2P file sharing on all its servers and offers a SOCKS5 proxy for extra security. Even though it has no official gaming support, this VPN provides a fairly decent gaming experience.
PrivadoVPN also uses AES-256 encryption and protocols like WireGuard, which are industry standards. However, it doesn't have the bells and whistles of top-tier VPNs.
We want to help you decide if PrivadoVPN is the right fit for you. To do that, we'll review its performance and features. Here's a table that shows its main features.
Paid
Free
Jurisdiction
Switzerland.
Logs
No logs.
Servers
270+ servers in 47 countries.
12 servers in 10 countries.
Simultaneous Connections
10.
1.
Supported Devices
Windows, macOS, Android, iOS, Fire TV, Android TV, and routers.
Features
Advanced encryption, kill switch, SmartRoute, SOCKS5 proxy, and more.
Advanced encryption, kill switch, SmartRoute, and more.
Protocols
OpenVPN (UDP/TCP), IKEv2, and WireGuard.
Supports
Torrenting and streaming Netflix, HBO Max, Hulu, and more.
Customer Support
Live chat, email, knowledge base, and installation/troubleshooting guides.
Price
From $1.99/month.
Free.
Live Deal
82% OFF (24-month plan)
Our Score
8.1 out of 10.
In this PrivadoVPN review, we'll put the VPN to the test and see how it stacks up against the best VPN services. We'll check its reputation, speed, security, privacy, and more using various tests and criteria.
We don't play favorites in our reviews. We make sure they're fair and accurate. If you want to know how we do our reviews, we have an article that explains how we review VPNs.
Background, Jurisdiction & Reputation
PrivadoVPN is based in Switzerland, which has strict privacy laws. However, we're not sure about its link to Usenet services. This makes us doubt if it's the best option for users who want to protect their privacy. Our Score: 9/10
To choose a VPN, you need to know its background, jurisdiction, and reputation. These aspects tell you how well it can keep you safe and private online. Here, we'll look at where PrivadoVPN is from and if it ever exposed any personal data.
Where Is PrivadoVPN Based?
PrivadoVPN is based in Zug, Switzerland, a country with strong privacy laws. This means you're safe from government snooping and data requests. Switzerland is also outside the 5/9/14 Eyes Alliance, a group of countries with mutual surveillance. This gives PrivadoVPN the freedom to avoid any foreign data or censorship laws.
The service says it doesn't log any user data, online activity, or IP addresses. But we're concerned about PrivadoVPN's link to Usenet providers like Newshosting and Tweaknews. They used to rely on WLVPN, a service that rents its servers and infrastructure to others. However, they switched to PrivadoVPN in 2020. Before that, Newshosting had its own VPN service.
Usenet services suggest PrivadoVPN because they offer an alternative to torrenting. But they also log users' IPs, so they advise using a VPN with their service to hide your real IP. PrivadoVPN's tie with Usenet services is suspicious, especially since the VPN has no evidence for its "no logs" claims.
Did PrivadoVPN Leak Personal Data in the Past?
No, PrivadoVPN hasn't had any data leaks or scandals in the past, but it hasn't proven its no-logs policy with an independent audit. Therefore, we recommend using PrivadoVPN with caution.
PrivadoVPN claims to have a strict no-logs policy, meaning it doesn't collect or store any information about its users' online activities, IP addresses, or personal data. However, it hasn't backed up this claim with evidence from a third-party auditor, a transparency report, or a warrant canary.
This means that we can't verify how reliable the service is in terms of privacy. However, according to its website, a team of experts with more than 20 years of experience in the VPN industry runs it. The service does have some strong features, but these aren't enough to compensate for its lack of security audits.
Supported Platforms & Devices
You can use PrivadoVPN on most devices. However, only premium users can install it on routers. Our Score: 8/10
Here's a table that shows you which platforms and devices PrivadoVPN supports. You can check it out quickly, and then we'll explain more about it in detail.
| | |
| --- | --- |
| Desktop Platforms | macOS, Windows, Linux (manual configuration). |
| Mobile Platforms | iOS, Android. |
| Web Browsers | N/A. |
| Routers | DD-WRT, Asus, pfSense, and more. |
| Other Devices | Fire TV, Android TV. |
PrivadoVPN is compatible with various platforms and devices, such as Windows, macOS, Linux, iOS, Android, Fire TV, and Android TV. It also provides guides on how to manually configure the VPN on routers and other devices.
PrivadoVPN allows up to 10 simultaneous connections with its premium account, which is more than the industry average of five. This means that you can protect multiple devices at the same time without having to switch between them.
However, PrivadoVPN doesn't have any browser extensions, which some of its competitors offer. Browser extensions can make it easier to switch between VPN servers and access geo-restricted content on the Web. However, it does have a SmartDNS feature that can help you bypass geo-blocks on streaming devices without affecting your speed or encryption.
Overall, PrivadoVPN has good compatibility and device support, but it could improve by adding more features and options for its users.
Installation & Initial Configuration
PrivadoVPN has a simple and hassle-free installation process. Our Score: 10/10
In this section of our PrivadoVPN review, we'll show you how to install and set up this service. You'll see that the process is a piece of cake and simple to follow.
How to Download and Use PrivadoVPN?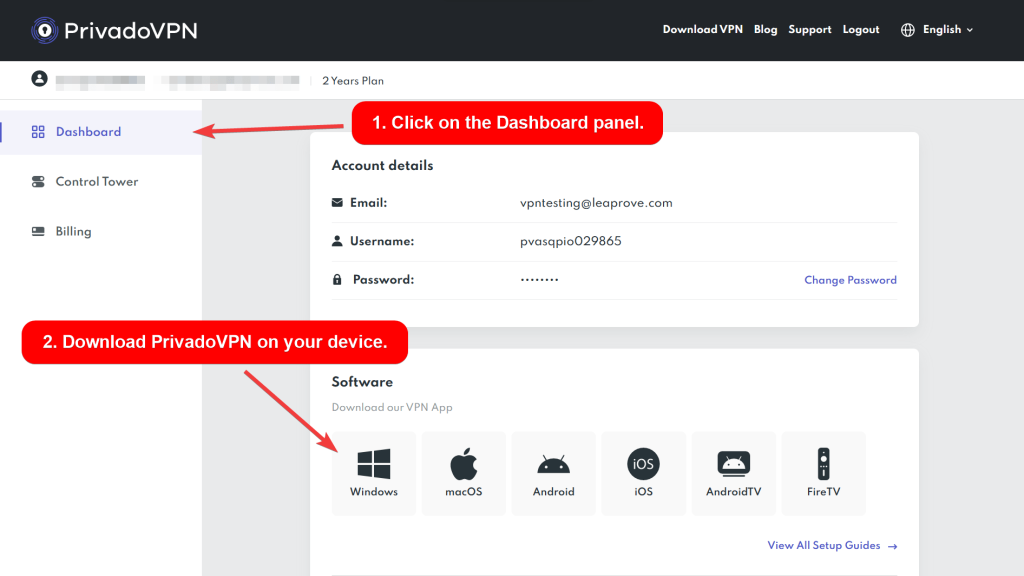 Once you access your PrivadoVPN account, you can visit the 'Software' section on its website to download its app(s). Then, you install the software and log in using your credentials - and that's it! 
If you're still unsure, here are step-by-step instructions on how you can get PrivadoVPN on your device:
Subscribe to PrivadoVPN on its website using any Web browser.
Go to the dashboard panel to select and download the installation file.
Install the PrivadoVPN app by following the screen prompts.
Launch the app and log in with your account details.
Choose a server or let the "Click to Connect" button do it for you.
Enjoy secure and private online surfing with PrivadoVPN. You're all set!
We'll note that PrivadoVPN comes with lightweight apps. So, even if you have a relatively slow Web connection, you'll get to download them with no issues. Also, it doesn't have bundled software or any other annoyances. Just install the VPN, log in, and you're ready to go!
Prominent Features
PrivadoVPN provides basic security features such as 256-bit encryption, split tunneling, a kill switch, and a no-logs policy. However, it lacks dedicated/static IP addresses and other advanced features. Our Score: 7.5/10
PrivadoVPN is a fairly new VPN provider, but it has kept pace with the competition by introducing new features over the years. In this section, we'll evaluate how well PrivadoVPN meets our criteria for a good VPN service and highlight some of its key features.
DNS and IP Leak Protection: PrivadoVPN encrypts your DNS queries and changes your IP address to hide your online activity. It also protects you from DNS, IPv4, IPv6, and WebRTC leaks, which are common ways of exposing your real IP address or DNS requests. We tested 5 servers from PrivadoVPN using various leak detection tools and found no leaks. 
AES-256 Encryption: No matter what you're doing online, whether it's browsing, streaming, gaming, or shopping, PrivadoVPN will protect your data and your identity with its AES-256 encryption. This is the same level of encryption used by the military to safeguard its secrets. It's virtually impossible to break.
Kill Switch: PrivadoVPN's Kill Switch is available on all platforms and prevents data leaks if your VPN connection fails. To do that, it blocks all traffic until you reconnect to the VPN or disable the feature. This way, you avoid revealing your IP address, data, or activity to anyone.
SmartRoute: PrivadoVPN's split tunneling feature lets you choose which apps should use a VPN. This can save bandwidth, bypass VPN blocks, and access local and foreign content simultaneously. For example, you can stream a foreign show while still using your local IP address for other tasks. Split tunneling is available on Windows, Android, Android TV, and FireTV.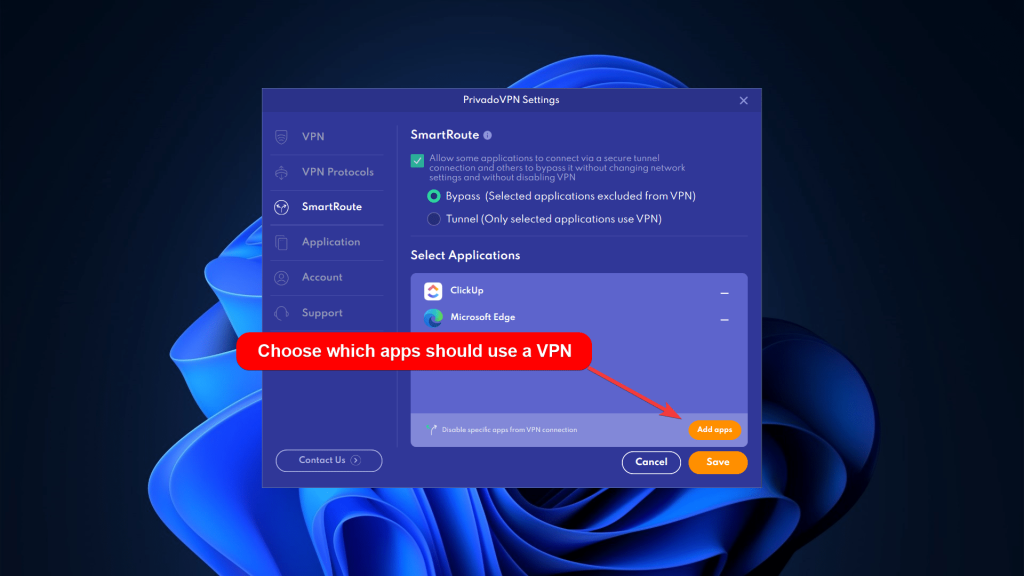 SOCKS5 Proxy: When you don't need the full protection of a VPN, you can use a SOCKS5 proxy, which is a premium feature that can route all the data from any specific application. It doesn't encrypt your data, but it does change your IP address so that no one can trace your activity back to you. The SOCKS5 proxy is available on Windows, macOS, Android, FireTV, and Android TV.
Control Tower SmartDNS: With this feature, you can enjoy a safe and smooth online experience on any platform, whether you're a free or a premium user. It blocks ads, malware, ransomware, and crypto attacks that could harm your devices.
Unlimited Server Switches and Bandwidth: This VPN lets you switch between servers as much as you want, with no extra costs or restrictions. Having a premium account also lets you enjoy unlimited data and bandwidth. That means you can stream HD videos, download large files, and play online games without any interruptions or slowdowns.
Server Count & Infrastructure
PrivadoVPN has 270+ servers in 47 countries, and it allows P2P sharing on all servers. Our Score: 4/10
Having a VPN with many servers is important for several reasons. For one thing, it gives you access to a wide range of countries and IP addresses. Another thing is that it helps you get fast speeds by distributing the load among all the servers. Let's check out how Privado does in this regard. But before that, let's take a look at this table with some key details:
| | |
| --- | --- |
| Number of Servers | 270+ |
| Number of Locations | 60+ |
| Number of Countries | 47 |
| Specific Cities Selection | YES |
| Unlimited Switching | YES |
PrivadoVPN offers a premium server network that mainly covers Europe, with only a few locations in Africa and South America. Asia has a decent number of servers. 
One of the factors that limits PrivadoVPN's network size is its commitment to building only physical servers. This is more costly and challenging. Physical servers have some advantages for privacy, but we're concerned that they'll get overcrowded as more users join PrivadoVPN.
PrivadoVPN Free has a much smaller network than the paid version, but it still gives you 10 countries to choose from, which is impressive for a free VPN. Its network consists mostly of European and North American servers, but you can also connect to Argentina and Brazil. There are also four city-level options in the US.
To make things easier, PrivadoVPN has a handy color-coded system that shows you nearby servers. If you see a country with 3 green bars, it means you'll get low latency. So, you can enjoy smooth gaming and streaming on those servers. On the contrary, if the country you want to connect to has red bars, it means it's far from your location. So, you should avoid it. Otherwise, you'll face high latency.
UI/UX Design & Ease of Use
PrivadoVPN's apps have improved in design and user experience, offering a user-friendly and consistent service. Our score: 10/10
We'll focus on PrivadoVPN's interface for Windows in this segment. The VPN has consistent and user-friendly apps for all devices, so most of what we'll cover here also applies to other platforms. We'll also briefly mention how the options and menus work on different devices at the end. Now, let's dive into PrivadoVPN's Windows app.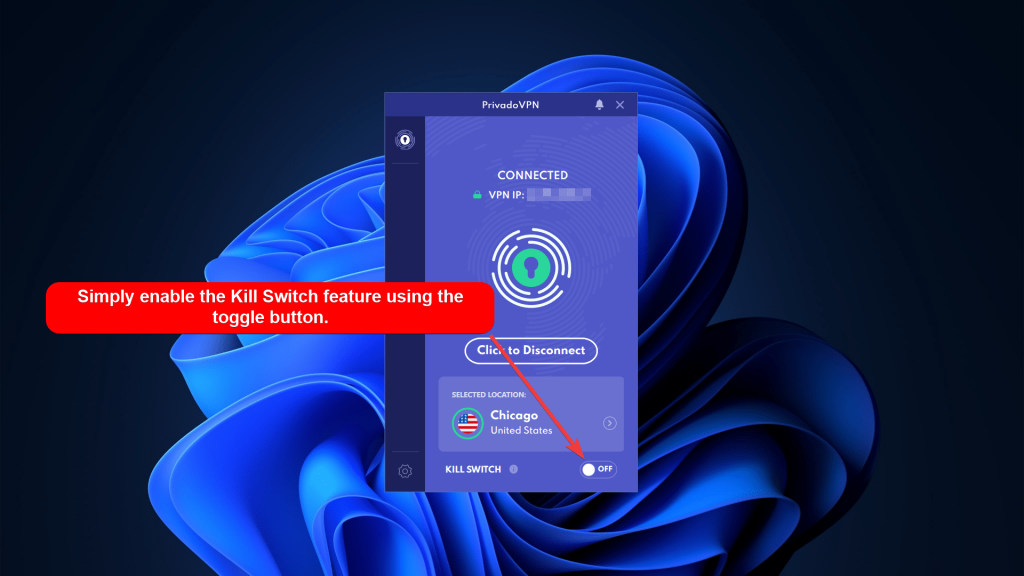 Home Screen: The Windows app has a sleek home screen design with a handy kill switch toggle. This feature lets you suspend all Internet applications and browsing if you lose connection to the VPN. The settings menu, however, opens in a separate window that you have to close manually every time you make a change. This can be annoying and messy.
The settings menu lets you customize various aspects of the app. Let's take a look at what you can do with it.
VPN: In this panel, you can adjust the Kill Switch settings to your preferred level of protection. The only other feature in this menu is Auto Connect. It lets you automatically connect to the optimal VPN server for your app or task as soon as you launch it.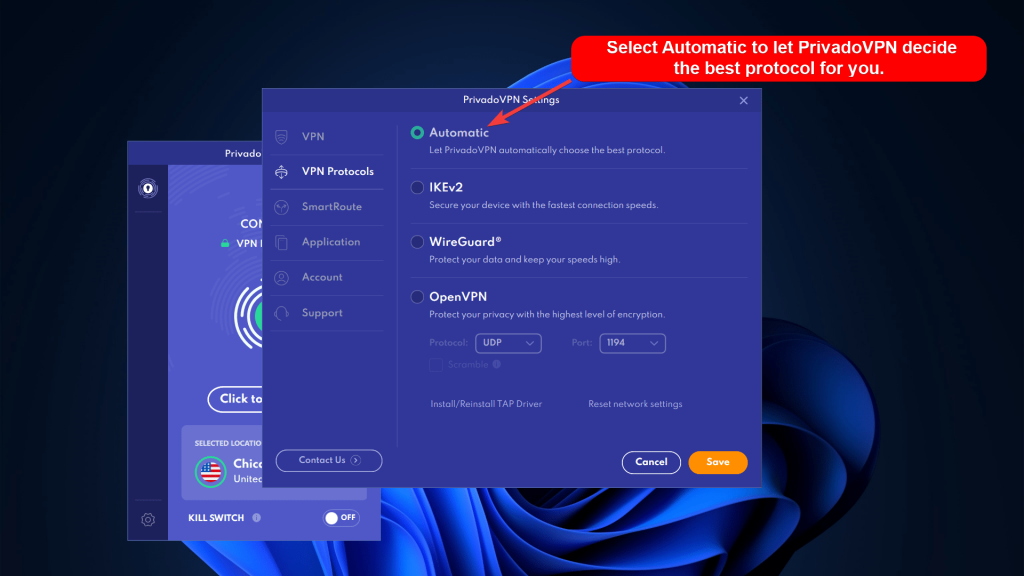 VPN Protocols: This menu allows you to customize the protocol settings on the app. You have three options here: IKEv2, WireGuard, and OpenVPN. Alternatively, you can choose Automatic and let PrivadoVPN pick the best protocol for your connection.
SmartRoute: This is PrivadoVPN's split tunneling feature. It lets you select specific apps to use with the VPN tunnel. This feature is only available for Windows and Android users. Hopefully, they'll extend it to macOS and iOS users soon.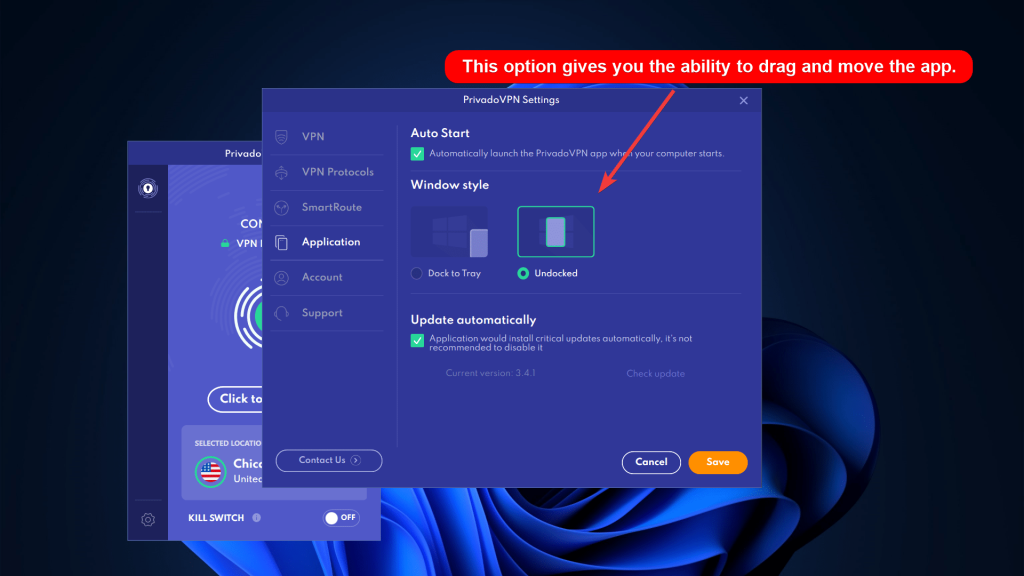 Application: PrivadoVPN has useful 'Dock to Tray' or 'Undocked' options for Windows and macOS users. It lets you easily move or fix the app to the tray. Unfortunately, you can't resize the app manually. The only other option here is to opt-in for future updates.
Account: This section shows your account details, such as the email you used to sign up for the service. It also tells you which subscription plan you have and when it will expire. In addition, you can access PrivadoVPN's Terms of Service and Privacy Policy in this panel, which will redirect you to its website for more information.
Support: This section has only one setting - to send PrivadoVPN crash reports anonymously. You can decide whether to do it or not. There's also a button that lets you view application data. This is useful if you want to check what the app is doing on your device.

The iOS app has a simple and elegant design, but it offers fewer settings than other platforms. You can only change the protocols or enable the kill switch on it. The Android app, on the other hand, has more options, like the 'SmartRoute' feature for split tunneling.
The Fire TV Stick app has also been upgraded to access streaming services. It now has a modern look and allows you to mark servers as favorites for quick access.
Media Streaming, Torrenting, and Gaming Support
PrivadoVPN provides decent streaming support and works consistently with popular sites like Netflix US and Disney+. It's also a good option for torrenting and gaming. Our Score: 7.5/10
When it comes to accessing different types of online content like streaming services, torrenting sites, or gaming platforms, VPNs are often sought after. However, not all VPNs are equally capable of handling these tasks. To provide you with valuable insights, we thoroughly tested PrivadoVPN's performance in these three areas. 
In this segment, we'll present our findings and assist you in determining whether this VPN aligns with your requirements.
Is PrivadoVPN Good for Streaming?
Yes, PrivadoVPN is good for streaming. In fact, it can access many US-based and international streaming platforms. Some of the US-based ones are:
| | | |
| --- | --- | --- |
| Netflix | Disney+ | HBO Max |
| Hulu | Prime Video | Paramount+ |
For accessing international and non-US streaming platforms, here's a preview of what you can expect: 
| | | |
| --- | --- | --- |
| BBC iPlayer (UK) | CBC (Canada) | SBS on Demand (Australia) |
| 9NOW (Australia) | ITVX (UK) | Zattoo (Germany) |
PrivadoVPN performs well with the supported streaming apps. It can unblock various Netflix libraries, including the US one. We hardly encountered any proxy errors, buffering issues, or latency problems when streaming.
However, PrivadoVPN doesn't make it easy to find the best servers for streaming. You may have to try several servers before you find one that works for your desired platform. You can also ask the VPN's support team for help, but that can be a little inconvenient.
We think PrivadoVPN should be more transparent about this requirement. We also think it should offer streaming-optimized servers that are clearly labeled. Right now, you have to rely on trial and error to find the right servers.
Is PrivadoVPN Good for Torrenting?
Yes, PrivadoVPN is good for torrenting due to its various features that enhance the overall experience. First and foremost, it seamlessly integrates with popular P2P clients like qBittorrent and uTorrent. Additionally, the VPN boasts an extensive network. This global presence allows for faster download speeds.
Another notable advantage of PrivadoVPN is its SOCKS5 servers. Through our tests, we observed a remarkable increase in download speed when utilizing these servers. However, it's worth mentioning that PrivadoVPN doesn't offer port forwarding. This means the opportunity to connect with more peers and further optimize download speed isn't available here.
In terms of security and privacy, PrivadoVPN excels. It incorporates essential features such as a kill switch and DNS leak protection. Furthermore, it follows a strict no-logs policy, which means your Internet Service Provider (ISP) or any other prying eyes can't monitor or track your torrenting activities.
Is PrivadoVPN Good for Gaming?
Yes, PrivadoVPN is good for gaming. With its fast connections across various platforms, you can enjoy your games without worrying about lag, geo-blocks, or privacy issues. To offer low ping and high speeds for gaming, the service lets you choose servers from 47 countries. 
PrivadoVPN also has a SOCKS5 proxy feature that can boost your gaming performance. This feature lets you skip the VPN encryption and get faster speeds. However, it doesn't have gaming-optimized servers, so you may need to experiment with different locations to find the best one for your game. On the bright side, it protects you from cyberattacks that could ruin your gaming experience or give cheaters an edge.
One drawback of PrivadoVPN is that it requires a router that supports OpenVPN to work with gaming platforms without a built-in VPN option, such as Steam, Xbox, PlayStation, and Nintendo Switch. This means you'll need to set up the VPN on your router to use it on these platforms.
Security & Privacy
PrivadoVPN has a strict no-logs policy, doesn't share your data with 3rd parties, and is located in a privacy-friendly country. The only downside is that its no-logs policy hasn't been audited. Our Score: 7/10
To find out whether we could trust PrivadoVPN, we considered three aspects and conducted tests to determine how it handles our data. Here are our findings.
PrivadoVPN Protocols
PrivadoVPN offers three VPN protocols: IKEv2, OpenVPN, and WireGuard. Each of them has advantages and disadvantages, depending on your needs and preferences. Here's a brief overview of what they can do for you.
| | | | |
| --- | --- | --- | --- |
| | IKEv2 | WireGuard | OpenVPN |
| Windows | YES | YES | YES |
| macOS | YES | YES | YES |
| Linux | NO | NO | YES |
| iOS | YES | YES | YES |
| Android | YES | YES | YES |
| Router | NO | NO | YES |
IKEv2: It's a fast, flexible, and secure protocol for mobile devices. It can keep your VPN connection stable even when you switch networks. However, it's not the most secure protocol, so it may not be ideal for high-risk situations. Wherever possible, we recommend using WireGuard instead.
WireGuard: This is the most advanced and modern protocol available and works on all platforms except routers. It uses cutting-edge encryption, fast speeds, and a lightweight design. Apart from delivering smooth and reliable performance, it can even run on low-end devices.
OpenVPN: This one is an open-source protocol that provides decent security. It can bypass censorship and geo-restrictions, and it supports most platforms, including routers and Linux (with manual configuration). However, it may be a bit slower than other protocols and may require third-party applications. 
Does PrivadoVPN Keep Logs?
No, PrivadoVPN doesn't keep logs of your online activities. However, we recommend using PrivadoVPN only if you're not very sensitive about your online privacy. 
The reason for this recommendation is that PrivadoVPN collects your email address and your data usage, which may be used to identify you or limit your bandwidth. PrivadoVPN also hasn't proven its no-logs policy with an independent audit, transparency report, or warrant canary. This means that we can't verify how trustworthy and reliable PrivadoVPN is when it comes to protecting your online privacy.
PrivadoVPN does have some strong features, such as 256-bit encryption and a Swiss jurisdiction, but these aren't enough to compensate for its lack of audits.
Does PrivadoVPN Leak/Expose Your Private Data?
No, PrivadoVPN doesn't leak your private data. But how can you be sure that the service works as advertised? One way to test it is through a DNS leak test, which can check if your DNS requests are leaking to your ISP or other third parties.
To test, you need to connect to a PrivadoVPN server of your choice and then visit this website. Click on the Standard Test or Extended Test button and wait for the results. You should see something like this: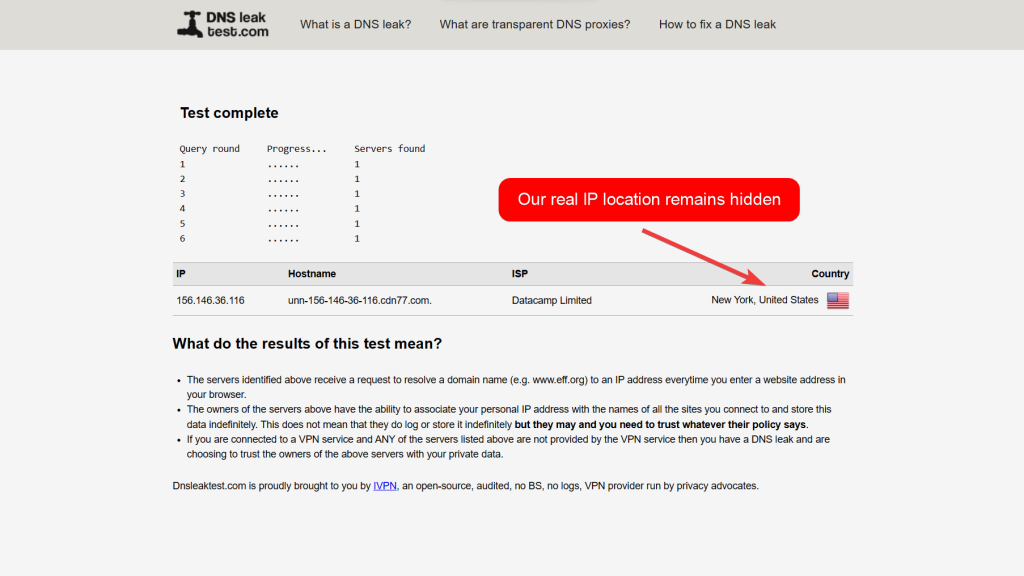 As you can see from the screenshot above, PrivadoVPN has successfully hidden our IP address and location. It points to PrivadoVPN's servers only, which means that PrivadoVPN is effective in preventing DNS leaks and keeping our online activity private.
This VPN doesn't allow websites or third parties to see our real IP address or location and instead shows our virtual IP address and location.
Speed & Performance
On average, we experienced a 21% slowdown when using PrivadoVPN. So, it's a good VPN with fast download speeds. Our Score: 9/10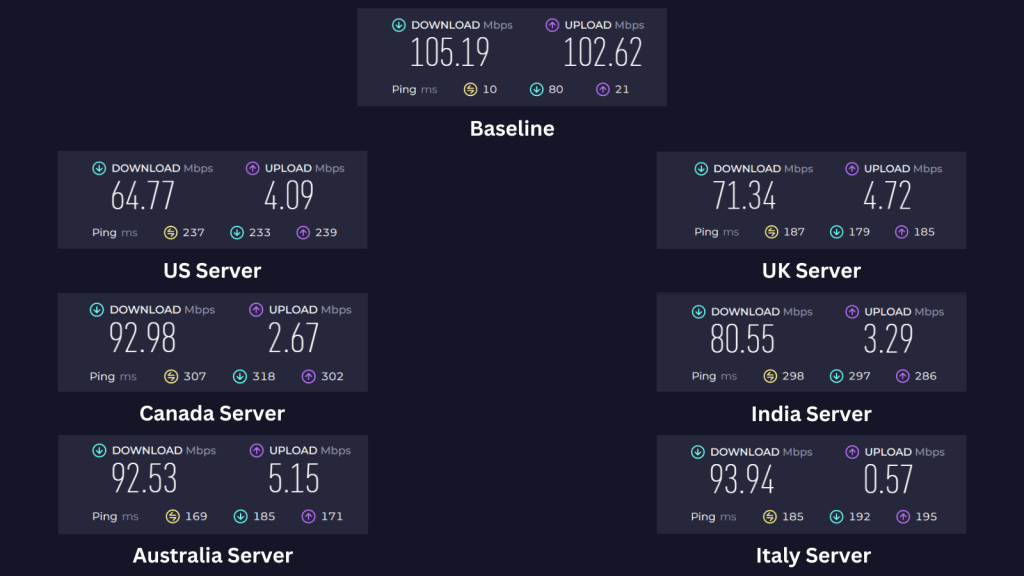 Let's see how PrivadoVPN VPN affects our connection speed in this part of our review. We have a 100 Mbps connection without the VPN, which showed 105.19 Mbps for downloads and 102.62 Mbps for uploads in our baseline speed test.
However, VPNs tend to slow down your Web traffic by making connections travel longer routes. We connected to different servers around the world and compared the results. So, how well did PrivadoVPN perform in this aspect? Let's see how it performed:
USA Server: With a considerable impact on the speed, the US server performed poorly. The download speed dropped by 38%, reaching the lowest value among all servers at 64.77 Mbps. The upload speed was also very low, at 4.09 Mbps.
UK Server: Compared to the US server, the UK server performed moderately but still had a noticeable impact on the speed. The download speed decreased by 32%, resulting in a lower value than the baseline at 71.34 Mbps. The upload speed also suffered, falling to 4.72 Mbps.
Canada Server: Unlike the UK server, the Canadian server performed well, with a minimal impact on speed. The download speed only declined by 12%, maintaining a slightly lower value than the baseline at 92.98 Mbps. However, the upload speed was severely affected, dropping to 2.67 Mbps.
India Server: It showed a decent performance, with a moderate impact on speed. At 80.55 Mbps, the download speed fell by 23%. The upload speed also declined, reaching 3.29 Mbps. 
Australia Server: This server had a similar performance to the Italian server, with only a slight impact on speed. The download speed went down by 11%, which was still higher than the baseline at 92.53 Mbps. The upload speed also went down to 5.15 Mbps.
Italy Server: With only a slight impact on speed, the Italian server performed well. The download speed dipped by 11%, which was slightly lower than the baseline at 93.94 Mbps. However, the upload speed was significantly affected, plunging to 0.57 Mbps.
| | | | |
| --- | --- | --- | --- |
|   | Download Speed | Upload Speed | Speed Reduction |
| Baseline Speed | 105.19 Mbps | 102.62 Mbps | 0% |
| USA | 64.77 Mbps | 4.09 Mbps | 38% |
| UK | 71.34 Mbps | 4.72 Mbps | 32% |
| Canada | 92.98 Mbps | 2.67 Mbps | 12% |
| India | 80.55 Mbps | 3.29 Mbps | 23% |
| Australia | 92.53 Mbps | 5.15 Mbps | 12% |
| Italy | 93.94 Mbps | 0.57 Mbps | 11% |
PrivadoVPN has optimized its servers for speed and performance, but it still slowed down our Web connection by 21% on average compared to the baseline speed. However, this isn't a major issue unless you use congested servers that are very far from your location. In that case, you'll notice a significant drop in your download and upload speeds.
Customer Support
PrivadoVN has 24/7 live chat and email support, but the reps aren't always helpful. Its support section has useful FAQs along with troubleshooting and setup guides. Our Score: 8/10
PrivadoVPN provides subscribers with four options for assistance: live chat, FAQs, email support, and setup/troubleshooting guides. Allow us to provide you with an overview of the support services available to you should you choose to become a subscriber:
Live Chat: PrivadoVPN has 24/7 live chat support that connects you to real people quickly. They can answer most questions, but the live chat feature doesn't always work as expected. It often pops up momentarily and then disappears.
Frequently Asked Questions: You can find some basic FAQs on PrivadoVPN's website, as well as some articles on general privacy topics. However, this section isn't very comprehensive compared to other top VPNs.
Email & Support Ticket: You can also contact PrivadoVPN via email at any time. We sent multiple emails at random times and got quick responses. The support team was helpful, addressing our concerns effectively with clear and informative solutions.
Setup Guides: Privado VPN provides setup guides for various platforms and devices, such as Windows, macOS, iOS, Android, Fire TV, Android TV, and routers. The guides explain how to download, install, configure, and use the VPN service on each device. 
Troubleshooting Guides: These guides offer solutions for common issues, such as connection problems or streaming errors. These can help you fix issues all by yourself without contacting customer support.
In conclusion, PrivadoVPN's support options are decent but not impressive. The 24/7 live chat isn't always available as claimed, which is a disappointment. You can also find some FAQs and guides on their website, but they're not very detailed or engaging. If you need more help, you may have to look elsewhere.
Pricing
PrivadoVPN offers a range of plans, including a free option, monthly, yearly, and a 24-month plan. The paid plans are affordable and provide good value, considering all the security features this VPN comes with. Our Score: 9/10
PrivadoVPN's free plan offers 10 GB of data per month, 12 city servers, and 1 connection. However, you can upgrade to a paid plan for 47+ country servers, 10 simultaneous connections, and SOCKS5 proxy servers. Read on to find out the price of PrivadoVPN and some other interesting facts.
How Much Is PrivadoVPN?
Starting at $1.99 per month, PrivadoVPN offers three subscription plans to suit different needs and budgets. Here's a breakdown of the plans and what you can expect from them.
1-Month Plan: This plan is ideal for short-term use or testing the service before signing up for a long-term plan. It costs $10.99 per month and gives you unlimited data, hundreds of global servers, a free SOCKS5 proxy, and 10 devices per account. However, this plan has no discounts compared to the other plans, so it's not very economical.
12-Month Plan: The yearly plan is more budget-friendly and offers a good trade-off between flexibility and value. It costs $30 in total, which is $2.50 per month. You'll save 77% compared to the monthly plan, which is a fair deal. 
24-Month Plan: This plan is the best value option and offers the most savings. It costs $47.76 in total, which comes to $1.99 per month. If you compare it to the monthly plan, you'll save 82% on your total cost, which is a steal. The subscription also has a 30-day money-back guarantee, so you can get your money back if you're unhappy with the service.
You have several payment options when you subscribe to PrivadoVPN. You can use American Express, Mastercard, or Visa cards, or you can pay with PayPal. 
Final Thoughts
All in all, PrivadoVPN comes with bank-grade encryption, a strict no-logs policy, a kill switch, and split tunneling features. Plus, it has good speeds on local and nearby servers and decent speeds on distant servers. However, there are much better options out there in a similar price range.
It's also important to note that PrivadoVPN's no-logs policy hasn't been audited yet, and there are no other transparency reports available to show that the VPN doesn't keep any logs.
In conclusion, we can only recommend PrivadoVPN for basic online safety while browsing.
PROS
Easy to download.
User-friendly apps.
Has a free version.
SOCKS5 proxies.
Fast speeds on nearby servers.
Torrenting support.
Good security features.
Strict no-logs policy.
CONS
No advanced security features.
Hasn't been audited yet.
No port forwarding.
Doesn't have browser extensions. 
Occasional buffering on distant servers.
FAQ
What Is PrivadoVPN?
PrivadoVPN is a Switzerland-based VPN service that encrypts your online traffic and hides your IP address. It offers both free and paid plans, with access to servers in 47 countries.  
Is PrivadoVPN Free?
Yes, PrivadoVPN has a free version of its app. With PrivadoVPN's free plan, you can enjoy servers in 12 cities, 10 GB of data per month, one connection, and various security features. 
Is PrivadoVPN Safe to Use?
Yes, PrivadoVPN is safe to use. It has key security and privacy features, such as a kill switch, military-grade encryption, a strict no-logs policy, and IPv6/DNS leak protection. Plus, it's based in Switzerland, which is a top-notch country for privacy in Europe.
Is PrivadoVPN a Good VPN?
Yes, PrivadoVPN is a good VPN that offers fast speeds, strong encryption, and a generous free plan. It can unblock popular streaming services and support torrenting. 
Another benefit is that the service works on various platforms and devices, such as Windows, macOS, iOS, Android, Fire TV, and Android TV.