CNN is one of the big names in journalism and has a history of being one of the reliable sources everyone checks for information. However, CNN Go is the online streaming platform the network created a few years back to help viewers check news programs and other shows straight over the Internet. CNN Go is only available in the United States, however, so we're going to help you view the content from anywhere in the world. Here's how to watch CNN Go outside the USA.
5 Best VPN That Can Unblock CNN Go Anywhere!
We do a lot of VPN reviews at TechNadu, so we know what we're talking about. We are going to show you 5 of the best VPNs (tested and approved by our team) that can easily unblock CNN Go on any device.
1. ExpressVPN
ExpressVPN is hands down one of the best VPNs we've tested thus far – it has an intuitive interface, making it easy to figure out by anyone, regardless of their experience level, it uses military-grade encryption and has plenty of servers to pick from, all of which work fast. Unfortunately, more experienced VPN users won't have many options to choose from when it comes to customizing the way the tool works in-depth.
ExpressVPN works on multiple platforms, including Windows, Linux, Mac, Android, iOS, Apple TV, and Kindle Fire, so you should be covered. We also have a full review of ExpressVPN ready for you.
2. IPVanish
IPVanish is the second pick on our list today, and it's one that provides great quality for the price they ask for; after all, we're talking about privacy and freedom.
The VPN will easily connect you to CNN Go from wherever you may live. On top of the tight security it offers when anonymizing your connection, IPVanish is also easy to figure out. On the other hand, users reported sporadic issues like server time-outs and sudden connection drops. If you want to read an in-depth review for IPVanish, we have one just for you.
3. VyprVPN
Next on our list is VyprVPN, a tool that offers some pretty great security features to users. VyprVPN makes use of the best encryption protocols on our list and has an extensive list of servers to pick from – some 700 servers in 64 countries. The United States, where CNN Go is available, is also on the list.
VyprVPN only offers a yearly payment plan, but it comes a lot cheaper than other similar tools, at only $60. If you want to read more about VyprVPN, you can read TechNadu's review.
4. SaferVPN
SaferVPN is the fourth option we propose for you. It's a reliable tool, with good uptime, and great encryption protocols to secure your connection. On the other hand, reports from users claim the Internet connection suffers a bit, but that's not something unexpected when using a VPN. It offers plenty of servers to pick from, however, so that might make up a bit for the cons.
You can also connect five devices simultaneously, and there's even a Chrome extension to work with. TechNadu has a full review for SaferVPN if you want more details.
5. NordVPN
Last on our list is NordVPN, a really cool tool that allows you to connect to some 5,100 servers from all over the world, making it easy not just to watch CNN Go, but also pretty much any other streaming service that's behind a geo block.
The great thing about NordVPN is that you won't even feel your connection is routed through a server abroad since you're going to maintain most of your Internet speed.
Customer support is the downside of NordVPN, however. Users have been complaining about how long it takes to get an answer from the company when they have issues. If you want to read a full review for NordVPN, we've got you covered.
FAQ About CNN Go
We are going to take advantage of this opportunity to teach you about CNN Go and using VPNs to unblock it. So, keep on reading.
What is CNN Go?
CNN Go is the online streaming platform of CNN which was launched back in September of 2014. It doesn't just include the live stream of CNN, but also various recorded shows, and short clips from the network.
Access to CNN Go is technically free, but you need to use credentials from a network provider in order to log in. The platform also works on platforms such as DirectTV, making it easier for viewers across the world to access the content.
Where is CNN Go Available?
Unfortunately for those who want to keep up with the latest news via CNN, CNN Go only works within the United States. That means that if you live anywhere else, or even if you're an American traveling abroad, you're fresh out of luck and won't be able to watch anything.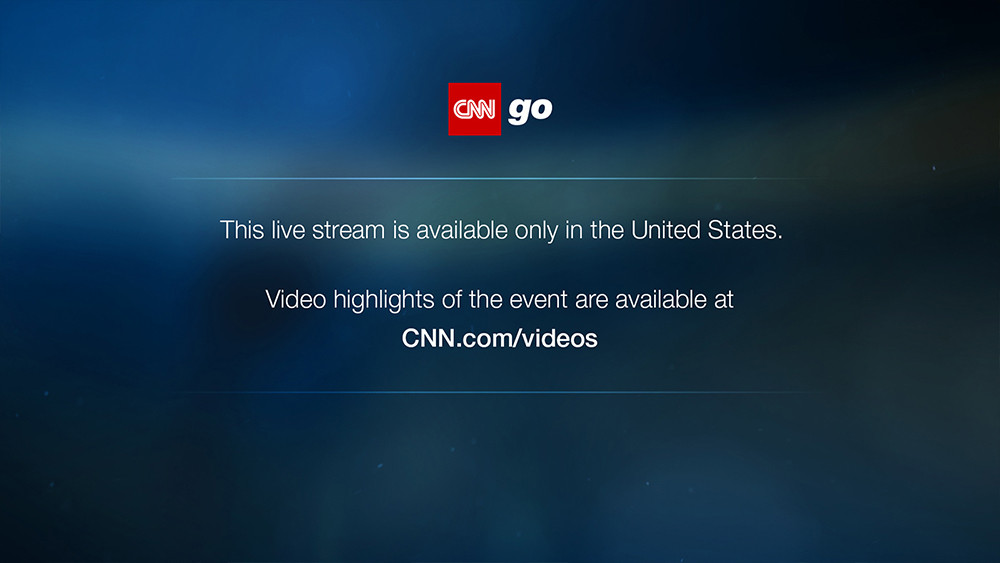 Unless you're in the United States, CNN Go will detect your location and block access to the service. As you can see from the screenshot above, you will be redirected to the section of CNN's website that has international content – which is not the same as CNN Go.
On What Devices Can You Access CNN Go?
Well, aside from the regular streaming site that anyone can see via their browser, there are also apps for Android, iOS, Apple TV, Android TV, Roku, and Fire TV. Select smart TVs from Samsung are also compatible. That's a pretty extensive list and should cover most of the devices you have a home.
What Can You Do On CNN Go?
First things first – CNN Go allows you to view the network's live stream from anywhere you are. If you want to keep up with the news at all times, or if you're just looking to follow a certain ongoing event even after you've left home, this is the way to do it.
Then, you can watch CNN's shows whenever you want. Anderson Cooper 360 is always available, just like CNN Tonight, At This Hour, or Newsroom. You're going to be able to keep up with pretty much everything you want from CNN, even if you weren't at home when the broadcast hit.
How to Watch CNN Go Outside the US?
Even though CNN Go is only available within the United States, there is a very easy way to watch the content from anywhere you may be in the world – by using a premium VPN. We strongly recommend our readers to use ExpressVPN for complete anonymity and safety. But first, let's go over a few details about VPNs.
VPNs, or Virtual Private Networks, allow you to connect to the Internet anonymously. Once you have the ExpressVPN installed, you have to pick a server located in the country where the streaming service is available – in this case, the United States. After you pick the correct server and connect to it, the VPN anonymizes your connection, providing you with an IP address from that country and area. The connection is completely encrypted, so no one can track your steps online.
VPNs are great tools to help you watch pretty much any content you want, regardless whether there's a geo-block in place, or not. Furthermore, they provide you with anonymity, and security while you browse the Internet in privacy, watching CNN Go, or anything else.
If you have any thoughts to share with us, please do so in the comment section below. Also, if you found the article useful, share it with friends and family. And don't forget to follow us on Facebook and Twitter. Thanks!