CNN has done a great job of reaching numerous traditional and online platforms, expanding its availability to anyone interested in watching this TV channel. However, that holds true only for those in the United States, as this channel's streaming service (CNN Go) isn't available elsewhere. Still, that's an obstacle you can avoid, so let's talk about how to watch CNN Go outside the US in 2021.
Where Is CNN Go Available?
At the moment, CNN Go is available in the United States only. You're free to try and visit CNN Go, but know that a geo-block error message will appear once you click the 'Play' button.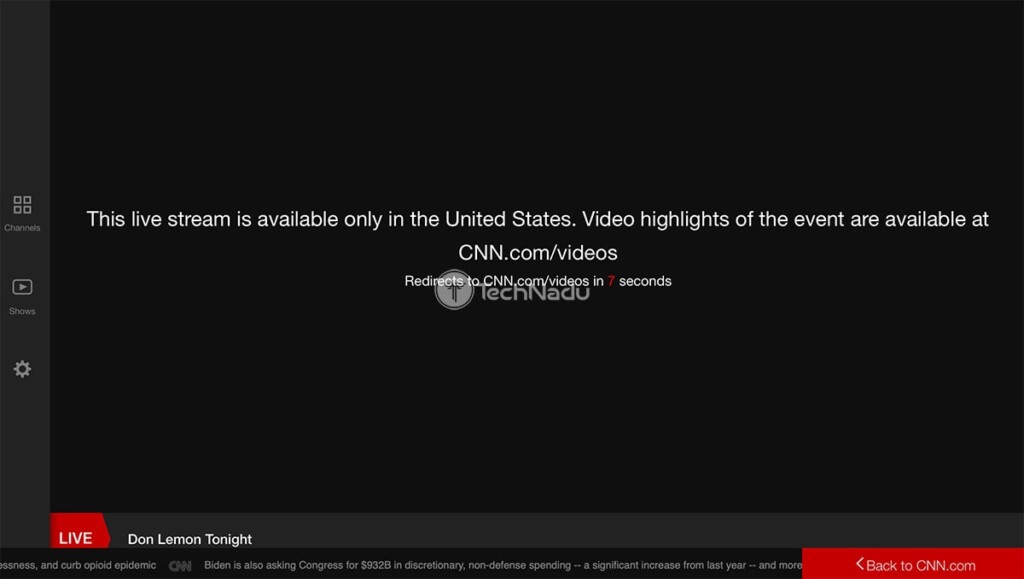 As you can see above, CNN Go will say that its live stream is available in the United States only and will point you to a video section on CNN's website that's available worldwide (you'll find short-form videos there). However, there's nothing to worry about, as we'll show you how to get around this obstacle.
How to Watch CNN Go Outside the US
So, to watch CNN Go outside the US in 2021, go through the following steps:
Step #1: Find the Best-Working VPN for Unblocking CNN Go
A number of VPNs can unblock CNN Go – but only a few are worth your money. That's because we're talking about media streaming here. Therefore, you need a VPN with plenty of servers in the US, with the capability to bring you a pleasurable streaming experience. With that said, our strong recommendation is to go for ExpressVPN.
3,000+ VPN servers in 160 VPN server locations in 94 countries, 5 Simultaneous connections, Fast and stable connection, No activity logs or connection logs, No bandwidth limits, Strong encryption, 24/7 live chat support, and 30-day money-back guarantee.
Based on our tests, ExpressVPN is the best VPN you'll find today. It works amazingly well with CNN Go, as well as with just about any other US-restricted media streaming service. However, you do have other options as well. So, if you'd like to check what else is on offer, go ahead and check our overview of the best VPNs for media streaming.
Step #2: Get Your VPN Subscription
Hopefully, you'll listen to our advice and subscribe to ExpressVPN. To do that, make sure to click on 'Get ExpressVPN' once you get to this VPN's website. Then, pick a subscription – but keep in mind that long-term plans come with significant savings.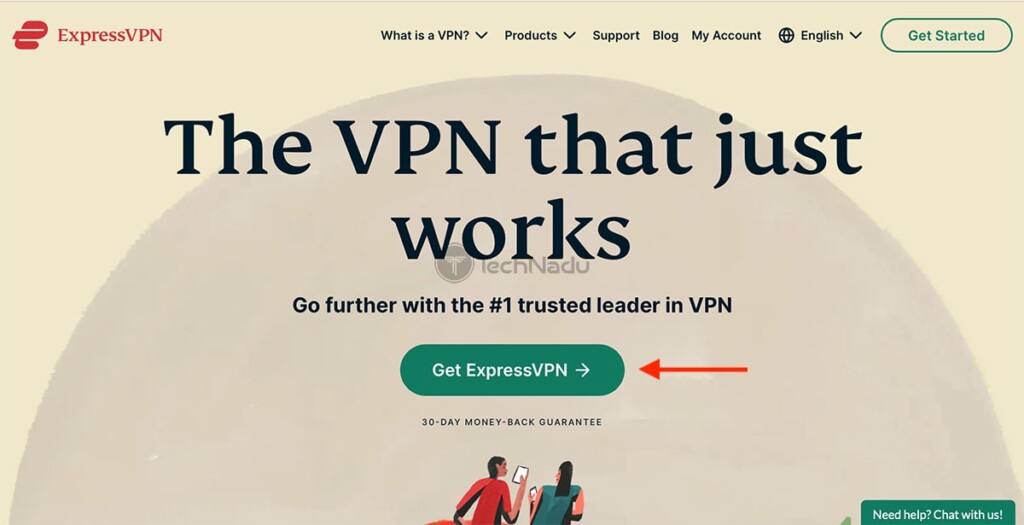 You will also be asked to provide your email address. Then, pick a payment method and pay for the chosen subscription plan. Once done, ExpressVPN will send you a confirmation email, so don't forget to check your inbox.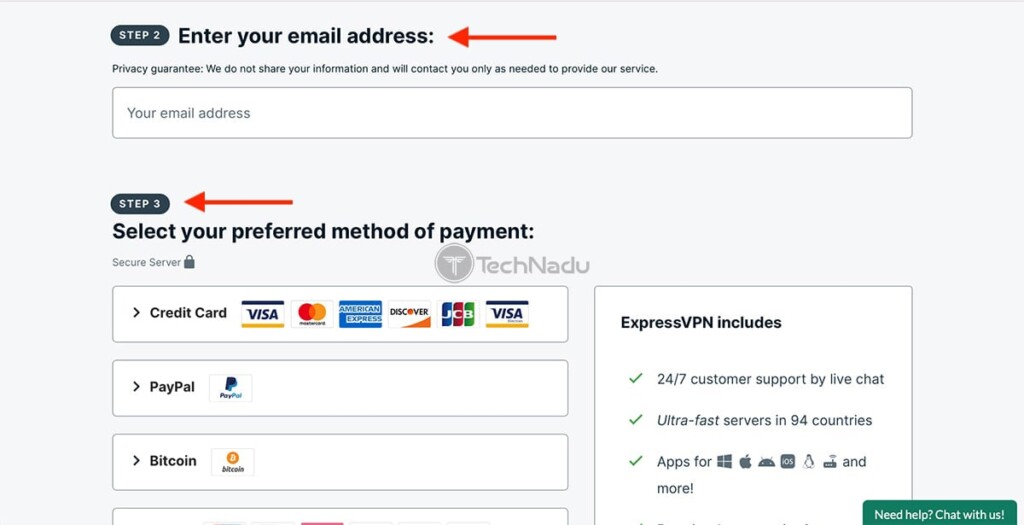 Step #3: Download & Install the VPN on Your Device(s)
No matter what platform or device you use, we're sure you'll find an ExpressVPN app made for your device. So, to get started, visit our central guide to downloading and installing ExpressVPN – with instructions covering more than 60 different devices.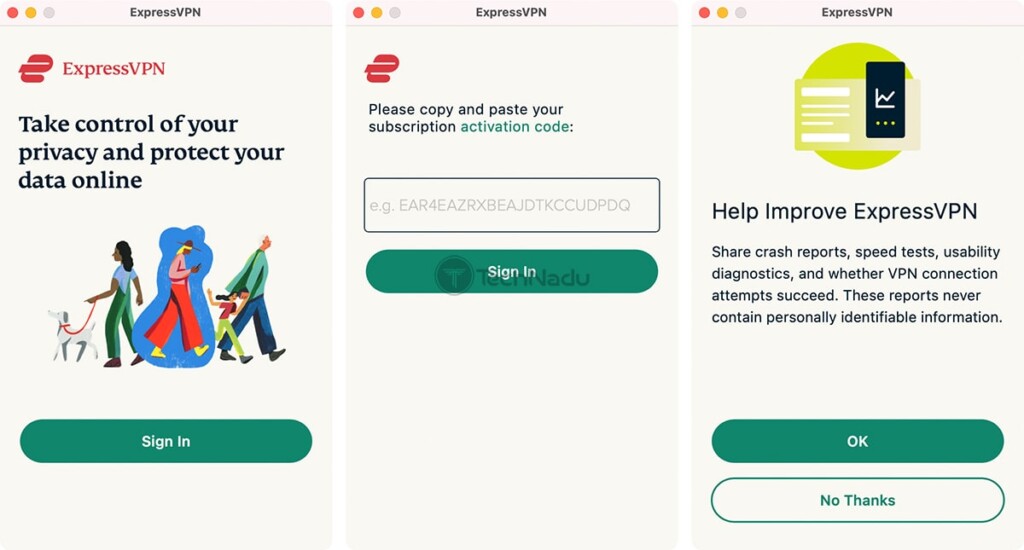 Once you install the VPN, you'll also need to set it up for the first time. So, open the application and log in to your account. If you use ExpressVPN on a computer, you'll need to get your activation code to log in. Decide whether to send anonymous logs to the VPN, and then you'll see the VPN's home screen.
Step #4: Connect to a VPN Server in the US
This is a crucial step that you'll need to do every time you want to watch CNN Go outside the US. And yes, we're talking about connecting to a VPN server. So, start from ExpressVPN's home screen, where you need to click on the button below the prominent ON/OFF switch.
A new window will now open. Go ahead and select 'United States' and then double-click on any of the servers found there. The VPN will take a couple of moments to connect you. Once that happens, the upper quarter of its home screen will turn green. Your VPN session is now active.
Step #5: Unblock & Access CNN Go From Anywhere
Finally, it's time to access CNN Go using any Web browser. Once you click on the 'Play' button, you will get your 10-minute preview of CNN's live stream. However, if you wish to unlock this streaming service fully, go ahead and select 'Sign In' in the top-right corner.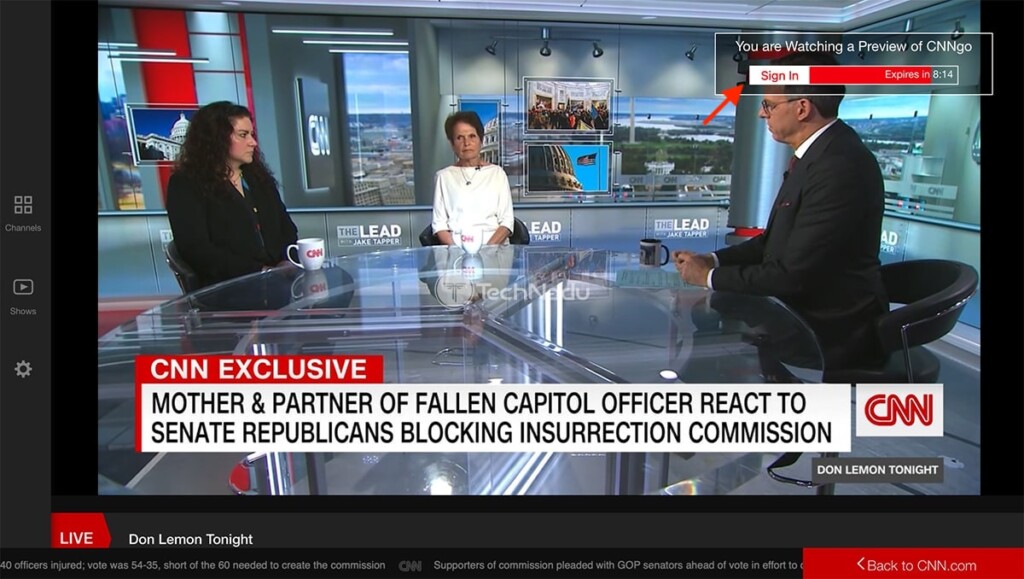 CNN Go isn't a standalone streaming service, which means you can't subscribe directly on its website. Instead, you'll see a long list of supported TV providers. So, you will need to supply your credentials (provided by your cable TV provider). Once you do so, the app will unlock fully.
Step #6 (Optional): Get CNN Go on Other Devices
The easiest way to watch CNN Go outside the US is via its website. However, let's not forget that you'll find the official CNN app for Android, iPhone/iPad, and more. The app should be available worldwide, but make sure to pick 'United States' when asked about the edition of CNN that you want to see (the first time you open the app).
So, once you download the official CNN app on your Android or iOS/iPadOS device, make sure to first connect to a VPN server in the United States. Then, click on 'Watch TV' in the top-right corner, and ExpressVPN will unblock CNN Go on your mobile device.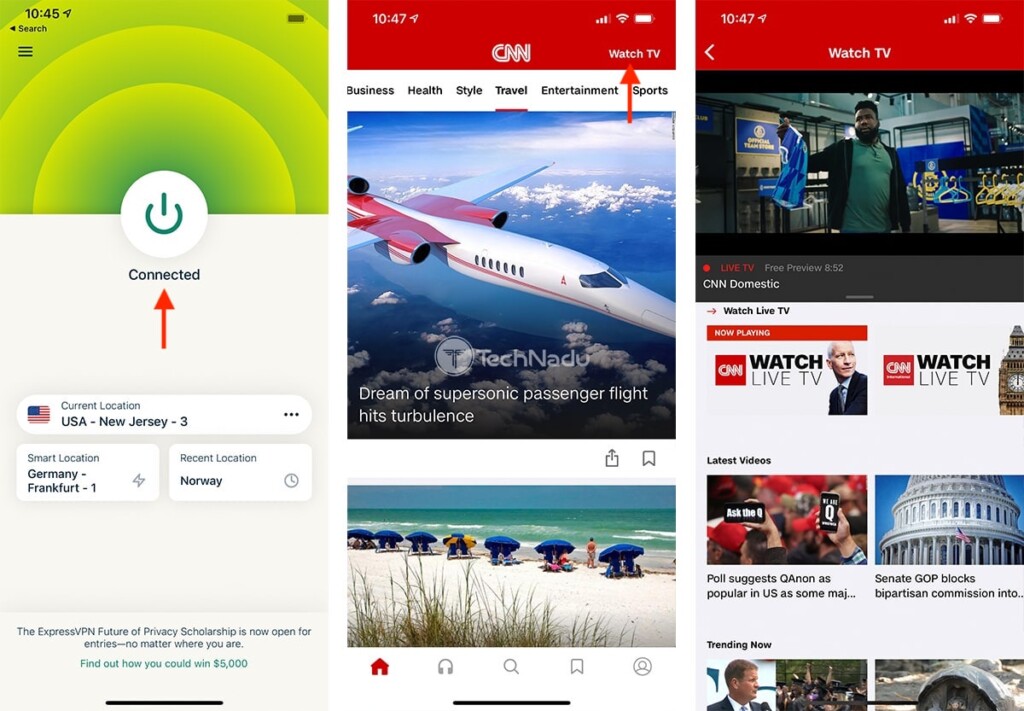 If you wish to unlock the app entirely, proceed to sign in using your TV provider's credentials, as you'll be asked to do once your 10-minute trial ends.
FAQ
What Is CNN Go?
CNN Go is a live-streaming and on-demand video platform offered by CNN. It comes free of charge, but you'll need to sign up using your TV service provider account.
What Can I Watch on CNN Go?
At the moment, CNN Go lets you live-stream CNN, HLN, and CNN International. There's also an extensive library of often-updated on-demand content.
On What Devices Can I Watch CNN Go?
Aside from streaming CNN Go via a Web browser, you can access it on Android, iOS, iPadOS, tvOS, Roku, Fire TV, and Smart TVs. You can find more information here.
Can I Watch CNN Through a VPN?
Yes, if you're outside the United States, using a VPN is your only option if you want to watch CNN (done via CNN Go, as explained in this article).
Can I Watch CNN Through a Free VPN?
No, there's no free VPN that'll let you watch CNN. Instead, you need to use a paid VPN, such as ExpressVPN, which can unblock CNN Go without any issues, every single time.
That would be all on how to watch CNN Go outside the US. If you have any questions for us, make sure to post them via the comments section below. And lastly, thank you for reading!