Mozilla (the creator of Firefox) has done plenty to turn its Web browser into a product that respects your privacy. However, the truth is that nothing can replace a fully-featured VPN application, and this applies to Firefox users as well. Lucky for you, there are plenty of ways to improve your online privacy and security by using this type of software. Therefore, let's talk about how to set up a VPN on Firefox.
First of all, know that you have three methods at your disposal. The easiest one is to install a Firefox VPN add-on – however, this is also the least secure way of using a VPN. Then, you can install a native VPN application on your computer and protect everything you do in Firefox, as well as outside of this Internet browser. And there's also a third method that only a handful of VPNs bring – this one allows you to have a VPN extension installed on your Firefox, while also getting to use a native app alongside it, and it is how you can get the best of what today's VPNs have to offer.
Also, let's not hide the fact that Firefox is offering its own VPN as well, called Firefox Private Network (available in the USA only). However, this is still a brand-new VPN, and we recommend going for a solution that's not only trustworthy but also a highly reputable one. This is why we recommend Surfshark if you plan on using a Firefox VPN add-on. However, if you want a native VPN application that also comes with an extension, your pick should be ExpressVPN. Don't worry – we'll explain everything you need to know along the way. Also, feel free to check other options in our article about the best VPNs for Firefox in 2020.
So, there are 3 methods to set up a VPN on Firefox in 2020.
Method #1: Install a Firefox VPN Add-on
Good to Know: If you decide to only use a VPN add-on for Firefox, know that you won't get the same level of protection as with a native VPN app. However, VPN add-ons are useful for accessing media streaming websites and unlocking new types of websites.
If you want only to use a VPN add-on on Firefox, we recommend Surfshark. That's because aside from getting plenty of servers and incredibly fast performance, you also get some additional features like ad-blocking. On top of that, Surfshark is one of the most affordable VPNs out there.
So, here's how to set up a VPN on Firefox – by installing a VPN add-on.
As you can imagine, you need an active subscription before you start. So, if you haven't done that already, go ahead and subscribe to Surfshark. Once you go through the sign-up procedure, you'll get your user credentials.
Now, go to the official website of Firefox's add-ons. Search for "Surfshark" in the top-right corner, or click on the following link to directly access Surfshark's Firefox add-on.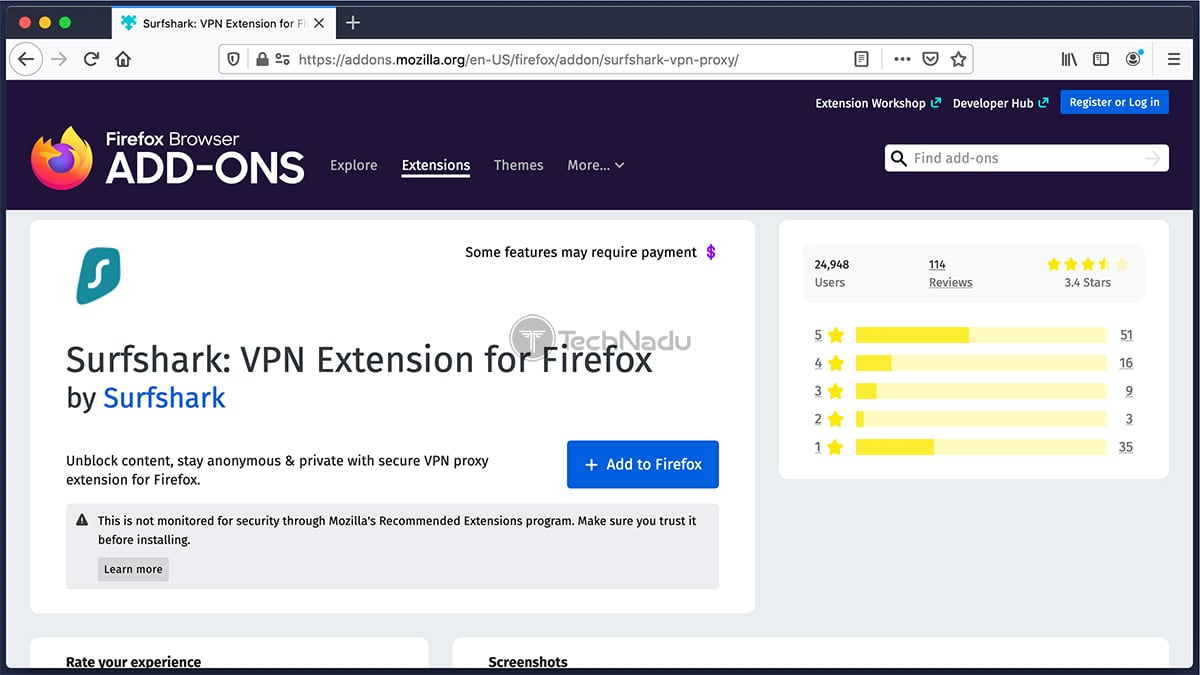 Click on the "Add to Firefox" button. In a few moments, Firefox will ask you to install the Surfshark VPN proxy by showing you a list of required permissions. Since this is a VPN add-on, it needs permissions to access your location, access your data for all websites, and more. In other words, nothing is alarming here (Surfshark doesn't collect your personal information), so proceed to click on the "Add" button.
Surfshark's icon should now appear in the top-right corner of your Firefox window. Initialize the add-on by clicking on its icon. Then, log-in using your email and password, and that's about it. For this moment on, you can always rely on Surfshark to secure your Internet connection.
Also, we'd like to tell you to pay attention to the four tabs you'll see offered by Surfshark. The first one will always take you back to the add-on's home screen, where you can review your current VPN session. The "Locations" tab lists more than 1,000 servers that Surfshark has available, so you can connect to any of those manually. The "CleanWeb" tab allows you to eliminate advertisements and related tracking. And finally, the "Settings" tab gives you a glimpse into your subscription and account.
Once again, we'd like to note that VPN extensions act as proxies, so they don't bring the highest possible encryption level. If you want the best protection for your data, keep on reading our guide on setting up a VPN on Firefox.
Method #2: Install a Native VPN Application on Your Computer
Good to Know: By installing a native VPN application on your computer, you get everything that your VPN offers. This includes high-end encryption, a selection of VPN protocols, and features like a kill-switch and split-tunneling.
In case you'd like to use a native VPN app for your computer, we recommend spending some time searching for the best option. After all, you'll want a reliable and powerful solution, which also comes with fast performance. If you want a suggestion, take a look at ExpressVPN – and you surely won't be disappointed. There's a reason why this is one of the best VPN services.
So, here's how to set up a VPN on Firefox – by using native VPN software.
If you don't have a VPN subscription yet, you should proceed to sign-up for ExpressVPN. Once you sign-up, you'll receive an email from ExpressVPN's team, allowing you to activate your subscription. You'll also get access to your credentials that you'll need soon enough.
Now, go back to ExpressVPN's website and click on "My Account," found at the top of its homepage. Enter your email and password, and then log-in to your account to reveal your user account dashboard.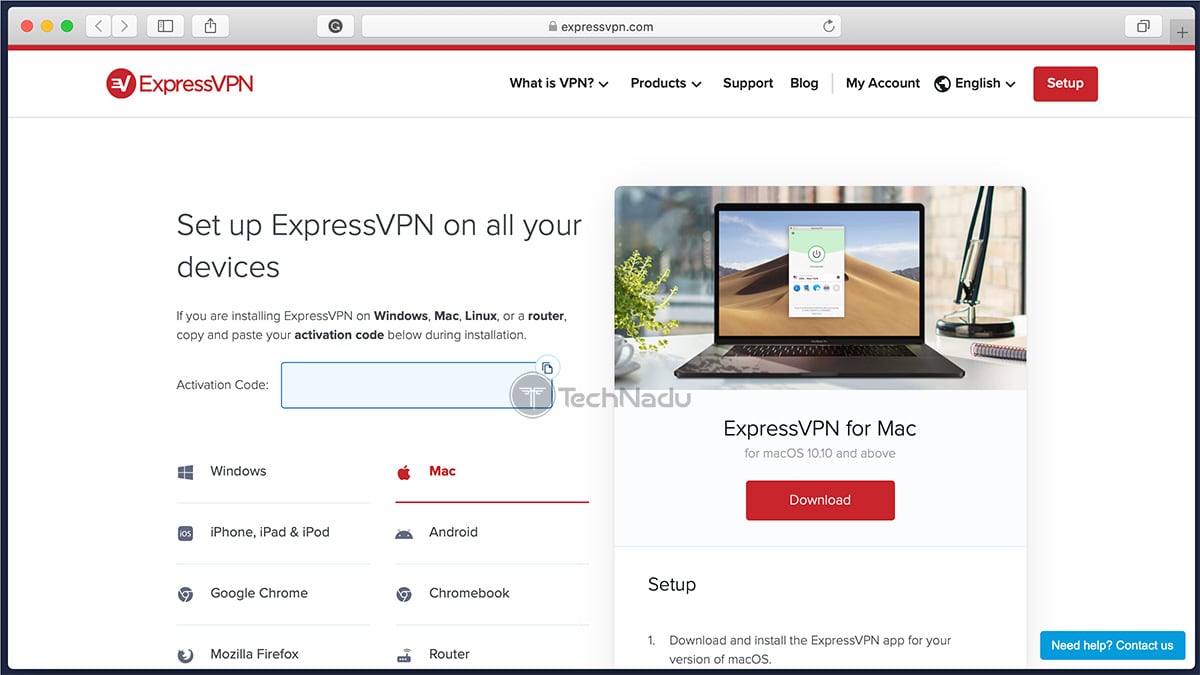 By default, ExpressVPN's website should recognize your operating system automatically. This is why you'll see buttons like "Download on Windows" or "Download on Mac" at the top of your account dashboard. If that doesn't happen, you can always click on "Set Up Other Devices," which will open a new tab. On that page, select your operating system (on the left side) and download ExpressVPN on your computer.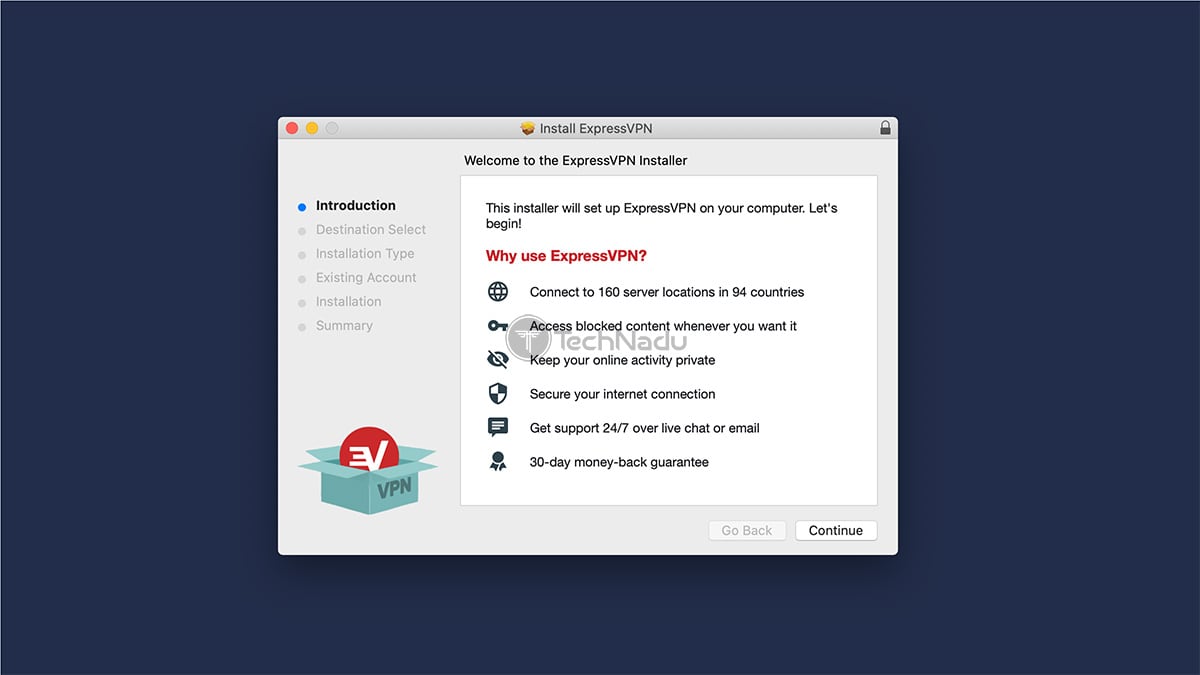 Install the application as you would install any other type of software. Then, launch ExpressVPN and sign in. You'll see ExpressVPN asking for an activation code, and you can find this back on ExpressVPN's website (on your account dashboard). Copy and paste the code and then finalize the initial setup procedure. After a few moments, the VPN should be ready to use.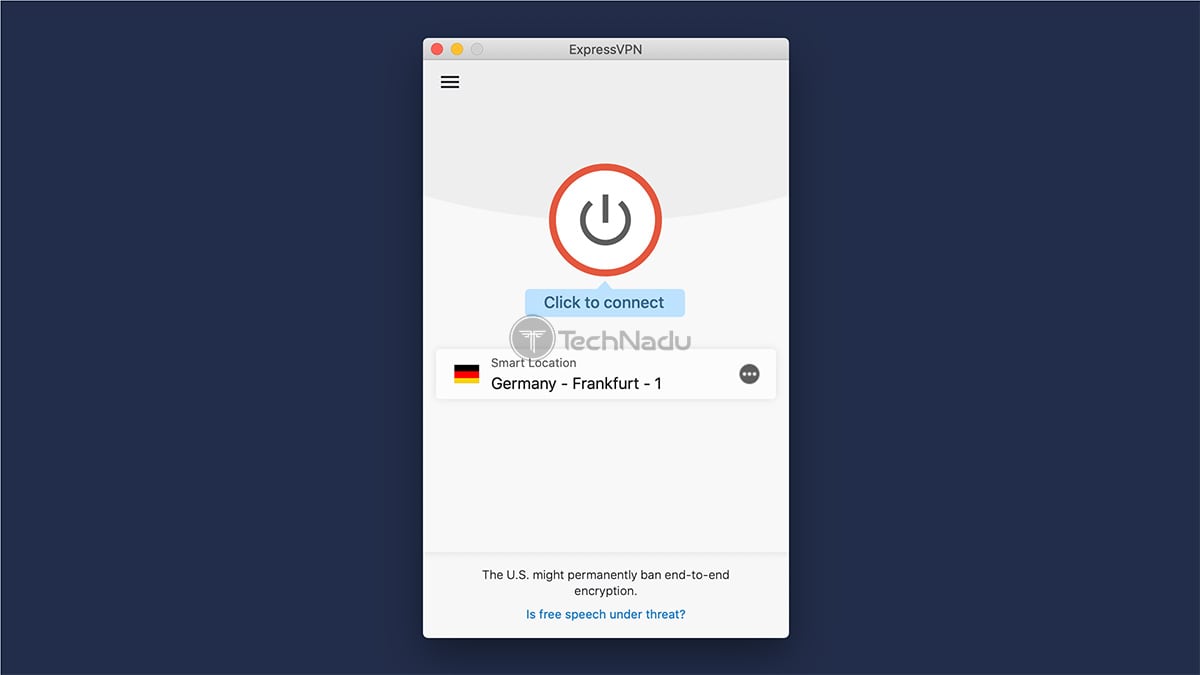 From this moment on, you need to use the VPN each time you want to secure your Internet connection. Remember that your Web data is encrypted only while you're connected to a secure server. If you want around-the-clock protection, visit ExpressVPN's settings and allow the application to launch and connect on start-up. This should keep you protected and leak-free at all times.
As you can see, this method instructs you to use ExpressVPN independently from Firefox. In other words, this isn't an add-on, as ExpressVPN and Firefox are separate applications. However, once you connect to a secure server, all your incoming and outgoing data will be encrypted, meaning you're free to use Firefox like you usually would while reaping the benefits of your VPN service.
Method #3: Combine a VPN Add-On With a Native VPN App
Good to Know: There are many benefits to using a VPN that comes with an enhanced VPN Firefox extension. By having an add-on installed alongside your VPN's native software, you get the best possible protection for your data when using Firefox, as well as any other Internet-connected software.
A few VPN services allow you to use a VPN app and a Firefox VPN extension side-by-side. For example, one such VPN is ExpressVPN. You get a thoughtful integration of its two products, so you get a high-end extension when browsing the Internet via Firefox, and a fully-featured application to protect all other apps.
Here's how to set up a VPN on Firefox by using a VPN that integrates its Firefox extension with its native desktop application.
When it comes to ExpressVPN, you first need to download and install its desktop app on your computer. In other words, take a look above to learn how to install this VPN on your computer. For additional information, we recommend checking our articles on setting up a VPN on Windows, macOS, and Linux. Keep in mind that ExpressVPN supports all three of those platforms and plenty more.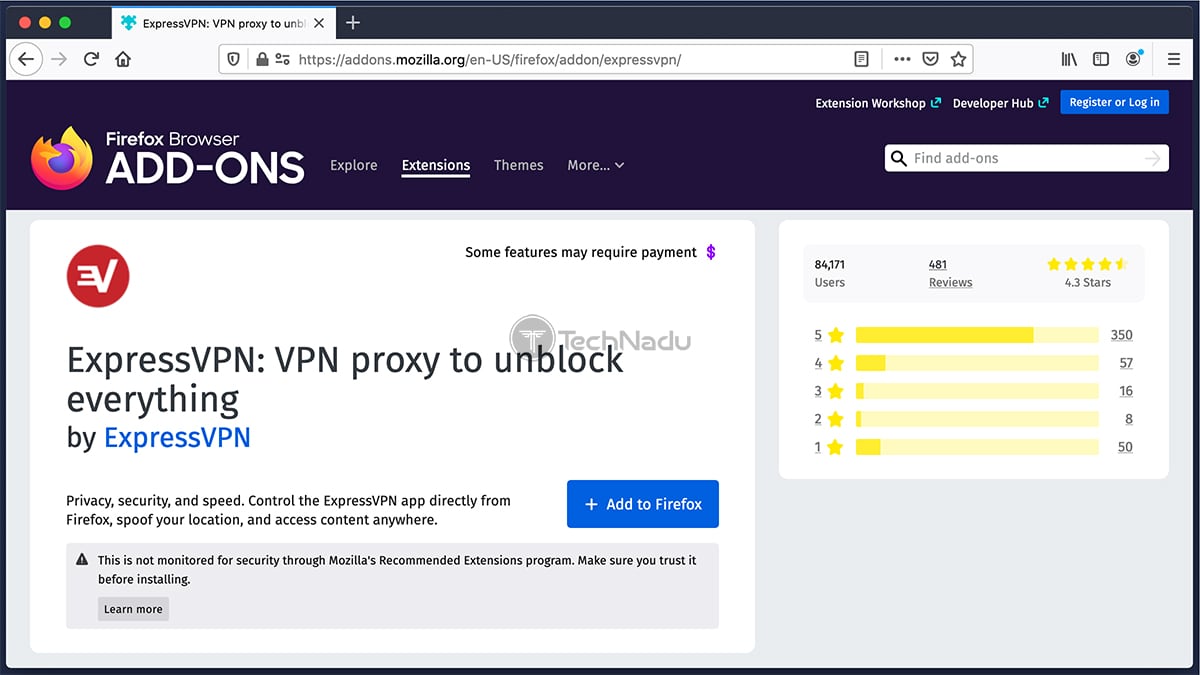 We'll assume that you've installed ExpressVPN by now, and you've logged in to your account. Now, it's time to install this VPN's Firefox add-on. The first step is to visit ExpressVPN via Firefox's Add-ons page.
Click on the prominent "Add to Firefox" blue button. Your Web browser will ask for your permission. It might seem like plenty of permissions are needed, but keep in mind that ExpressVPN handles every possible aspect of your Internet connection. In other words, review this list and then click on "Add."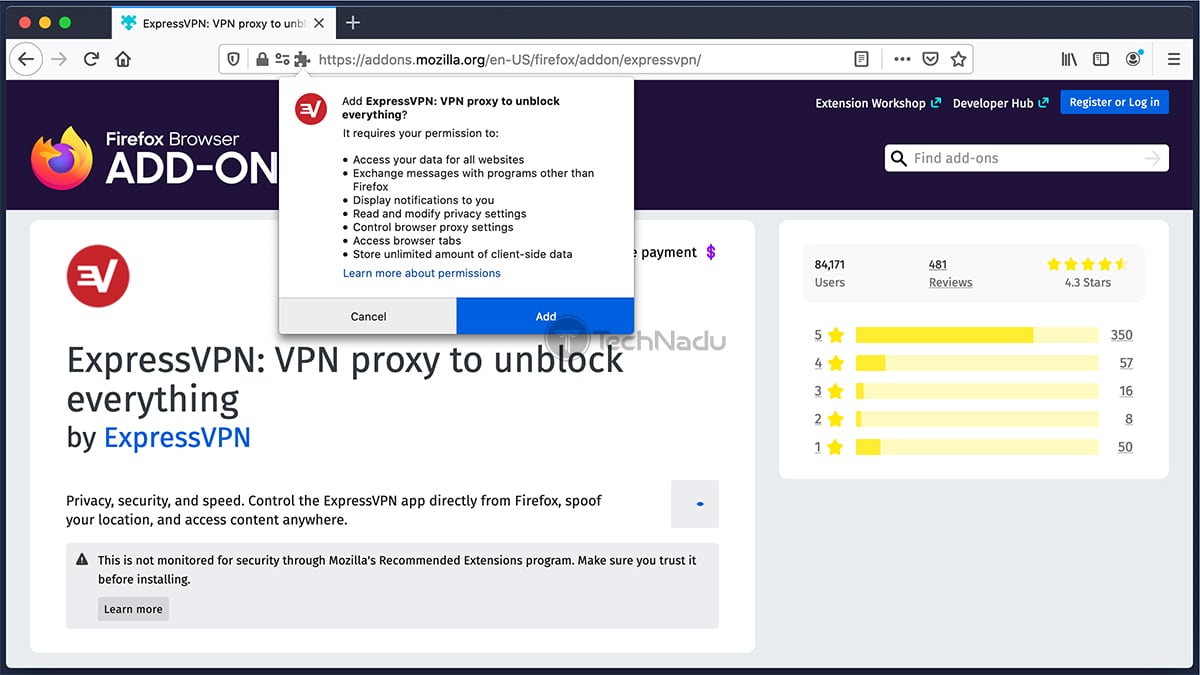 After a few moments, Firefox will download and install ExpressVPN. Once this process is done, you should see the VPN's icon in the top-right corner of your Web browser. Go ahead and click on it. If asked to log-in, supply your credentials, and you can start using the extension.
As you can see, this method is actually a combination of the two previously explained ways. However, using ExpressVPN is crucial in this case, as this VPN actually integrates its extension with native software. You get 256-bit encryption (something that standalone VPN extensions don't offer), the ability to block WebRTC leaks, access restricted websites, hide your location, and plenty more.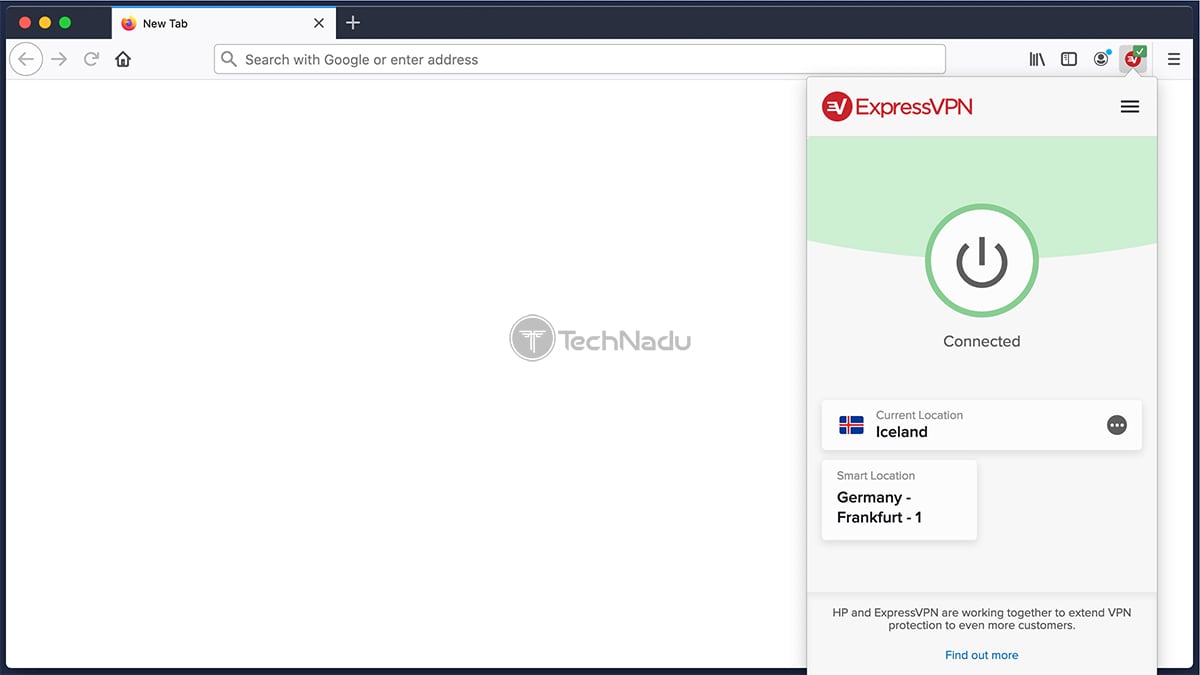 Finally, we'd like to note that by going through this method, you'll end up with two products made by ExpressVPN. You can rely on its add-on if you only want to protect what happens inside of Firefox. However, if you're going to protect your Internet data while using some other application, you can resort to using ExpressVPN's native software.
This is where we end our guide to setting up a Firefox VPN. Let us know which method you've picked, as well as what's your VPN of choice. Also, in case of any questions, don't hesitate to use the comments section, found below.