Important Note: Despite the fact that its official website is still online (without any warning message), EarthVPN is no longer operational. Numerous users have reported serious technical issues with the VPN's servers, and there are numerous claims that this VPN's customer support is non-existent. Therefore, we strongly recommend avoiding EarthVPN. To find fully-working alternatives, make sure to check our overview of the best VPN services in 2020.
When choosing between different VPN services, many of us would go for a better-known brand. However, there's no reason to overlook relatively small VPNs, especially if you don't need high-end features. These VPNs are usually affordably priced, helping you save some money – while getting the protection you need. Of course, you need to do your research prior to choosing a VPN, and we're here to help you with that. With this said, welcome to our EarthVPN review.
To introduce you to this VPN solution, we've prepared three handy tables. The first one, located just below this paragraph, will tell you some of the most important information about EarthVPN. So, make sure to check it out.
Quick Facts
| | |
| --- | --- |
| Jurisdiction | Northern Cyprus |
| Logs | Doesn't log VPN usage; Collects IP addresses. |
| Number of Servers | 54 countries, 190+ servers. |
| Parallel Connections | 3 |
| Encryption Standards | Up to 256-bit AES; PPTP, L2TP, SSTP, OpenVPN. |
| Speed Reduction | 77%, on average. |
| P2P Support | YES |
| Live Chat Support | NO |
| Supported Platforms | Windows, macOS, Linux, Android, iOS, routers. |
| Price | Starts at $3.33/month. |
One of the popular uses of today's VPN services is media streaming. Many VPNs come with specialized servers capable of unblocking numerous streaming platforms. So, let's see whether EarthVPN can be used for this purpose.
Media Streaming Support
| | |
| --- | --- |
| American Netflix | YES |
| Hulu | NO |
| BBC iPlayer | YES |
| Amazon Prime Video | NO |
| Kodi | NO |
You also need to know one more thing. We tend to go in-depth when testing VPNs, as we try our best to come up with truthful and objective findings. So, if you don't have the time to read this entire review, here's what we think about EarthVPN, after having used it for a while.
The Bottom Line
| | |
| --- | --- |
| Pros | Great for beginners; Easy to use; Unblocks Netflix; Supports P2P; Strong encryption. |
| Cons | Logs IP addresses; Small server network; Requires some manual configuration; No live chat. |
| The Final Verdict | EarthVPN seems like a reliable solution for those who don't need the best of what the VPN world offers. This is a relatively basic VPN, after all. |
| Our Score | 5.4/10 |
Finally, we're ready to dive deep into our hands-on EarthVPN review. Join us as we start to explore different aspects of this VPN service, and make sure to stick with us until the end of this article.
EarthVPN – TechNadu's Hands-On Review
Just like we do in our every VPN review, we'll put EarthVPN through a series of tests and examinations. If you'd like to learn more about this process, check out our article about how we review VPNs.
Background, Jurisdiction & Background
EarthVPN seems like a trustworthy VPN whose image was bruised back in 2014. However, we think that there's no reason for concern, even though you should exercise caution (just like with any other VPN). Our Score: 7/10.
First, let's see where does EarthVPN comes from, as well as what that means for its users. We'll be checking under which jurisdiction this VPN operates, and whether there were any previous leaks.
Jurisdiction & Applicable Laws
EarthVPN comes from a company called EarthVPN Ltd, founded in Lefkosa, Northern Cyprus. In case you didn't know, this part of the Republic of Cyprus is under the jurisdiction of Turkey. However, this doesn't mean that Turkish laws are being applied here, as the Republic of Cyprus is an independent country. In fact, Cyprus is a member of the European Union.
In case you live in one of the EU countries, you've probably heard about the GDPR set of laws. Well, Cyprus has decided to implement GDPR in July 2018, and therefore protect its citizens against unauthorized data logging. This set of laws, as well as other privacy-related laws, are supervised by the Office of the Commissioner for Personal Data Protection.
Even though Cyprus does have a turbulent past, this isn't something that should be seen as a negative point for EarthVPN. This is a highly stable and thriving country, whose business-friendly laws have attracted numerous companies from around the world.
Previous Data Leaks
Back in 2014, there was some media coverage from the Netherlands, accusing EarthVPN of logging IP addresses of its users. More precisely, an individual was arrested for threatening with bomb attacks, who turned out to be an EarthVPN user. Following a court order, it was discovered that this VPN was using a data center that kept some IP transfer logs. These were used to identify the individual in question.
Does this mean that EarthVPN can see everything you do online? Well, not quite. The case we mentioned in the previous paragraph appears to be a strange set of coincidences. Since then, EarthVPN has abandoned that particular data center and announced that they're using additional methods of ensuring that no logs are being kept. So, should you exercise caution when using EarthVPN? Yes, you should. However, we're sure that EarthVPN is now doing a much better job of avoiding data logging, as another scandal would certainly shut down this VPN business.
Supported Platforms & Devices
EarthVPN is compatible with many platforms, but native apps are available only on Windows and macOS. There are no official apps for Android and iOS. Our Score: 5/10.
Now, let's see what kinds of platforms this VPN supports. After all, you'll want a VPN with a nice range of native applications that are easy to install and use.
Platform Compatibility
| | |
| --- | --- |
| Desktop Platforms | Windows, macOS, Linux. |
| Mobile Platforms | Android, iOS. |
| Web Browsers | N/A. |
| Routers | DD-WRT, Tomato, ASUS-WRT, and more. |
| Other Devices | N/A. |
So, EarthVPN is compatible with plenty of currently popular platforms and devices. However, it's important to be said that you'll find native apps made by this VPN only on Windows and macOS. There are no official apps for Android and iOS, which means that you'll need to configure EarthVPN manually.
Let's not forget that you can install and use this VPN on a wide range of routers. This is perhaps the easiest way to secure your entire household, at once. And installing the VPN on your router counts as a single device in your subscriptions, so you have two additional slots for your mobile devices.
Installation & Initial Configuration
On desktop platforms, it's easy to get started with EarthVPN since there's a native app. However, be prepared for a tedious process of configuring the VPN manually on mobile devices. Our Score: 6/10.
The first step toward using this VPN is to sign-up for EarthVPN. This process requires you to order a VPN subscription plan, enter your email, username, password, and then fill out your payment information. Once done, you'll have your credentials needed to get started using EarthVPN.
There are two ways to get started – where you can choose to configure the VPN manually, or you can download its native app (which we recommend doing, as it's the easiest way). So, download the Windows or macOS app from EarthVPN's website. We've tested this application on Windows, where we ended up with a ZIP file. Surprisingly enough, all you need to do is to unzip this file, as there's no traditional method of installation. Open the file with admin privileges and you'll get to use EarthVPN.
In case you want to use this VPN on your mobile device or router, you'll be facing a somewhat tedious process of setting everything up. Luckily, you'll find helpful tutorials on the VPN's website that can somewhat simplify this process.
Prominent Features
This VPN comes with a set of basic features, which isn't something that advanced users are going to like. Our Score: 5/10.
We'll use this segment to take a peek at EarthVPN's features. In other words, let's see if this is a basic VPN solution, of perhaps one created for more advanced users.
VPN Features Checklist
| | |
| --- | --- |
| DNS Leak Protection | YES |
| IPv6 Leak Protection | NO |
| Kill-Switch | YES |
| Ad-Blocker, Anti-Malware | NO |
| Unlimited Server Switches | YES |
| Unlimited Bandwidth | YES |
| Unlimited Data | YES |
We can see that EarthVPN is more of a barebones VPN solution. It protects you against DNS and IPv4 leaks, which is what pretty much any VPN is capable of doing. However, this VPN doesn't support IPv6 just yet, which means you'll need to look for a different solution.
In terms of more advanced options, we were surprised to see EarthVPN offering a kill-switch. The role of this tool is to shut down your Web traffic if a secure connection becomes inactive. However, this is where the list of advanced options ends. There's no split-tunneling, ad-blocking, or anti-malware. All in all, it's clear that EarthVPN is made for those who don't need any high-end privacy-protecting features.
Server Count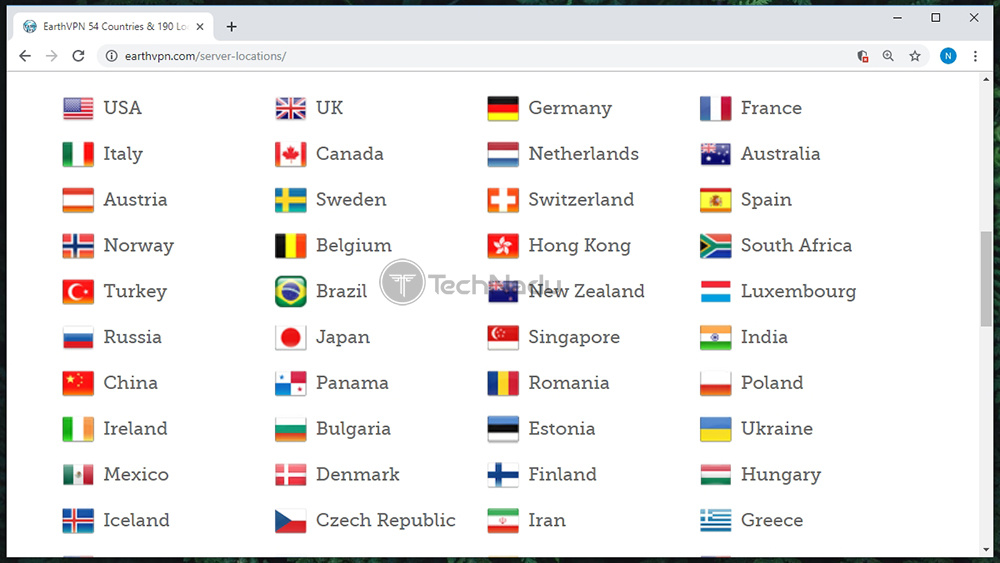 EarthVPN some with a relatively small server network. However, we believe that average home users will be happy with this selection. Still, remember that you can easily find VPNs with plenty more servers across the world. Our Score: 5/10.
So, how many servers does EarthVPN offer? Where are they located, and in how many countries? We'll answer those questions, and then some more.
Server Count Info
| | |
| --- | --- |
| Number of Servers | 190+ |
| Number of Locations | 190+ |
| Number of Countries | 54 |
| Specific Cities Selection | YES |
| Unlimited Switching | YES |
We've tested dozens and dozens of VPNs so far – and we have to say that EarthVPN comes with a relatively small server network. In general, average home users will be happy with this VPN's 190+ servers, especially since these are spread across 54 countries. However, it's worth noting that you can also find VPNs with incredibly large server networks, optimized for all kinds of online activities.
In case you need something more comprehensive, take a look at our article on the VPNs with the highest number of servers. This is where you'll see top-rated VPNs such as NordVPN, CyberGhost VPN, and ExpressVPN – all of which have thousands of servers each.
Ease of Use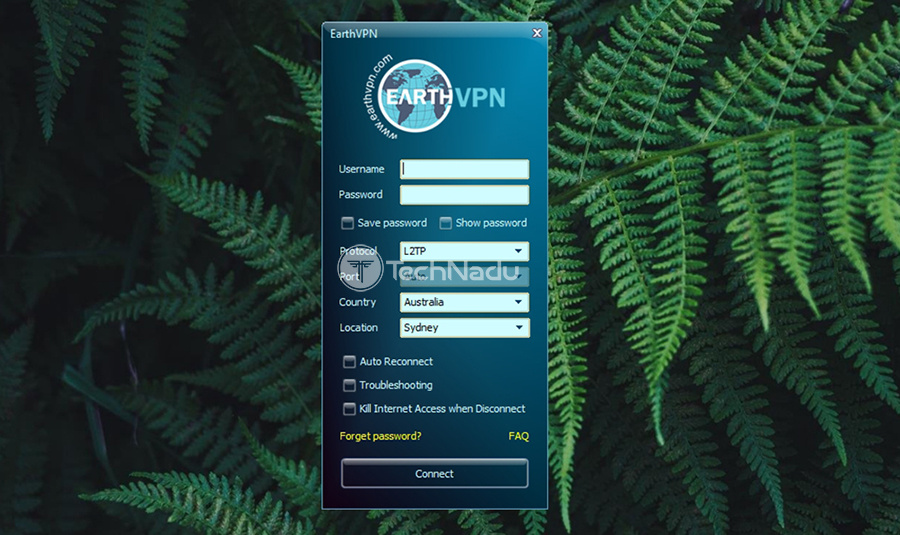 EarthVPN is an incredibly simple application that doesn't allow any fine-tuning. If you need something simple, this VPN is for you. However, if you want to have full control over your Web connection, you should look elsewhere. Our Score: 6/10.
As you can see from the screenshots, EarthVPN is a very simple application. At the top, you'll find two fields that ask for your username and password. Luckily, the application can save your password, so you don't have to type it in every time.
Then, you can select a protocol, port, country, and location. All of these are dropdown menus that simply let you select an item. This means that you can't search for a specific server or make a list of your favorites. As you see, plenty of manual labor is what this application offers. And finally, you'll find a few options at the bottom that allows you to enable the VPN's kill-switch, initialize troubleshooting, or auto-reconnect if a secure connection fails for some reason.
You can notice that EarthVPN doesn't offer any settings of fine-tuning. As soon as you open the application, you'll see everything that it offers. There aren't any additional menus or windows, so what you'll see is what you'll get. With this said, EarthVPN once again seems like a good solution for inexperienced users who want their VPN to be fully automated.
Media Streaming & Torrenting Support
EarthVPN can help you unblock Netflix and BBC iPlayer, and that's pretty much it. Also, if fully supports torrenting but we recommend sticking to legal files only. Our Score: 5/10.
Do you want to stream media while using a VPN? Wondering if EarthVPN works with Netflix? Well, know that we've done a round of tests – and here are the results.
Media Streaming & Torrenting Support
| | |
| --- | --- |
| Netflix US | YES |
| Hulu | NO |
| BBC iPlayer | YES |
| Amazon Prime Video | NO |
| Torrenting (P2P) | YES |
We can see that EarthVPN can help you unblock a few of the popular streaming services. Surprisingly, Netflix is one of those. We managed to unblock this streaming platform without any issues, and without any buffering as well. The situation wasn't the same with BBC iPlayer, as we experienced some fluctuations in this VPN's performance. And sadly, we couldn't unblock Hulu and Prime Video.
It's also worth noting that EarthVPN supports P2P traffic. However, considering that this VPN comes with a history or exposing one user – you might want to stick to legal torrents only, to be on the safe side of the law.
Security & Privacy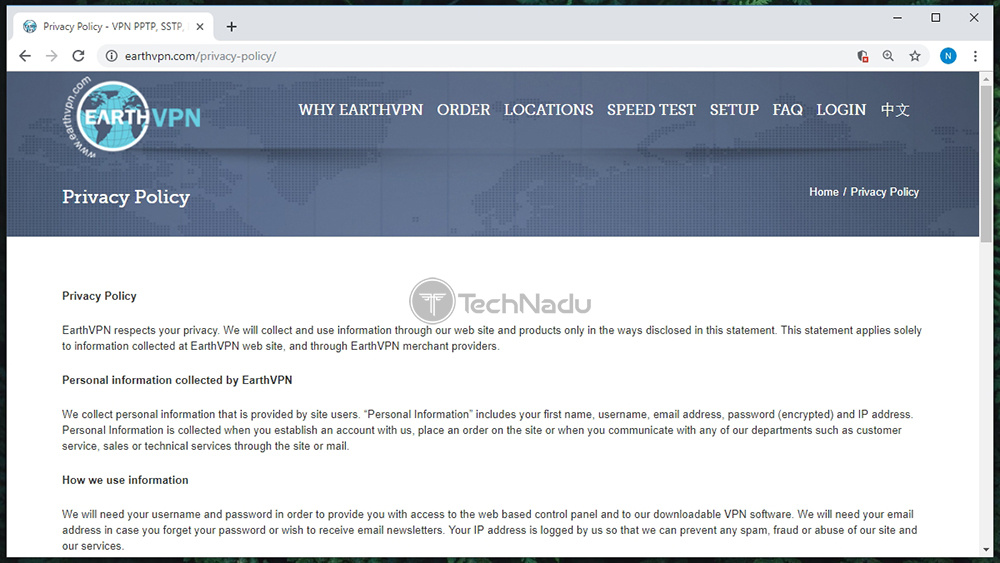 Even though it comes with capable encryption and strong VPN protocols, we can't say that EarthVPN is one of the most trustworthy VPNs out there. It collects IP addresses and has been found to share personal details of one of its users. Our Score: 4/10.
And, here's the big question – can EarthVPN keep you safe online? What kinds of protocols does it use? Well, let's answer those questions.
Supported Encryption Protocols
Depending on the type of VPN protocol you choose, you'll get a different version of encryption. PPTP uses MPPE 128-bit cipher, while L2TP uses a 256-bit key. Then, SSTP uses 2,048-bit SSL/TLS certificate for authentication and a 256-bit SSL key for encryption.
In case you want the highest level of security this VPN offers, we recommend using OpenVPN. Using this protocol, you can utilize up to 256-bit AES encryption. In theory, even if someone gets to your encrypted data – they won't be able to read it.
Logging Policy
EarthVPN comes with somewhat short and vague privacy policy. However, they claim not to collect any personal data that would describe your use of this VPN. This means that your activity logs are never kept on any of the VPN's servers. Still, your IP address is recorded – for the purpose of preventing any spam, fraud, or abuse. In addition, EarthVPN promises not to sell, rent, or disclose your PII data without your consent.
In general, this isn't the strongest privacy policy we've seen. It's problematic that this VPN collects IP addresses – even though we don't know whether these can be linked to any other type of PII data. Remember that a few years back, this VPN was caught providing personal data of one of its subscribers. With this said, we can't recommend it those who seek the best possible online privacy.
DNS Leak Test
EarthVPN passed our DNS leak test with flying colors. This means that this VPN protects you actively against leaking your personal information. The websites you visit will only see what EarthVPN shows them, and that's a set of your 'virtual' information.
Speed & Performance
As per our speed tests, EarnVPN slowed us down by 77%, on average. Even though this isn't the worst result we've seen yet, this is nothing to brag about. Our Score: 3/10.
What kind of performance does this VPN bring? Will it throttle your Web connection? To answer these questions, we've done a round of speed tests, and here are the results.
First, we did a speed test of our 'bare' Web connection. This means that we've checked the speed of our Web connection without having this VPN enabled. During this round, we managed to get 66.35 Mbps for downloads and 18.84 Mbps for uploads.

Next, we then connected to a nearby server. We're located in Europe, where EarthVPN offers a number of options. Upon connecting a server in Germany, we got 32.44 Mbps for downloads and 15.01 Mbps for uploads.

And finally, we also wanted to check the performance of a remote server. In our case, that would be a server in the USA. This time around, we got 2.89 Mbps for downloads and 16.83 Mbps for uploads. Now, let's put all these numbers into a table.
| | | | |
| --- | --- | --- | --- |
| | Download Speed | Upload Speed | Speed Reduction |
| Baseline Data | 66.35 Mbps | 18.84 Mbps | 0% |
| Nearby Server | 32.44 Mbps | 15.01 Mbps | 51% |
| Remote Server | 2.89 Mbps | 16.83 Mbps | 97% |
On average, this VPN slowed us down by 77%. This isn't the worst result we've seen yet. However, it's clear that you should be able to find better-performing VPNs with ease.
Customer Support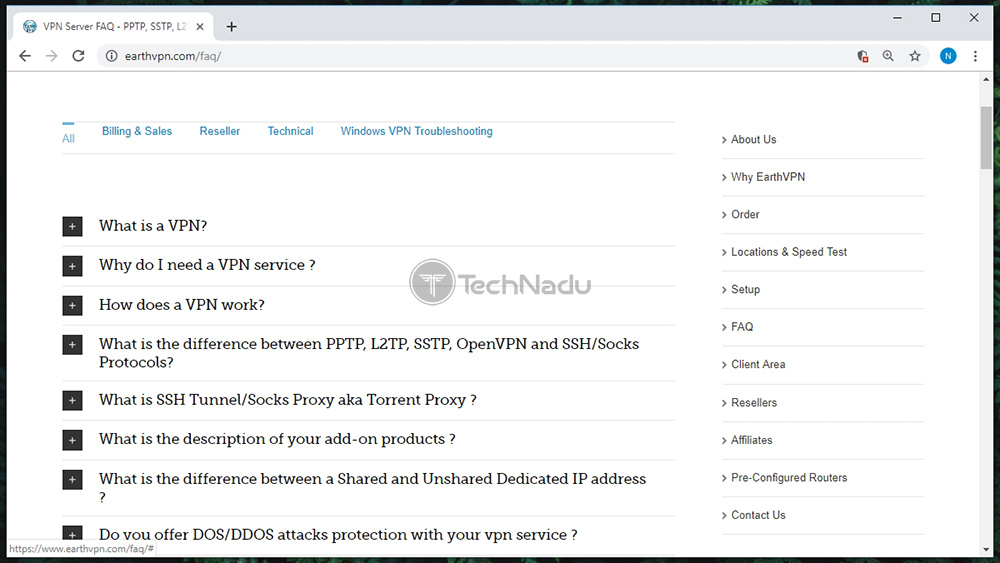 EarthVPN comes with several helpful resources, and you can always open a customer support ticket. However, an option to chat live is missing here. Our Score: 6/10.
EarthVPN comes with several types of resources that you can rely on in case of any questions. First of all, there are installation guides covering all of the available platforms and protocols. Then, you'll find a nice range of frequently asked questions. And in case you'd like to contact this VPN, you can open an official support ticket. In general, it can take up to 48 hours to receive a response.
As you can see, EarthVPN doesn't offer an option for you to chat live with its customer support agents. This means that unless you resolve your issue yourself, you'll be forced to wait for a while until you receive a response.
Pricing
EarthVPN is one of the most affordable VPNs around. Depending on your needs (and if you don't need a high-end VPN), it could be a good choice for some. Our Score: 7/10.
So, how much you need to pay for this VPN? And more importantly, is EarthVPN worth its price? Let's find out!
| | | | |
| --- | --- | --- | --- |
| | Total Price | Per Month | Savings |
| 1 Month | $3.99 | $3.99 | 0% |
| 12 Months | $39.99 | $3.33 | 16.5% |
This VPN is one of the most affordable VPNs around. For only $3.99, you can sign-up for EarthVPN and get its monthly subscription (which comes free of any limitations). Of course, getting its long-term plan can save you a bit of money in the long-run, but not much.
It's also worth mentioning that you can pay via credit cards, PayPal, AliPay, UnionPay, and numerous other payment processors. And in case you seek total anonymity, you can go with Bitcoin. However, remember that this VPN logs your IP – which beats the purpose of paying for EarthVPN anonymously. And also, there's a 7-day money-back guarantee.
Finally, EarthVPN also sells pre-configured routers. These are priced at around $100 and up, all the way up to around $280. In case you need a router, we recommend checking our article on the best VPN routers right now. By getting your own router, you can save quite some money and get the freedom to set it up yourself.
Do We Recommend EarthVPN?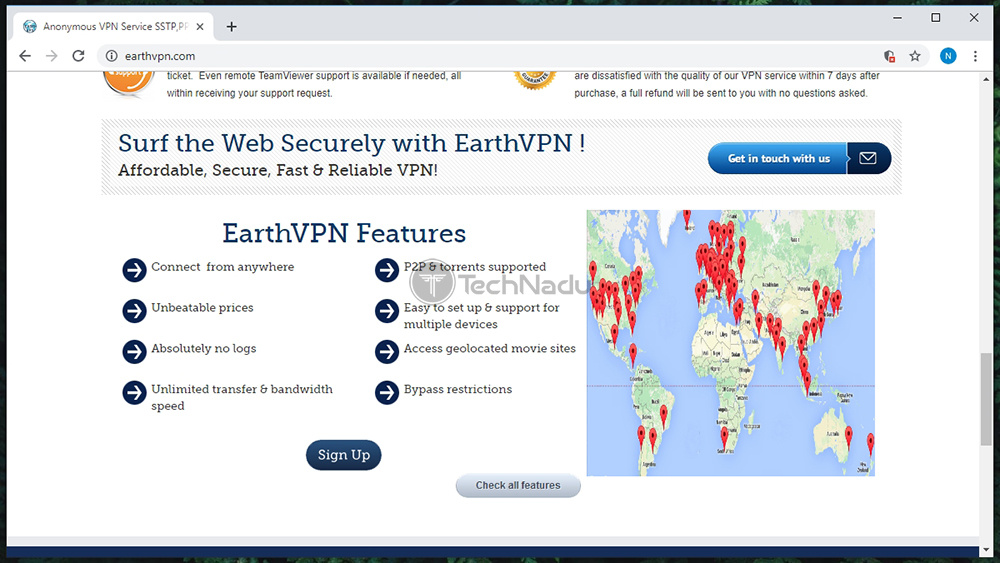 Well, it's true that EarthVPN does come with certain benefits. It comes free of any leaks and helps you unblock Netflix. However, there are certain drawbacks as well. This includes a limited server network, not-as-stellar performance, and some data logging. With this said, we recommend it only to average home users who don't need high-end features or the best possible protection for their data.
PROS: No DNS leaks; Easy to install; Simple to use; Unblocks Netflix, Supports P2P.
CONS: Limited server network; Limited functionality; Poor performance; No live chat.
OUR SCORE: 5.4 out of 10!
If you want to learn more about EarthVPN, make sure to check its official website. And if you want to explore additional options, here are the best VPNs right now.