Designed for creative professionals, Ubuntu Studio has plenty of tools to help you produce your best work. With that said, you'll surely want to protect your files in the best way possible. So, let's talk about how to set up and use ExpressVPN on Ubuntu Studio. 
Note
As per ExpressVPN's documentation, this VPN service works on any modern version of Ubuntu Studio. Keep in mind that, for the privacy and safety of your data, you should update your Ubuntu Studio to the latest available version (version 20, as of right now).
Important
Even though ExpressVPN works on Ubuntu Studio – this VPN doesn't offer official support for this operating system. In other words, ExpressVPN's team might be able to assist with Linux-related questions, but they won't be able to troubleshoot issues directly related to Ubuntu Studio. 
1. Let's start from the beginning – letting you subscribe to ExpressVPN.
2. Once you land on ExpressVPN's site, go ahead and click on 'Get ExpressVPN.'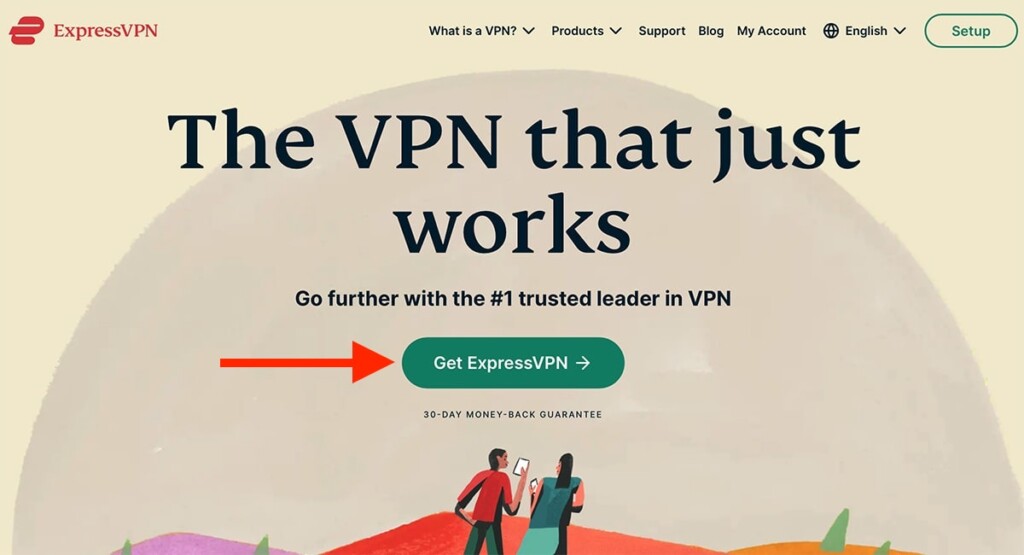 3. Then, pick a subscription (a long-term one will help you save, by the way). 
4. Provide your email address and then pay for your chosen subscription plan. 
5. Once done, ExpressVPN's team will send you a confirmation email. 
6. Now, go back to ExpressVPN's site. Make sure to start from its home page. 
7. Using the website's main menu (top-right corner), click on 'My Account.'
8. Then, provide your ExpressVPN account credentials and select 'Sign In.'

9. When asked for a verification code, copy it from your email inbox. 
10. At this moment, you'll access your ExpressVPN account dashboard. 
11. Click on 'Set Up Other Devices,' visible at the top of your dashboard. 
12. A new page will open. Make sure to select 'Linux' on the left-hand side. 
13. On the right side, pick 'Ubuntu 32-bit' or 'Ubuntu 64-bit.'
14. Then, hit the 'Download' button to download ExpressVPN's installation file. 
15. Now, launch the Terminal Emulator on your Ubuntu Studio. 
16. Navigate to the folder where the newly-downloaded file is found. 
17. By default, it's in the Downloads folder. So, use this command: cd ~/Downloads/. 
18. Then, install the app using the following command: sudo dpkg -i [file_name]. 
19. Wait until the application gets installed, which could take a couple of seconds. 
20. Proceed to begin activating ExpressVPN using the 'expressvpn activate' command. 
21. When asked for an activation code, copy it from your ExpressVPN dashboard.
22. Also, decide if you'd like to submit anonymous data. Answer with Y or N. 
23. That's it! You have now installed ExpressVPN on your Ubuntu Studio. 
24. To connect to a server, use the following command: expressvpn connect. 
Tip
The first time you use the 'expressvpn connect' command, this VPN will connect you to the nearest (recommended) server. However, once you start using it with other servers, that command will connect you to the last used server. 
25. To disconnect from a server, use this command: expressvpn disconnect. 
26. To pick a specific server, first input the 'expressvpn list' command. 
27. Then, check out the table displayed in the Terminal Emulator window. 
28. You'll see three columns named Alias, Country, and Location. 
29. To connect, use this command: expressvpn connect [COUNTRY/LOCATION].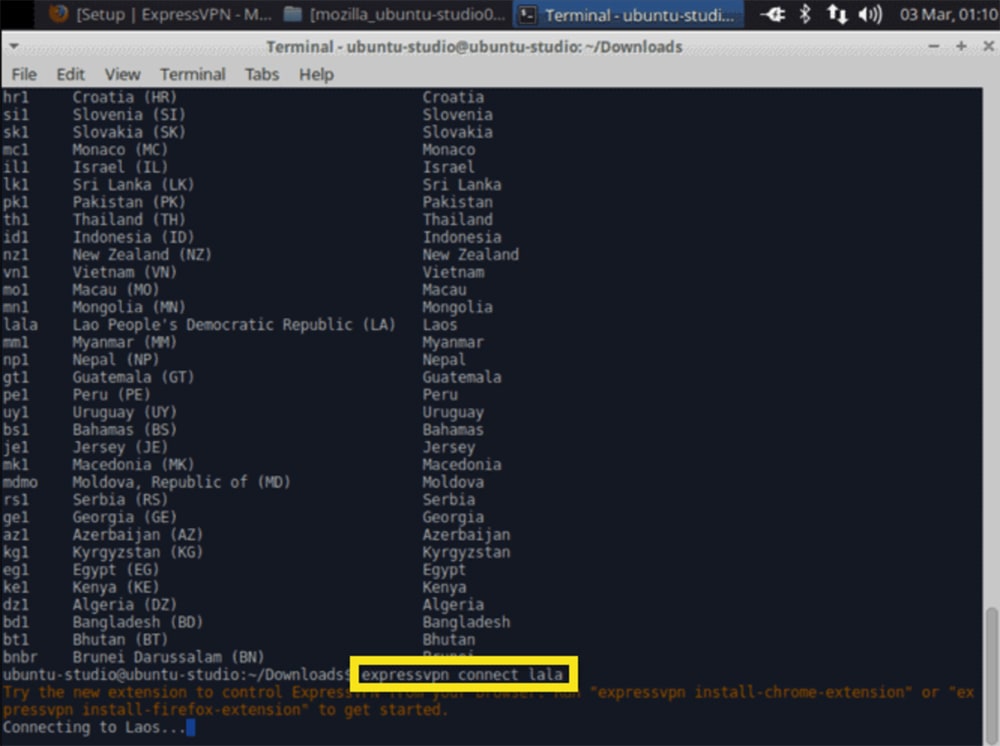 Tip
Let's say that you want to connect to a server in the Netherlands. To connect to any server in this country, you can go with - expressvpn connect Netherlands. However, you can also connect to a specific city, like this – expressvpn connect "Netherlands – Amsterdam" (or – expressvpn connect nlam, where 'NLAM' is a code for that particular server). 
30. Once you connect, use ExpressVPN's IP Checker to verify if your connection is active.
31. Lastly, we also recommend trying out the following command: man expressvpn. 
32. At this moment, you'll see ExpressVPN's manual, with all of its supported commands. 
That's it when it comes to setting up ExpressVPN on Ubuntu Studio. If you have any questions on your mind, share them via the comments section below. And lastly, thank you for reading!