By innovatively combining metal and plastics, Apple could create a new type of watertight seals.
We could see this new patent applied to notebooks in the future, which currently rely on materials such as aluminum. 
If implemented, this could indicate a new type of MacBooks that are even thinner and lighter, while being more durable and impact-resistant. 
Apple's products are already known for its pleasing aesthetics and durability, which the company has been heavily pursuing. However, this doesn't stop the Cupertino-based tech giant from submitting new patents that show a possible future development of its smartphones, tablets, smartwatches, and computers. This time around, Apple was granted a patent explaining how different materials can be bonded to create a super-durable structure.
As first spotted by PatentlyApple, the Cupertino-based company now owns a patent related to a process of bonding plastics to metal. By combining these two materials, Apple could use existing elements to create something entirely new – that's much stronger and durable than using metal alone (which is used heavily across existing Apple's products). However, this doesn't stop with creating a long-lasting material, as this patent has numerous other implications as well.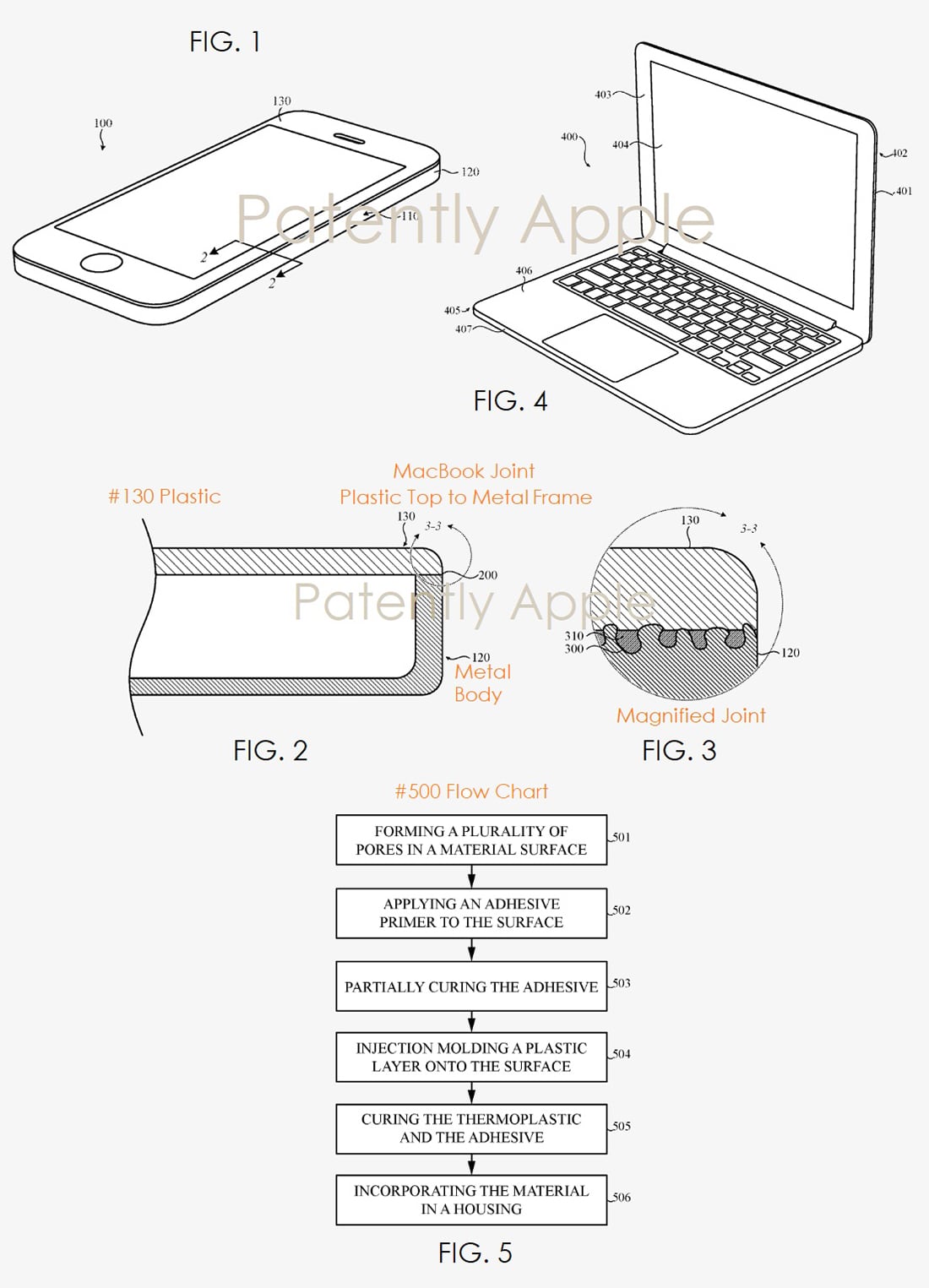 One of the most prominent benefits of combining metal and plastics relates to creating watertight surfaces. In other words, thermoplastic components can be molded directly onto the metal to provide a watertight layer, while also being decorative and aesthetically pleasing. This could be an incredibly thin layer, as we're talking about combining plastics with metal by filling pores. Therefore, a watertight seal could be created between the thermoplastic material layer and the metal housing of any type of product.
Aside from creating a durable material capable of creating watertight seals, the patent also mentions creating a layer that's impact-resistant up to a certain degree. With this said, we can't help but imagine future Apple products being even thinner than they're now, while also coming with additional benefits.
As you can see, we're mainly talking about metal and plastics here. And even though Apple clearly describes how this patent applies to various devices already made by the company, it's unlikely we'll see this applied to future iPhones. That's because the company has been heavily investing in creating extra-durable glass layers for their smartphone. This year's iPhones might come without power adapters, and there are rumors that the 2020 iPhones will be the last generation with a Lighting port. All of this means that wireless charging is here to stay, which is precisely why Apple has been pursuing its goal of creative extra-durable glass layers. Still, let's not forget the rumors about the iPhone 12 being usable underwater, so there's plenty of seemingly contradicting statements on the Web.
Of course, patents like this one aren't clear indicators of what Apple plans to do in the future. There could always be a chance of the company abandoning these plans if something better appears in the meantime.
In case you'd like to return to what Apple has planned for this year (officially), make sure to check the most significant announcements at WWDC20, as well as our coverage of iOS 14, iPadOS 14, macOS Big Sur, watchOS 7, and more. And of course, let's not forget about Apple's transition to ARM processors.