The latest macOS release is coming with a refreshing design that makes the system more informative too.
Privacy stayed at the epicenter, with convenient "App Labels" and a "Privacy Report" on Safari, providing the user with key insight about what's at stake.
The Maps have also gotten more useful, with the ability to plan trips and send everything to the iPhone for use on the go.
macOS releases of the past couple years were all about refining and enriching privacy and accessibility features, and also extending the hand of the desktop OS to the rest of the ecosystem. The eleventh "Big Sur" release is breaking this series, coming with significant design changes that make it look and feel cleaner and more modern. To be honest, this UI refresh was well-needed in the macOS world. It's not that the previous generations of the macOS were sporting an outdated design, but they felt a little bit off sync with Apple's overall image and character.
It is one of the many announcements Apple made at the WWDC20 event, where the tech giant let us in on what's new regarding iOS 14, iPadOS 14, and watchOS 7.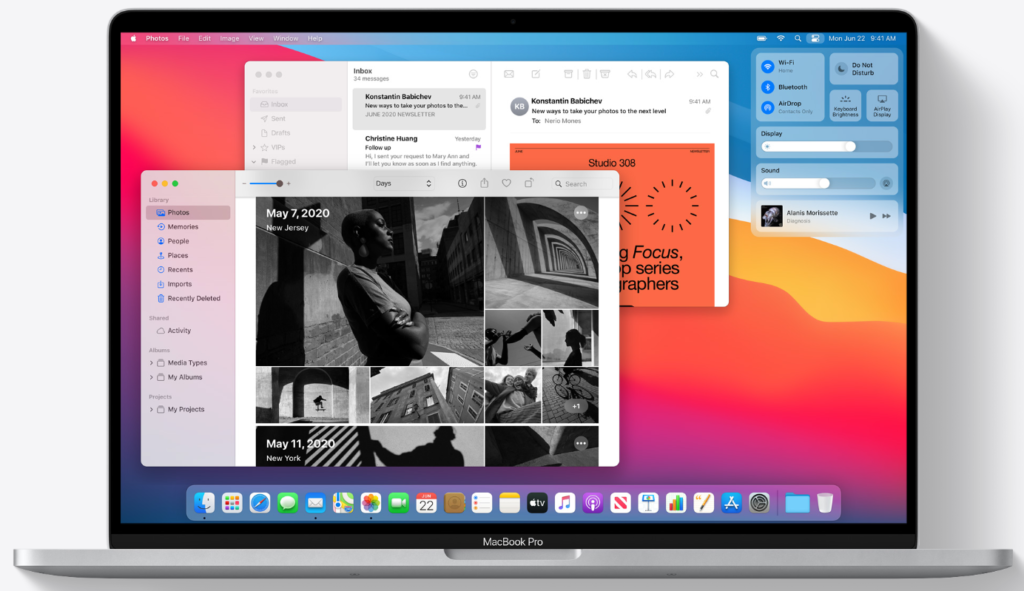 macOS 11.0 Release Date and Supported Devices
Before we dive right into the most notable changes that were previewed by Apple in the most recent WWDC (Worldwide Developers Conference) event, let's get compatibility out of the way. The following devices will be eligible for an upgrade to macOS 11.0 "Big Sur":
MacBook 2015 and later
MacBook Air 2013 and later
MacBook Pro 2013 and later
Mac mini 2014 and later
iMac 2014 and later
iMac Pro 2017 and later
Mac Pro 2013 and later
Design Overhaul
The big design changes in "Big Sur" are stealing the show, and while under the hood improvements and optimizations are always nice to have, a new, beautiful, and cleverly designed user interface is sure to make the users feel the difference. Apple says they have made the new OS feel more spacious, making navigation easier while at the same time putting controls right where the users need them. The color palette has been refined for a cleaner look, and the curvature of the window corners was adjusted to make everything appear more distinctive but not imposing.
But it's not only about making things look more beautiful, as Apple's designers have worked on delivering useful information to the user without entering "bloated" territory. Thus, there's an updated Notification Center that provides interactive notifications while still giving away enough info at a glance. The revamped Control Center enables users to access settings from the desktop, making the whole user experience comfortable and pleasant.
Boosted Privacy
Starting with the Safari browser, Apple has introduced a "Privacy Report" feature that lets users get a peek at what's going on with a single click on a shield icon. The new system is reporting on how many and which trackers were prevented from loading on the active tab, as well as whether your password has been matched with a data breach database listing. This works through a system of encrypted communication data exchange, so Apple never gets to know your credentials.
Another privacy-minded feature introduced with the macOS 11.0 is the App Store labels. Users will be able to get a complete picture of how and why a particular app collects data, what types of data it collects, whether or not this data is shared with other entities if tracking is involved, and more. These labels are a lot more helpful and convenient compared to reading lengthy and overly complicated privacy policies. So users are in a position to decide whether they're willing to install an app on their systems or not while browsing the App Store.
Planning Anything on Maps
From shopping escapes to long car trips, the brand new "Maps" is enabling users to plan anything they want. The app is now delivering a 360-view of your destination called "Look Around," and has a rich list of indoor maps of shopping centers and large airports. Moreover, people are now able to generate routes for cycling or electric vehicle trips, and then seamlessly send to the iPhone from where step-by-step directions may be pushed to the Apple Watch.