Premium channels are always great because they provide so many original shows and movies, quality content that you get to enjoy. So, if it's Showtime you're curious about, we're getting ready to give it a review.
Showtime has been around since 1976, so it has quite a bit of history behind it. Of course, it's not just Showtime these days, as more channels were launched, such as Showtime 2, Showcase, Showtime Beyond, Showtime Extreme, Showtime Family Zone, Showtime Next, and Showtime Women. Each of them features specific content for their target audiences, an overall great collection of channels.
Before we dive into the review, let's find out a few basic things about Showtime and what the platform has to offer.
Overview
Product Name
Showtime
Supported Platforms
Fire TV, Fire TV Stick, Fire tablets, Apple TV, iOS, Android, Android TV, Chromecast, Xbox One, Roku, Smart TVs, Oculus Go
Availability
Showtime is only available in the United States
Unique Features
Access original Showtime content and allows mobile downloads
Price
$10.99 per month, $109.9 per year
Visit
Showtime
Here's what we feel are the platform's pros and cons and how we feel about Showtime in its entirety.
Final Verdict
Pros
Great UI, original content, live TV
Cons
No PlayStation support
Final Verdict
The platform looks great and you should give it a try, and the content makes the price worth it.
Our Score
9/10
Now that we've gone through the introduction and found out a few things about Showtime, let's dive deeper and check out the actual review.
Showtime Review: Find Out All You Need to Know
Showtime is a complex network of channels and they all have something special to offer. The streaming platform, too, is quite notable, and we're going to discuss that all in just a bit.
Perhaps everybody already knows, but it needs to be said anyway – Showtime's platform is only available in the United States. In short, if you live abroad, you're not going to be able to enjoy any of the content. Even if you're an American that already has an account, you won't be able to watch your favorite shows if you're abroad on vacation or for work, or for whatever other reason you may have. There are some solutions, of course, such as a VPN. VPNs will make it look as if you're in any location you want, regardless of where you actually are. One tool we know works great after testing what feels like a million VPNs, is ExpressVPN.
Platform Compatibility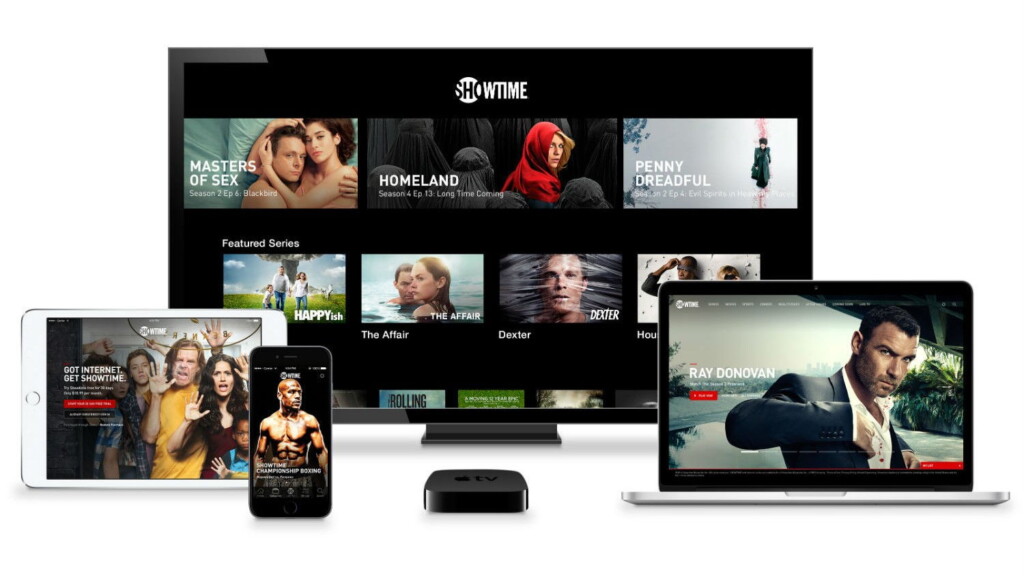 If you're reading this, then you certainly have at least one device to enjoy Showtime on. Our Score: 9/10
There are a lot of Showtime channels, but you only need one app to watch them all, which is great, because it just simplifies everything. Imagine having an app for each Showtime channel… a nightmare! Thankfully, that's not the case, so let's see what platforms you can enjoy Showtime on:
Amazon: Fire TV, Fire TV Stick, Fire, Fire HD 6-10, Kindle Fire HDX
Apple: Apple TV 3rd gen, iPhone 4S and up, iPod Touch 5 and up, iPad 2 and up, iPad Mini
Google: Android TV (LeECO TV, NVIDIA Shield, Sony Bravia), Chromecast, Android phones and tablets with Android 4.3+
Game Consoles: Xbox One
Other: LG Smart TV, Roku 2nd gen and up, Roku TV, Samsung Smart TV, Oculus Go
As you can see, there are quite a few platforms and devices on the list, with some notable appearances, like the Oculus Go, or the Xbox One. One important platform is missing, though, and that's PlayStation. With so many fans, that would have been a great addition to the list.
Sign Up To Showtime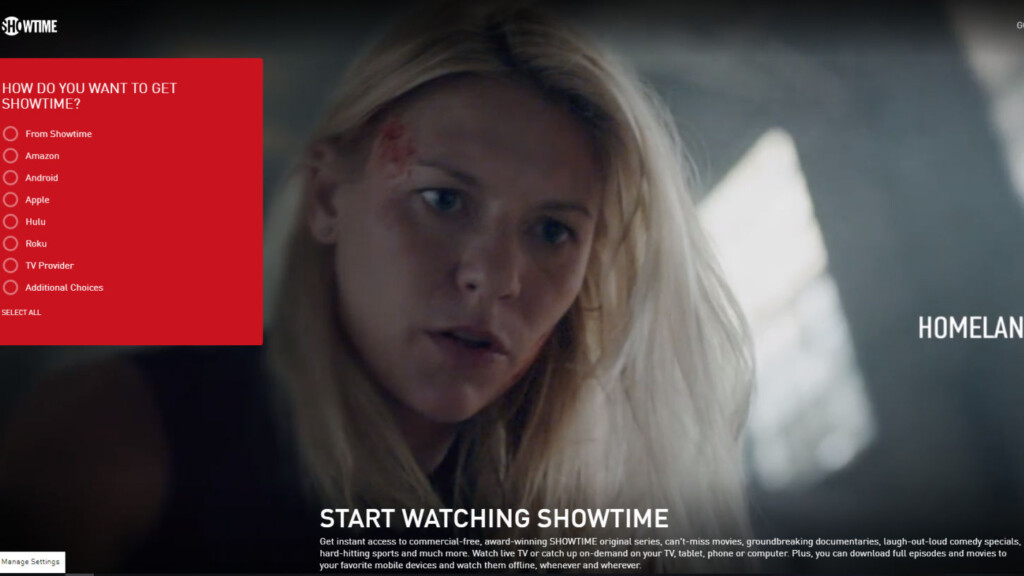 If you can't find a way to sign up to Showtime, you're not looking hard enough, because there are quite a few of them. Our Score: 10/10
So, in order to get Showtime, you have to tap the "Get Showtime" button from the main page of the platform. The platform then asks you a very important question – "How do you want to get Showtime?" It may sound weird, but it makes sense when you check the list. You can get it via Amazon, Hulu, Roku, your TV provider, directly from Showtime, or via over-the-top services.
If you are still on traditional cable, you can pick your provider from the list – and they have quite a few of them – and sign in with your credentials. Of course, your plan needs to already include access to Showtime.
The best, of course, is freeing yourself from such ties and picking up Showtime on your own, or via one of the over-the-top services that provide it DirecTV Now, fuboTV, PlayStation Vue, Sling TV, YouTube TV, or Hulu with live TV. We included links to our reviews of these platforms, in case you want to give them a go.
Showtime offers a 7-day free trial, so you can always change your mind. The process of signing up involves giving your email address, creating a password and handing over your credit card info so they can bill you. If you close your account before the trial is over, you won't get billed.
User Interface
If you've used one streaming service, you've used them all – the platform is intuitive and easy to use. Our Score: 9/10
The Showtime interface is easy to navigate. Even if you never used Showtime before, you've certainly used some other live TV or video-on-demand streaming platform, so the placement of the menus will seem familiar. At this point, it's not even an issue of companies copying each other, but rather of the effectiveness of this simple design; no one needs a complicated UI just for the sake of being unique. In the end, it's important for users to easily find the content they want to watch.
So, the UI gives you quick access to several important areas – movies, series, sports, documentaries, or comedy shows. You can also check out the schedule for live TV broadcasting. There, you'll find all the Showtime channels with whatever is scheduled to be on.
Available Content
Showtime is known for quite a few awesome shows they produced in-house, as well as loads of other content. Our Score: 9/10
Showtime's programming includes a mix of motion pictures you may have seen on the big screen, original TV series, sports matches, stand-up specials, and other movies that skipped the theaters and landed on the small screens.
You can watch some really good shows right now, such as Shameless, or Homeland, or even the modern Twin Peaks series, or the wonderful Penny Dreadful. Kidding is also currently running on Showtime, featuring Jim Carrey.
Over the years, Showtime has also created dozens of original pictures, most of which target families. But, as mentioned, they also include blockbusters on the list, such as Baby Driver, The Girl on the Train, or Ghost in the shell.
Performance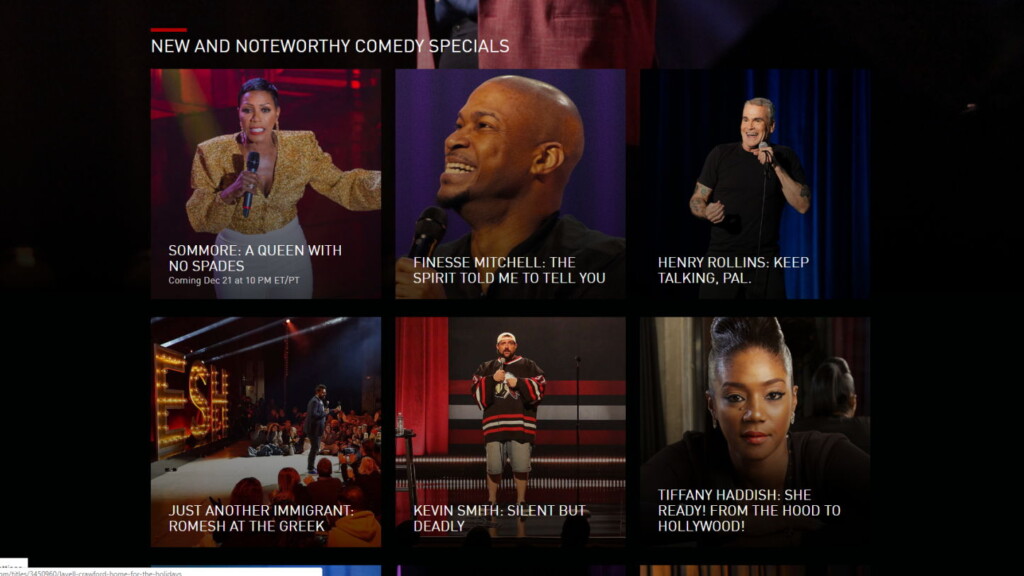 Showtime works just fine on pretty much any device, as long as you have a stable Internet connection. Our Score: 9/10
While testing, we didn't have any issues while streaming content. In fact, it all went better than we thought it would. The system requires only 3 Mbps or higher to watch on browsers or TV devices, and they recommend a connection speed of at least 800 Kbps if you want to stream to your phone and tablet. Don't imagine you'll get a grainy stream – not at all. In fact, they'll simply adjust video quality based on your connection speed, so you won't have to stop midway if your network becomes busy for some reason.,
Plus, you can also use the app to download content so you can watch later, when you'll be on your mobile connection, for instance. Programs that are available for download will be marked accordingly on your mobile devices. Keep in mind that the app will remember the video quality you selected for your download for future reference, so pick the one that suits your device best.
Customer Support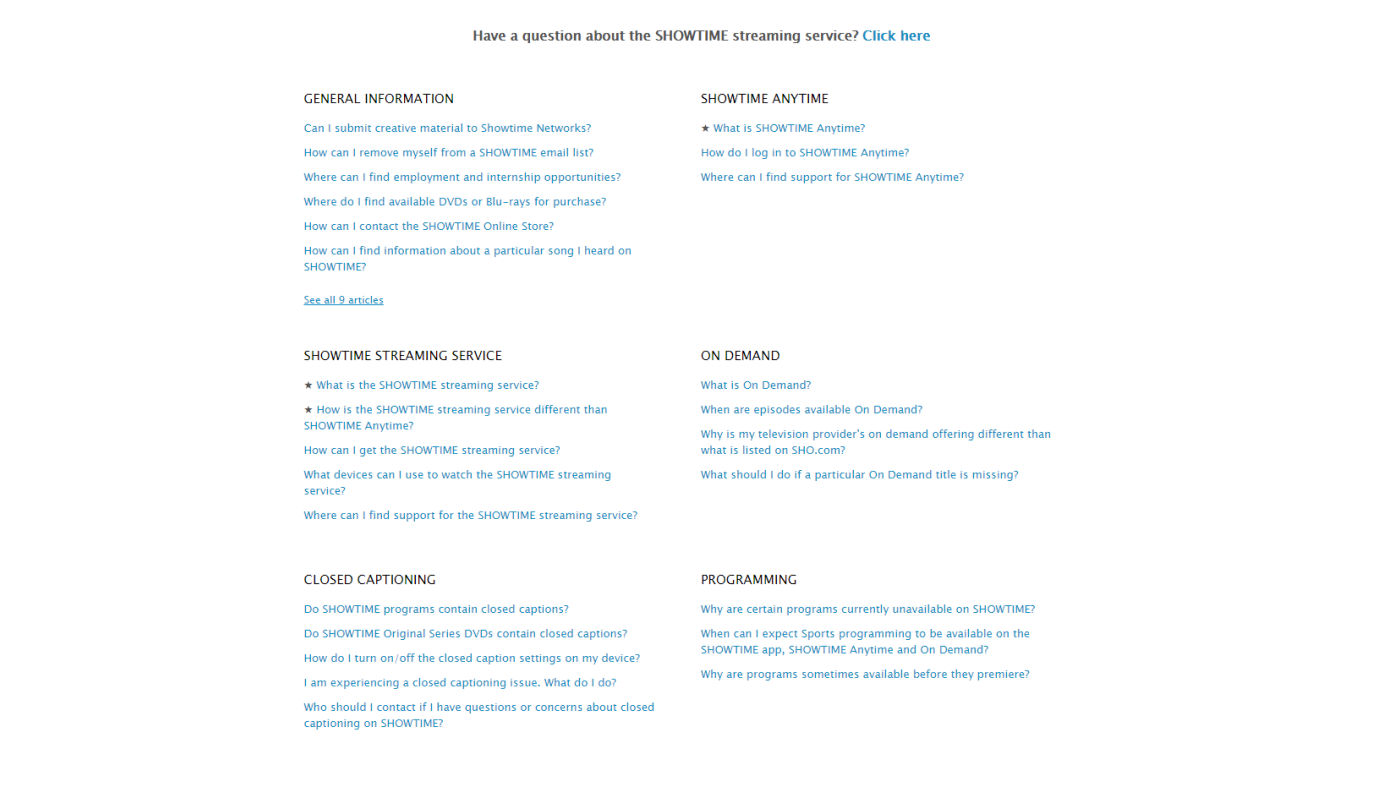 If you need any help, Showtime is here for you, whether it's via the Help section, or directly. Our Score: 9/10
Showtime's platform is pretty easy to use, but just in case you need any help getting around, there's a comprehensive Help section. Not only will you find the answer to some of the most common questions, but you can also phone them directly between 9 AM and 3 AM ET Monday through Sunday, send an email, or engage in a live chat.
Hopefully, you'll find all the details you need directly in the Help section. It features general info about Showtime, closed captions for movies, on-demand content, or programming.
Pricing
You can pay your Showtime bill monthly or annually, saving some money with the latter. Our Score: 8/10
Showtime is one premium network that's demand quite a bit of money from subscribers. The $10.99 per month price you'll see in most locations is more than what Starz costs, but less than HBO, so we guess we're on the middle ground.
Now, in the "Sign Up to Showtime" we mentioned there are loads of ways you can get Showtime. If you're planning on getting Showtime through your cable provider, then the price will vary based on what offer they have.
If you're getting a standalone subscription directly from Showtime, you'll have to pay $10.99 per month.
Now, there's also the option of getting Showtime from a live-TV streaming platform. The network is quite popular, so it makes an appearance on DirecTV Now, fuboTV, PlayStation Vue, Sling TV, YouTube TV, or Hulu with live TV. The general consensus is that these platforms carry the subscription price set by Showtime itself – $10.99 per month. Well, except DirecTV Now and YouTube TV. Up until now, DirecTV Now was the only platform that offered the service for $8 per month, going well below the number we became accustomed to. But recently, YouTube TV announced it cut the Showtime subscription price at $7, making it the lowest price for the premium network
The Verdict
We quite enjoyed playing around with Showtime and found that it's a great platform with loads of cool content. The fact that you can watch on-demand content, as well as live broadcasts, makes the subscription worthwhile. Since it comes with a 7-day trial, you should definitely try it out.
PROS: Lots of original content, live broadcasts, good price, great UI, many ways to subscribe
CONS: No PlayStation support, price varies from platform to platform.
Our Score: 9/10
Final Thoughts
We hope that you'll take into consideration subscribing for Showtime. We know it's yet another premium channel to hike up your bill, but the content is worth it.
Let us know what you think of Showtime and what way did you subscribe to it. Leave a comment in the section below, and make sure to share the article online so others can find it too. Check out TechNadu on Facebook and Twitter.