Kaspersky VPN, also known as Kaspersky Secure Connection, is a VPN service provided by Kaspersky Lab, a cybersecurity company based in Moscow, Russia. The provider claims to encrypt online traffic for a secure and private connection, but we have some concerns about their effectiveness. 
First off, the location of the service being in Russia, a country with a history of surveillance and censorship, raises some red flags. Although not a part of the Eyes Alliance, Russia has been active in an intelligence-sharing network with other countries. 
Another red flag is that the company's logging policy is not transparent, and it does retain user data, such as connection logs and device info, for troubleshooting purposes. Furthermore, Kaspersky VPN has had data leaks in the past, raising questions about the company's overall safety. 
When it comes to performance, Kaspersky VPN Secure Connection is generally reliable and offers decent speeds, but it is not the best option for streaming, torrenting, or gaming. While Kaspersky does offer some essential features, such as an automatic kill switch, DNS leak protection, and split tunneling, these features are relatively basic compared to what other top VPN providers offer.
Let's first outline Kaspersky VPN's main features before going deep into the details. You can find a brief summary in the table below.
Paid
Free
Jurisdiction
Russia
Russia
Logs
Logs certain types of data
Logs certain types of data
Servers
2,000+ servers in 70+ countries
Connects to closest server only
Simultaneous Connections
5
Unlimited (no account required)
Supported Devices
Windows, macOS, Android, iOS
Windows, macOS, Android, iOS
Features
Advanced Encryption, Kill Switch, Smart Protection, Split Tunneling
Advanced Encryption, 200 MB/day data limit
Protocols
WireGuard, Catapult Hydra
WireGuard, Catapult Hydra
Supports
Streaming and torrenting
Not optimized for streaming or torrenting
Customer Support
Knowledgebase, phone, live chat support
Knowledgebase
Price
Starts from $4.99 per month
Free
Live Deal
50% off on 1-year plan
Free
Our Score
5.5
In this Kaspersky VPN Secure Connection review, we will thoroughly examine every facet of the service, including its country of origin, supported platforms, user interface design, prominent features, VPN server network, performance, and more. To better understand our methodology, you can refer to our guide on how we review VPNs.
We will regularly update this Kaspersky VPN review to reflect new developments in the VPN industry, so we intend to keep you apprised of where Kaspersky stands among its competitors.
So, let's dive in.
Background, Jurisdiction & Reputation
Kaspersky VPN comes surrounded by mystery with numerous worrisome accusations about its relations with the Russian government. Our Score: 1/10
Kaspersky Lab has been the subject of controversy due to its place of jurisdiction. Although they have not been convicted of a crime in the Western world, the company's public perception is not very favorable.
Where Is Kaspersky VPN Based?
Kaspersky VPN is headquartered in Moscow, Russia, and is owned by Kaspersky Lab, a digital security company founded in 1997.
As a result of its controversial jurisdiction, the company has faced numerous allegations of having connections with the Russian government. The app even got banned by the U.S. government in 2016, citing concerns that Kaspersky was using American data for political purposes. 
Kaspersky has consistently denied the allegations, but their cooperation with the Russian government is a real concern for those seeking privacy in their VPN service.
Did Kaspersky VPN Leak Personal Data in the Past?
Yes, Kaspersky VPN has faced several allegations about leaking personal data in the past. 
On top of that, the company has been accused of creating fake malware to harm competitors like Microsoft. Though Kaspersky denies these claims, the service has not been clear about its data logging policies, which is a major concern for privacy-conscious users. 
Furthermore, Kaspersky VPN has not withdrawn its servers from Russia, a country with strict laws against VPNs. Thus, any data collected by the software may be subject to surveillance by the Russian government. 
While Kaspersky VPN does offer some useful features, its lack of transparency and Russian jurisdiction make it a less-than-ideal choice.
Supported Platforms & Devices
While Kaspersky does provide native apps for Windows and macOS, the absence of Linux support and easy manual configuration is disappointing. Our Score: 3/10 
In terms of device and platform support, Kaspersky VPN is not very impressive. The limited native support is a major drawback, as it is limited to only four platforms: Windows, macOS, Android, and iOS. 
Unfortunately, the service does not support Linux, and there is no direct option for manual configuration, making it very difficult to install the VPN on a router or media streaming platforms such as Android TV and Amazon FireOS. This leaves users who require broader device support with no option but to seek alternatives.
| | |
| --- | --- |
| Desktop Platforms | Windows, macOS |
| Mobile Platforms | Android, iOS |
| Web Browsers | N/A |
| Routers | Supported via manual configuration |
| Other Devices | N/A |
Kaspersky's limitations will pose a challenge for users who wish to use the VPN on a variety of devices. That said, the VPN service allows up to 5 devices to be used simultaneously. 
If you want to install Kaspersky VPN Secure Connection on a router, there is a workaround available. The option is located inside the "Other Device" section of the app, which takes you to your online dashboard. From there you can generate a configuration file based on your location that you can later use to set up a connection via an OpenVPN client. 
While the option is better than not having it at all, it will probably be a complicated task for an average user.
Installation & Initial Configuration
Kaspersky has slightly different installation processes for free and paid users. Either way, it will only take a few clicks to download the installer file and let it install the app. Our Score: 8/10
Kaspersky Secure Connection offers unique installation routes for its free and paid users, making it a hassle-free experience. To take advantage of all the features the service provides, you'll need to subscribe to Kaspersky VPN.
The main installer file for the free version can be downloaded from the website.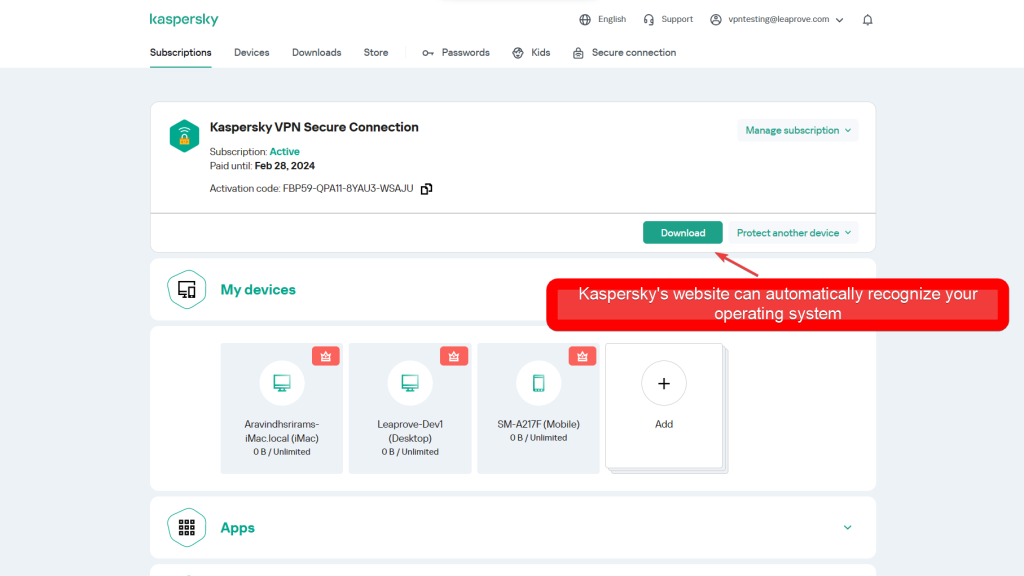 From there, the process is straightforward—the installer file automatically installs the app in under a minute. (It's worth noting that once installed, users are given the option to upgrade to the paid version or enter an activation code.)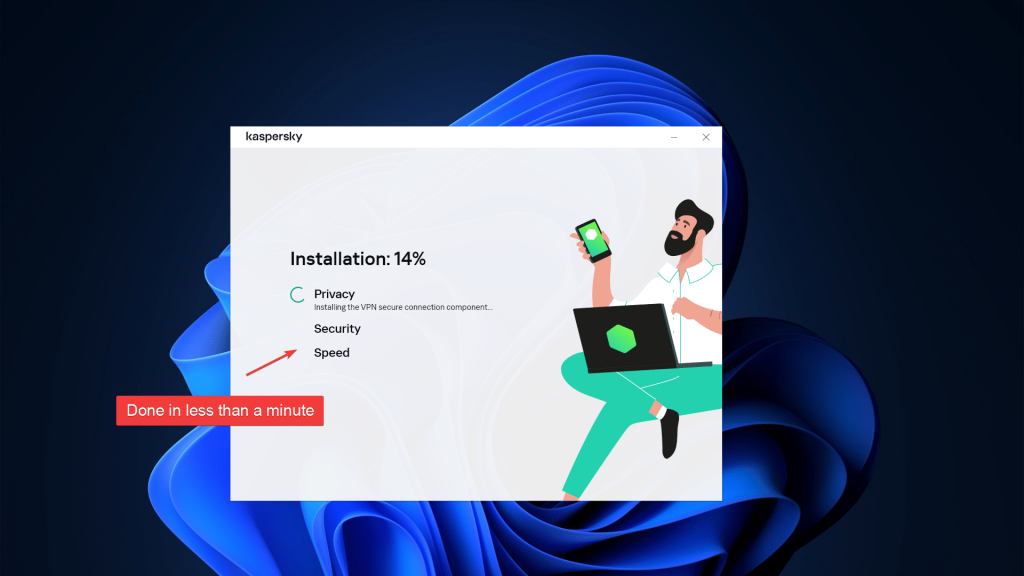 On the other hand, paid users can log in to their Kaspersky account on the website, download the paid version of the app, and install it. The process is streamlined, and users are automatically logged in to the app upon installation.
Prominent Features
Kaspersky Secure Connection is a basic VPN service. In comparison to other VPNs, especially top-rated ones, it falls short in most ways. Our Score: 5/10
Kaspersky Secure Connection has some essential features for a secure and reliable online experience. Unfortunately, while some of these features are useful, others may not be as effective as advertised. 
This service appears to be designed for consumers who have little to no experience with VPNs. However, this simplicity comes at the cost of advanced features that many users require. Furthermore, the company's website does not provide any in-depth information regarding the product. 
That said, here is what we were able to learn about Kaspersky VPN's features:
DNS Leak and IPv6 Protection – Kaspersky VPN protects your Internet traffic from DNS leaks and IPv6 vulnerabilities. DNS leak protection prevents your online activities from being exposed to third parties, while IPv6 protection safeguards you while visiting sites that use IPv6.
Advanced Encryption – Kaspersky uses 256-bit AES encryption and advanced protocols (WireGuard and Catapult Hydra) to secure your traffic. This potentially protects you from cyber criminals and prying eyes.
Kill Switch – The kill switch feature instantly cuts off all Internet traffic if your VPN connection drops, so your online activities remain private. This ideally prevents accidental data leaks.
Smart Protection – Smart Protection automatically secures your Internet traffic, regardless of the network you're on. Using intelligent algorithms, Smart Protection determines the best course of action to protect your online activities on public networks.
Split Tunneling – This feature partially routes your Internet traffic through the VPN server and leaves the rest to your regular connection. This is useful as it reduces latency and assigns VPN protection for specific online activities.
Unlimited Server Switches, Bandwidth, and Data – This means you can connect to any server in any location and enjoy unlimited data usage. This is extremely helpful for heavy Internet users who frequently stream and download large files.
Based on its basic feature set, Kaspersky VPN Secure Connection seems to be a reasonable option for novice users with minimal security requirements. However, more advanced users seeking customization and advanced features may need to explore alternative VPN solutions.
Server Count & Infrastructure
With 2,000+ servers on offer, Kaspersky Secure Connection has a decent-sized network. However, free users don't get to pick their server. Our Score: 6/10
When choosing a VPN, information about how many servers you'll have access to (and where they are based) is crucial. So, here's what you need to know about the server network Kaspersky VPN offers:
| | | |
| --- | --- | --- |
| | Paid | Free |
| Number of Servers | 2,000+ | 1 (automatically selected) |
| Number of Countries | 70+ | N/A |
| Specific Cities Selection | Yes (limited to a few countries) | No |
| Unlimited Switching | Yes | No |
Kaspersky's server network is a major drawback for users who are looking for well-spread options, considering it has no servers in Africa. With around 2,000+ servers for paid users, Kaspersky is clearly lagging behind other top VPN providers.
Moreover, the limited city selections, even for paid users, is a significant issue. The service is available in 70+ countries, but users may not have the flexibility to choose their preferred server location within those countries. 
The restricted number of servers available in Kaspersky VPN's free version leaves much to be desired, as users are limited to connecting to the server chosen by the app. This lack of flexibility could result in slower speeds and a less optimal connection for users who require specific server locations.
While the paid version of Kaspersky VPN offers unlimited server switches and a feature that selects the fastest location for better speeds, the service's limited server count and city options could be a deal breaker for most. 
With these restrictions, users may be better off considering other VPN services that are better suited to their needs.
UI/UX Design & Ease of Use
Kaspersky Secure Connection has a modern UI. We found it intuitively designed, which makes it pretty easy to use for both advanced and newbie users alike. Our Score: 8/10
The UI/UX design of Kaspersky VPN is user-friendly, making it easy for anyone to navigate through the app. Read on to learn what you can expect from the interface.
Home Screen – The home screen of Kaspersky VPN Secure Connection is designed to be simple and uncluttered. The app has a clean, unified look that's easy to understand, with Kaspersky's trademark teal and white woven throughout. 
On and Off Switch – The central panel shows a large toggle that activates the VPN with a single click. Once connected, a large green hexagon rotates lazily, which is almost soothing to watch.
Server List – Clicking the large VPN server button at the bottom of the screen opens up a list of available servers. A helpful search bar sits at the top, but the list is short enough to scan by eye. Note that you can only browse at the country level, and you cannot select specific servers in a particular region.
Current Version – This section has information on your current subscription and a direct link to the "Manage Your Subscription" section of the website. 
Useful to Know – Kaspersky VPN includes brochure-style slides that describe the major features of the service. It's a useful addition for users who want to quickly learn about its different functionalities.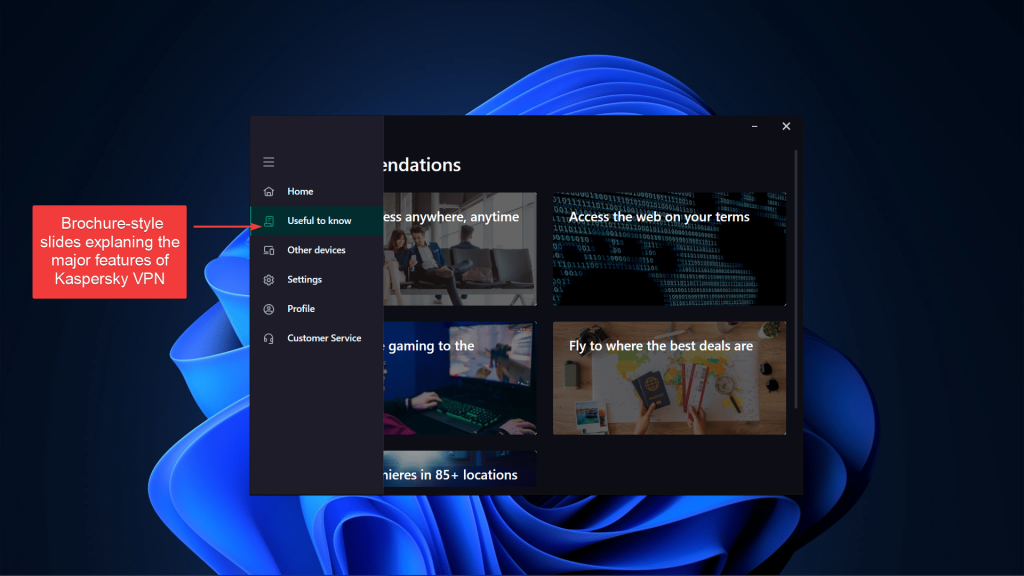 Other Devices – This section includes links to all the download pages of all the platforms where Kaspersky VPN is available. It also has a QR code that you can scan to download the app on your device.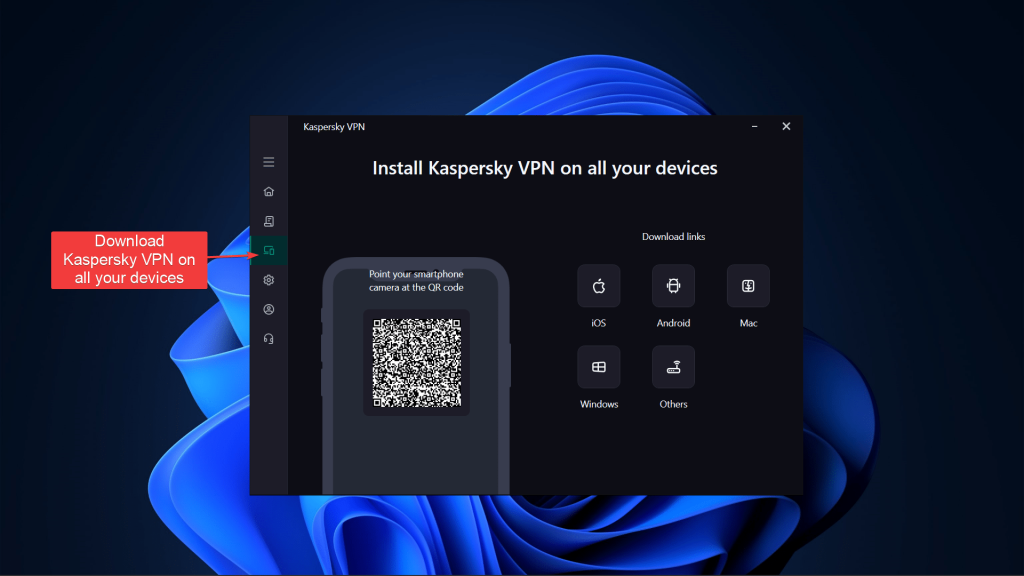 Settings – At the top-left of the home screen, you can find the Settings menu, which provides you with complete control over your VPN experience. From here, you can access various options such as running the application when the computer starts up, changing the application's theme, selecting protocols, and turning on the kill switch, split tunneling, and Smart Protection, as well as enabling notifications for each connection established or disconnected.
Profile – The Profile section of the home screen has information about your active subscription plan and the option to log out from the signed-in account.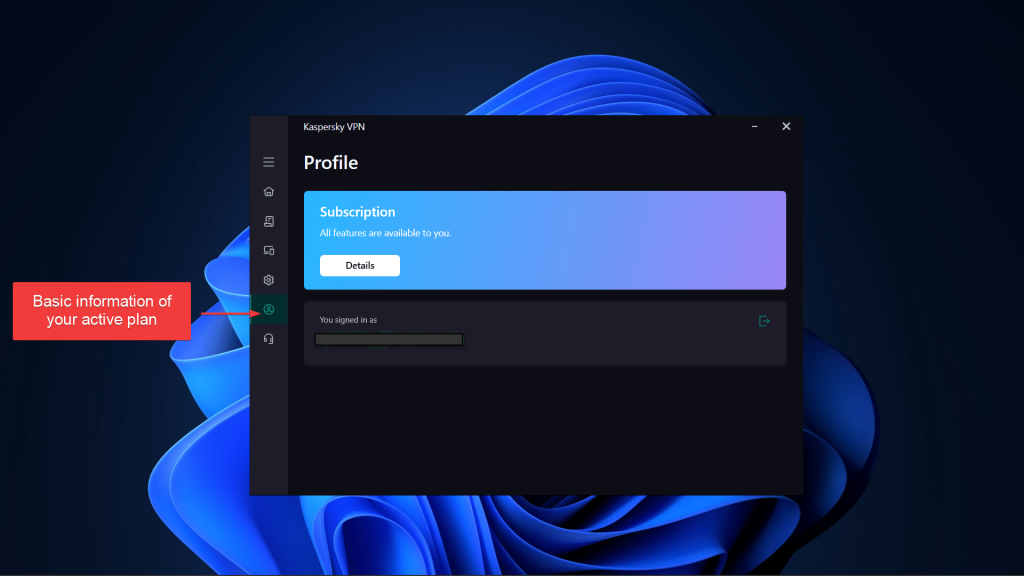 Customer Service – The Customer Service section of the VPN offers users easy access to various support resources such as configuration tips, forums, and support tools. In addition, there is an option to record a video of any issue that may arise and send it to customer care for prompt resolution. The section also contains essential information related to the user's license key, subscription, and device.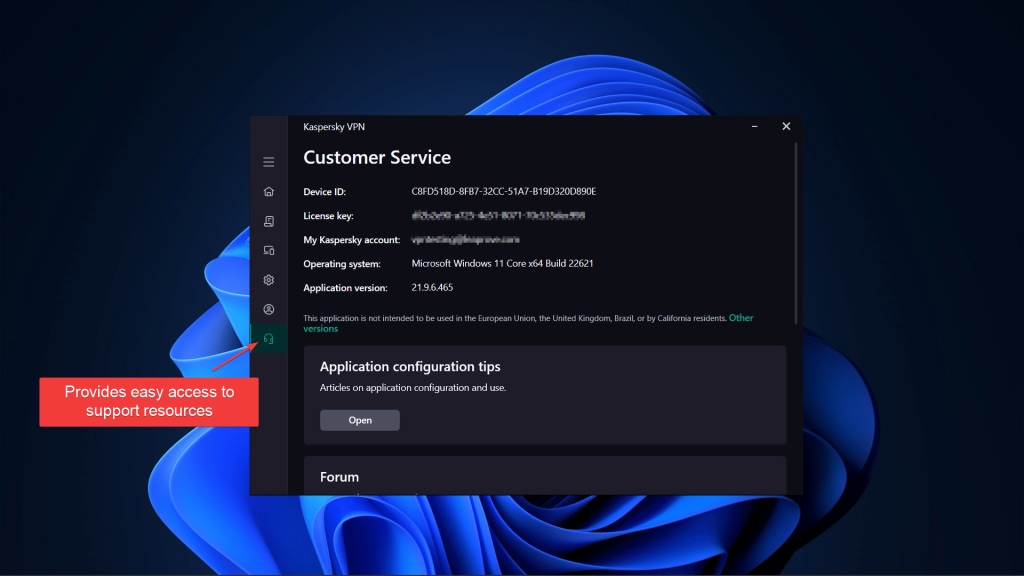 Kaspersky VPN's app interface is streamlined and simple to navigate even for VPN newbies. Keep in mind that free users are unable to make many changes to the app's settings. Despite this limitation, the free version of the app is suitable for basic tasks such as browsing and shopping securely. Overall, Kaspersky's design is one of its more positive attributes.
Media Streaming, Torrenting, and Gaming Support 
This VPN can unblock some popular media streaming services. It also supports P2P, but you must stay away from copyrighted files. Our Score: 5/10
When it comes to selecting a VPN service, one of the most important factors to consider is its ability to unblock popular streaming services and facilitate torrent downloads. Unfortunately, Kaspersky VPN falls short in both of these areas, which is a major letdown for users who rely on these features.
MEDIA STREAMING, TORRENTING, & GAMING SUPPORT
| | |
| --- | --- |
| Netflix US | Yes (only on some servers) |
| HBO Max | Yes |
| Hulu | No |
| BBC iPlayer | Yes (occasionally) |
| Amazon Prime Video | Yes |
| Disney Plus | No |
| Torrenting (P2P) | Yes |
| Gaming | Yes (nothing resource heavy) |
When it comes to streaming, Kaspersky Secure Connection has a mixed performance. While it can work well with some popular streaming platforms such as Amazon Prime Video and HBO Max, it fails to unblock Hulu entirely and only unblocks BBC iPlayer intermittently. Netflix US works on some of its servers, but most servers are useless in this context. This inconsistency is disappointing. 
Kaspersky VPN is P2P-friendly and has a built-in kill switch, which is vital for torrenting. Besides that, our testing showed no IP or DNS leaks, and the VPN recorded fast torrent download speeds. However, the service logs a considerable amount of activity and device data, which could potentially reveal a user's identity while torrenting. We recommend avoiding copyrighted content for this reason.
Kaspersky VPN's support for gaming is not explicitly mentioned on their website or in their documentation. However, based on its performance in streaming and torrenting, it's reasonable to assume that the service can handle some low-intensity online gaming.
Security & Privacy
Kaspersky VPN Secure Connection uses WireGuard and a unique protocol called Catapult Hydra, which can be very fast. Unfortunately, the provider collects plenty of information about your hardware and software. Our Score: 3/10
Privacy and security are top concerns for most VPN users. To accomplish this, VPNs rely on a variety of protocols and encryption methods to keep your identity safe and secure online. We assessed how well Kaspersky VPN actually performs in this regard.
Kaspersky VPN Protocols 
When it comes to VPN services, users rightfully expect a certain level of flexibility. Unfortunately, Kaspersky VPN falls short when it comes to protocol options.
| | | |
| --- | --- | --- |
| | WireGuard | Catapult Hydra |
| Windows | No | Yes |
| macOS | No | Yes |
| iOS | Yes | No |
| Android | Yes | No |
| Routers | No | No |
Catapult Hydra – Catapult Hydra is the fastest of the available two protocols, making it a good choice for long-distance data transfers. It also employs a strong and secure AES-256 encryption algorithm. We had no issues with the protocol, but some users have reported that it occasionally drops and slows down their connection. 
WireGuard – WireGuard is an open-source protocol that offers good data transfer speeds on low-power devices. It uses the ChaCha20-Poly1305 data encryption algorithm, which is strong and secure enough. That said, split tunneling is not available with this protocol option. We also noticed that the UDP protocol must not be blocked on your device in order for WireGuard to work correctly.
It's disappointing to see that the protocol selection functionality is only available on Windows. This is a clear limitation for users of other operating systems, who may feel frustrated and restricted by the lack of options available to them.
Furthermore, even for Windows users, the protocol selection process can be somewhat confusing. Kaspersky VPN doesn't do enough to explain the differences between the two available protocols or help users make an informed decision about which one to use.
Does Kaspersky VPN Keep Logs?
Yes, Kaspersky keeps logs. Kaspersky VPN's no-logging policy is inadequate, despite the company's claims of prioritizing privacy. Their privacy policy is hard to find on their website, and even when you locate it, it provides limited information.
Kaspersky collects an excessive amount of user data, including software information, unique IDs, license information, computer details, and geographic location. The company also gathers information about nearby WiFi networks and monitors traffic usage. Although some of this data may be useful to provide better service, it is unclear why Kaspersky needs to collect such a vast amount of information.
Their privacy policy also permits the collection of anonymous IP and DNS server addresses, which raises serious questions about the company's data collection practices. 
Users should exercise caution when using Kaspersky VPN and weigh the potential benefits against the risks of their data being logged and potentially shared with third parties.
Does Kaspersky VPN Leak/Expose Your Private Data?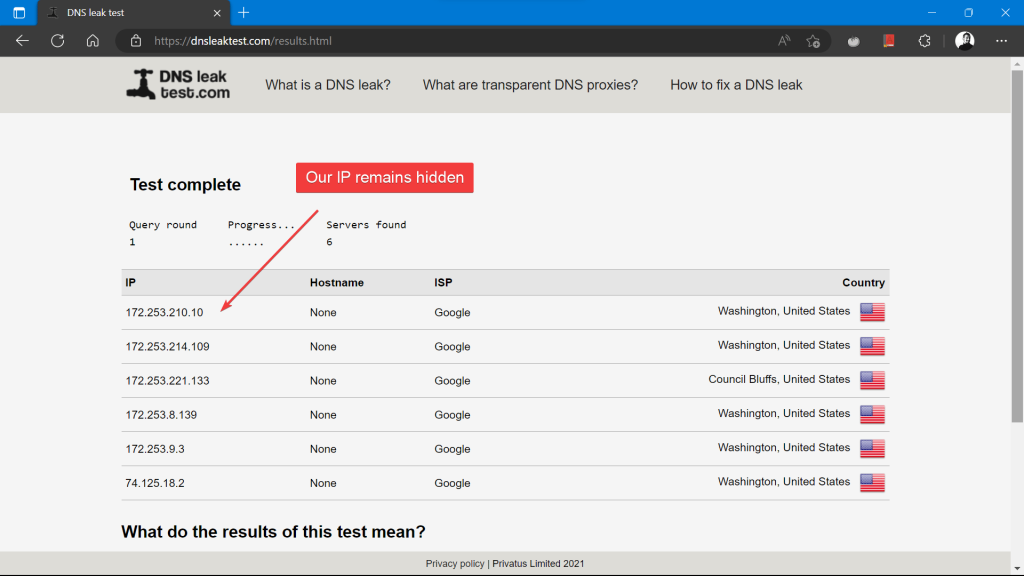 After conducting a thorough DNS leak test, it appears that Kaspersky VPN is successful in keeping your DNS-related information secure. 
Our testing found no evidence of DNS or WebRTC leaks, which is certainly a positive aspect of the service. It's important to keep in mind, however, that Kaspersky VPN does collect a significant amount of data about your device and online activity, as we discussed in our previous section. 
Speed & Performance
Kaspersky slowed us down by less than 5% on average if you don't take into account its US server's performance. Overall, you can expect good results on almost all servers around the globe. Our Score: 7/10
After running a test on our Internet connection to determine our baseline speed, we tested the download and upload speeds of Kaspersky VPN's servers across various countries. 
To calculate the speed reduction percentage for each server, we compared its speed to our baseline speed of 104.61 Mbps for download and 112.76 Mbps for upload. As VPNs typically employ encryption and security protocols, a decrease in both download and upload speeds is usually expected when the service is activated.
Here are the results of the rest of our server tests: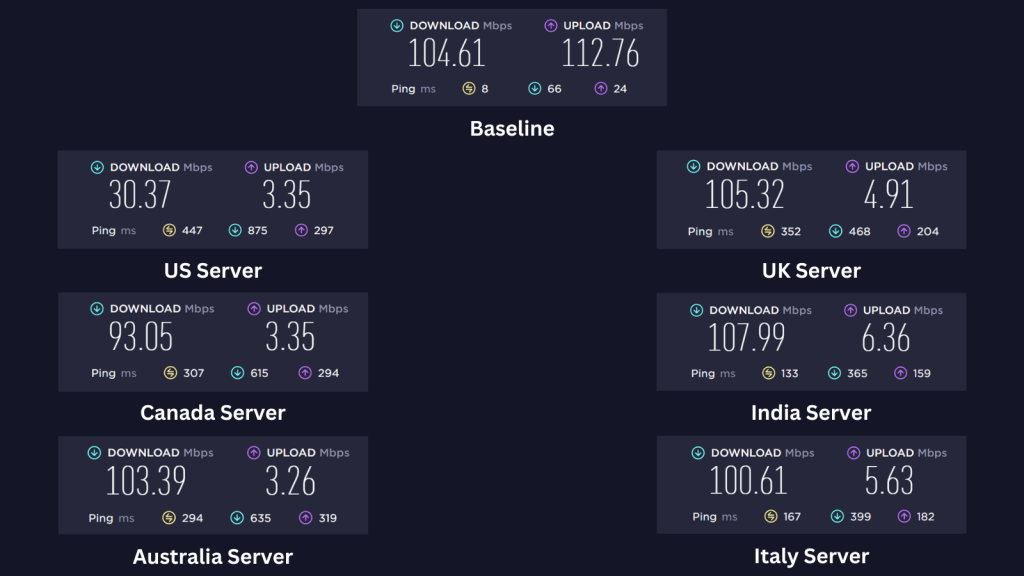 US Server – The US server had a significant reduction in download speed by 71%, bringing the speed down to 30.37 Mbps. The upload speed was also reduced by 97%. Overall, the US server's speed was not satisfactory.
UK Server – The UK server showed excellent performance with a download speed of 105.32 Mbps, which is actually faster than the baseline speed. However, the upload speed was reduced by 95.6%, bringing it down to 4.91 Mbps. The upload speed reduction is significant, but the download speed is quite impressive.
Canada Server – The Canadian server had a minor speed reduction of 11.1% on the download speed, bringing it down to 93.05 Mbps. The upload speed, however, was reduced by 97%. Although not as fast as the baseline speed, the Canada server's speed is still more than acceptable.
India Server – During our speed test, Kaspersky VPN's Indian server demonstrated impressive download speeds of 107.99 Mbps and upload speeds of 6.36 Mbps. The server performed flawlessly, with an increase in download speed instead of a decline, making it an excellent choice for users who require high-speed Internet for streaming. 
Australia Server – The Australian server showed a 1.2% reduction in speed, bringing it down to 103.39 Mbps. The upload speed was drastically reduced by 97%. Overall, the performance of the Australia server is very good.
Italy Server – The Italian server had a speed reduction of 3.8% in the download speed, bringing it down to 100.61 Mbps. The upload speed, on the other hand, was reduced by 95%. The performance was solid overall.
| | | | |
| --- | --- | --- | --- |
| | Download Speed | Upload Speed | Speed Reduction |
| Baseline | 104.61 Mbps | 112.76 Mbps | 0% |
| US | 30.37 Mbps | 3.35 Mbps | 71% |
| UK | 105.32 Mbps | 4.91 Mbps | 0% |
| Canada | 93.05 Mbps | 3.35 Mbps | 11.1% |
| India | 107.99 Mbps | 6.36 Mbps | 0% |
| Australia | 103.39 Mbps | 3.26 Mbps | 1.2% |
| Italy | 100.61 Mbps | 5.63 Mbps | 3.8% |
The download speeds achieved on Kaspersky VPN's international servers are truly remarkable, surpassing even some of the top VPNs. This impressive performance can be attributed to its lightning-fast Hydra protocol, which is provided by Hotspot Shield. That said, its declines in upload speed are abysmal, so it might be ineffective for activities that require uploading large amounts of data, such as gaming, if you don't start with a super strong upload connection. This is why we could not score it any higher than a 7 for this criterion.
Customer Support
There are numerous ways to get help and have your questions answered. However, this experience can easily be overwhelming for average home users. Our Score: 8/10
When it comes to customer support, Kaspersky has one unified support suite for all its products. You can easily filter the information based on the product you are using and what kind of help you want. Overall, it gives you enough options to pick from at your convenience.
Here's what you can expect from their customer support channels:
Live Chat – While testing the live chat feature, we did have to go through multiple screens, completing two forms to specify our device and product information and accept their terms and conditions to get hold of someone. Once we got past the initial steps, it took about 6 minutes to get connected to a real person. That said, the representative was helpful and able to answer all the questions we had. There were reasonably long pauses between her responses, but the answers were helpful. 
Knowledgebase – Kaspersky offers a comprehensive knowledgebase section that includes a wide range of articles and resources to help users troubleshoot common issues. It's easy to navigate and includes step-by-step instructions so you can solve problems on your own.
Email – Kaspersky offers email support for users who prefer to communicate with support staff directly. While it may not be as immediate as live chat or phone support, email support is still a useful option for users who have more complex issues or questions.
FAQs – Kaspersky has an extensive FAQ section on its website that covers a wide range of topics related to the service. This is a useful resource for users who have questions about how the VPN works, as well as for those who are new to VPNs in general.
Forums – Kaspersky provides a platform for communication and knowledge sharing between experts and users through their forums. While the company does not guarantee that all requests published on the website will be resolved, the forums can still be a great resource for users who want to connect with other VPN users and seek advice from community experts.
Overall, Kaspersky VPN's customer support channels are impressive, with remote assistance and quick response times for chat support. They provide users a wide range of resources and support options to help them get the most out of the service.
Pricing
Kaspersky's VPN service seems reasonably priced based on the features and performance it offers. Our Score: 7/10
Kaspersky VPN offers both free and paid variables of their service. The free version has limited features, while the paid plans have more to offer. Pricing varies depending on the subscription duration, but Kaspersky does provide a 30-day money-back guarantee on all its products. If you are not happy, you can request a refund.

Let's explore the details of the paid plans.
How Much Is Kaspersky VPN?
Kaspersky VPN offers two subscription terms for users:
1-Month Plan – For users who prefer to pay on a monthly basis, Kaspersky offers a 1-month plan for a price of $4.99. While this plan doesn't offer any savings in terms of the total cost, it does provide flexibility for those who may not want to commit to a longer-term subscription.
1-Year Plan – For users who want to save money in the long run, Kaspersky VPN offers a 1-year plan for a price of $29.99, which equates to a monthly cost of $2.50. This represents a significant 50% savings compared to the 1-month plan. The 1-year plan is an excellent option for users who plan to use the VPN service for an extended period.
Overall, Kaspersky VPN provides affordable pricing options that are sure to appeal to a wide range of users.
Is Kaspersky VPN Free?
Yes, Kaspersky offers a free plan. However, Kaspersky VPN's free version may not be suitable for many users as it only allows a daily usage limit of 200 MB, which is not enough for any significant online activity. Although the free data allowance can be increased to 300MB per day, it requires a My Kaspersky account, and 100 MB extra isn't going to do much.

The free plan from this VPN service falls short in several areas. Users are unable to select a server of their choice as it is automatically assigned. The absence of a sign-up requirement for the free account means that it can be used on multiple devices, but this advantage is nullified by the severe data limit. 
Free users also cannot use split tunneling, the kill switch, or the Smart Protection feature. Furthermore, they can't adjust any of the settings in the app, so they are essentially limited to turning the VPN on and off.
Final Thoughts – Is Kaspersky VPN Good?
Based on recent testing results, it appears that Kaspersky Secure Connection may not be a reliable VPN service. Although it can unblock some popular streaming platforms, there are concerns that cannot be ignored.
One major issue is that the VPN logs user data and is subject to Russian censorship laws. This is a significant cause for concern, particularly for users who value their privacy. Furthermore, Kasperksy's protocol selection and advanced security features are pretty lackluster. 
Given these detractors, there are other VPNs available at a similar price point that offer a safer experience than this provider. That said if you want to try Kaspersky VPN Secure Connection, its 30-day money-back guarantee will allow you to get a refund if you decide it's not for you.
PROS
Suitable for complete beginners
Excellent download speeds
Unblocks Prime and HBO Max
Advanced encryption with Catapult Hydra 
Modern, easy-to-use apps
Efficient kill switch
No IP or DNS leaks
CONS
Supports 5 devices per subscription
Banned on U.S. government devices
Excessive logging
Based in Russia
Very few security settings
No Firestick application 
No native router support
FAQ
Does Kaspersky Have a VPN?
Yes, Kaspersky has a VPN service called Kaspersky VPN Secure Connection. It is available for Windows, macOS, iOS, and Android devices. 
What Is Kaspersky VPN?
Kaspersky VPN, also known as Kaspersky Secure Connection, is a virtual private network service offered by the Russian cybersecurity company Kaspersky Lab. It is designed to provide online privacy and security by encrypting users' Internet traffic and masking their IP addresses.
Is Kaspersky VPN Safe?
No, Kaspersky is not a safe VPN. While Kaspersky VPN claims to be secure, there are concerns about its logging policy. Additionally, the company's headquarters are located in Russia, which has raised questions about government surveillance and censorship.
Does Kaspersky VPN Allow Torrenting?
Yes, Kaspersky VPN allows torrenting on some servers, but not all. Additionally, the VPN service does not promote or condone illegal file-sharing activities, and it advises its users to use the VPN service for legal purposes only.
Does Kaspersky Total Security Include Their VPN?
Yes, Kaspersky Total Security includes Kaspersky VPN. Kaspersky Total Security is a comprehensive security suite that includes a range of products such as antivirus, firewall, parental control, and VPN software. 
In case you liked this review, we'd like to ask you to share it on the Web. And to stay on top of the latest VPN-related coverage, don't forget to follow us on Facebook and Twitter. Thanks!