Psychological thrillers have an uncanny ability to tug at the emotional strings of fans, delving into the depths of the human psyche and exploring themes like fear, paranoia, and mental manipulation. It's this captivating combination that draws people in, igniting their fascination with the intricate workings of the mind. The Crowded Room, a gripping limited series inspired by the true story chronicled in Daniel Keyes' acclaimed 1981 non-fiction novel, The Minds of Billy Milligan, is poised to captivate audiences with its exploration of trauma, redemption, and self-discovery. As fans of psychological thrillers eagerly await its release, the anticipation surrounding this show is palpable, promising an unforgettable journey into the darkest corners of the human experience.
In The Crowded Room, viewers will be immersed in a spellbinding narrative that unravels the enigmatic tale of Danny Sullivan, brilliantly portrayed by the talented Tom Holland. The story takes root in the backdrop of 1979 New York City, where Danny is arrested after his involvement in a shooting, even though he has no recollection of the event. Danny's life story is told through a series of interrogations with the curious Rya Goodwin, portrayed by Amanda Seyfried. With each revelation, the story intensifies, blending tension and raw emotion as Danny grapples with his fragmented memories and confronts the past that has shaped his existence. As Danny revisits the moments that defined him, he uncovers a life-altering revelation.
This thrilling series has been brought to life through a collaboration between Apple Studios and New Regency. The creative force behind this remarkable production is Akiva Goldsman, renowned for his Academy Award-winning work on "A Beautiful Mind." Joining Goldsman is an exceptional production team, including director Kornél Mundruczó and a lineup of esteemed executive producers such as Tom Holland, Alexandra Milchan, Arnon Milchan, Yariv Milchan, and Michael Schaefer. The first season's talented writing team comprises Akiva Goldsman, Henrietta Ashworth, Jessica Ashworth, Suzanne Heathcote, Cortney Norris, and Gregory Lessans.
Whether you're a fan of psychological thrillers or intrigued by the enigmatic workings of the human mind, The Crowded Room promises an extraordinary viewing experience. As you eagerly await the series release, we've got you covered with everything you need to know. Discover the release date and where you can watch this thrilling show from anywhere, ensuring an uninterrupted viewing experience. So, prepare your popcorn, cozy up by the heater, and get ready to immerse yourself in the captivating world of The Crowded Room.
When and Where to Watch The Crowded Room
The Crowded Room will make its highly anticipated debut on June 9, 2023, Friday, on Apple TV Plus. This thrilling 10-episode series will kick off with three episodes, and from there, a new episode will be released every Friday until July 28. Don't worry if you're not a current Apple TV Plus subscriber because you can stream The Crowded Room on Apple TV Plus with a 7-day free trial, ensuring that you don't miss a single suspenseful moment of this captivating series.
How to Watch The Crowded Room for Free on Apple TV Plus
You can stream The Crowded Room on Apple TV Plus after subscribing. Available in over 100 countries and territories, including the US, UK, Canada, Australia, New Zealand, and India, Apple TV Plus can be accessed on more than 1 billion screens.
To join, you'll need to sign up for an Apple TV Plus membership, which costs $4.99 / £4.99 / CAD 5.99 / AUD 7.99 per month. The subscription comes with a generous 7-day free trial, giving you the opportunity to explore the platform and decide if it's worth the investment. 
Other than the subscription options, there are various ways to watch "The Crowded Room" for free through Apple promotions. For example, for a limited time, individuals who purchase and activate a new iPhone, iPad, Apple TV, Mac, or iPod touch can enjoy a generous 3-month free trial of Apple TV Plus. Another option is Apple One, which provides a 30-day free trial of Apple TV Plus.
Watch now on the Apple TV app with an Apple TV+ subscription. Watch offline. Ad-free and on demand. New Originals every month. Up to six family members.
Apple TV Plus offers a wide range of content, including Apple Original movies, gripping dramas, hilarious comedies, and thought-provoking documentaries. Some notable titles on the platform include the Oscar-winning film CODA, Roar, Make or Break, Extrapolations, Slow Horses, City on Fire, High Desert, Reluctant Traveler, and Tetris, among many others. With such a diverse selection, there's something to enjoy for everyone. It's also compatible with various devices such as iPhones, iPads, Apple TVs, Macs, smart TVs (Samsung, LG, Sony, VIZIO, TCL, and others), Roku and Amazon Fire TV devices, Chromecast with Google TV, PlayStation and Xbox gaming consoles, and more.
Access Apple TV+ from Abroad
While Apple TV Plus is widely available in many countries, geo-restrictions can sometimes limit access to certain content when you are abroad. However, there's a simple solution to this problem. You can use a reliable VPN to unblock Apple TV Plus. Simply launch the VPN on your device and connect to a server located in a region where geo-blocks are disabled. This will give you an IP address from that region and make it appear that you are accessing the internet from within that country. Once connected to the VPN, you can then load the Apple TV Plus streaming platform and enjoy The Crowded Room and other content without any restrictions.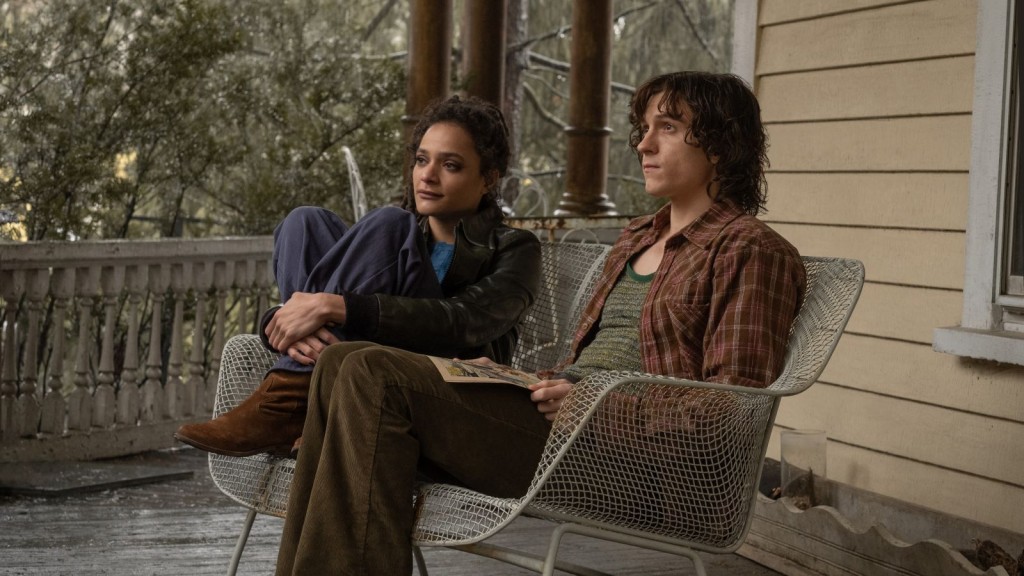 The Crowded Room Cast
Tom Holland as Danny Sullivan
Zachary Golinger as Young Danny Sullivan
Amanda Seyfried as Rya Goodwin
Emmy Rossum as Candy Sullivan
Will Chase as Marlin Reid
Sasha Lane as Ariana
Christopher Abbott as Stan Camisa
Emma Laird as Isabel
Jason Isaacs as Jack Lamb
Lior Raz as Yitzak Safdie
Thomas Sadoski as Matty Dunn
Sam Vartholomeos as Mike
Levon Hawke as Jonny
Laila Robins as Susie
Henry Eikenberry as Doug
Henry Zaga as Philip
The Crowded Room Trailer