Scott Z. Burns, a filmmaker and screenwriter, isn't known for sci-fi, yet he has an incredible ability to predict the future. Contagion, Burns' 2011 film, projected the COVID-19 pandemic. Before that, he worked as a producer on Al Gore's 2006 climate change documentary, An Inconvenient Truth. The new climate change series, Extrapolations, is arriving soon.
Extrapolations is a fascinating drama series that explores the future of climate change from multiple perspectives, with each episode skipping forward a few years to observe how things develop through time. Extrapolations' eight linked episodes, set between 2037 and 2070, include essential topics like species extinction, geo-engineering, and corporate ecocide. Characters played by Meryl Streep, Kit Harington, Sienna Miller, Daveed Diggs, Edward Norton, and other A-list celebrities struggle to manage the aftermath as glaciers collapse, cities are swamped, and forests burn.
Extrapolations avoids some of the clichés of future-set shows: Autonomous helicopters exist, as do holographic monitors and wearable cellphones, but there are no flying vehicles or other futuristic technology in the early episodes, making the show's authenticity more straightforward to accept. 
The series received much attention because of its massive star-studded ensemble, which will appear in various episodes throughout the season. We bet you are excited, too! Do you want to know how to watch Extrapolations online from anywhere? Keep reading and learn more about the series and its release date. 
When and Where to Watch Extrapolations 
On Friday, March 17, 2023, the anthology drama aired exclusively on Apple TV+, and you will even be able to watch Extrapolations for free online on Apple TV Plus with a 7-day free trial. 
The series will have a special release of the first three episodes, followed by a weekly release of the remaining episodes on Fridays. The program will consist of eight episodes, each lasting 60 minutes.
Coming up next: Extrapolations Episode 8: 2070: Ecocide, on April 21, 2023.
How to Watch Extrapolations for Free on Apple TV Plus
Since this is an Apple TV Plus original title, you may watch Extrapolations on Apple TV+. You may do so by subscribing to the platform's service. The app and website are currently available across over 100 countries and territories. They operate on over one billion screens, including in the United States, United Kingdom, Canada, Australia, New Zealand, Europe, and India.
The membership charge for Apple's streaming video service is USD 4.99 / £4.99 / CAD 5.99 / AUD 7.99 per month, but the best thing is that you may stream Extrapolations for free by getting the benefit of the 7-day free trial on Apple TV Plus that is offered to new subscribers.
Watch now on the Apple TV app with an Apple TV+ subscription. Watch offline. Ad-free and on demand. New Originals every month. Up to six family members.
You can also watch the series for free through various Apple promotions, including a limited-time deal that provides a generous 3-month free trial of Apple TV Plus to individuals who purchase and activate a new iPhone, iPad, Apple TV, Mac, or iPod touch. Apple One provides a 30-day free trial of Apple TV Plus.
Many Apple Original movies, as well as drama, comedy, and documentary programs, are available on the Apple TV Plus streaming platform, including the Oscar-winning CODA, Roar, Make or Break, Slow Horses, Tehran, Servant, Reluctant Traveler, and Dickinson, among many others. It also works with iPhones, iPads, Apple TVs, Macs, smart TVs (Samsung, LG, Sony, VIZIO, TCL, and others), Roku and Amazon Fire TV devices, Chromecast with Google TV, PlayStation and Xbox gaming consoles, and other devices.
Access Apple TV+ from Abroad
Apple TV Plus, like all other streaming platforms, is geo-restricted; therefore, you may need to use a reliable VPN to unblock Apple TV Plus if you are unable to watch this title when abroad. Just launch the VPN in the background using a server from a region where geo-blocks are disabled before loading the streaming platform.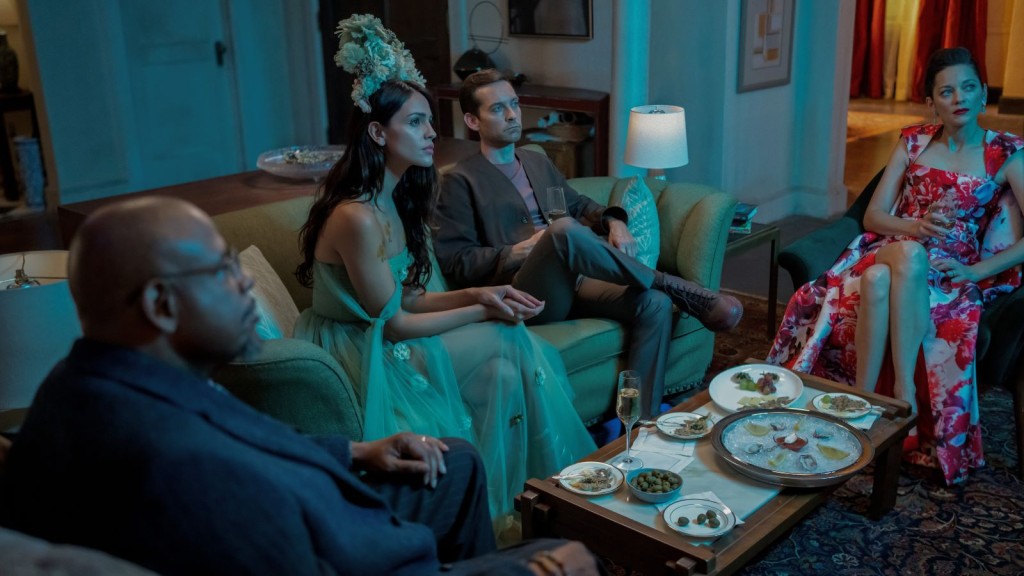 Extrapolations Cast 
Yara Shahidi as Carmen Jalilo
Kit Harington as Nicholas Bilton
Daveed Diggs as Marshall Zucker
Matthew Rhys as Junior
Heather Graham as Hannah
Sienna Miller as Rebecca Shearer
Tahar Rahim as Omar Haddad
Meryl Streep as Eve Shearer
David Schwimmer as Harris Goldblatt
Neska Rose as Alana Goldblatt
Judd Hirsch as David Goldblatt
Cherry Jones as President Elizabeth Burdick
Edward Norton as Jonathan Chopin
Michael Gandolfini as Rowan Chopin
Indira Varma as Gita Mishra
Diane Lane as Martha Russel
Adarsh Gourav as Gaurav
Gaz Choudhry as Neel
Keri Russell as Olivia Drew
Gemma Chan as Natasha Alper
Marion Cotillard as Sylvie Bolo
Forest Whitaker as Augustin Bolo
Hari Nef as Anna
Eiza González as Elodie
Tobey Maguire as Nicolas
Ben Harper as Tyrone Downs
Murray Bartlett as Ariel Turner
MaameYaa Boafo as Lucy Adobo
Extrapolations Episode Guide
Season 1 Episode 1: 2037: A Raven Story (Mar 17, 2023) - As nations fight over Earth's fate, Rebecca, Marshall and Junior all see their plans go up in smoke.
Season 1 Episode 2: 2046: Whale Fall (Mar 17, 2023) - Rebecca, a marine biologist, strives to connect with a humpback whale (voiced by Meryl Streep) before it's too late.
Season 1 Episode 3: 2047: The Fifth Question (Mar 17, 2023) - As Miami's waters rise, Rabbi Zucker gets an intriguing offer from the father (David Schwimmer) of a young woman preparing for her bat mitzvah.
Season 1 Episode 4: 2059: Face of God (Mar 24, 2023) - Jonathan suspects his ex-wife's latest invention —a pilotless, solar-powered plane— isn't what it seems.
Season 1 Episode 5: 2059 Part II: Nightbirds (Mar 31, 2023) - In Mumbai, small-time criminal Gaurav and his unexpected companion Neel must complete a high-stakes mission.
Season 1 Episode 6: 2066: Lola (Apr 7, 2023) - Natasha, a single mom in London, braves the world of artificial companionship, until she rents a partner she can't forget.
Season 1 Episode 7: 2068: The Going-Away Party (Apr 14, 2023) - Auggie (Forest Whitaker) and Sylvie (Marion Cotillard) throw an intimate New Year's Eve party where he makes a surprise announcement.
Season 1 Episode 8: 2070: Ecocide (Apr 21, 2023) - Nicholas Bilton is on trial for crimes against the planet, but will the new Alpha CEO save him — and the world?
Extrapolations Trailer