If you're interested in fuboTV and are wondering whether it has a free trial, you're right to do so. Almost all of the live TV and streaming platforms nowadays have free trials on offer to attract new customers and let them test the services before deciding to make a payment. This is one of the most popular streaming services on the market right now when it comes to sports fans since it has tons of sports networks included. So if you're interested in details regarding the fubo TV free trial, you're in the right place.
Before moving on, we should mention that since the fuboTV live TV and streaming platform is geo-restricted, you can subscribe, use it, or take advantage of any of its offers only while you are within the United States borders.
Does fuboTV Have a Free Trial?
Yes, at the moment, fuboTV does have a free trial. The streaming platform has three main plans, and all of them start with a free trial, so read on to find out more.
fuboTV Starter plan free trial
fuboTV Pro plan free trial
fuboTV Elite plan with fubo Extra and News Extra add-ons free trial
You can also create a fuboTV account and enjoy a free trial through a third-party bill if you:
are a Comcast customer with an Xfinity Flex or an eligible X1 device.
have an existing Roku account and a supported Roku device.
have an existing Amazon account and a supported Amazon device.
have an existing iTunes account and a supported Apple TV or iOS mobile device.
How Long Is the fuboTV Free Trial?
At the moment, there are three plans that can be tested prior to paying on fuboTV, and they all offer a 1-week free trial that you can take advantage of quite easily as long as you are a new customer.
How to Get a fuboTV 7-Day Free Trial?
This platform heavily advertises their free trial, so it's pretty easy to get one. Here's a step-by-step guide on how to get a fuboTV free trial. However, we should mention that only new customers benefit from this offer.
1. Start by going to the fuboTV website and using the Start Free Trial button to begin creating your new account.
2. Next, fill in your email, a new password, and ZIP code and use the orange Continue button to move to the next step.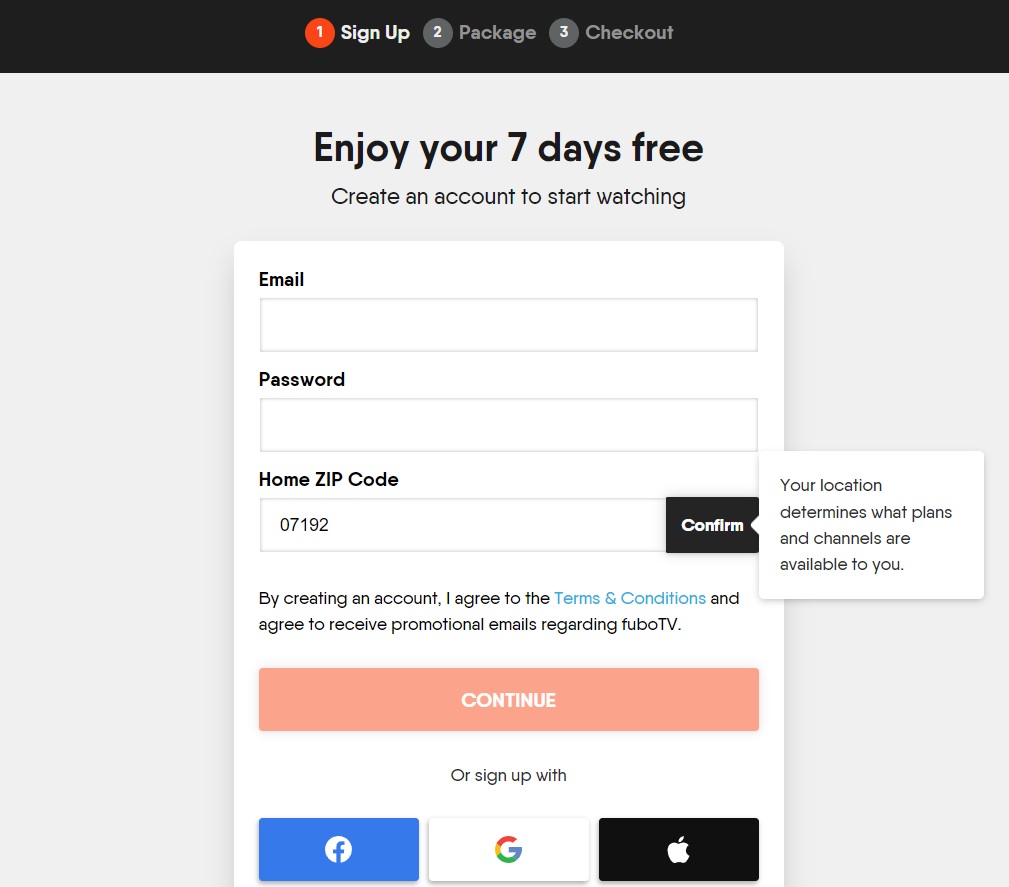 3. Now, you will have to select the desired plan, so pick the one you'd like to keep after the trial ends and click the Start Free Trial button.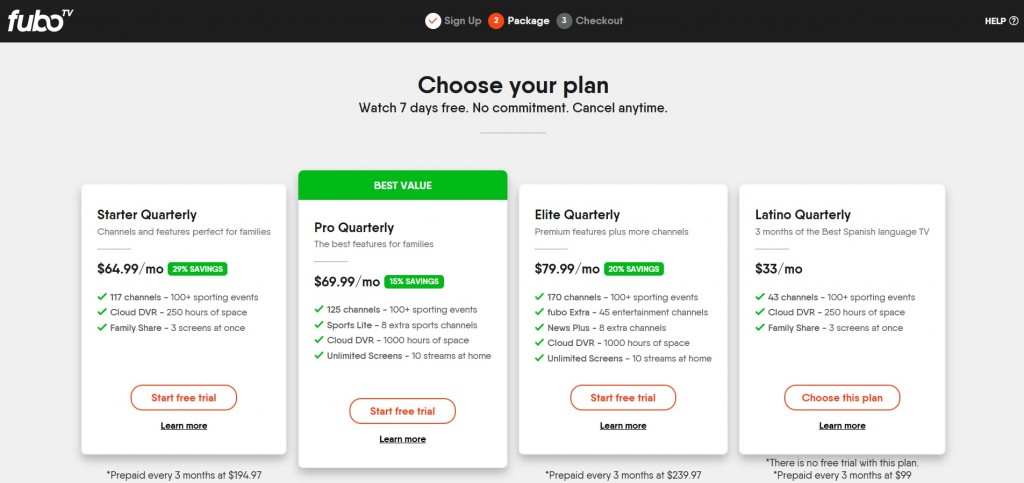 4. Finally, enter your credit card information to complete your purchase and use the orange Submit button to finish the process.
5. Now, you can access fuboTV on all your compatible devices for free for seven days.
Is fuboTV Free on Roku?
You can get fuboTV free on Roku for seven days. Use your Roku.com account to sign up for your free trial to fuboTV. Just download and install the fuboTV app onto your Roku. When you open fuboTV, you'll see a button that says "Start free trial." Select "Start free trial" and follow the steps to create your account.
Does fuboTV have a 30 Day Free Trial?
Yes, you can get a 30 Day fuboTV Pro Free Trial when you purchase select products on Best Buy. If you are planning to buy Smart TVs or Streaming Media Players, then you can use this deal to enjoy fuboTV for free after you make the purchase.
Does fuboTV have a 14 Day Free Trial?
No, fuboTV doesn't offer a 14 Day Free Trial regularly. But it offers a 2-week trial for new subscribers for a limited time maybe during the holiday season. At the time of writing, there is no 14 Day Free Trial on offer.
What Does the fuboTV Free Trial Offer?
The fuboTV free trial offers everything the selected plan has available, with no limitations to what you can access or the included perks. This way, you can truly test the plan you chose on streaming service and see if you whether you like it. This live TV and streaming platform gives you live, and on-demand access to top shows like This Is Us, The Simpsons, The Walking Dead, The Bachelor, Shark Tank, Keeping Up with the Kardashians, House Hunters, Saturday Night Live, Chopped, Family Guy, Atlanta, The Masked Singer, American Horror Story, Billions, Shameless, Ray Donovan, but also live soccer leagues such as LaLiga, Premier League, UEFA Champions League, Serie A, and many others.
This means the fuboTV free trial offers 117 channels and three screens for the Starter plan and 117 channels and unlimited screens with 10 at home for the Pro plan. However, if you go for the fuboTV Elite plan free trial, you will get 170 channels and unlimited screens with 10 at home, and you will also have a couple of channel add-ons included - fubo Extra and News Plus.
Of course, other things that normally cost extra, such as extra channel add-ons, feature upgrades, or premium add-ons such as STARZ, EPIX, Showtime, or AMC Premiere, are not included - and therefore, they cannot be tested for free.
What Channels Come With the fuboTV Free Trial?
The Starter plan and Pro plan have fewer, but the Elite plan has a lot of channels. Here are some of the networks you will enjoy during the fuboTV free trial across the available plans. Keep in mind that regional channels may vary according to the ZIP code you use.
A&E
ACC Network
Adult Swim
AMC
Animal Planet
BBC America
beIn Sports (and also beIn Sports 4, 5, 6, 7, 8, La Liga)
BET
Big Ten Network
Bravo
CBSN
Cheddar News
CMT
Comedy Central
Curiosity
Discovery
Disney Channel
Eleven Sports
ESPN
ESPN2
ESPN3
Fox Soccer Plus
Fox Deportes
Fuse
FYI
Galavision
Hallmark Channel
Hallmark Drama
Hallmark Movies & Mysteries
HGTV
Lifetime
Lifetime Movies
MSG, MSG+
MSG2, MSG2+
MTV
NBCSN+
NFL Network
Nick Jr.
Nickelodeon
Oxygen
Pac-12
Paramount Network
SEC Network
Telexitos
The Weather Channel
TV Land
UniMás
Univision
Univision Deportes
VH1
Viceland
WLNY 1055
Read More: FuboTV Channel List
Can You Get a fuboTV Free Trial Without a Credit Card?
In order to sign up for a free trial on fuboTV, you must provide a credit or debit card. This is the only option available when it comes to selecting a future payment method. So no, you cannot get a fuboTV free trial without a credit card.
But keep in mind that you can cancel at any time. Moreover, you also get a notification from the streaming platform when the trial ends in order to cancel before being charged if decide you don't want the subscription.
Will the fuboTV Free Trial Automatically Renew Into a Subscription?
Yes, the fuboTV free trial automatically renews into a subscription, as it happens with most live TV and streaming platforms. Most of the time, the point of asking for payment details upon subscribing for a free trial with a service is to make the transition to a paid subscription seamlessly after the free period comes to an end.
It means that at the end of the trial period, your subscription will automatically convert to a paid subscription unless you cancel before that happens. This is why you should pay attention to the plan you choose when you decide to start the free trial because it is the one you will become subscribed to once the trial ends. The card entered will be charged for your first quarter of fuboTV, and you will pay the corresponding subscription fee.
To find out how much fuboTV costs after the free trial, read below.
How Much Does fuboTV Cost After the Free Trial?
After you subscribe to one of the fuboTV streaming platform's free trial plans and the period ends, you will pay the price shown for the plan you picked upon subscribing. As you saw in the images provided above, the platform shows the monthly cost of a plan that's paid on a quarterly basis.
This means you will pay the following amounts:
if you selected the Starter plan, you will be charged the quarterly $194.97 total ($64.99 per month for three months).
If you went for the Pro plan, your card will be charged $209.97 for the next quarter ($69.99 per month for three months).
If you went for the Elite plan, $239.97 for the following quarter ($79.99 per month for three months).
To these totals, a Regional Sports Fee is added, and that's $5 per month for three months, totaling another $15 per quarter added to your selected plan.
They used to have monthly plans, but now they introduced quarterly plans for some reason.
Read More: fuboTV Packages & Prices
How to Cancel the fuboTV Free Trial?
Of course, if you feel like fuboTV isn't what you were looking for, you're free to end the trial at any time to avoid being charged while you're still enjoying it. To cancel, log in to your fuboTV account and follow the instructions. Here is how to cancel the fuboTV free trial:
Go to fubo.tv.
Select your Profile.
Click the Current Profile next to the Search box.
Select My Account.
View the remaining days of your trial under Account Details.
Tap on the Cancel Subscription button.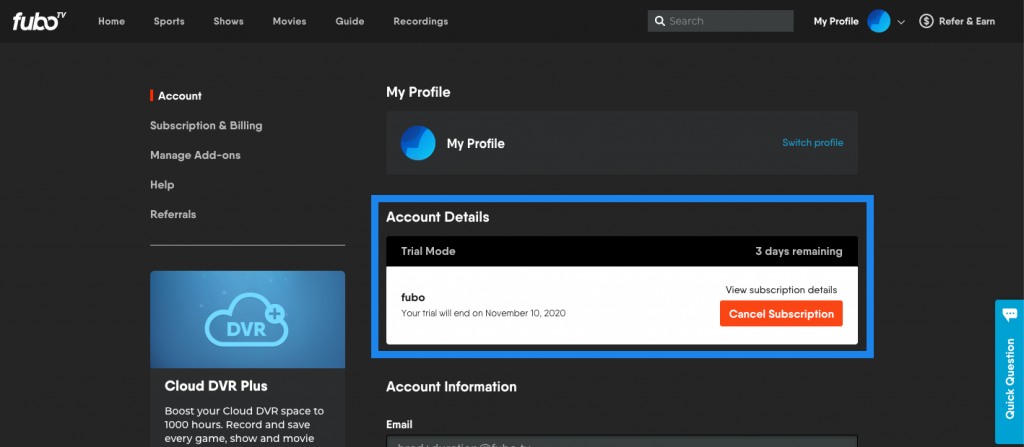 The service will also send you a reminder email when you have one day left in your trial, so you will know when you will start being charged for the subscription. Keep in mind that if the subscription is canceled while still in your free trial period, your trial will expire immediately, and you will not be able to receive the remaining days of your trial.