Whether you're in it for the fighter, the theatrics or the show overall, WWE has it all. Now, if you're as eager as we are to watch WWE online, we know just how you can get this done.
The World Wrestling Entertainment Inc has suffered many name changes over the years, but it's settled on WWE for a while now, so we hope it's here to stay because it's quite catchy. Now, the company has several brands that you're surely familiar with, such as Raw, SmackDown, WrestleMania, or NXT, to name a very few. The broadcasting rights are divided among several channels, but we'll discuss that in a minute.
Where to Watch WWE?
Well, there are multiple ways you can watch WWE events, as broadcasting rights have gone to USA and E!. Monday Night Raw, for instance, as well as SmackDown, are broadcast by USA channel, while E! is the home for a show that's more on the entertainment side - Total Divas. As a side note, Starting with October 2019, SmackDown is transferring over to Fox Sports, so keep an eye on that move.
Another way is to go directly to the WWE Network, a platform that also offers live streaming, but we'll get to that one in a minute.
How to Watch WWE Online?
Thankfully, the channels that have broadcasting rights for WWE also feature live streams online and are featured on streaming services too. This means you have plenty of options to watch online. If you still have a cable contract, you can use your credentials to log into the live streams of the aforementioned channels. If you want to cut the cord, however, you have a whole new set of options.
Streaming Services
Streaming services such as the ones we're going to present you have loads of channels and basically offer what cable contracts do, but with a lot more freedom. Basically, you can watch whatever you want, wherever you may be, as long as you have a way to connect to the Internet and a compatible device.
1. WWE Network
The first method to watch WWE online we need to mention is straight through WWE Network. The platform is operated by WWE and streams thousands of on-demand videos, while also allowing you to watch pay-per-view events at no additional costs live.
The platform works on a wide range of devices, including PS3, PS4, Xbox 360, Xbox One, Amazon Kindle Fire, Android smartphones and tablets, iOS smartphones and tablets, Windows devices, Smart TVs (LG, Panasonic, Samsung, Sony), as well as various digital media players like Amazon Fire TV, Android TV, Apple TV, Chromecast, Roku, TiVo, Samsung Blu-Ray Player, and Sony Blu-Ray Player. It's literally available on every platform.
Access to WWE Network costs $9.99 per month, plus taxes, so it's not an exorbitant sum. Plus, you get a full free month to test it out and see if it's the right platform for you before getting charged.
2. fuboTV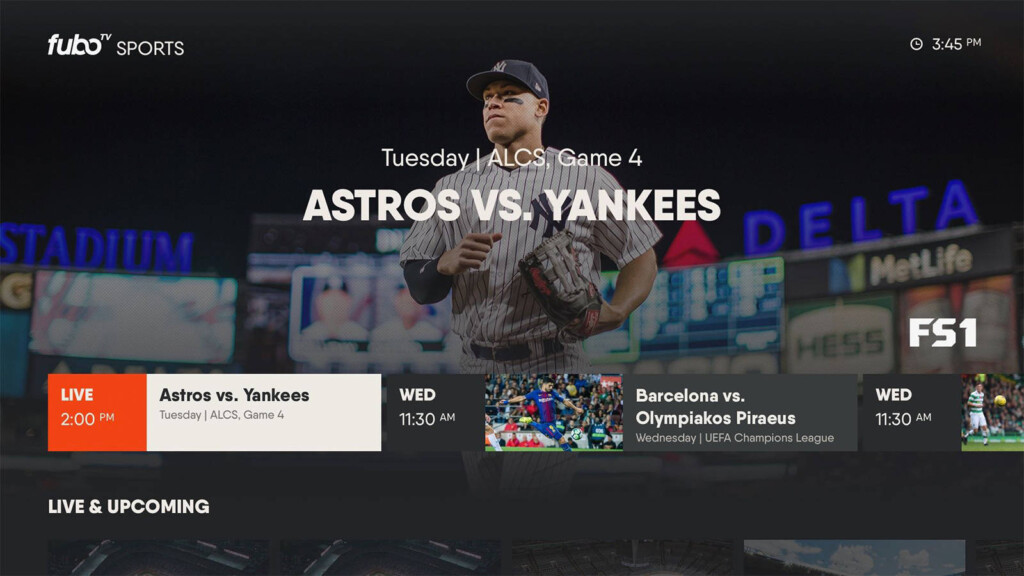 Now we're moving into the realm of over-the-top platforms that feature dozens of channels, so we're kicking it off with fuboTV. The platform features four starter bundles you can choose from - fubo ($44.99/mo, $39.99 for the first month), fubo Extra ($49.99/mo, $44.99 for the first month), fubo Latino ($24.99/mo), and fubo Portugues ($19.99/mo). You can then add even more sports channels grouped in various packs, depending on your interests.
On fuboTV you'll find that both USA and E! are present in fubo and fubo Extra bundles, so you can pick whichever one you like best.
fuboTV users get to record up to 30 hours of video the cloud DVR. In case there's a need for more, there's an option you can choose that costs $9.99 per month and gets you 500 hours of space. The service also supports two simultaneous streams, but the Family Share feature costs $5.99 per month and gets you to access to a third simultaneous stream. Check out our fuboTV review for more info.
3. Sling TV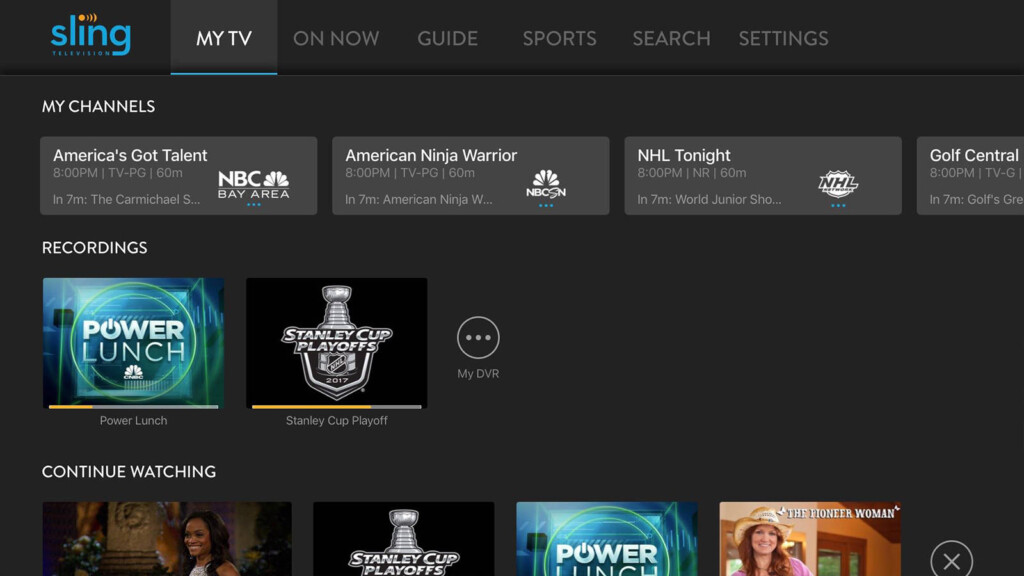 Up next, we have Sling TV - a great platform that enables people to deeply customize their platform. You start off by choosing one of three bundles - Orange ($25/mo), Blue ($25/mo) and Orange + Blue ($40/mo), and then adding up channel packs based on where your interests lie, as well as premium networks.
If you're looking for a way to watch WWE online, then Sling TV offers you USA network in the Blue and Orange + Blue bundles. Plus, E! can be found in the Lifestyle Pack that goes with the Blue and Orange + Blue bundles at a cost of $5 per month.
Sling TV subscribers have to pay $5 per month to get access to 50 hours-worth of cloud DVR space, as there's none available with their subscriptions. When it comes to streaming to multiple devices at the same time, Sling TV offers a single stream to Orange subscribers, three to Blue subscribers and four to Orange + Blue subscribers. Of course, since you mainly need the Blue bundle to watch the WWE-broadcasting channels, you're good to go. Try out our Sling TV review to find out more about the service.
4. Hulu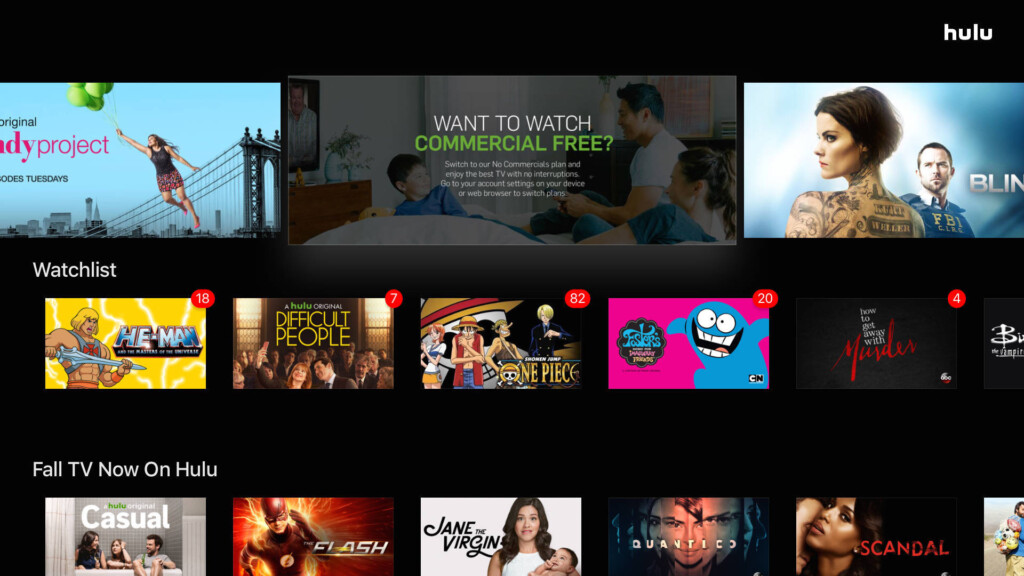 Now, we reach Hulu. This one's a name that's more often associated with the video-on-demand service it offers than live TV, but it's an option nonetheless. In fact, the $39.99 per month live TV plan also includes access to the VOD library. This is absolutely fabulous news because you can find loads of WWE shows in there. If you want to customize your service, you can add a couple of extra channel packs or premium networks.
Hulu's list of channels is pretty long and features loads of great ones, including USA Network and E!, so you're good to go to watch wrestling.
The platform offers all users 50 hours of cloud DVR space, with the possibility to expand to 200 hours for $14.99 per month. Then, if you need more than two simultaneous streams, you can add the "Unlimited Screens" feature, which costs $14.99 per month. The "unlimited" part, however, only works if you're on the Home network. Otherwise, when you're away, you can only watch on three screens at the same time. You can find out more by reading our Hulu review.
5. YouTube TV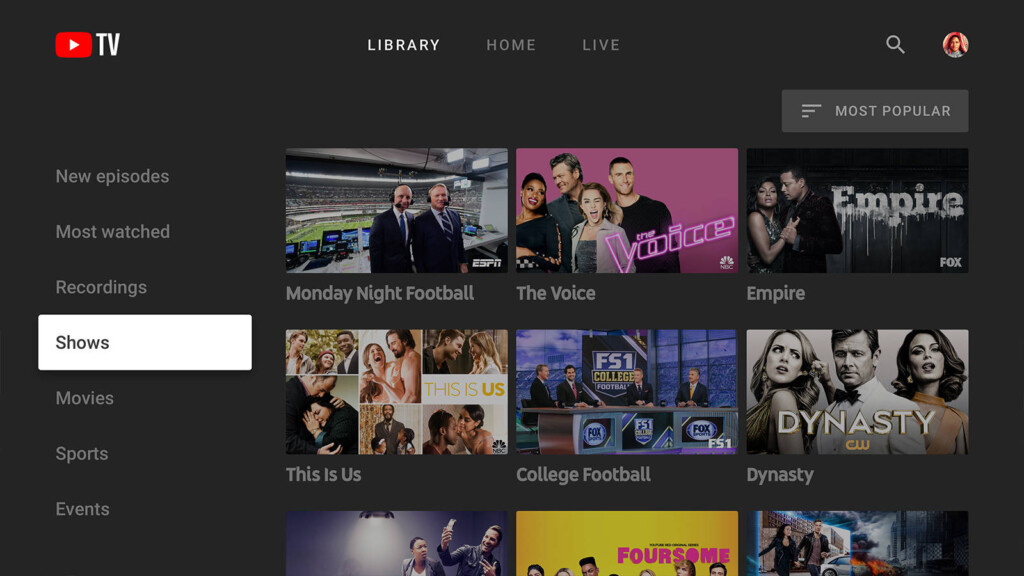 Another great option is YouTube TV, the platform that's backed by Internet giant Alphabet Inc. The service only offers one bundle of channels at the cost of $40 per month. The only way to customize your service is by picking out premium networks.
On YouTube TV, you've got quite a few options to watch whatever you want, including wrestling, as USA Network and E! are present in there.
If you want to make sure you get to watch the fight you missed, YouTube TV can record it for you. In fact, it can record anything you want because there's no limit on how many hours or how many programs you can save to the cloud. The platform further allows users to watch content on three different devices at once, at no additional cost. Check out TechNadu's YouTube TV review.
6. DirecTV Now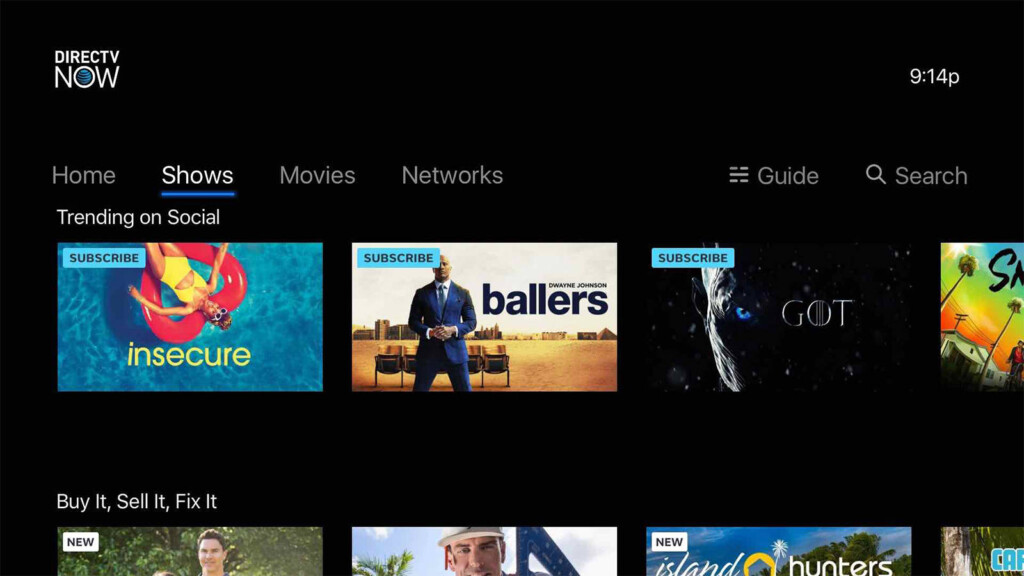 DirecTV Now is a solid option if you're looking for a platform that will allow you to deeply customize the service. There are five bundles you can select from here - Live a Little ($40/mo), Just Right ($55/mo), Go Big ($65/mo), Gotta Have It ($75/mo), and Todo y Mas ($45/mo) - as well as several extra channel packs, international bundles, and premium networks you can enjoy.
On DirecTV Now, you'll find that the channels you need to watch WWE on are available quite easily, in each and every one of the available bundles, including Todo y Mas which features a large chunk of Spanish-language channels.
Subscribers of DirecTV Now can enjoy 20 hours of cloud DVR space for no additional cost. The bad news is that there's no way to upgrade, so you're kind of stuck with that number. You can also watch content on two devices at once, but adding a third one is possible for $5 per month. Read our DirecTV Now review for all the details.
7. PlayStation Vue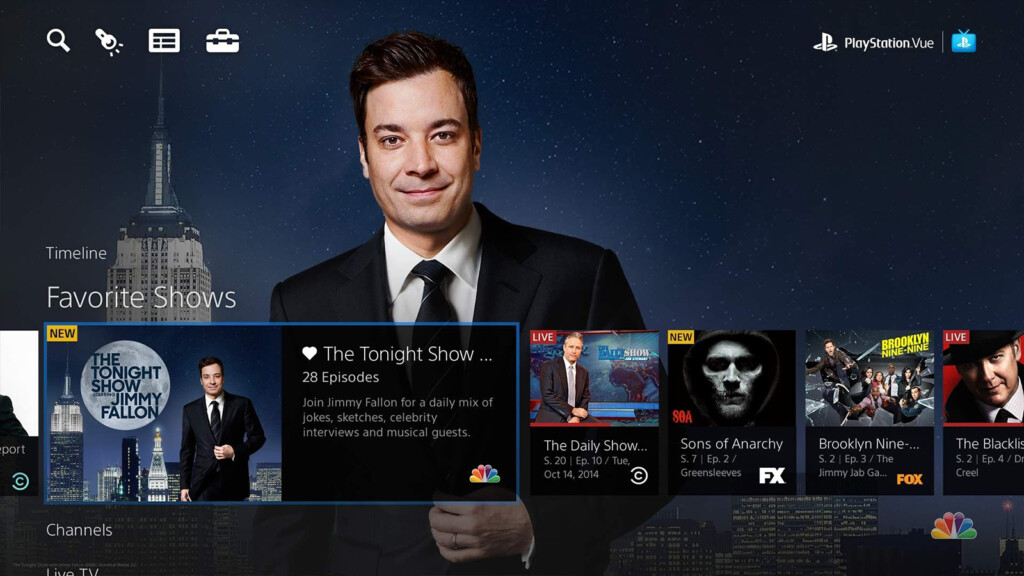 Finally, we have the platform that managed to get the highest score while we reviewed them all. First, there are four bundles you can select here - Access ($44.99/mo), Core ($49.99/mo), Elite ($59.99/mo), and Ultra ($79.99/mo). Then, you can add a couple of channel packs, as well as several premium networks.
PlayStation Vue features the USA and E! channels you need to watch wrestling on all four bundles, so you're all set if you want to enjoy the next event.
Now, let's discuss some of the perks that led to PlayStation Vue getting the largest score. First, the cloud DVR feature has a limit of 500 programs, which is more than you'll probably get to record since the videos only get to stick around for a month. Then, you can watch content on five devices at the same time, which is more than we've seen elsewhere, especially for free. Another feature we must mention is the Split Screen, which allows people to watch three programs at once on the same screen. Give our PlayStation Vue review a read.
How to Watch WWE Without Cable from Anywhere?
The platforms we discussed have a lot of cool perks, but one thing they can't do is allow you to watch content when you're outside of the United States. That happens due to licensing deals, so this has become a rather common problem. Nonetheless, there are solutions to any issue, including this one - VPNs.
What Are VPNs and How to Use Them?
VPN stands for Virtual Private Network and they're tools that can spoof your IP address to make it seem as if you're still in the United States, instead of whatever corner of the world you're traveling to. This is possible because the VPN uses encryption to hide your real IP address, routes your Internet connection through its own servers, and then assigns you a new IP address to match the physical location of the selected server. If you don't already have a VPN on your device, then you should really consider getting ExpressVPN, which is one of the best tools of this kind that we tested.
The first step you need to take to watch WWE wherever you may be is to get a VPN and install it. Once that's done you have to make sure to sign into your account. This means that you should always use premium tools because those "free VPNs" are too good to be true, meaning that they're often a risk to people's privacy and security.
Then, you have to pick a US-based server and connect to it. The process only takes a few seconds and the app will inform you when it is complete.
Go ahead and load the streaming service you selected and search for the channel that's broadcasting the fight.
Enjoy!
Final Thoughts
WWE is a great way to have some fun in the evenings, so we hope we've been of some help in finding you a new way to watch the fights online.
We can't wait to hear what platform you ended up picking in the comments section below. Please share the article online if you have the time and follow TechNadu on Facebook and Twitter.