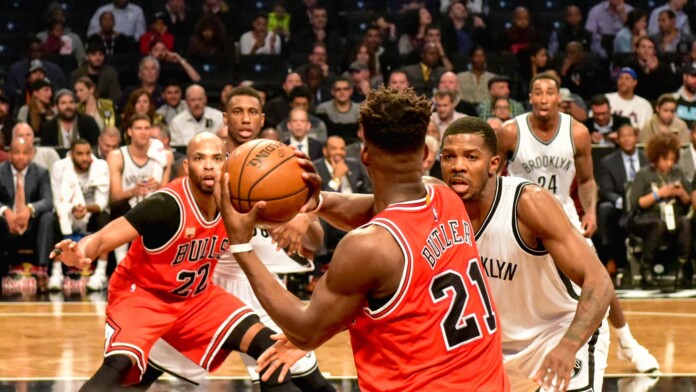 The NBA season is kicking off this fall and we can't wait to watch through next summer and see who wins this time around.
The National Basketball Association was created back in 1946, although it had a different name back then. The NBA is considered to be the main men's professional basketball league in the world. Nowadays, there are 30 teams in the league and they battle it out from October through June, Finals included.
The most recent champions are the Toronto Raptors, who actually won their first title in the summer of 2019. The best part about this is that they're actually the only Canadian team in the league since the rest are from the United States. The team with the most titles, however, remains the Boston Celtics, which has taken home 17 titles.
The NBA regular season starts on 22 October 2019 and lasts through 15 April 2020. Then, the playoffs start on April 18th and last through May or June 2020. The finals are scheduled for June 2020, although the date is unclear at this point.
What's the NBA Schedule?
The NBA schedule is pretty lengthy and full of games we're sure you'll want to watch. The NBA season kicks off with two games during the inaugural day on October 22 as you'll get to watch the New Orleans Pelicans vs. the Toronto Raptors starting at 8 PM ET, and the Los Angeles Lakers vs. LA Clippers starting at 10:30 PM ET. Both games are broadcast by TNT.
There are a ton of games almost every day and not all of them are televised. We advise you to check out the NBA official schedule to see who's playing against whom and whether or not the game is televised and by which channel. We're liking you to the full schedule so you can check them all out. You can even filter out so you only check the games of your favorite team or only those broadcast by a certain channel.
Who Has the NBA Broadcasting Rights?
The NBA season is broadcast by four channels – ABC, TNT, ESPN, and NBA TV. The games are split as follows:
ESPN broadcasts doubleheaders on Wednesday and Friday nights
TNT broadcasts doubleheaders on Thursdays and Tuesday nights.
ABC takes on a single game on Saturday night and Sunday afternoon in the second half of the season.
NBA TV broadcasts games almost every night.
Additionally, the playoffs first and second rounds are split between TNT, ESPN, NBA TV, and ABC on the weekends, while the conference finals are broadcast by ESPN and TNT. The NBA Finals are broadcast by ABC.
There are also the regional sports networks that broadcast games locally, via smaller networks that pertain to certain locations. For instance, the Altitude Sports will be covering for the Denver team, AT&T SportsNet for Houston, while Fox Sports RSNs for Atlanta, Brooklyn, Phoenix, New Orleans, Miami, and more. NBC Sports RSNs also cover for a bunch of teams, along with MSG, Spectrum Sports, Sportsnet, and TSN.
How Can I Live Stream the NBA Games?
Watching NBA games without cable is super easy to do nowadays, especially since there are so many live TV platforms you can enjoy them through. The best part is that you get to watch your game from whatever corner of the country you may be in, even if that's at work, or on the bus home. One of the best ways to watch this NBA season is with Sling TV. Start your Sling TV subscription by saving 40% off your first month! On Sling TV you'll find most of the channels you need for the NBA. TNT is present in all three bundles that Sling has – Orange, Blue, and Orange + Blue -, while ESPN only makes it in two of these bundles – Orange and Orange + Blue. NBA TV is present in the Sports Extra, which costs $10 per month.
Sling TV no longer features ABC, but they do have an offer for you – they'll give you a free digital TV antenna if you pre-pay for two months of service. You can then use the antenna to watch the local ABC channel. Sling TV also offers an NBA Team Pass ($17.99/mo) and NBA League Pass ($28.99/mo) so you can watch out of market regular-season games or all your favorite team's games. These are not broadcast by the regular channels.
We also must mention that the choice you make in the base bundle will influence the number of devices you can watch content on. Sling Orange only brings subscribers one stream, but Sling Blue comes with three simultaneous streams. With Orange + Blue, subscribers can watch content on up to four devices at once. Sling TV works on Apple TV, Roku, Amazon Fire TV, Chromecast, Android TV, AirTV Player, Xiaomi, LG, or Samsung Smart TVs, iOS, Android, Xbox, Fire Tablets, as well as browsers. (Note: Sling TV only works in the United States so you're going to need to use a VPN if you want to access it while traveling outside of the United States. Click here to learn how to do this.)
Here's how you can start your Sling TV subscription and watch the NBA season:
First, you have to visit the Sling TV website and tap the big "Get 40% Off" button in the middle of the screen. The offer applies for the first month of subscription only.
Then, you have to provide your email address and set up a password for your account.
Next, you'll get redirected to the first step of your subscription process which involves picking the bundle you're going to go with. We suggest you go with Orange + Blue because you get all the channels and a ton of perks.
Then, you have to add your extra channel packs and you must not forget to choose the Sports Extra there so you can also watch NBA TV.
Next, you get to choose the premium networks and a la carte channels, such as Showtime, Epix, and more.
You can also get an NBA League Pass or an NBA Team Pass here, so choose one of these if you want.
There's also the option of Spanish or International packs next.
The last step involves setting up payment details by providing your card information.
Other Ways to Watch the NBA Season
Hulu – Hulu is also a good option. The live TV side of the business involves a single bundle of channels that includes access to ABC, TNT, and ESPN, but no NBA TV. The subscription price covers access to the video-on-demand library here. Start your Hulu 7-day trial!
fuboTV – Another great platform, especially for sports lovers, is fuboTV, which features a single bundle of channels and a ton of channel packs and premium networks. You'll find TNT and the NBA TV in the main bundle, but ABC and ESPN are missing. fuboTV also allows you to add an NBA League Pass for $28.99 per month. Start your 7-day trial on fuboTV now!
PlayStation Vue – We can also discuss PlayStation Vue, which is a great platform that offers all subscribers access to enough cloud DVR storage space for 500 programs and 5 simultaneous streams. There are four bundles here – Access, Core, Elite, and Ultra -, which ABC, TNT, and ESPN are all part of. NBA TV is missing from the Access bundle, but present in the rest.
How Can I Get an NBA League or Team Pass?
The NBA League Pass and the NBA Team Pass can help you keep up with all the games, even those that are not broadcast by regular channels – ABC, TNT, ESPN, and NBA TV. These are going to cost you quite a bit, but we'll tell you all the ways you can get these.
NBA – You can get NBA League Pass from NBA directly and pay $39.99 per month for the Premium version that comes with no ads, or $28.99 per month for the regular version. You can also get an NBA Team Pass for $17.99 per month.
fuboTV – On fuboTV, you can add an NBA League Pass to your subscription for $28.99 per month.
Sling TV – We're obviously going to mention Sling TV too, although we discussed this at length just earlier. The NBA Team Pass costs $17.99 per month, while the NBA League Pass costs $28.99 per month.
Amazon Prime – You can't get the channels we discussed on Amazon Prime, but you can get an NBA League Pass through the service. This will cost you an additional $28.99 per month or $199 per year, on top of the Prime subscription.
YouTube TV – You can also add NBA League Pass on YouTube TV, but it will cost you $40 per month. This one, however, comes with no ads, so it's the equivalent of the Premium league pass.
How Can I Watch NBA Games Outside of the United States?
Streaming services and Live TV platforms are all super great because they help you watch a ton of content online, but when it comes to traveling outside of the country, they can't help you much. Licensing deals they have signed prevent companies from allowing broadcasts to take place outside of the US so everyone without a US IP gets blocked. Thankfully, a VPN can help change your IP address in under a minute. We only recommend the very best on TechNadu, so try out ExpressVPN, which has thousands of servers across the world and tight security and privacy features to help protect your data.
Here's what you need to do to watch NBA games when outside of the US:
First, you have to subscribe to ExpressVPN (49% OFF) after visiting the VPN's website and following the few steps to complete an account. They offer a 30-day money-back guarantee so you can ask for a refund if you don't like the service for any reason.
Next, you have to download and install the app on your device. Follow up by launching the tool and logging into your account.
Choose one of the servers that are located in the United States and connect to it. This should only take a minute.
As soon as the connection has been established, you can load the Sling TV platform to enjoy watching the NBA games starting this October.
How to Watch the NBA Season if You're in the UK, Australia, or Canada
Over in Canada, you can watch NBA games on TSN, RDS, Sportsnet, or NBA TV Canada.
In the UK, NBA broadcasting rights belong to Sky Sports.
If you live in Australia, you can watch NBA games on ESPN and SBS Viceland.
How to Bypass the NBA Blackouts?
One super annoying thing about watching sports is that numerous games are blacked out. What these means is that due to your location you may be unable to watch your favorite teams since the local TV stations, including RSNs, aren't allowed to broadcast some games in order to push people to buy tickets so they can watch live. The problem can be overcome rather easily with the help of a VPN. Once more, we recommend ExpressVPN.
Here's how you can bypass blackout restrictions with ExpressVPN:
First, you have to set up an ExpressVPN (49% OFF) account if you haven't already. Download, install and launch the app.
Once you're logged into your account you have to choose a server. This is where the magic happens – choose a server that's in a city that's very far away from you, preferably the other end of the country.
When the connection is established, you can go ahead and load Sling TV and you'll get the local channels that are available in the area where the chosen server is.
Find out more about blackout restrictions from this article!
Can I Watch NBA on TV Network Websites?
Well, yes, that is possible, but you're going to need to use TV provider credentials to log into an account. Basically, you'll have to prove to these channels that you're paying for a subscription somewhere that includes their network. ABC, TNT, ESPN, and NBA TV all provide this service, so you'll just have to log into your account to watch. It is, of course, much more convenient to just use a live TV service that gathers them all together and even lets you record the game to watch later.
Can I Watch NBA with a TV Antenna?
There are four channels that broadcast NBA games nationally and out of the whole lot, only ABC is a channel that still broadcasts over the air. There are also a bunch of local channels that will broadcast the games, and some of them will also be available over the air. TV antennas are quite popular among cord-cutters because they are cheap to buy and they provide access to dozens of channels for free.
Before you make any actual purchases, we invite you to visit a site such as NoCable which can tell you more about the channels that are available over the air in your location and exactly how far the stations are from you, so you can figure out what range you need your device to have. We've already given you a bunch of suggestions, which are devices that have great reviews, but you can do your own research if you'd rather have even more options.
We'd love to hear back from you, so please drop us a note in the comments section below the article. Share the article with friends and family and follow TechNadu on Facebook and Twitter for more tech news, guides, reviews, and interviews.