Are you using OpenELEC on Raspberry Pi, a Linux-based system to stream or browse? If yes, you need to use a VPN to keep your web connection secure. CyberGhost VPN provides the best online security, and it's convenient to use. But if you're signing up for the first time, you may require proper guidance. That's why we've prepared a step-by-step guide on how to use CyberGhost VPN for OpenELEC on Raspberry Pi. Have a look. 
The below steps are applicable for OpenELEC 6. It doesn't include OpenVPN. So, you need to install it manually. If you're using OpenELEC 5 or 7, click here to know the installation method.
1. First, click here to visit the CyberGhost VPN subscription page.
2. Next, hit the Get CyberGhost VPN button and choose your preferred subscription plan on the next page.
3. Now, fill in the required details and complete your purchase.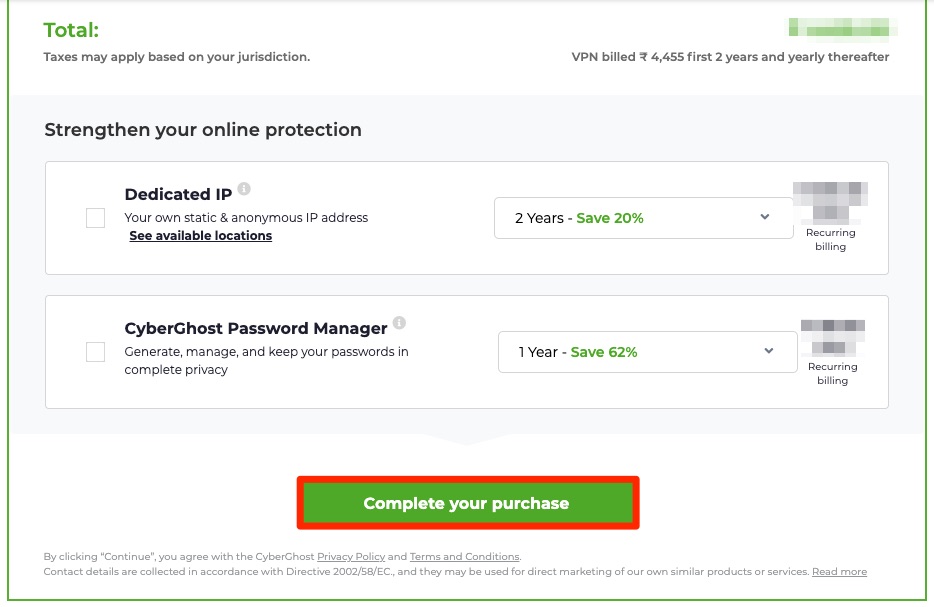 4. You'll receive a confirmation email next. 
5. Now, visit CyberGhost official website and click My Account from the top-right corner.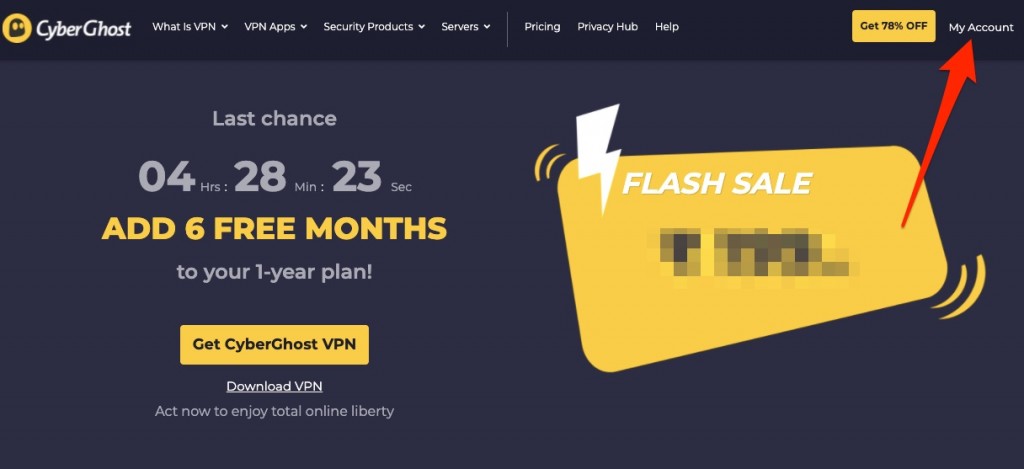 6. Enter your Username and Password on the next screen and hit the Log in button. 
7. Once you access your account dashboard, move to Routers or other devices and hit the Configure button. 
8. Next, fill in the details as mentioned below:
PROTOCOL- OpenVPN
COUNTRY- Your preferred location. 
SERVER GROUP- OpenVPN via UDP or TCP.
DEVICE NAME- Enter OpenELEC OpenVPN.
EXTRA FEATURES- Tick off the boxes.
9. When done, hit the Save Configuration button. 
10. You'll be redirected to the Manage Devices page now, find Router or other devices and click the View button.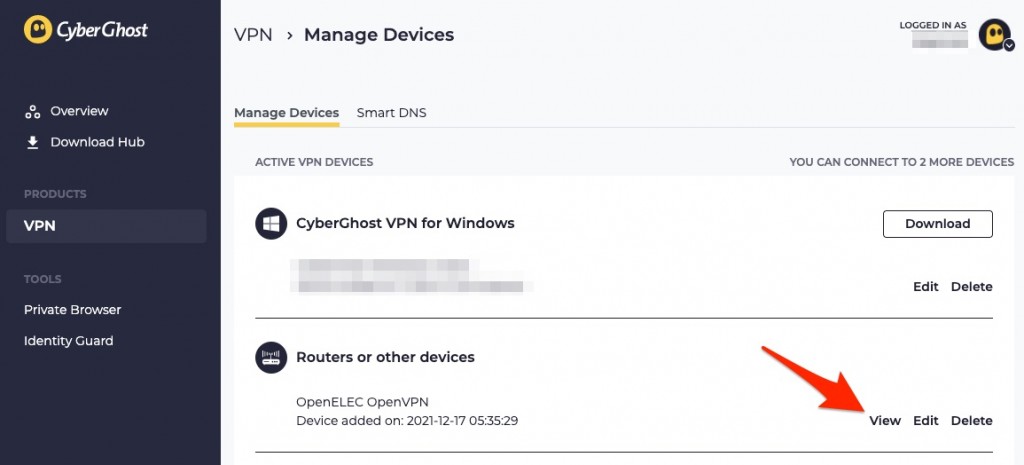 11. On the next page, your Username, Password, and Server Group will be previewed; take a note of them and click Download Configuration.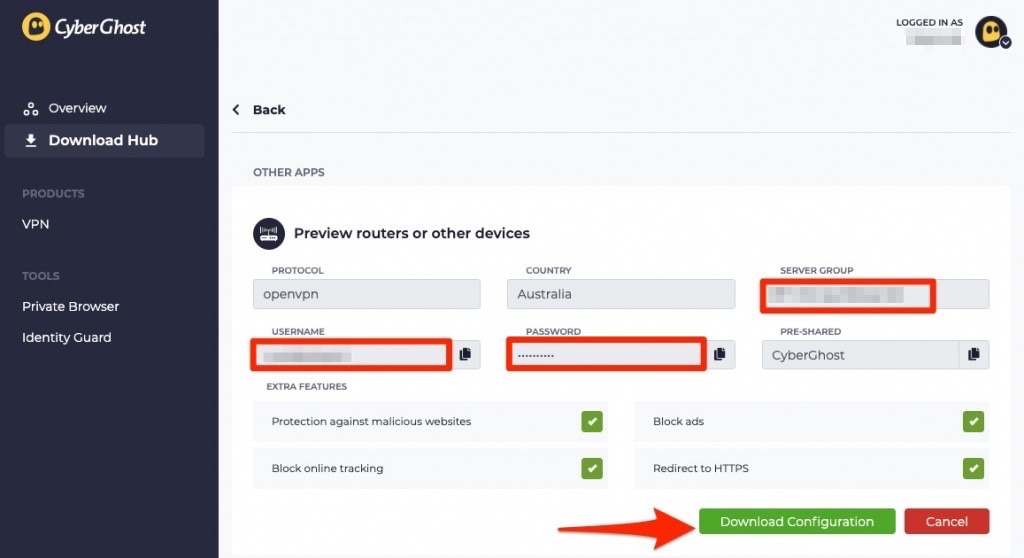 12. Now, a .zip file will download, unzip it to get the below files:
client.key- Private key
ca.crt- Certificate from certification authority
client.crt- User certification
openvpn.ovpn- OpenVPN configuration
13. Next, you need to install OpenVPN on your OpenELEC.
14. For that, first click on System, then navigate to Addons and select Search.
15. Type Unofficial in the search field and click Done.
16. Now, double-click on the repository entry to open it.
17. Hit the Install button on the next screen.
18. Once done, navigate to My Add-ons and click the Install from repository option.
19. Next, choose Unofficial OpenELEC Add-ons. 
20. Then, move to Program add-ons and install openvpn.
21. Once done, you need to get the VPN Manager for OpenVPN.
22. To do so, click here and download the complete repository.
23. Now, unzip the file and save it in the location where you saved the certificate and user key.
24. Next, you have to copy all the files to your device.
25. For that, use an FTP client like Filezilla and then follow the below steps. 
26. First, check your OpenELEC network IP address by following the path:
System > System info > Summary > IP address
27. Now, start Filezilla by first clicking File, then Server manager and configure a new connection as mentioned below:
Server- Enter the network IP address of your device. 
Protocol- SFTP
Connection type- Normal
User name- root
Password- openelec
28. Next, hit the Connect button to proceed.
29. Once you do so, Filezilla will upload the files inside the storage folder. 
30. Create a new folder here; name it 'VPN'. 
31. Now, open this folder and copy all the files like client.crt, client.key, repository into it.
32. When done, go to My add-ons and click Install from the .zip file. 
33. From the results, find the path where you've copied the previous files (Step 31), mark it, and click OK.
34. Once the repository is installed, click the Install from repository option and choose Zomboided Add-on Repository.
35. Click the Services button next and move to VPN Manager for OpenVPN. 
36. Finally, hit the Install button and locate My add-ons next.
37. Now, find and click Services from the list.
38. Open the VPN Manager for OpenVPN next and hit the Configure button.
39. Next, click the VPN Configuration tab and set your VPN Provider as CyberGhost. 
40. Enter your Username and Password next (from Step 11), and hit the OK button. 
41. On the next screen, select your subscription type from the appearing options. 
42. Now, a notification will pop up, click OK.
43. On the final screen, upload the client.crt and client.key file.
44. As soon as you do so, the VPN manager will connect you to the internet securely.
That's all! Now you know how to use CyberGhost VPN for OpenELEC on Raspberry Pi. If you want to install this VPN on other devices, check our complete setup guide. Thanks for reading!