Important Note
Unblock-Us Smart VPN has merged with StrongVPN, which means it's no longer available as a standalone product. With that said, we recommend checking our StrongVPN review, where you can find whether you should invest in Unblock-Us' replacement.
We also highly recommend our guide to the best VPN services available today, where you'll see that ExpressVPN takes the lead at the moment.
Unblock-Us is a DNS service that also provides VPN functionality, which it calls "SmartVPN". The website claims that the software provides "Freedom+Security" online, being an "All in One DNS Package".
SmartVPN is basically a new protection paradigm that falls a bit short of a true VPN, for, it does not encrypt user data. However, an additional layer of security is added by the SmartVPN functionality to the connection.
Contrast this with a VPN, which works by creating a secure connection between the internet and the user device. In effect, a VPN creates a private network atop a public network. VPNs offer a range of servers situated around the globe, from which the user is free to choose one that suits him/her based on the requirements at hand. This allows the user to access geo-restricted content online. In fact, one of the main features Unblock-US boasts is the capability to unblock content.
When using a VPN, ISPs are no longer able to trace your web activity to your IP address and would be clueless about your online activity. This allows users to access the web securely and anonymously. There is a small drawback though, which could assume a not so small form depending on the nature of your internet connection: the VPN slows down your network, since all traffic is encrypted and routed through a remote VPN server. SmartVPN technology in Unblock-US takes an innovative approach: it does not encrypt the data but seals the contents instead before they are transported.
Thus, Unblock-US is not technically a VPN in the real sense. It caters to a very specific audience niche: those looking for an easy (and quick) way to access geo-restricted services. Is the reduction in speed worth it? Can you really feel the difference between a real VPN and the smartVPN technology? Our in-depth review of Unblock-US will cover all these aspects in detail, so stay tuned.
The table below provides a basic overview of Unblock-Us for you to familiarize yourself with this software before we dive deeper:
Criteria

Details

Prominent Features
Does not change IP address; Unblocks geo-restricted content; SmartVPN technology claims to be faster than traditional VPN
Number of Servers
100+ servers around the world
Logging Policy
Does not maintain log files
Encryption Standards
Does not encrypt data, "seals" contents of user data
Privacy
Safeguards user from tracking online; No logs policy;
No DNS leaks
Speed
2.66 Mbps download speed (baseline: 9.82 Mbps)
Device Support
Windows, Mac, iOS, Android
Number of Devices
Unlimited simultaneous connections
Price
$ 4.99 per month (monthly) | $4.15 per month (yearly)
Our Score
6.6/10
Visit
Unblock-Us
One of the main highlights and core motives of Unblock-Us is to unblock censored and geographically restricted content, bringing it within the reach of every individual around the globe. The tool website, in fact, has a detailed list of services, which can be unblocked using Unblock-US: Netflix, Hulu, Amazon Instant Video, HBO GO, BBC iPlayer, and ITV Player being some of them.
| Streaming Service | Result |
| --- | --- |
| Netflix | YES |
| Hulu | YES |
| Kodi | YES |
Unblock-Us certainly does a wonderful job at unblocking geo-restricted content on the most popular streaming services. However, it must be noted that this is a highly sensitive area since Netflix and other services continually block new IP addresses. Consequently, don't be surprised if the service suddenly stops unblocking content the very next day! Even VPN companies are proactive about fighting this scenario, so you shouldn't be overly concerned, though.
Let's now see the main pros and cons of Unblockus VPN before diving right into the review of this interesting tool in greater detail.
Criteria
Unblock-Us VPN
 Pros

Alternative to VPNs- unique approach to ensuring user privacy
Offers a free 7-day trial
Supports a variety of OS platforms

 Cons

No support for browsers
Performs poorly in speed test results
Setup can take some time, especially for beginners
With this, we wrap up a basic overview of Unblock-Us VPN. Let's now proceed straight to the in-depth review of Unblock-Us VPN based on our extensive tests of the software. So, is Unblock-Us a real VPN alternative that holds the promise of keeping your data safe indeed? Will it not slow down your internet like most other VPN? Let's find out.
Unblock-Us VPN — Review
Unblock-Us can be a strange phenomenon if you hail from the world of experienced VPN users. You are accustomed to changing servers on VPN apps and here is a SmartVPN that does all this for you. While this is certainly time-saving, but not something everyone will like. The tool, however, clearly specifies on its website how it is not a VPN but a "SmartVPN". The following is our in-depth review of Unblock-Us, based on our tests with Windows 10. We hope our review helps you understand the tool better, solve problems you might be facing or make a decision as to whether this is the ideal "SmartVPN" for your devices.
Supported Devices
Unblock-Us is available for installation on a wide range of devices. Our Score: 7/10.
Whether a generic OpenVPN client configured to use specific server settings is better over a native app especially engineered for the OS concerned is a matter of debate. You see, Unblock-US does not provide native apps for different OS platforms that it supports: Android, iOS, Windows, and MacOS. The tool will only allow you to install a generic OpenVPN client and configure the app to function.
The website provides detailed step-by-step guidelines to help users accomplish this task, though. New users, however, might find this intimidating.
Here's a quick list of the supported OS platforms:
OS: Android, iOS devices (iPhone/iPad/iPod), Windows, Mac
Browsers: No support
Network devices/Others: Supports PS3, SonyTV, Panasonic Viera, AppleTV, etc
Installation & Setup
Unblock-Us does not provide native apps but the OpenVPN client for your OS platform of choice. Our Score: 6/10.
You will first need to install the OpenVPN app to be able to use Unblock-Us on your favorite OS. Head over to the official Unblock-Us website and purchase a subscription plan first to be able to use its features. Once OpenVPN finishes downloading, double-click the installer to run the app.
You'll see the setup wizard above. Follow the prompts and OpenVPN client should finish installation in a few minutes.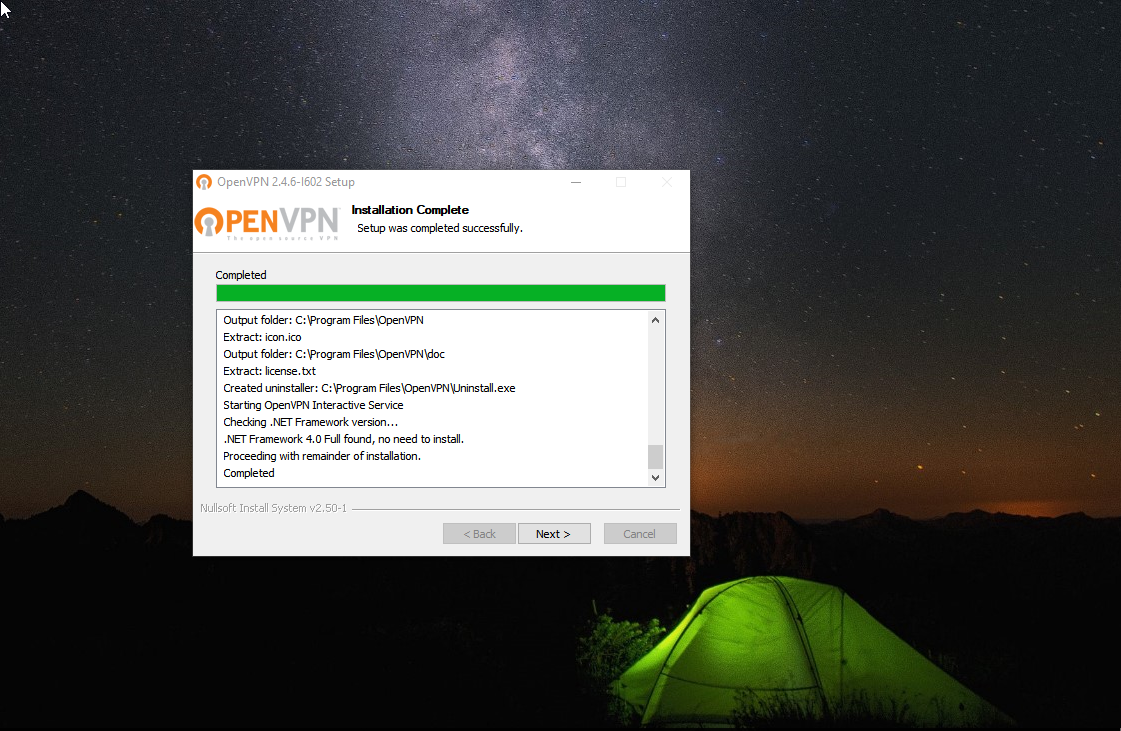 Next, download the configuration file- not from the user dashboard but from the user guide section as indicated on this link.
Once this is done, right click on the OpenVPN client tray icon and click on 'Import'. Next, browse to the config file you just downloaded- that's it. You now have a functional installation of Unblock-Us on your computer.
Prominent Features
Unblock-Us has several exciting features, which place it in a separate category of its own. Our Score: 7/10.
Unblock-Us has a number of interesting features, which will appeal to a wide range of audiences. The core focus of the app is to unblock geo-restricted content online. When you use the internet the usual way, your ISP and 3rd-party DNS provider can view your browsing activity online.
With Unblock-Us, you will receive a new set of DNS codes. Your traffic would now be routed through the Unblock-Us DNS servers, which will result in a secure online experience.
Unblock-US ensures user privacy and freedom online by preventing DNS Hijacking, which happens when third party DNS providers log data passing through them to deliver targeted advertising to users. In effect, the tool changes your DNS settings, and let's you keep your original IP address. You can explore the differences between a traditional VPN and Unblock-Us here in a post on the Unblock-Us website.
The tool supports installation on multiple devices including consoles, smartphones, and even smart TVs. Unblock-Us also ensures faster speeds than VPN tools, for no encryption occurs before the data can be transmitted.
The SmartVPN technology is one of the most important features of Unblock-Us. Since the tool does not encrypt user data like other VPN, the SmartVPN technology adds a layer of protection by ensuring all user data is sealed when transported. This means no one is ever able to snoop upon user data.
Ease of Use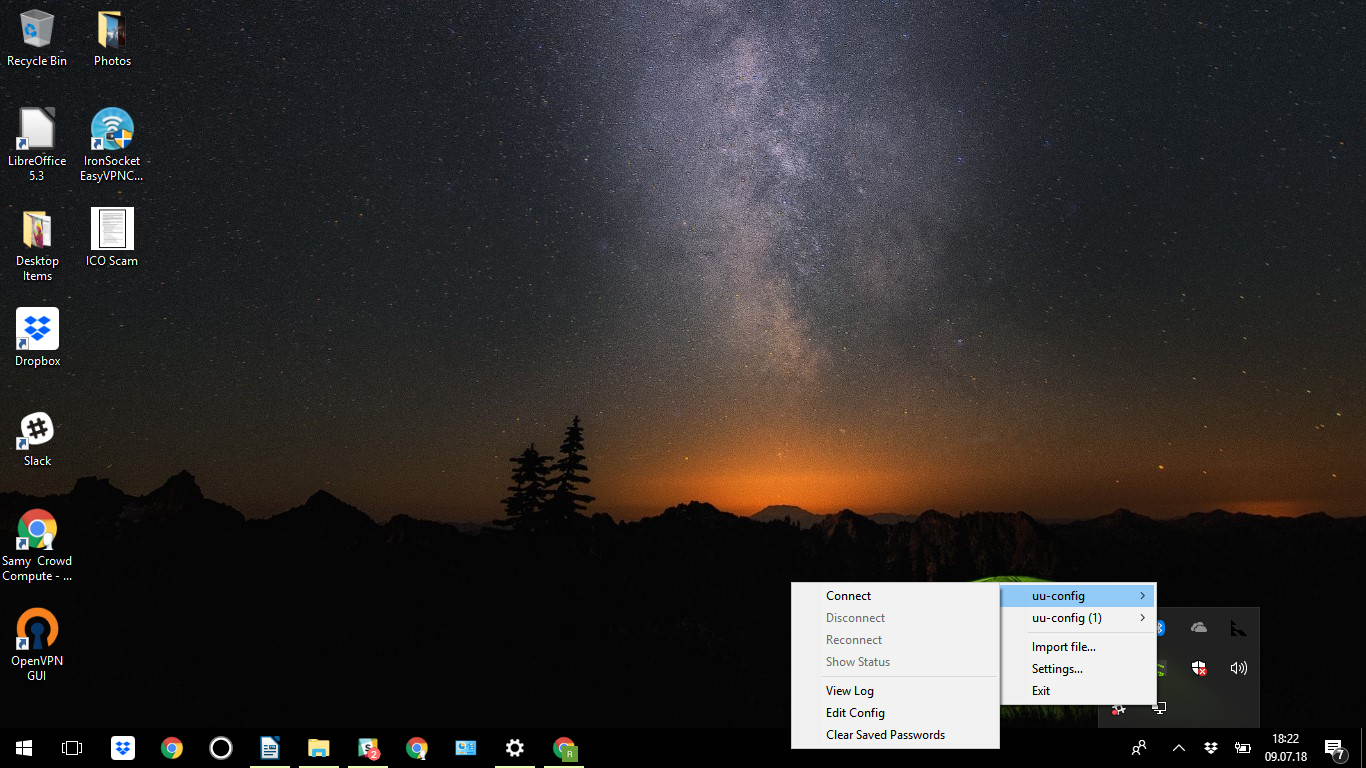 Unblock-US uses the OpenVPN interface. Our Score: 7/10.
To be able to connect to the Unblock-Us network, you'll need to use the OpenVPN client, which can be installed following the procedure outlined in the preceding sections. Once you have the tool installed and the config file imported, you will be able to use the tool easily. Just right click on the OpenVPN tray icon and click on Connect. You will see your config file "uu-config" listed in a menu that appears. Click on the file name and you're good to go. The tool would connect to the network fast.
The Settings tab is where you will be able to change the OpenVPN client settings. We recommend changing them only if you are really sure about what you're doing.
The Unblock-Us website is easy to navigate too. It is neatly organized into three main sections and features all important information in an easy to understand form.
Server Locations
Unblock-Us has 100+ servers in countries around the world. Our Score: 3/10.
Unblock-Us differs from other VPN in that it is not technically a VPN at all. The tool connects you to a DNS server based on your location. The software is supported by a gigantic network of nearly 100 servers placed across the world.
The DNS server that user ends up using depends on his actual geo-location. The tool uses a special protocol that automatically routes the user to the server closest to her/him.
In our tests, we could not manually select a server of our choice. We could only 'connect' to the network, that's all. Our IP address would be cloaked and we would be able to access geo-restricted content. The tool basically changes your DNS settings.
The company was initially based in Canada but shifted base to Barbados in order to avoid keeping logs of user activity. This indeed stands as a testimony to their commitment to safeguard user privacy and security.
Speed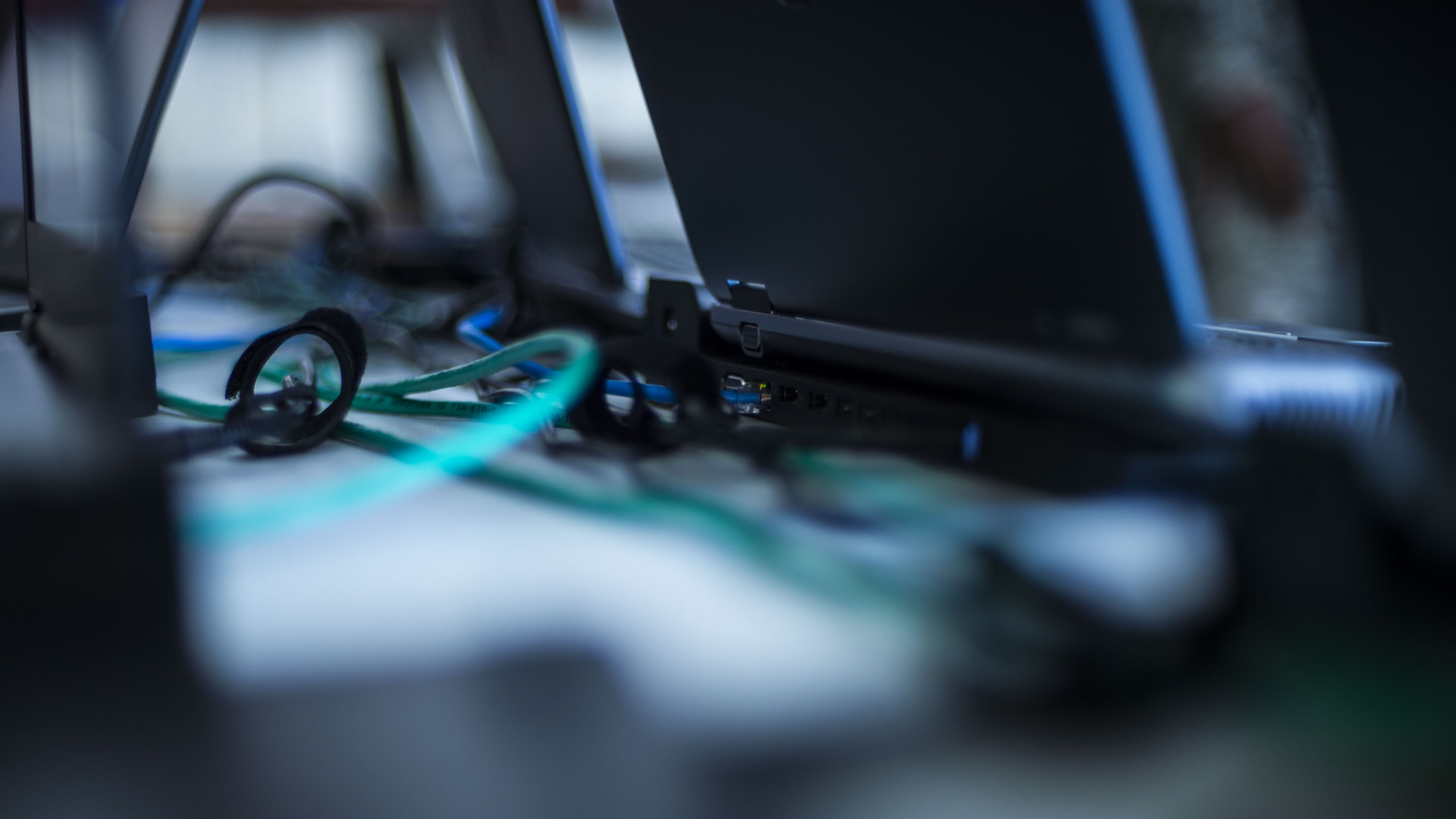 Unblock-US performed a bit poorly in our speed tests, like other VPN. We expected it to run much faster! Our Score: 5/10.
The tool claims to be much faster than VPN software in general, for, like VPN, it does not have to encrypt user data. We conducted our speed tests and found that the tool delivered low speeds- just like most VPN do. However, it is important to note that speed test results are just a useful guideline and are not written in stone, for they depend on the prevailing network conditions at the time the test was conducted, which frequently keep fluctuating. They must thus be treated in this light.
Let's run the baseline speed tests first to see the network position at the moment.
The network is performing moderately. It's time to turn Unblock-Us on and take the speed tests once again.
Clearly, the speed is drastically reduced. It is reduced by more than 50%. This is in stark contrast to our expectation of higher speeds since there is no encryption delay involved.
Let's summarize the speed test results:
Ping: 88 ms
Download: 9.82 Mbps
Upload: 2.13 Mbps
Ping: 114 ms
Download: 2.66 Mbps
Upload: 1.75 Mbps
Security & Privacy

Unblock-Us has several privacy and security features. It lacks many advanced features found in VPNs though. Our Score: 6/10.
It is worth discussion whether Unblock-Us should, in fact, be compared with VPNs at all, since it is a completely different type of tool as far as its features are concerned with just a common motive.
It would be unreasonable to expect the same level of privacy and security from Unblock-US as other VPNs. What the tool basically does is that it routes all your DNS queries to the Unblock-Us servers, which allows you to change your location and acquire a virtual IP. This is certainly an interesting model of operation and whether or not this is as effective as VPNs is a matter of debate and further investigation.
Encryption
Unlike VPN software, which encrypt all user data before it travels through the network to make it undecipherable to prying eyes, Unblock Us does not encrypt user data. It "seals  the content of your data" as per their website, though. This ensures an additional level of security.
Unblock-Us uses the Point to Point Tunneling Protocol(PPTP) for their Smart VPN service, which is not so secure as the other protocols VPNs commonly use.  The PPTP ensures compatibility with a variety of devices, though. The primary objective of the service is to anonymize the user and ensure a faster browsing experience, encryption and data security taking a backseat.
Logging
Unblock-Us does not maintain any logs of the user's internet browsing activities. The company, in fact, moved their base office from Canada to Barbados to avoid being forced to maintain user logs. This, indeed, bears testimony to the company's strong commitment to the privacy and security of their users.
We dug into the privacy policy of Unblock-Us and it clearly specifies that the tool does not "track" or "store" any data when the user uses their services.
DNS Leaks
DNS leaks are increasingly common amongst many VPNs, which inadvertently leak the user's information. However, the Unblock-Us website explicitly mentions that the tool does not cloak the user's IP address, which the user retains. It basically changes the DNS settings to ensure user privacy. It will thus be interesting to see how a tool like Unblock-Us tackles DNS leaks. Let's see if Unblock-Us passes the DNS Leak Test.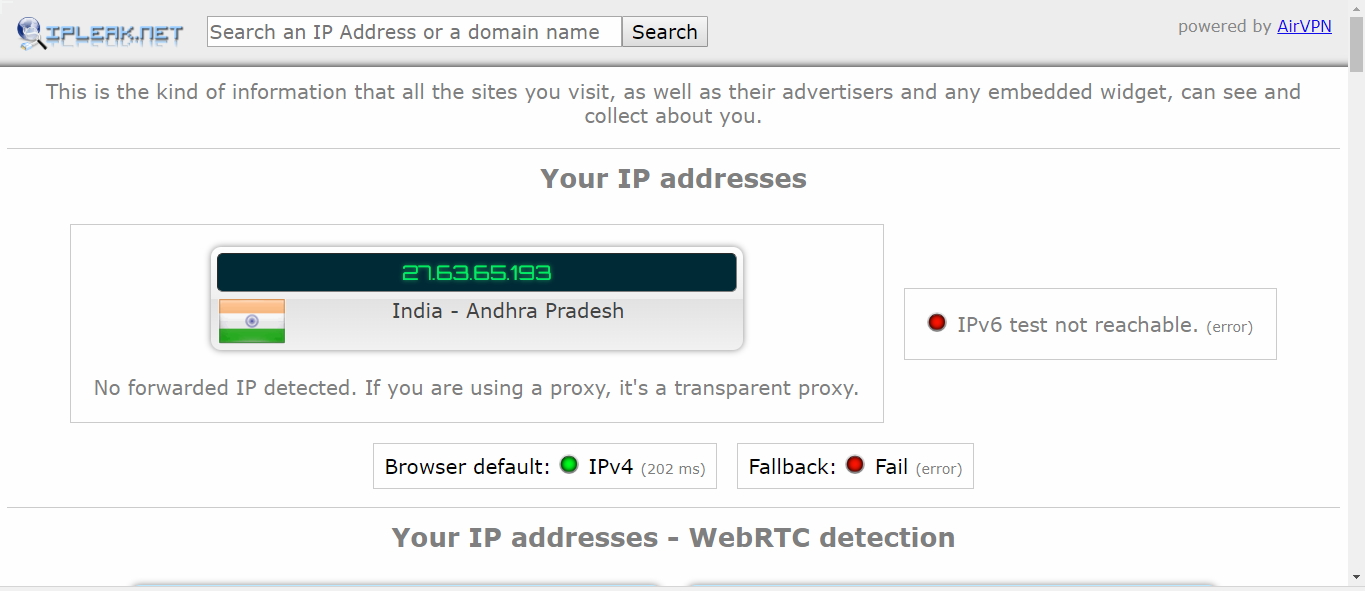 The tool passes with flying colors, for it effectively cloaks our IP address.
Customer Service
Unblock-Us offers only a few support channels. Their response time is extremely short, though- almost like live chat. Our Score: 10/10.
The Unblock-Us website does not feature a live chat section, which is common in many VPN websites. However, the tool offers an online ticket generation form where the user can log her/his query. We contacted Unblock-Us to test the response time and quality of customer support. We were completely bowled over by the highly specific responses received, which completely addressed our queries. Not only that, the response time was extremely small- almost as if we were communicating on live chat. Kudos to the Unblock-Us customer support team!
The Unblock-Us website is also laden with several useful user guides and articles to help you if you ever get stuck with installation or software use.
Pricing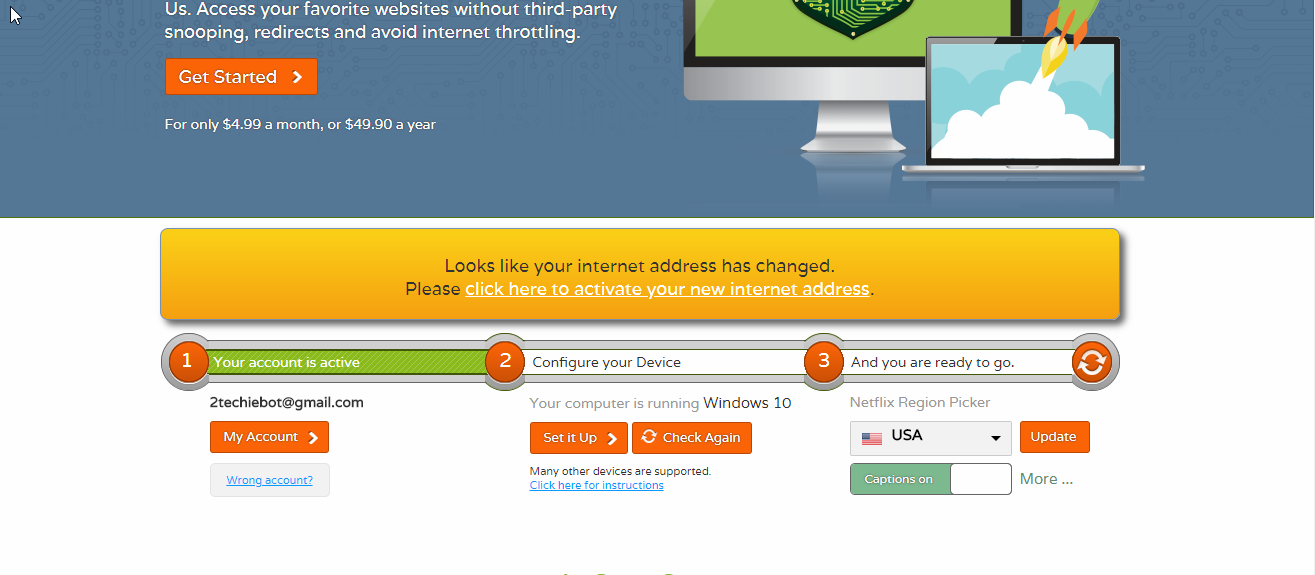 Unblock-Us provides for two simple pricing plans to choose from. Our Score: 8/10.
Unlike many VPNs, Unblock-Us has a simple pricing policy with only two subscription plans to choose from:
While the yearly plan is cheaper, it is highly recommended to choose the monthly plan instead since VPNs operate in a highly sensitive space, where operating conditions can quickly change. A variety of payment options are available for you to choose from. There is also a 7-day free trial period, which is a great way to test the tool before you purchase a subscription.
Final Verdict
Unblock-Us is certainly an innovative offering in the user privacy and security face. It poses a major competition to most VPNs out there, which perform quite poorly in comparison.
Who Should Use This Tool? Those looking out for a great VPN alternative that performs moderately in speed tests and can unblock a variety of geo-restricted content.
Who Should Not Use This Tool? Those looking out for a time-tested secure VPN platform that encrypts all data using military-grade encryption.
PROS: Might be faster on certain networks as compared to VPN; Easy to use; Unblocks geo-restricted content on a variety of platforms
CONS: Can be a bit difficult to install for inexperienced users; Does not encrypt user data
Final Verdict: 6.6 out of 10!
Buy Unblock-Us VPN
If you've made up your mind to purchase Unblock-Us, head over to the official Unblock-Us website and purchase your subscription today!
Final Thoughts
Unblock-Us is overall a good alternative to conventional VPN services. They move your computer without actually moving it, so you actually retain your IP address. What the tool does is that it changes your DNS settings. There is no-logging in place and the tool is optimized for fast performance and anonymity. The customer support is exceptional and will respond to your queries lightning fast. Unblock-Us is an option definitely worth considering if your only reason for purchasing a VPN or anonymizer is to be able to unlock geo-restricted content on streaming services such as Netflix and Hulu.
With this, we conclude our review of Unblock-Us: we sincerely hope you've found it useful.
If you have any queries, please feel free to leave us a comment below. Please also share this article with friends and family in your social circles!