With so many VPN services out there, we can't blame you for feeling confused about which one to pick. They all offer a similar set of features, promise to help you secure your Web data, and more. Understandably, this is why many VPNs turn to different marketing techniques to attract your attention. That's also the case with TigerVPN, which we'll review in-depth throughout this article.
Aside from offering a whole slate of interesting features, TigerVPN is also taking things to a whole different level. As it turns out, it donates 2% of its profits to NGO's that take care of animals. However, let's not put the focus on this noble cause, but instead – let's focus on whether this VPN is worth your money. Can it protect you online? Can TigerVPN unblock media streaming websites? How many servers does it bring, and in how many countries? Let's answer all of those questions – so welcome to our hands-on TigerVPN review!
To introduce you to this VPN, we'll first list some of the most important information. The following table gives you a series of comparative points if you're deciding between this or some other VPN.
Next, we're sure you want to know whether TigerVPN can unblock Netflix? We've done a round of tests with the world's most prominent streaming platforms, so here are the results.
Lastly, we have one more table for you. If you're in a hurry, or if you want just the highlights about this VPN, here's one more table. We present you the pros and cons of using TigerVPN, in addition to our final verdict.
Dear readers, we're now ready to dive deep into our hands-on review of TigerVPN. So, make sure to stick with us to learn all there's to know about this VPN solution.
TigerVPN – TechNadu's Hands-On Review
We'll be reviewing TigerVPN by going through a series of individual aspects. As you can imagine, we've tested this VPN hands-on, as you can see from the screenshots in this article. To learn more about how we review VPNs, please click on the provided link.
Background, Jurisdiction & Reputation
Even though TigerVPN doesn't come from a highly exotic location, it's Slovakian origin should provide some comfort (in terms of data protection laws). Our Score: 9/10.
Before we get to testing this VPN, we need to check where it comes from. As you can imagine, VPNs need to operate in compliance with their home country's laws, which is why it's important to know a bit about their origin.
Jurisdiction & Applicable Laws
TigerVPN is created by a company called 'Tiger at Work', based in Bratislava (Slovakia). This landlocked European country has been a member of the European Union since 2004. This means that Slovakia shares its laws with the rest of the EU countries, with the ability to implement their own laws as well.
What's important to be mentioned is that Slovakia has a series of laws regarding the protection of private data. More precisely, this country's 'New Personal Data Protection Act' went into action in January 2018 following the EU's GDPR (General Data Protection Regulation) act. Supervised by the Office for Personal Data Protection (of the Slovak Republic), this set of laws dictate all the ways that third parties can collect and process your personal data. In general, Slovakia's Personal Data Protect Act protects the citizens of this country as well as users of business entities that come from Slovakia. In general, this is a set of favorable laws that make data logging much more transparent than before. This is also how TigerVPN can promise not to collect your personal data.
Previous Data Leaks
We're pleased to report that TigerVPN comes free of any data leaks (from the past). More precisely, there are no reports of data breaches, unauthorized data collection, or this VPN sharing your precious private data with third parties. This VPN has been on the market since 2011, which is plenty for any online service. Considering there are no worrying reports from the past, we think this leaves a positive first impression.
Supported Platforms & Devices
TigerVPN covers the most popular platforms out there. However, you can easily find VPNs with Web browser extensions, native apps for media streamers, and more comprehensive support for VPN routers. Our Score: 6/10.
Now, let's see which platforms this VPN supports. The following table displays only native TigerVPN apps – so keep in mind that you can configure it manually on some other platforms as well.
As you can see, TigerVPN covers natively only the most popular platforms out there. This means that you can install applications made by this VPN, which is the easiest way to get started using it. However, there are also guides to configuring this VPN manually, which includes Windows (10, 8, and 7), Android, MacOS X, iOS, Linux, Chromebooks, and DD-WRT routers.
As you can see, there are no Web browser extensions (which isn't really a major downside). And also, there are no media streaming devices on this list (like Amazon FireOS, Android TV, and more). The easiest way to use those devices with TigerVPN is to install this VPN on a router.
Finally, it's worth noting that you can use TigerVPN on up to 5 devices at the same time. If you install it on a router, this will count as a single device (no matter how many devices are connected to that router). So, pretty generous.
Installation & Initial Configuration
Getting started with TigerVPN is easy. Aside from installing native apps, there's also a series of guides if you need to configure this VPN manually. Our Score: 10/10.
There are two ways to get started with this VPN. First, you can get your TigerVPN subscription by choosing one of its available plans. After signing up, you'll be able to access your user account on this VPN's website. This is where you'll get to review plenty of important information, as well as download TigerVPN applications. Alternatively, you can start a free TigerVPN trial (a file will be automatically downloaded to your computer), which lets you test-drive this VPN for up to 3 days.
With the installation file on your computer, double-click to run it. Follow the steps you'll see on the screen, and TigerVPN should be ready to use within a few minutes. Launch the application, input your user credentials and that's pretty much it. From this moment on, you'll be able to connect to various servers and secure your connection.
In case you need to configure this VPN manually, you'll find a series of guides by logging to your user account (on the TigerVPN website). Click on 'Download Apps' and choose to see guides for a manual configuration.
Prominent Features
TigerVPN is oriented toward average home users. There aren't any advanced options here, and even a kill-switch isn't included. Our Score: 5/10.
In this segment, we'll check what kinds of features this VPN brings. In addition, we'll also see if there's anything unique of highly innovative on offer.
We can see that TigerVPN is quite barebones in terms of its features. It comes with a basic set of privacy-related options, including DNS and IPv4 leak protection. It doesn't filter your IPv6 traffic through, which means you'll need to disable this protocol on your device (which will prevent any data leaks). What's troublesome is that TigerVPN comes without a kill-switch, which has become one of the standard features of today's VPN providers. This means that your traffic could be exposed in case there's a sudden drop in connectivity (if you get disconnected from a secure server, by accident).
We can't say that this VPN brings anything unique. On its official website, you'll see explanations about its firewall-protected servers, 'meshed IPs', as well as some pretty aggressive claims that TigerVPN actually improves the speed of your Web connection (we've tested this later on in the article). However, none of those features are groundbreaking, and you'll find all of those in more affordable VPN solutions.
Server Count
TigerVPN doesn't impress with the size of its server network. In comparison to top-rated VPNs, this one is quite behind in terms of its server count and the number of available countries. Our Score: 3/10.
We'll use this segment to check how many servers this VPN offers, in how many countries, and more. So, keep on reading to learn more.
Having 300 servers, we can't say that TigerVPN will leave you impressed. Of course, this should be enough for average home users – but the same can't be said for more advanced VPN users. That's because there are VPNs (many of which are more affordable than TigerVPN) that bring anywhere between 3,000 and 5,000 servers. Those VPNs give you much greater freedom.
In terms of the available countries, you'll find 42 (to be precise). Once again, this is far below what the majority of VPNs offer. For example, ExpressVPN (our top-rated VPN) is present in 94 countries, while widely popular NordVPN has servers in 60 countries.
Ease of Use
TigerVPN is really easy to use. Everything's automated and there's no room of fine-tuning. Depending on your needs, this could be a good or a bad thing. Our Score: 7/10.
These days, many VPNs bring a mobile-like UI even on their desktop apps – and TigerVPN is no exception. The home screen of this VPN gives you access to everything you need to secure your Web connection. This is where you'll see a list of the available servers in alphabetical order (based on the available cities). You can mark each of those as your favorite, so you can easily create a list of often-used servers. And there's also a search field, so you can easily find something specific.
To secure your Web connection, simply click on any of the available servers. Once connected, you'll see a notification in the bottom-right corner of your screen. You can also use TigerVPN's home screen to check whether there's an active connection or not. To disconnect, click on the 'ON/OFF' switch within the UI.
To dive a bit deeper, click on the 'cogwheel' icon in the top-right corner of the application's UI. This is where you'll see four options, as explained below:
System Settings: Among the available system settings, you can choose how the application behaves. For example, you can decide whether to see the servers in alphabetical order or if you want to check your favorites first. You can also instruct TigerVPN to run on startup.
Troubleshooting: When it comes to troubleshooting, you can submit a report by including a log. Then, you can also check the status of the VPN, and visit TigerVPN's official help page.
Account Settings: You can see how long your subscription lasts, you can manage your account, and review your 'Karma' points. You can earn these points by following TigerVPN on social media network, or rating and reviewing this VPN on some third-party portals. Then, these points can be spent on getting extra connections.
Logout: Finally, this is where you can log-out of your account.
Media Streaming & Torrenting Support
You can easily find much better alternatives to TigerVPN in terms of media streaming. However, it fully supports torrenting. Our Score: 3/10.
You must be wondering if TigerVPN works with Netflix or any other major media streaming platform? Well, we've tested this VPN's streaming capabilities and here are the results.
Unfortunately, this VPN isn't a good option when it comes to media streaming. Websites such as Netflix, Hulu, BBC iPlayer, and Prime Video were able to see that we were using a VPN, and our access was blocked. However, you can still use Netflix, but only via servers in Spain, Italy, and Brazil.
When it comes to torrenting, TigerVPN supports this type of traffic. However, you're recommended to use the following servers for this purpose: Amsterdam, Bucharest, and Montreal.
Security & Privacy
This VPN comes with strong and capable VPN protocols and encryption. However, it also logs plenty of (anonymized) data. Our Score: 6/10.
Let's not forget the main purpose of any VPN – to protect your online data. This is why we'll take a close look at this VPN's protocols and types of encryption.
Supported Encryption Protocols
By default, TigerVPN uses OpenVPN – which is considered to be the strongest VPN protocol out there. Then, depending on the platform you use, you can choose from L2TP/IPsec and PPTP. These might bring better Web speeds, but they aren't as secure.
And in terms of encryption, TigerVPN uses AES-256. This type of encryption is among the strongest types of commercially available encryption protocols. Theoretically, your data will be safe even if someone (a third party) manages to collect it.
Logging Policy
On this VPN's website, you'll see messages that TigerVPN collects no logs. However, you'll find contradicting information if you read its privacy policy. So, let's make sense of this legal document.
This VPN's privacy policy says that it collects information including your account data (email address and password), financial information (once you pay for the VPN), TAX and VAT data (geolocation and time stamp), as well as information related to your use of the service (operating system, app version, traffic statistic, connection session, VPN protocol, and more). It also collects 'usage & tracking data' which includes information gathered via cookies and similar tracking technologies.
The question is whether this information can be used to identify what you do online? That's hard to say, but we believe that it can. However, it's also important to note that TigerVPN doesn't have a reputation of tracking its users and cooperating with the authorities. This isn't a reliable VPN option if you want to be 100% anonymous online – but it's not the worst option either.
DNS Leak Test
As you can see from the screenshot, TigerVPN doesn't actively leak your DNS data. This means that websites that you visit will only see your 'virtual information' including your hostname, IP address, country of origin, and more.
Speed & Performance
TigerVPN is an incredibly speedy VPN provider. You'll barely notice any throttling despite the fact that your data flows through an 'additional' server. Our Score: 10/10.
Now, let's check what kind of performance this VPN brings. We've tested both nearby and remote servers, so here are the results.
We've first checked the speed of our 'naked' Web connection, as we needed to establish some baseline data. After doing a speed test, we managed to get 147.77 Mbps for downloads and 15.00 Mbps for uploads. Then, we've launched TigerVPN and connected to a nearby server.
Lucky for us, TigerVPN offers a server in our country (we're located in Europe). Once connected, we ran another speed test. This time around, we got 141.63 Mbps for downloads and 12.55 Mbps for uploads.
Finally, we also checked the speed of a remote VPN server, found in the USA. As you can see from the screenshot, we got 140.13 Mbps for downloads and 14.80 Mbps for uploads.
In average, this VPN slowed us down by around 5% - which is an astonishing result. In fact, this is one of the best results we got, after testing dozens and dozens of VPNs.
Customer Support
TigerVPN comes with plenty of customer support channels. It offers live-chat as well, but this option isn't available 24/7 and it's not available on the weekends. Our Score: 7.5/10.
VPNs are technical solutions, and something can go wrong easily. However, that's why it's imperative to use a VPN with numerous customer support channels. So, here are all the ways that TigerVPN helps its customers.
Once you log-in to your user account, you'll see plenty of helpful resources. There are installation guides, troubleshooting guides, as well as answers to general questions. At any moment, you can also send a message to this VPN's team. However, please note that it might take around 2 days to receive a response. There's also a live chat option, but it's isn't available 24/7 (and it's not available on the weekends).
All in all, we believe that you'll have your questions answered. However, the only problem is that you'll have to wait unless you organize your time so that you contact this VPN's support while there's an agent available.
Pricing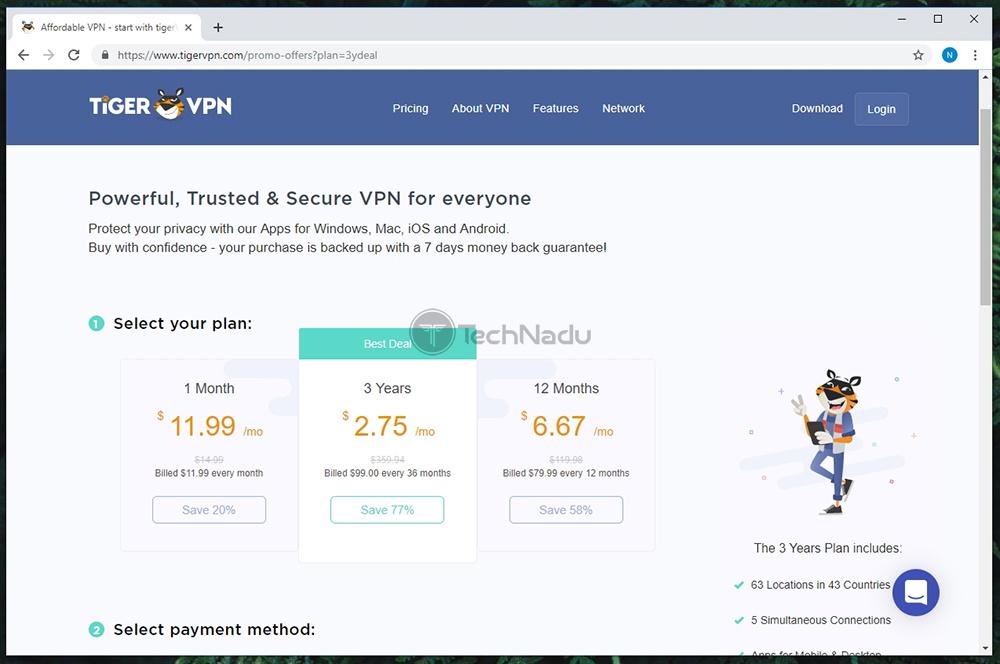 TigerVPN isn't the most affordable option out there. However, you can still find some hefty savings in its long-term plans. Our Score: 7/10.
So, how much this VPN costs? What kinds of subscription plans does it bring? Well, here's a handy table explaining how much you need to pay, and how much you can save.
The least affordable way to get TigerVPN is to buy its monthly plan ($11.99 per month). However, you'll find some steep discounts in its long-term plans. For example, if you think about starting a free TigerVPN trial, we recommend checking its annual and its 3-year plans. These can save you 44% or 77%, depending on which one you pick.
Also, there's a whole slate of supported payment methods. This includes credit cards, PayPal, Bitcoin, Paymentwall, and more. And you can also count on this VPN's 7-day money back guarantee.
Before we conclude this segment, we need to warn you of a payment-related bug. Once you become a VPN subscriber, you'll get to review your payment information by logging to your user account (on the website). This is also where you'll see an option to disable recurring payments. Even after clicking on this button (link), we weren't able to block auto-renewal. After contacting the VPN's support team, we were told that auto-renewal has been disabled but that it appears enabled due to a bug. So, keep this in mind.
Do We Recommend TigerVPN?
We can recommend TigerVPN to average home users only. This goes for those who don't use media streaming websites and who seek a basic set of privacy-related features. In case you want to unblock media streaming platforms, access plenty of servers, or fine-tune your VPN experience – you'll easily find a better option out there.
PROS: Easy to install; Very easy to use; Incredibly fast performance; Reliable VPN protocols; Strong encryption.
CONS: Can't unblock media streaming websites; Limited server network; Collects anonymized information; A basic set of features; No fine-tuning.
OUR SCORE: 6.7 out of 10!
If you think this VPN might be a good fit for you, make sure to check out TigerVPN on your own. And if you want to check out some alternatives, we have a dedicated article on the best VPNs right now.
In case you liked this review, we'd like to ask you to share it on the Web. And to stay on top of the latest VPN-related coverage, don't forget to follow us on Facebook and Twitter.