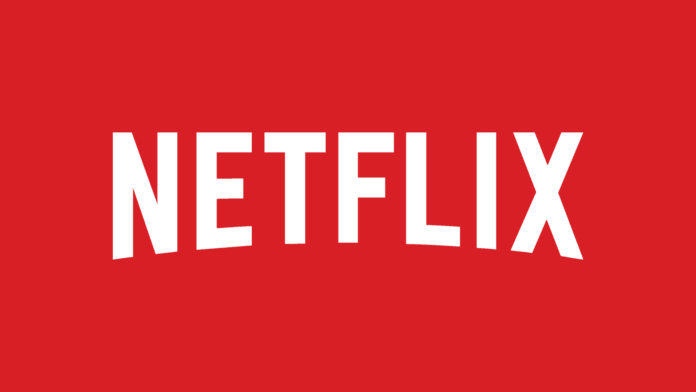 The Coronavirus outbreak has forced many of us to change our daily lives, as well as to pause certain activities for a while. If you've been paying attention to the latest WHO (World Health Organization) guidelines, you know that staying home is crucial during this critical time. Aside from resorting to remote work, this also means that many of us rely on media streaming services. After all, the current situation can be quite hectic and overwhelming at times. So, there's no better way to relax and unwind than watching a movie or TV show, right? Well, our editorial team is dedicated to helping you get the most out of your media streaming platforms, and we have a handy trick to show. More precisely, we'll teach you how to unblock a massive number of "hidden" Netflix movies and TV shows that aren't available in your country.
First of all, let's give you some basic pointers here. In case you didn't know, Netflix doesn't have a global media library. Instead, it offers regional libraries for each country separately. As per the latest stats supplied by Statista, Americans can access close to 6,000 titles on Netflix. On the other end of the spectrum, we have countries like Israel, Taiwan, and Hong Kong, where each of them has a library of around 1,000 titles. So, yes, this is a pretty drastic difference. Therefore, the question is: how to unblock Netflix and get more movies and TV shows? How to find these "hidden" titles? Also, how to stream them, no matter where you are? Don't worry, we have the answer!
Get New Content + Improve Your User Experience: In case you didn't know, Netflix has decided to limit HD and 4K streaming in Europe. This means that now you can stream in SD only. Using a solution offered by this article will help you make your Web connection more stable, while also helping you get the best possible user experience.
So, let's check out some of the most popular geographically hidden Netflix titles. Then, we're going to give you a simple guide on how to access those movies and TV shows.
What Are The Best "Hidden" Movies & TV Shows You Can Find on Netflix?
We've prepared five hugely popular Netflix titles available in the USA only. It means that, if you're in some other country, you won't be able to access them. However, keep on reading as we'll tell you about a workaround on watching these geo-restricted Netflix titles.
Important Note: We've provided links to dedicated Netflix pages, found below. However, you won't be able to access them unless you apply our solution to watching blocked titles. So, make sure to read this entire article before you start exploring your Netflix library.
1. City of God
If you check out lists of the best movies ever, you can sure to find "City of God" ranking high on those lists. It is a Brazilian movie (released in 2002 in Brazil, and in 2004 in the USA) about the rise of organized crime in Rio de Janeiro. As such, this is a complex and troubling story that's not afraid to show things how they really are, in their raw form. In its core, this is a coming-of-age film based on real-life events.
Ever since the Brazil release, "City of God" has had plenty of trouble reaching an audience. When it comes to Netflix, this is currently an exclusive title available only in the US-based library. Sadly, it's not available in any other country via this streaming service, unless you use a solution found below.
Genre: Crime, Drama.
IMDB Score: 8.6/10 (670,000+ votes).
Date of Release: August 30, 2002.
Where to Find This Title: Available on Netflix USA (exclusively).
Can't See This Title on Netflix: Learn How to Watch
2. American Horror Story
If you're into scary and highly intriguing stories, you are going to fall in love with "American Horror Story" (if you aren't already a fan, in which case you'll probably love to be able to binge-watch the old seasons again). It is a long-running anthology horror TV show, which means each season tells a different story. However, cast members rarely change as they play different characters each season. "American Horror Story" is still running in the USA, with its 10th season coming later this year. You can find eight seasons on Netflix, with the ninth one also coming to the platform soon.
Considering its popularity, AHS is available in several local Netflix libraries. It includes the USA, a group of European countries, Japan, Argentina, Panama, Mexico, Brazil, and a few more. However, the majority of regional Netflix libraries don't have access to AHS, so you'll need to use a trick to unblock this title.
Genre: Drama, horror, thriller.

IMDB Score: 8.1/10 (260,000+ votes).

Number of Seasons: eight seasons available.

Where to Find This Title: Available on Netflix USA, UK, and a handful of other countries.
Can't See This Title on Netflix: Learn How to Watch
3. Charmed
"Charmed" was a hugely popular fantasy TV show, revolving around three sisters using witchcraft to battle against the forces of evil. However, don't be fooled – even though the premise sounds like any other witchcraft-inspired TV show, "Charmed" is quite different. Throughout the TV show is close to 180 episodes, you'll grow to love these characters and everything they stand for. Trust us, you'll remember the three Halliwell sisters for a long time to come.
To watch "Charmed" on Netflix, you'll need to access a library that hosts this TV show. Sadly, this title isn't globally available, but we'll tell you how to access it, nonetheless. So, make sure to stick with us until the end of this article.
Genre: Drama, fantasy, mystery.

IMDB Score: 7.1/10 (71,000+ votes).

Number of Seasons: eight seasons available.

Where to Find This Title: Available on Netflix USA, Panama, Costa Rica, Brazil, Argentina, and Mexico.

Can't See This Title on Netflix: Learn How to Watch
4. Private Practice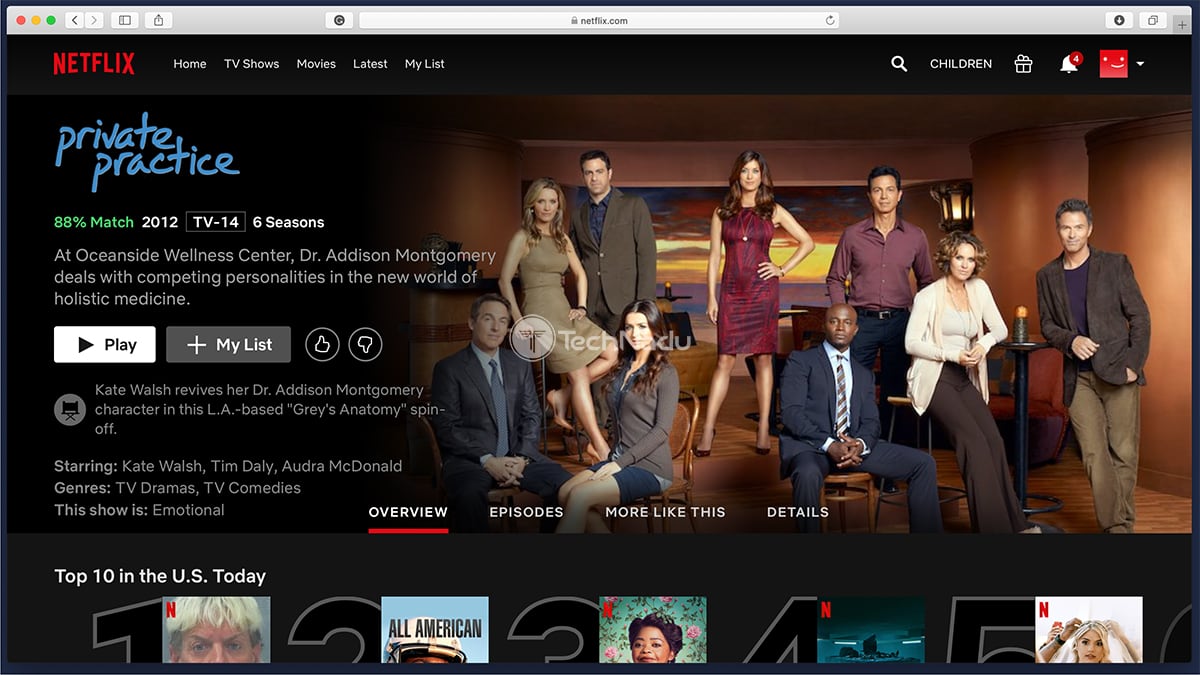 We're pretty sure you've heard about "Grey's Anatomy" – one of the long-standing TV shows about a group of doctors handling the obstacles of their personal and professional lives. Well, "Private Practice" comes from Shonda Rhimes, the creator of "Grey's Anatomy," and it's about a neonatal surgeon played by Kate Walsh. In many ways, these two titles are very similar, yet quite different at the same time. The TV show ran for six seasons, so there's plenty to watch.
"Private Practice" is a true example of Netflix navigating the hurdles of broadcast rights of individual countries. That's why this TV show is available in the USA only.
Genre: Comedy, drama, romance.

IMDB Score: 6.6/10 (21,000+ votes).

Number of Seasons: 6 seasons available.

Where to Find This Title: Available on Netflix USA.

Can't See This Title on Netflix: Learn How to Watch
5. Billy on the Street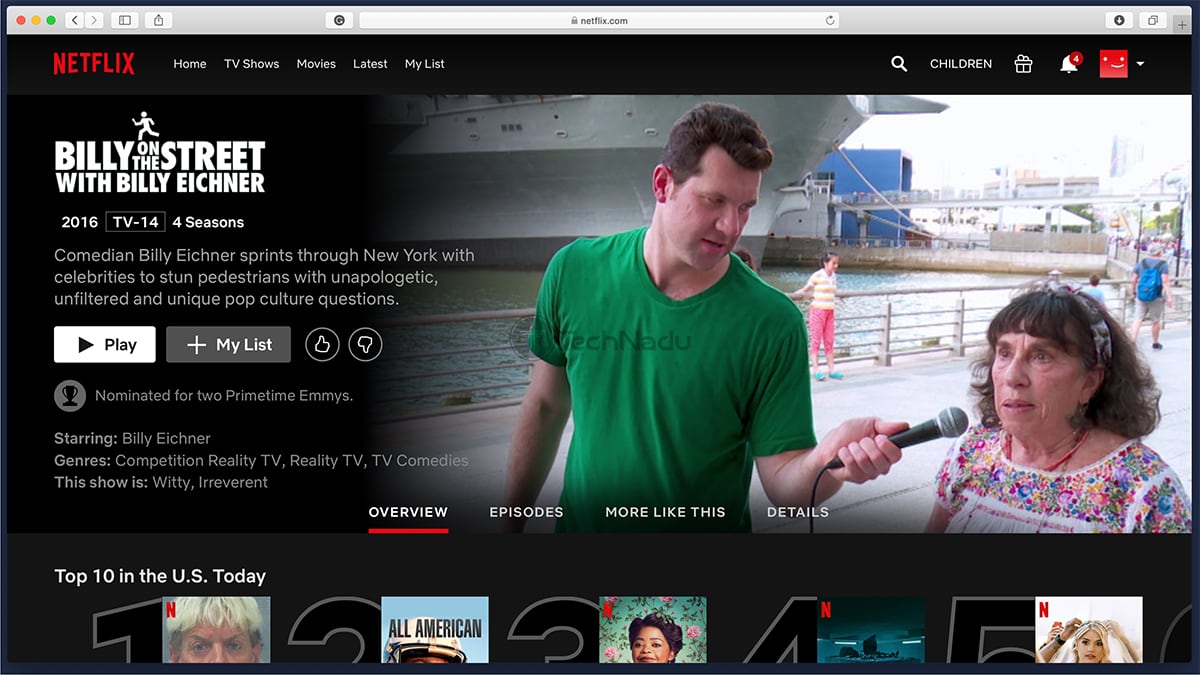 Billy Eichner is one of the most popular comedians out there, known for its loud and overly direct persona. Well, that persona truly shines in the comedian's "Billy on the Street" TV show. Starring numerous celebrities, it shows Billy going out on the streets of New York City to ask pedestrians about pop culture while giving his hilarious comments along the way. It wouldn't be an understatement to say that "Billy on the Street" is a cult sensation. If you're into comedy, you're going to love this reality TV show.
"Billy on the Street" is available in Netflix USA library only, and you can watch four seasons of the TV show there. Sadly, it's not available in any other country, but we'll soon tell you how to overcome that obstacle.
Genre: Comedy, game-show, reality TV.

IMDB Score: 7.7/10 (1,800+ votes).

Number of Seasons: four seasons available.

Where to Find This Title: Available on Netflix USA.

Can't See This Title on Netflix: Learn How to Watch
As you can imagine, this isn't where the list stops, as there's a huge number of geo-blocked Netflix titles that are available only in the USA. So, to give you a taste of what to expect, we've prepared a list of 20 additional suggestions. Check it out below.
20 Additional "Hidden" Netflix Movies & TV Shows (2020 List)
And finally, we have some more helpful resources for you. Here, at TechNadu, we're doing our best to stay up-to-date with movies and TV shows that are coming to Netflix or leaving the platform. Therefore, you can use the links provided below to check everything that's hot right now.
Here's How to Watch Netflix's Movies & TV Shows Not Available In Your Region
As you can see, there's only one way to grab everything that Netflix offers – and that would be by accessing its US library. So, the big question is: how to unblock the hidden Netflix titles, without physically being in the USA? Well, the solution to this question is – by using a VPN application.
For this purpose, we've chosen to recommend CyberGhost VPN, after extensive testing. That's because this VPN comes with a vast army or servers. Also, there are specialized US-based servers designed to help you stream Netflix.
Aside from this platform, CyberGhost VPN works with Disney+, YouTube TV, Crunchyroll, Sling TV, HBO Now, and plenty more.
Finally, here's how to access blocked Netflix titles by using CyberGhost VPN.
First, you need to have an active subscription. So, go ahead and subscribe to CyberGhost VPN. Right now, there's a special promotion bringing the price of this VPN down to $2.75/month (and you also get two extra months for free). And also, CyberGhost comes with a 45-day money-back guarantee, so there's nothing to lose.
Once you get your subscription, proceed to download CyberGhost VPN from its official website. Don't worry, this VPN offers plenty of applications for different platforms, including Windows, macOS, Linux, Android (TV), iOS, and more.

Launch CyberGhost and log in using your credentials. After a few moments, you should see its interface showing you a list of servers. In case you see a rather small and vertically-oriented interface, make sure to click on the yellow button on the left side of the UI (to expand the VPN's interface).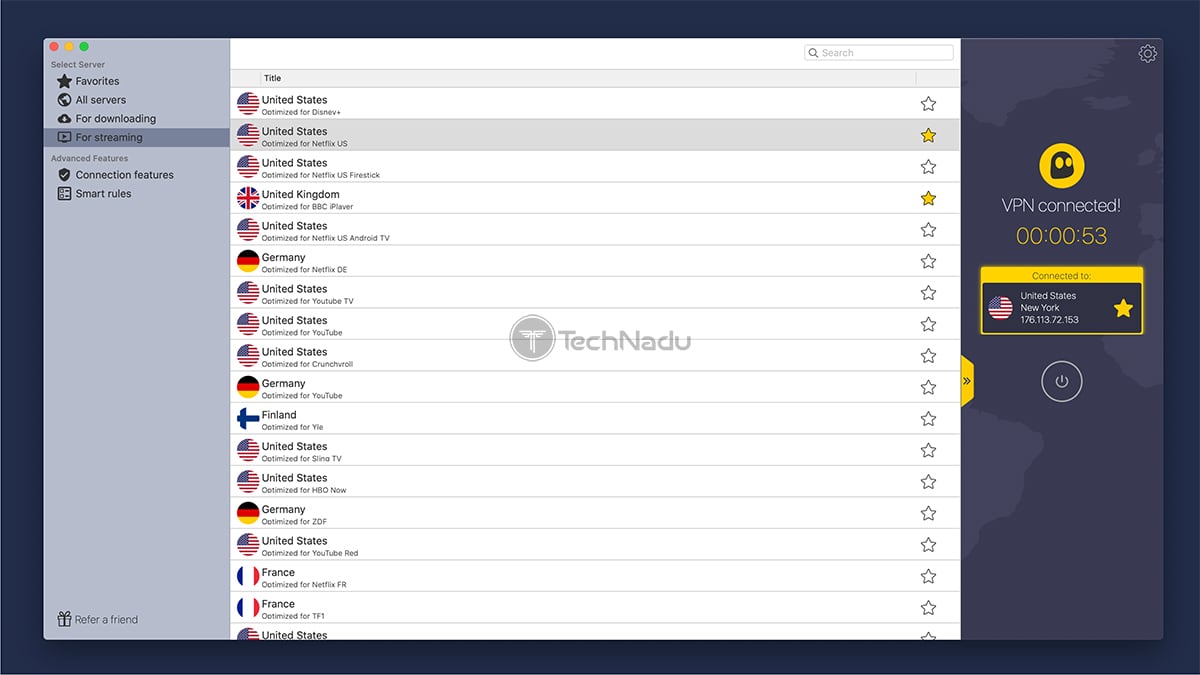 Take a look at the left-hand side, where you can see different categories of servers. You need to click on 'For Streaming' to see the servers specialized in unblocking media streaming platforms.

Then, make sure to double-click on the server called 'United States – Specialized for Netflix US,' and CyberGhost will connect you to the chosen server. This process should only take a few moments, and you'll see a notification once done.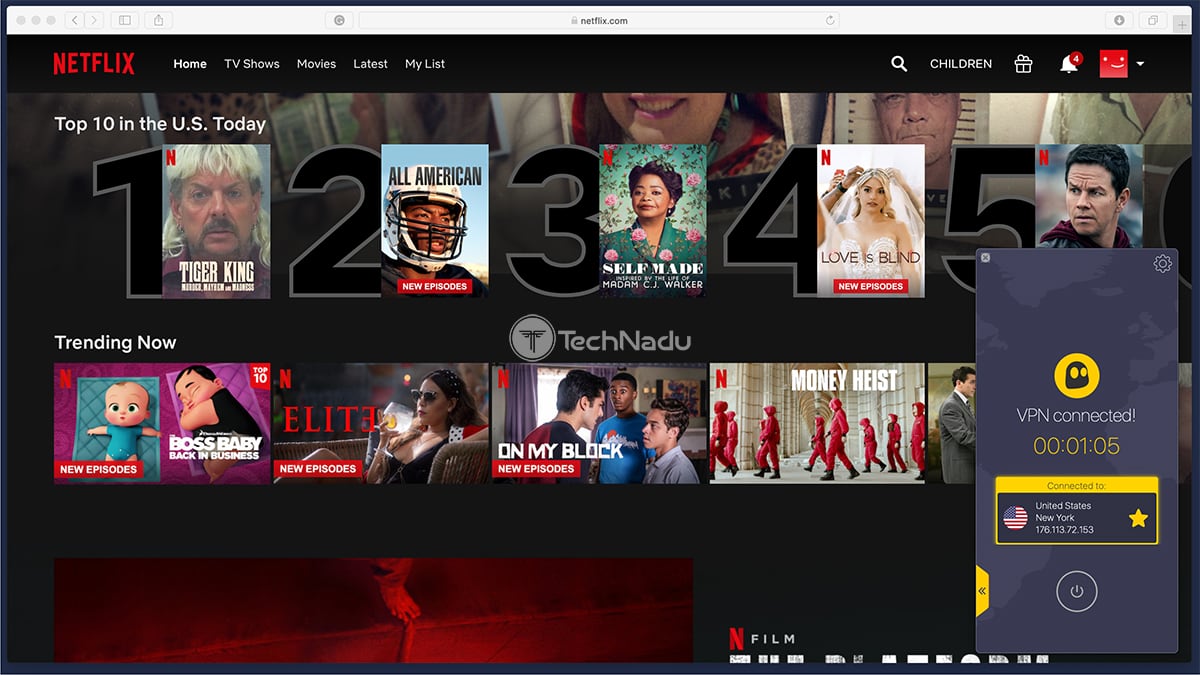 Finally, use your Web browser to open Netflix, and you should see its US-based library. Now, take a look at our recommendations above to watch any movie that is currently blocked for you That's it!
FAQ
So, you know how to unblock secret Netflix movies and TV shows now. However, maybe you have additional questions on your mind. We've done our best to share our knowledge, so check out some of the frequently asked questions below.
Is It Illegal to Use a VPN for Netflix?
No, it's not illegal to use a VPN to bypass Netflix's geo-restrictions. These are set to deal with the platform's broadcast rights, which are often issued on a per-country basis. So, even though Netflix discourages the use of VPNs or proxies, you're not breaking any law.
It's worth noting that Netflix has started blocking proxies back in early 2016. This led to the famous "Netflix Proxy Error" message, preventing anyone from accessing the platform using digital tools such as proxies. Netflix is still blocking these tools on a larger scale, but it's not banning any users who rely on these tools.
Which VPN Works With Netflix?
Can I Watch Netflix With Just About Any VPN?
Definitely not – you need a really strong and powerful VPN to unblock different Netflix libraries. And more importantly, you need a VPN with a long history of unblocking Netflix. With this said, we strongly recommend reading this article very carefully, as we've given you some hands-on recommendations.
How Do I Get Free Netflix With a VPN?
There's no such thing as "Free Netflix," as this is a premium-priced media streaming platform. Using a VPN, you can overcome geo-restrictions and unblock hidden Netflix titles. However, this implies that you already have an active subscription to Netflix.
Which Free VPN Can I Use to Access Netflix?
There are no free VPN services that can unblock Netflix. If you find a free VPN promoting this functionality, know that it's trying to deceive you. These VPNs come with heavy bandwidth restrictions, they often log data, and they can't protect your Web connection. The only way to go is by using a commercial VPN.
Dear readers, thanks for sticking with us until the end of this article. We hope that we helped enhance your Netflix-streaming experience, and we hope you'll consider our advice. Stay safe, don't leave your house, and take care of yourself! In case of any questions, don't hesitate to post a comment below.