A few days ago, TechNadu looked at the best free cloud storage services that you can avail in 2018. However, we realize that not all good things are free, and for various reasons, you might want to take a look at the paid plans for such services. In this article, we review the best paid cloud storage services that will give you the most bang for your buck.
Cloud storage has pretty much become a must-have these days. Individuals are looking for a secure, reliable storage option for their data that makes it universally accessible. Global organizations are relying heavily on cross-geographies collaboration. Therefore, cloud storage services are being employed everywhere. Thanks to the advent of fast and cheap internet access and increasing competition in this area, online storage services have become more and more affordable, even in their paid, premium offerings. Let's take a closer look at the best premium-priced cloud storage services.
Paid Cloud Storage Services: Why You Need One?
If I have the option of availing cloud-based storage for free, why would I want to pay? It's a very valid question to ask. The answer lies in the operating model that these services employ. Pretty much all of them – including big names like Google and Microsoft – offer their products as "freemium", where you have a free tier with limited options and quite a few restrictions, but it's when you start paying that they take out the big guns. These additional features include things like more storage space, better collaboration, more customization, enhanced security, dedicated support and many others.
Most casual users might not need more than what they can get for free, but if your storage needs are more or if you're looking for a business solution, you need paid cloud storage.
Best Paid Cloud Storage Services – Top Recommendations
Let's now look at what we find to be the best paid cloud storage services in 2018, emphasizing options that give the maximum value for money.
Option #1: Jumpshare – Best Value for Money

It might come as a surprise to find a relatively unknown service getting the highest recommendation, but in all our research, we were unable to find another cloud storage option that offered better value for money. And it's not like Jumpshare just started yesterday; the service has been around since 2012 and has since grown into a highly mature offering that is worthy of the top rank.
On the storage front, Jumpshare Plus – the paid version – offers 1 terabyte with unlimited file size allowed for uploads. This becomes even more useful thanks to Jumpshare Inbox, a feature that allows anyone – even those who don't use the service – to upload files to your Jumpshare account, resulting in an outstanding collaborative environment.
Furthering the concept of collaboration, Jumpshare has the most intricate file sharing controls, allowing you to set expiration for your shared files based on time, views or downloads. Shared files can be restricted to "preview-only" thus preventing downloads, and schedules can be set for when files should become available. Sharing can be done with groups as large as 100 recipients in one go, and shared data can be set to self-destruct after a set period.
That's still barely scratching the surface. You may set passwords for shared files, ensuring that there's no unauthorized access. Jumpshare supports custom branding and domain, so the recipients see your domain and logo instead of this company's. It offers the most powerful and detailed analytics for shared data, can record screencasts and auto-upload annotated screenshots, has the widest file format support in its online viewer (200+ formats), offers version control and restoration of deleted files, and much more. This is truly the best paid cloud storage option out there.
Jumpshare offers only one paid plan which comes in at either $9.99 per month or $99 billed annually. While this puts the service on the (relatively) costlier side, the additional features make it worth your money.
Option #2: Google Drive – Best Ecosystem Support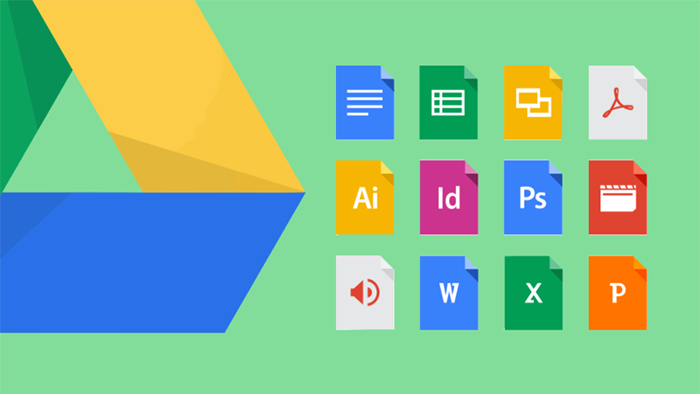 Google Drive is a paradox – on one hand, it has arguably the most robust ecosystem support out there thanks to the massive giant that Google is. At the same time though, moving from a free version to the paid offering doesn't bring anything new in the name of features; just more storage.
Let's start with storage. Google Drive offers three normal plans and two special ones. The normal ones start at $1.99 per month for 100GB of storage space, going up to $99.99 monthly for 10TB. The special ones include offerings of 20TB and 30TB storage, increasing monthly cost in $100 increments each. The maximum upload file size allowed is a massive 5TB, making it virtually unlimited (have you ever seen a single 5TB file?)
That's basically all the extras that you get opting for Google Drive's paid plans. However, the Drive's strength comes from the massive ecosystem support – available in both paid and free versions. It offers tight integration with Chrome OS and Android. Furthermore, it has the best web-based office suite. It can be extended with a host of online tools and apps. Finally, it is generally reliable because it's Google's foundation for its Chrome OS.
Another compelling reason to opt for Google Drive is Google Photos – the best online photo management and storage tool, period. The free plan already offers unlimited photos (up to 16 megapixels) and videos (1080p), but the increased storage in paid plans makes it ideal for photographers to store their entire libraries – RAW, 4K videos and all. Combined with the powerful search and tagging features and desktop syncing, it becomes a no-brainer if photo storage is your main requirement.
Option #3: OneDrive – Best Choice for Windows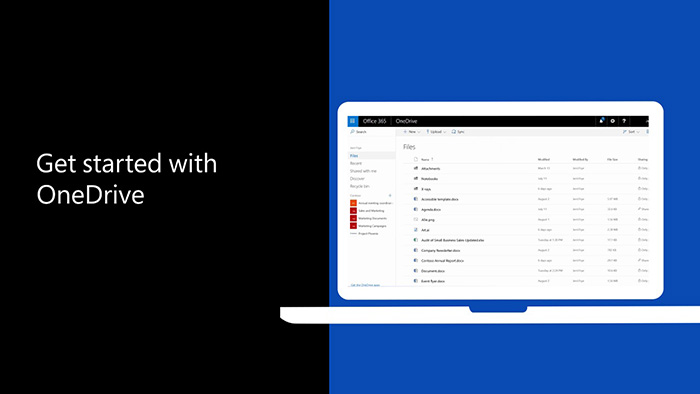 Let's face it: the vast majority of personal computers out there run Microsoft Windows, and the most popular choice in office suites remains MS Office. That's the user base which is likely to find most benefit in OneDrive.
Microsoft offers two kinds of paid plans for OneDrive: Personal and Business. Within Personal, you can either get Storage Only or the one that comes bundled with Office 365 Personal or Home (which gives more value for money, of course).
The paid Storage Only option provides 50GB space for $1.99/month and leaves it at that. Once you move onto the Office 365 bundle options, that's where things get interesting. With the Personal Plan, you get 1TB of storage; installations for the latest Word, Excel, PowerPoint, Outlook, and OneNote for either a PC or Mac and for a tablet and smartphone; You also get expiring links and OCR capabilities with multi-page scanning. All of this for either $6.99/month or $69 billed annually, making OneDrive one of the most attractive and cost-efficient options for Windows and MS Office users.
If you're running Windows 10, things become even better, because OneDrive is integrated at the system level in the OS and behaves pretty much like a local drive. The Office for Mobile apps work equally great on both iOS and Android, and because there's direct integration between the OneDrive mobile app and these, it results in a really functional portable experience as well.
Option #4: Dropbox – Best Cross-Platform Solution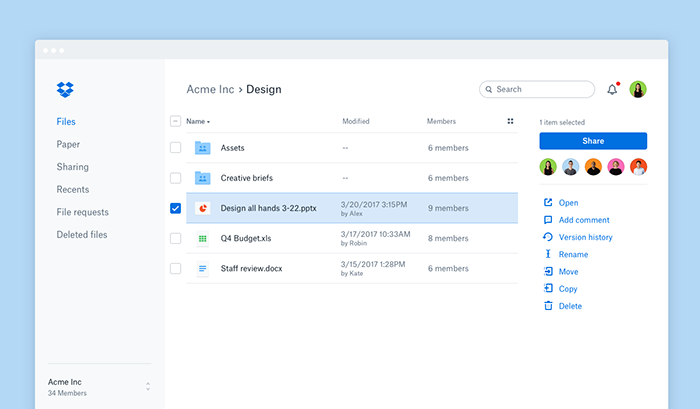 Dropbox is one of the oldest cloud storage services out there with a decade of experience under its belt. While the one-time king is slowly falling behind, it's still the most seamless and easy to set up file storage and sharing service available today. Dropbox's strength comes from its elegant user interface in all platforms that it serves, and the fact that it serves all the platforms equally with frequent updates.
In the paid domain, Dropbox offers two plans: Plus and Professional, both affording 1 terabyte of storage space. When it comes to Dropbox Plus, which costs $9.99 per month or $99 yearly, you get offline folders on mobile devices, remote device wipe, and priority email support. In Professional, which raises the cost to $19.99 monthly or $199 annually, additional features like smart sync, showcase, advanced sharing controls, full-text search (even within your files), image search and some others are also added.
This is our biggest complaint with Dropbox. If you consider the cost of Dropbox Professional and then what it offers, it becomes evident that competitors are doing much more for much less. And while Dropbox should still be your prime pick if your needs involve many different platforms and storage space is all you're looking for (the Dropbox Plus plan), look elsewhere otherwise.
Option #5: Amazon Drive – Most Affordable Option
Generally, when you think of cloud storage options, Amazon isn't the first one to come to mind. However, Amazon's Cloud Drive is truly unbeatable if all you need is an online vault where you can throw your files for safekeeping. And that's a very important consideration because that's basically all you get out of the Cloud Drive. There's no office suite, no robust photo management – nothing with bells and whistles, basically.
First things first. All Amazon Cloud Drive plans are on yearly billing, starting at $11.99 for 100GB. That comes down to just $1 per month – half of what the closest competitors offer. Likewise, 1TB comes in at $59.99/year, which translates to about $5 a month, making Amazon Cloud Drive the cheapest paid cloud storage service.
Cloud Drive plans are also the most versatile, starting from 100GB, then 1TB through 10TB increasing at 1 terabyte intervals, and finally, 20 and 30 terabyte options.
Amazon Prime members get even better deals with cloud storage. Although Amazon doesn't offer unlimited storage on any of its plans anymore, Prime members' photos don't count toward their storage quota, making Cloud Drive an even more attractive option if you're already on Amazon Prime.
Amazon's desktop and mobile apps function as intended, but one look at them will tell you that they aren't the industry standard. Both iOS and Android apps lack the oomph factor in aesthetics and functionality, and it's clear that Amazon intends Cloud Drive to be just a cheap cloud storage option.
Final Words
As promised, here we have outlined the best paid cloud storage services keeping in view the most common and frequent use cases, but naturally, we've left out quite a few. So, if you think there's a service that should have been here, let us know in comments. And feel free to share this across your social network. Thanks!