Did you hear about Eva Green's new thriller series? Get ready to watch the latest crime drama, Liaison, because we're sure it'll keep you on the edge of your seat. We have the information you need to know to watch Liaison right over here.
According to the official synopsis, the new crime drama is a high-stakes, contemporary thriller exploring how the mistakes of our pasts have the potential to destroy our future. The show also promises to have a multi-layer plot and be unpredictable due to its inclusion of politics, love drama, and action included in the story.
Liaison follows Alison Rowdy, a London-based agent, and Gabriel Delage, a mercenary. The pair are caught at the center of a major cyber attack in London, which could bring down travel networks and cause blackouts across the city. And to add more drama to the story, they must also navigate their own romantic story.
Want to stream Liaison for free? Well, we have all the details you need to do just that. Just keep reading to find out.
When and Where to Watch Liaison 
The much-anticipated thriller series premiered on Friday, February 24, 2023, on Apple TV+, and you can watch Liaison online on Apple TV Plus with a 7-day free trial. The show is set to have 6 episodes, with a new episode releasing weekly every Friday.
New content usually lands on the Apple TV Plus streaming platform after 3 am ET.
Coming up next: Liaison Episode 6: An Eye for an Eye, on March 31, 2023.
How to Watch Liaison for Free on Apple TV Plus
The brand new series is an Apple TV Plus original, and you will be able to stream Liason on Apple TV Plus. Since the series will be released globally, you just need to subscribe to the service where the platform has launched. The app and the website are available in over 100 countries and regions and run on over 1 billion screens, including the US, the UK, Canada, Australia, New Zealand, and India, to name a few.
Apple's streaming service has a subscription fee of USD 4.99/ £4.99/ CAD 5.99/ AUD 7.99 monthly. However, the best thing about subscribing is you can watch Liason online for free by taking advantage of the 7-day free trial on Apple TV Plus that they give to new customers.
Watch now on the Apple TV app with an Apple TV+ subscription. Watch offline. Ad-free and on demand. New Originals every month. Up to six family members.
You can also watch Liaison on Apple TV Plus for free using other Apple offers. One of them is the limited-time offer of a generous 3-month free trial for Apple TV Plus to customers who purchase and activate a new iPhone, iPad, Apple TV, Mac, or iPod touch. In addition, Apple One offers an even longer Apple TV Plus free trial – 30 days.
The Apple TV Plus streaming platform offers several Apple Originals like movies, dramas, comedies, and more, including, They Call Me Magic, Roar, Pachinko, Tehran, Hello Tomorrow!, and many other great titles. Apple TV Plus works with devices such as iPhone, iPad, Apple TV, Mac, smart TVs (Samsung, LG, Sony, VIZIO, TCL, and others), Roku and Amazon Fire TV devices, Chromecast with Google TV, PlayStation, and Xbox gaming console and others.
Access Apple TV+ from Abroad
Despite being available in several countries, there are regions where Apple TV Plus is still geo-restricted, similar to other streaming services. To bypass these geo-blocks, you need to use a capable VPN to unblock Apple TV Plus in case you find yourself having trouble accessing the platform while you are traveling. For this to work, run the VPN tool in the background using a server from a location where the geo-blocks are off before loading the streaming service.
Liaison Cast
Eva Green
Vincent Cassel
Peter Mullan
Gerard Lanvin
Stanislas Merhar
Philippine Leroy-Beaulieu
Laetitia Eido
Eriq Ebouaney
Thierry Fremot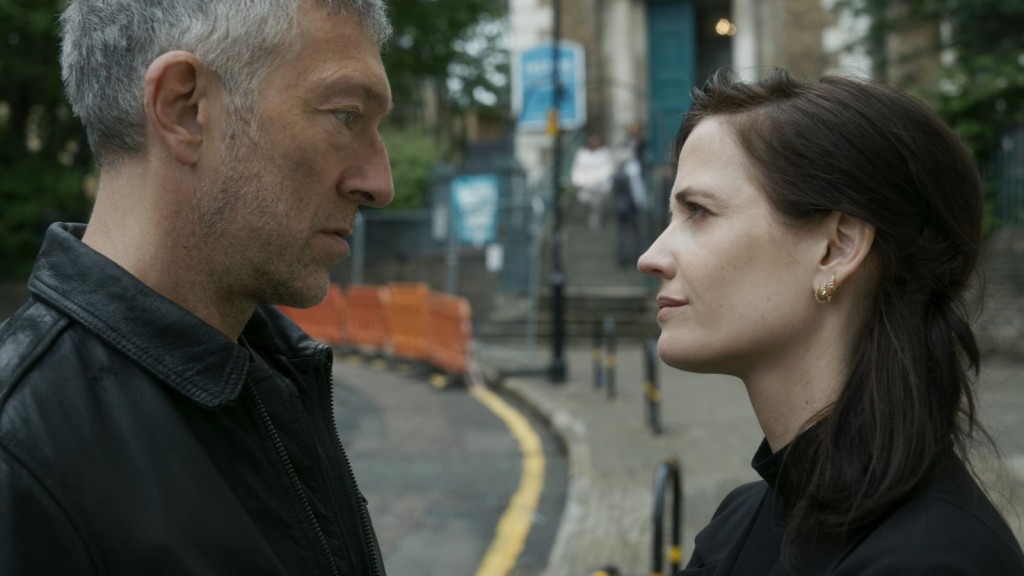 Liaison Episode Release Schedule
Season 1 Episode 1: Storm Warning (February 24, 2023) - Gabriel accepts a mission to withdraw two Syrian hackers. Alison and Banks face escalating cyberattacks in London.
Season 1 Episode 2: Chaos (March 3, 2023) - Believing he knows what will stop the attacks, Gabriel meets with Alison. A fateful event transpires in London.
Season 1 Episode 3: Manipulations (March 10, 2023) - Gabriel tracks down Myriam, but he's not the only one on the Syrians' trail. Alison heads to Brussels to secure an EU cyber agreement.
Season 1 Episode 4: Carnage (March 17, 2023) - Pressure mounts for Banks as another attack unfolds. Alison and Gabriel seek safety.
Season 1 Episode 5: Family Album (March 24, 2023) - Dumas gives information to Sophie Saint-Roch. Alison and Gabriel head to London with Samir. A devastating secret is revealed.
Season 1 Episode 6: An Eye for an Eye (March 31, 2023) - Series finale. Alison and Gabriel face new danger as everything converges at Antropa's London headquarters.
Liaison Official Trailer