When we think about sci-fi films, we usually envision something action-packed or even something similar to horror films. However, a new sci-fi series called Hello Tomorrow! is going in a different direction. This series is sure to be an interesting watch for anybody.
Not much is revealed about the dramedy Hello Tomorrow! aside from its official log. The series follows a team of salespeople led by a charismatic salesman named Jack Billings. Jack and his team are determined to revitalize their customers' lives by hawking timeshares on the moon in this unique retro-futuristic world.
Billy Crudup plays Jack Billings, and he is joined by several familiar faces like Hank Azaria, Haneefah Wood, Alison Pill, Nicholas Podany, and Dewshane Williams, who are part of the main cast.
While most of the plot remains a mystery, we can help you figure out how to watch Hello Tomorrow! online for free. All you need to do is continue reading the article below.
When and Where to Watch Hello Tomorrow!
Hello Tomorrow! premiered on Friday, February 17, 2023. You will be able to watch Hello Tomorrow! online for free on Apple TV Plus with a 7-day free trial. The series is set to have 10 episodes, with the first 3 episodes releasing simultaneously on its release date.
New content usually lands on Apple TV Plus streaming platform right after 3 a.m. ET.
Coming up next: Hello Tomorrow! Episode 10: What Could Be Better?, on April 7, 2023.
How to Watch Hello Tomorrow! for Free on Apple TV Plus
The sci-fi dramedy is an Apple TV Plus original series, so you can only stream Hello Tomorrow! on Apple TV Plus. All you need to do is subscribe to the service where the platform has launched, and the app and website are available. Apple TV Plus is available in over 100 countries and regions and runs on over 1 billion screens, including the US, the UK, Canada, Australia, New Zealand, Europe, and India.
Watch now on the Apple TV app with an Apple TV+ subscription. Watch offline. Ad-free and on demand. New Originals every month. Up to six family members.
Apple's streaming service subscription fee costs USD 4.99/ £4.99/ CAD 5.99/ AUD 7.99 monthly. However, you can watch Hello Tomorrow! for free by taking advantage of the 7-day free trial on Apple TV Plus that is given to new customers.
In addition, you can also stream Hello Tomorrow! for free using other Apple offers, such as the limited-time offer of a generous 3-month trial for Apple TV Plus to customers who purchase and activate a new iPhone, iPad, Apple TV, Mac, or iPod touch. In addition, Apple One offers an even longer Apple TV Plus free trial for 30 days.
The Apple TV Plus streaming platform offers several other Apple Originals like movies, dramas, documentaries, and more. Some Apple originals are They Call Me Magic, Roar, Tehran, and several other works. Apple TV Plus works with devices such as the iPhone, iPad, Apple TV, Mac, smart TVs (Samsung, LG, Sony, VIZIO, TCL, and others), Roku and Amazon Fire TV devices, Chromecast with Google TV, PlayStation and Xbox gaming consoles, and others.
Access Apple TV Plus from Abroad
Apple TV Plus is geo-restricted, similar to all other streaming platforms. To gain access abroad, you may need to use a capable VPN to unblock Apple TV Plus in case you encounter geo-blocks. For this to work, just run your VPN in the background and select a server from your home country before loading the streaming service.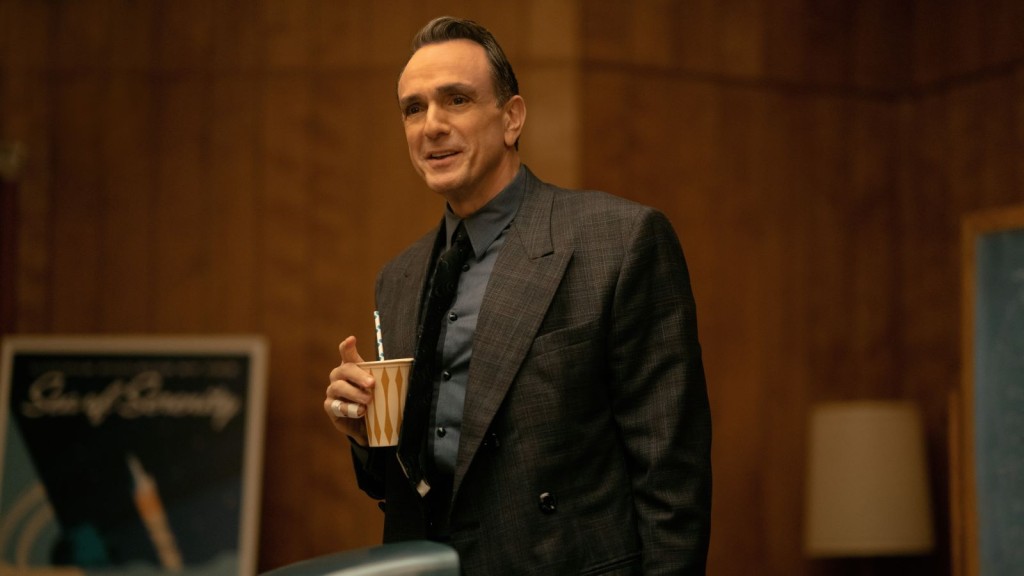 Hello Tomorrow! Episode Release Schedule
Season 1 Episode 1: Your Brighter Tomorrow, Today (February 17, 2023) - Take it from Jack Billings: The life you've always wanted is just one great deal away.
Season 1 Episode 2: Great Salesman Make Their Own Turf (February 17, 2023) - Believe it or not, 99% of sales are decided on first impressions. So look sharp, know your stuff, and don't let the pressure get to you.
Season 1 Episode 3: A Traveling Salesman Travels (February 17, 2023) - Funny how doing what's best for those we love sometimes means saying goodbye to them.
Season 1 Episode 4: Forms, Appropriately Filled and Filed (February 17, 2023) - To really be there for a member of your team, you have to be ready to put it all on the line—anytime, no questions asked.
Season 1 Episode 5: From the Desk of Stanley Jenkins (March 3, 2023) - A new market provides the perfect chance to redefine what people think about your product, your company, and you.
Season 1 Episode 6: The Numbers Behind the Numbers (March 10, 2023) - Turning the greatest setback of your career into your greatest opportunity is the mark of a true winner.
Season 1 Episode 7: Another Day, Another Apocalypse (March 17, 2023) - When a customer gets cold feet (and they all do), what they're really saying is: How much do you care?
Season 1 Episode 8: The Gargon Mothership (March 24, 2023) - Any salesperson worth their salt always remembers the brave heroes who made peace, prosperity, and great products possible.
Season 1 Episode 9: Certain Forces Once Unleashed (March 31, 2023) - Your product can take on a life of its own with the right pitch, crowd, and moment. Then you just buckle up and enjoy the ride—and profits.
Season 1 Episode 10: What Could Be Better? (April 7, 2023) - You can't give your customers everything, but you can make them believe that what you're giving them is all they'll ever need.
Hello Tomorrow! Official Trailer