Being one of the best VPNs for a Firestick, it doesn't come as a surprise that NordVPN offers a native (and highly capable) VPN app made for Amazon's media streaming devices. You'll be also happy to hear that you can install NordVPN on Amazon Fire TV Stick in a matter of minutes, even if you've never used a VPN before - and we'll show you exactly how that's done.
Tip
Keep in mind that NordVPN isn't compatible with the first-generation Firestick (released in 2014). Actually, that device doesn't support VPN services in general. However, if you have any other (newer) Firestick or Fire TV, NordVPN will run just fine.
Just below, you'll find the 5 steps to take to set up NordVPN on Amazon's Firestick or any other Fire TV device. Here's what you need to do.
Step #1: Get Your NordVPN Subscription
If you're just getting started with NordVPN, we highly recommend using your computer to subscribe. This isn't only the most convenient way to get started but also the smartest way. That's because if you subscribe to NordVPN via its website, you'll be eligible for its 30-day money-back guarantee (which doesn't apply if you use a third-party app store).
With that said, go ahead and visit NordVPN's website. Check if any deals are available, and then pick your subscription. You'll also be offered to add NordPass Premium or NordLocker Premium, so use the provided links to learn about those digital services. Once you pay for your subscription, expect to see a confirmation email from NordVPN's team.
Step #2: Find NordVPN in Amazon's App Store
To download and install NordVPN on your Amazon Firestick, turn to your media streaming device for the rest of this procedure. Also, make sure you're on your Firestick's home page. From there, navigate to the built-in search functionality (by moving to the top and the left-hand side of your screen).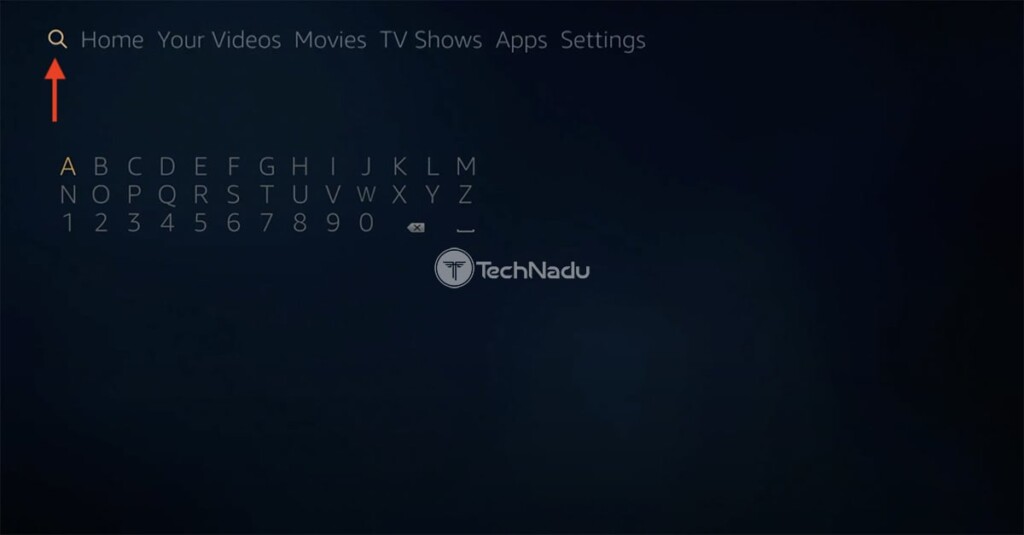 Once you click on the magnifying glass icon, you'll get to search for any app. Type in 'NordVPN,' and you'll see this VPN's name among the search results. Select the app's name to open NordVPN's overview, giving you more information about its Fire OS native app.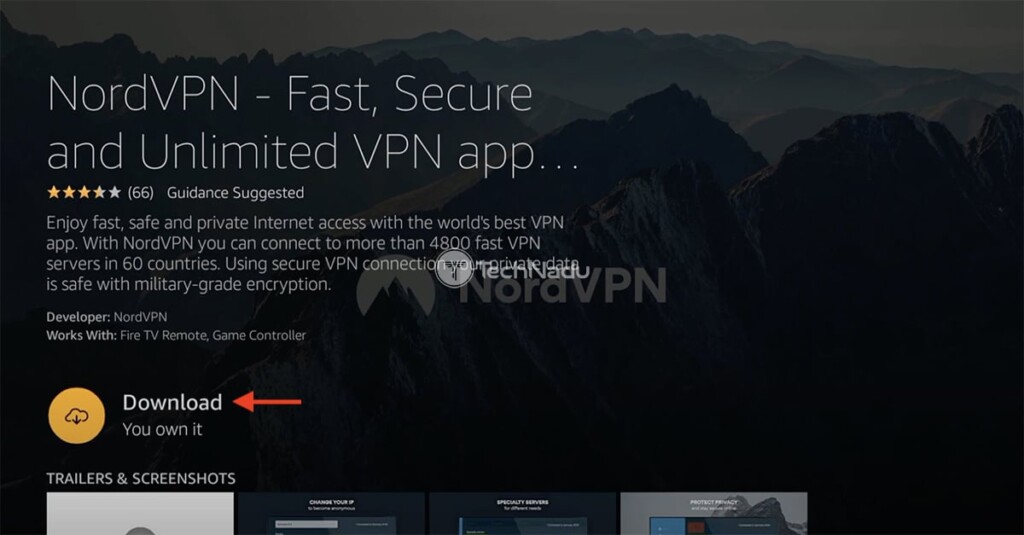 To download NordVPN on your Firestick or Fire TV, click on the yellow-colored 'Download' button (it might say 'Get' or something similar, in your case). This is a lightweight application, so it will install in a matter of seconds. Once done, go ahead and click on the 'Open' button.
Step #3: Log Into Your NordVPN Account
Once you install NordVPN on your Firestick, don't forget to set it up. With that said, open the app, and you'll find yourself on its home screen. Two options will be present now, letting you log in or sign up.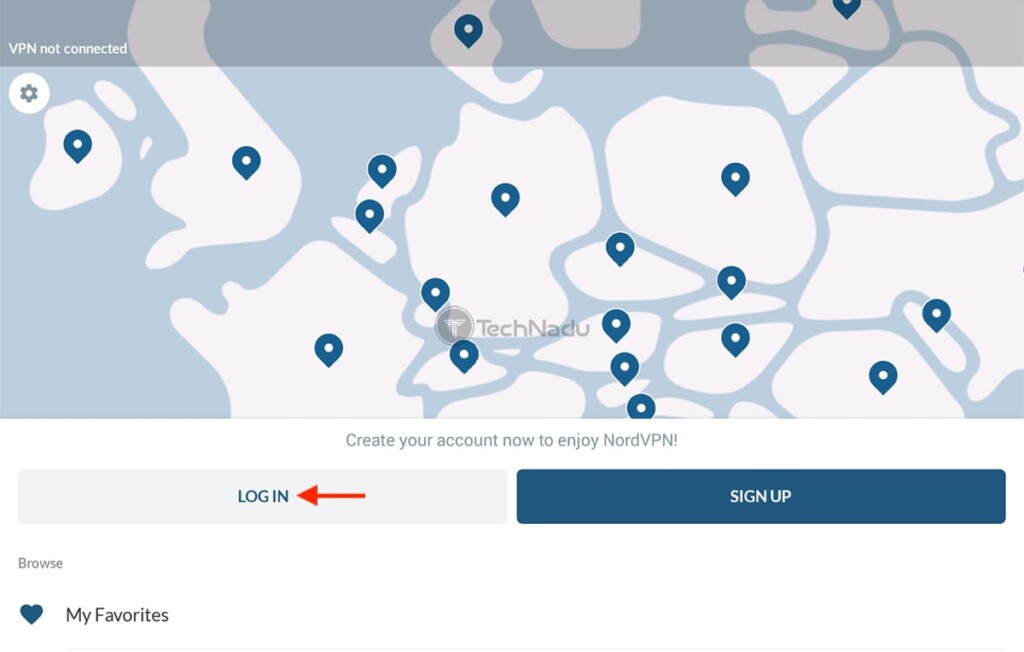 If you listened to our advice from earlier, you already have a NordVPN subscription at this point. So, go ahead and pick 'Log In' and provide your credentials. During the initial setup, you will also be asked to enable NordVPN's CyberSec feature (designed to protect you from malware, phishing, and other threats). You can learn more about that feature in our NordVPN review, where you'll see that we recommend using it.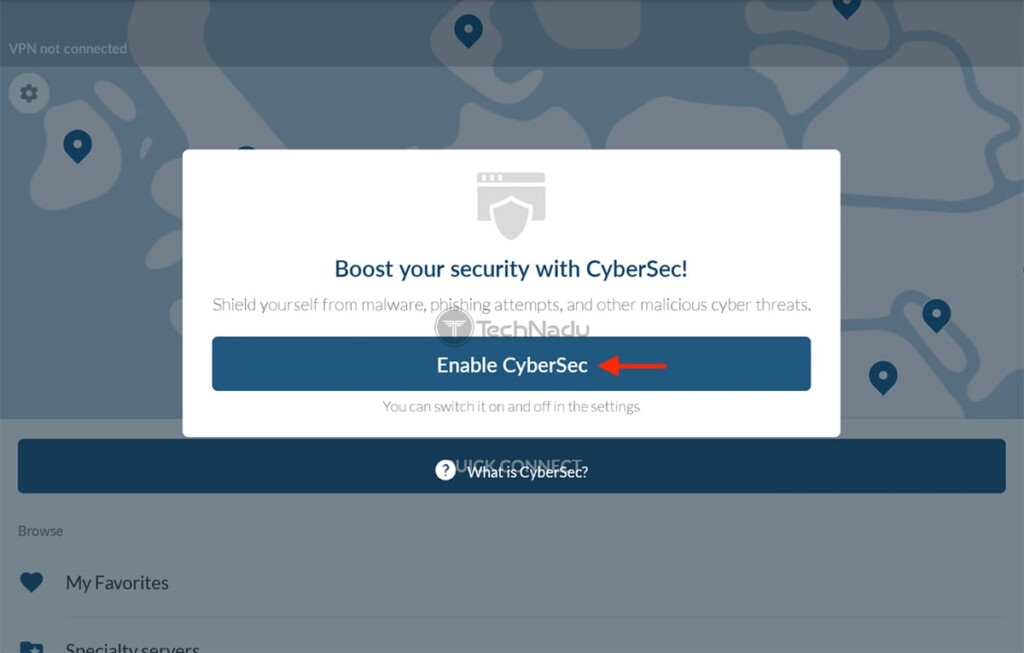 Step #4: Connect to a Secure VPN Server
Now, here comes the crucial step that'll encrypt your Web connection and unblock any media streaming app on your Firestick. And yes, we're talking about connecting to a secure NordVPN server (read more about NordVPN's collocated server network). You'll actually see this option present right after you log in, as NordVPN will highlight its 'Quick Connect' button.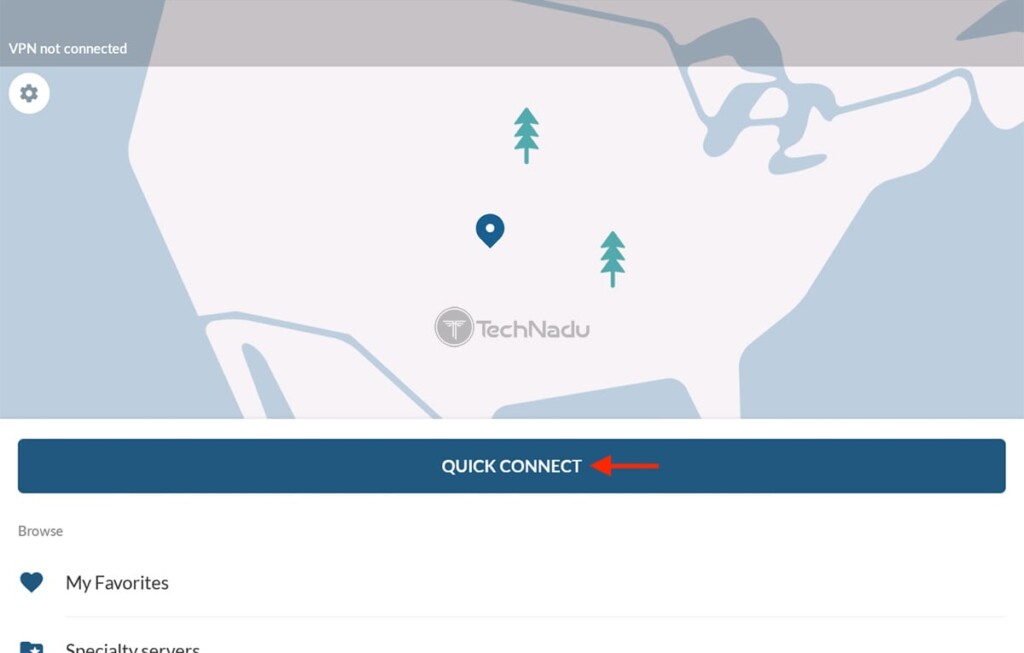 If you click on 'Quick Connect,' NordVPN will connect you to the closest server available. In turn, this will provide you with the fastest Web speed possible. However, you'll also want more control over which server(s) you pick, so make sure to scroll to the bottom of your screen and then swipe up to reveal the 'Country Menu.' From there, you can pick any individual country, a specific city or region, or even check out NordVPN's specialty servers.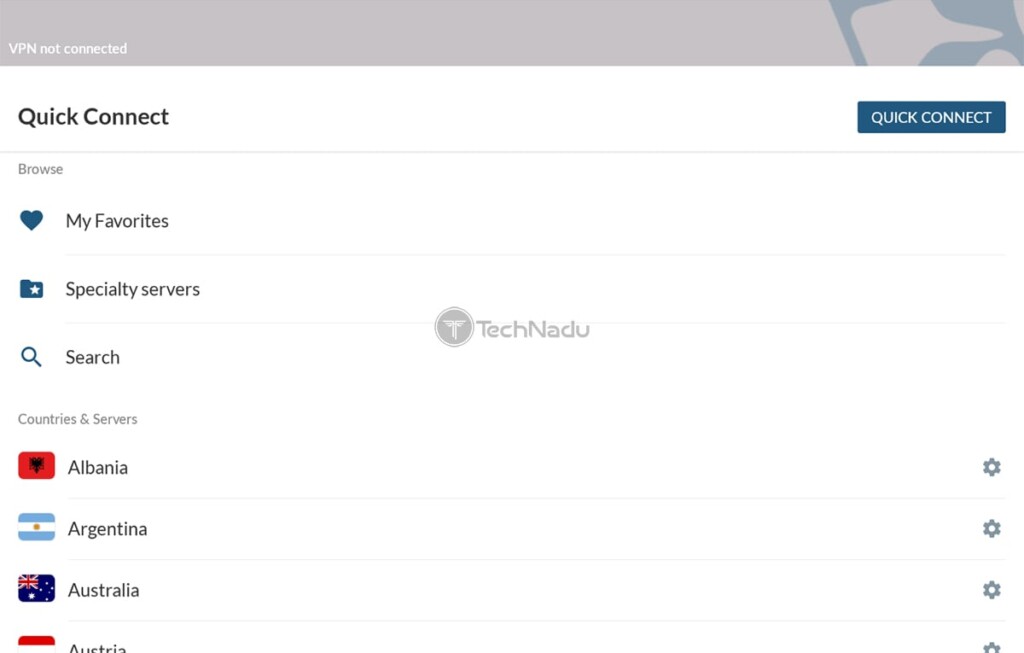 Step #5: Optimize NordVPN for Speed & Performance
And lastly, we'll conclude this guide on how to NordVPN on a Firestick or Fire TV with a handy tip. Don't forget that NordVPN offers plenty of features, and you can fine-tune it as per your needs. To do so, select the cogwheel icon you'll see in the top-left corner of NordVPN's interface.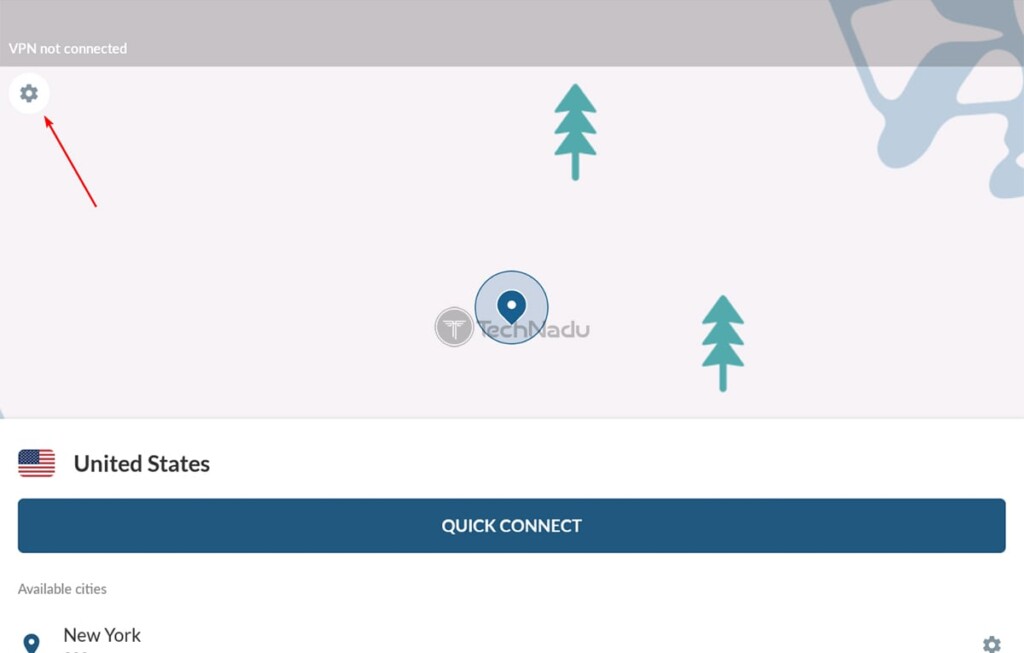 You will now enter NordVPN's settings, where you can decide to enable/disable CyberSec, pick a different VPN protocol, set up a custom DNS, and choose whether to send anonymous data to NordVPN.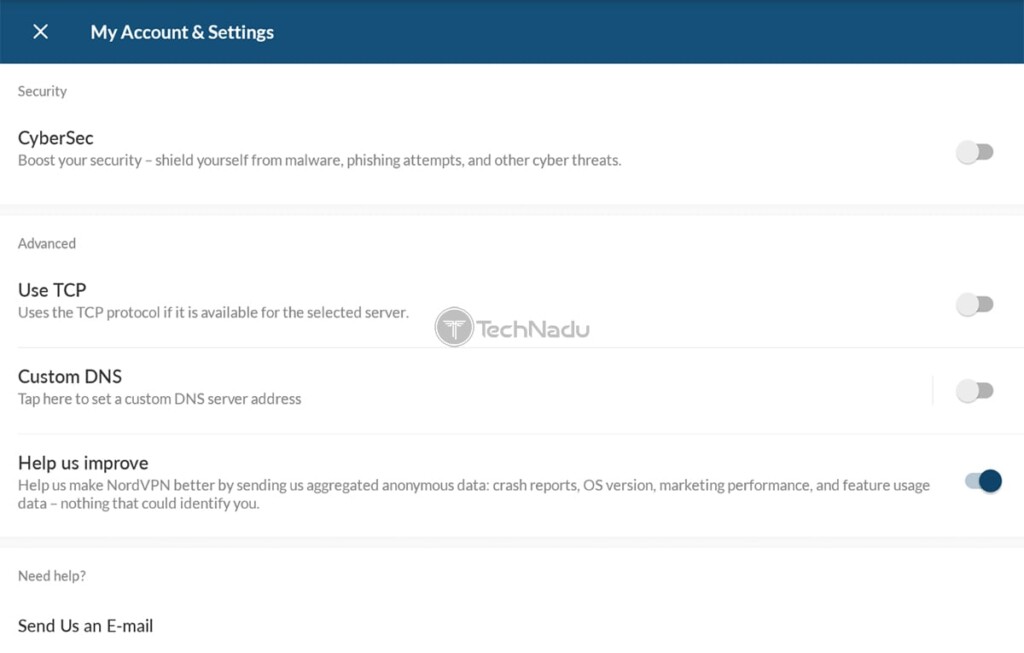 So, that would be all on how to download, install, and use NordVPN on Amazon's Fire TV devices. If you have any questions for us, make sure to post your comment below. And finally, thank you for reading!