Almost all U.S. Internet Service Providers are actively throttling internet speeds of cellular network connections.
This isn't happening during network overload periods, but all the time, with consistency.
A VPN tool helps evade the throttling in most cases, as the ISP can't recognize the type of traffic that's hidden via a VPN tunnel.
According to a recent study conducted by five researchers from two universities in the United States, the largest ISPs (Internet Service Providers) in the country are actively throttling internet speeds on streaming services. The study has been collecting data for 12 months (January 2018 to January 2019), checking the performance of internet connections on YouTube, Netflix, Amazon Prime Video, NBCSports, Skype, Spotify, and Vimeo. To make sure that their lab results are valid, the researchers have compared their findings with crowdsourced data, which in all cases confirmed their findings.
The worst offenders in the U.S. were NextLink, AT&T, BoostMobile, Cellcom, Family Mobile, GCI, Iowa/iWireless, MetroPCS, Sprint, Verizon, and T-Mobile. These ISPs were confirmed to throttle at least three streaming services, while other providers limited their throttling to one or two of the tested apps. Google Fi was the only ISP that didn't demonstrate a technically-induced differentiation on the internet speed, but throttling is more or less a thing for everyone else. On average, the throttling rate was 1.5 Mbps, with the worst coming from BoostMobile which drops down to 0.5 Mbps, and CSpire and CGI that lock at 1 Mbps.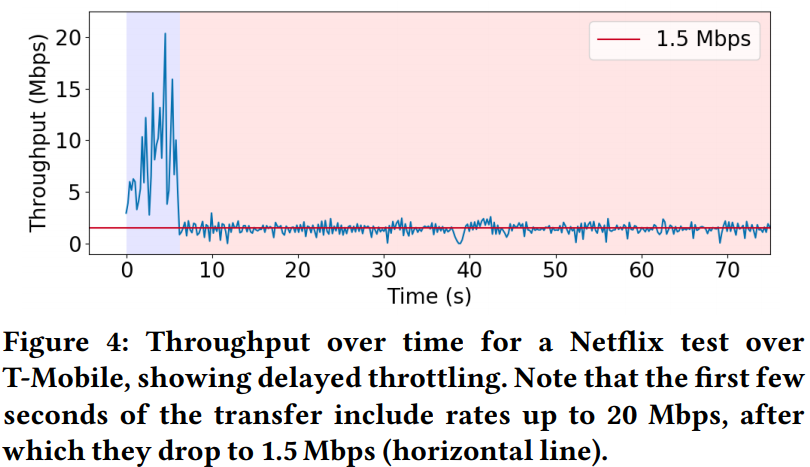 The majority of ISPs in the U.S. are throttling on the cellular connections level, leaving WiFi unaffected. One notable finding from the report concerns the use of VPN tunnels, which were deemed as an effective measure to evade content-based throttling. So, here is yet another reason for video consumers to use a VPN product to access their favorite streaming service, even if that platform has nothing to do with piracy. As the researchers characteristically point out, in many of the test cases, the video playback was streaming at a lower resolution when they didn't use a VPN tool. The only exception to this was Amazon, which used a lower resolution than what the available network speed should be sufficient for, and showed no difference when a VPN was used.
To conclude, we have to point out that the researchers went to great extents to minimize bias and come up with reliable and validated data. That said, this study holds significant value for the proponents of a comprehensive Net Neutrality regulation, and several points of consideration for those who argue that ISPs have no intention to degrade network performance. The main takeaway is that ISPs in the U.S. are already throttling cellular connections, and they are doing it 24/7, no matter what the network load is.
Have something to comment on the above? Feel free to do so in the section below, or on our socials, on Facebook and Twitter.