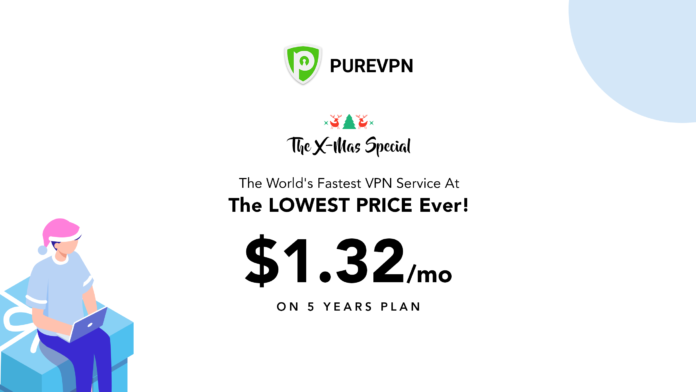 PureVPN never ceases to amaze with its fantastic VPN deals. But the elite VPN service has gone beyond its own reputation with a jaw-breaking Xmas deal for 2018. Get your hands on this rare gem of a 5-year plan at an amazing 88% off.
Unlike the new kids in town, PureVPN is a seasoned player, operating in the industry for over a decade now. Its roots expanded from Hong Kong to over 180 global locations including all the popular regions like the US, UK, Canada, Australia, Germany and Europe.
The VPN service owns over 2,000+ VPN servers including dedicated machines for streaming (read Netflix), gaming, VoIP, torrenting, security and everything that comes under the VPN umbrella.
What you will definitely find remarkable about this VPN service is that it has one of the extensive checking guarantee in the industry, i.e., a 31-day money-back guarantee with no-questions-asked policy. Period.
Anyway, for all those VPN deal hunters out there, we have some great news for you. PureVPN has finally unveiled its Xmas VPN deal, offering a FLAT 88% on its 5-year plan, which is something you don't often get to see. Well, you can get the deal for as well as $1.32 per month or $79 total.
If you are not up for an extensive 5-year plan, then don't worry. The VPN service also has a plan in store for those looking for a standard, yearly plan. You can get PureVPN's 1-year plan at a 73% off, which means only $4.08 per month or $49 per year.
You can also check out the monthly plan if you need the service for meeting any short-term needs. The 1-month plan is available for $10.95 per month. Sadly, there's no discount on the 1-month plan.
So, there you go. Now that you have all the details of the Xmas deal, we recommend that you start clicking and grab the deal before Santa gives it to someone else.