Aside from being one of the best VPNs on the global market today, NordVPN is also a VPN that isn't afraid to offer an unmissable deal. And just like it usually happens, this VPN has added a playful twist to its currently active promotional offer. So, let's talk about NordVPN's Black Friday 2020 deal.
For this year's Black Friday, NordVPN has discounted prices across all of its long-term plans. However, the star of the show is NordVPN's 2-year subscription, currently starting at only $3.71 per month (letting you save 68%). And yes, a special gift awaits as well.
We're sure you'd like to know more about this offer. So, here's everything you need to know about NordVPN's Black Friday 2020 deal.
How Much Can You Save on NordVPN's Black Friday 2020 Deal?
Save 68% on NordVPN's 2-year plan + get extra service time as a gift – now priced at $3.71/month ($89.00 in total). 30-day money-back guarantees available!
Right now, you can save 68% on NordVPN – when compared to the VPN's regular monthly price (which is still at $11.95/month). In other words, you'll pay $3.71/month only.
Keep in mind that we're talking about NordVPN's 2-year subscription here. As this is a long-term subscription, you will be charged $89.00 upon subscribing (instead of $286.80, which is the regular price of NordVPN's 2-year subscription). That means you get to use NordVPN without any limitations for the next two years.
Also, there's another thing to keep in mind. Once your initial plan expires, NordVPN will charge you $79.00 annually. Therefore, you won't need to worry about any fine print or being charged the VPN's regular price in the future (which, once again, is $11.95/month).
Tip
How Long Will This Deal Be Active? – This year, NordVPN's Black Friday deal will be active from November 16th until November 29th, 2020. So, make sure to act on time!
Does NordVPN Offer Something Extra for This Year's Black Friday?
Yes, there is something extra! Those who take advantage of this offer will also receive 3 extra months for free! Therefore, this offer will cover all your VPN-related needs for the next 27 months in total.
Also, this gift will be automatically applied to your new subscription. This means you won't have to do anything extra to claim this deal. Instead, you'll see 3 additional months added to your subscription automatically.
How to Subscribe to NordVPN & Activate This Black Friday Deal?
Looking to take advantage of NordVPN's Black Friday 2020 deal? Here's our step-by-step guide on how to subscribe and get your gift!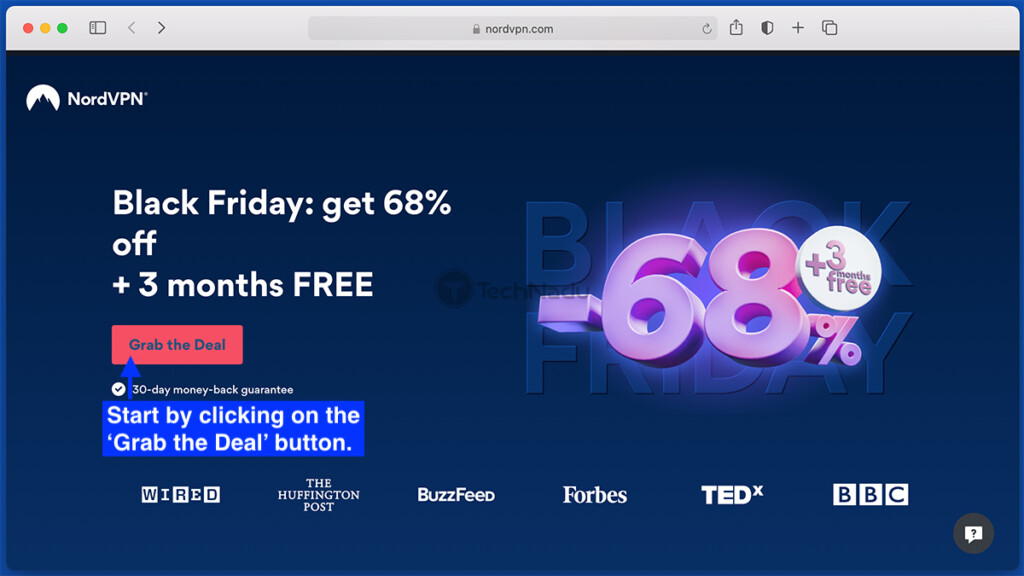 NordVPN will now show you its pricing page. Keep in mind that NordVPN's Black Friday deal applies only to its 2-year plan. So, make sure to select it.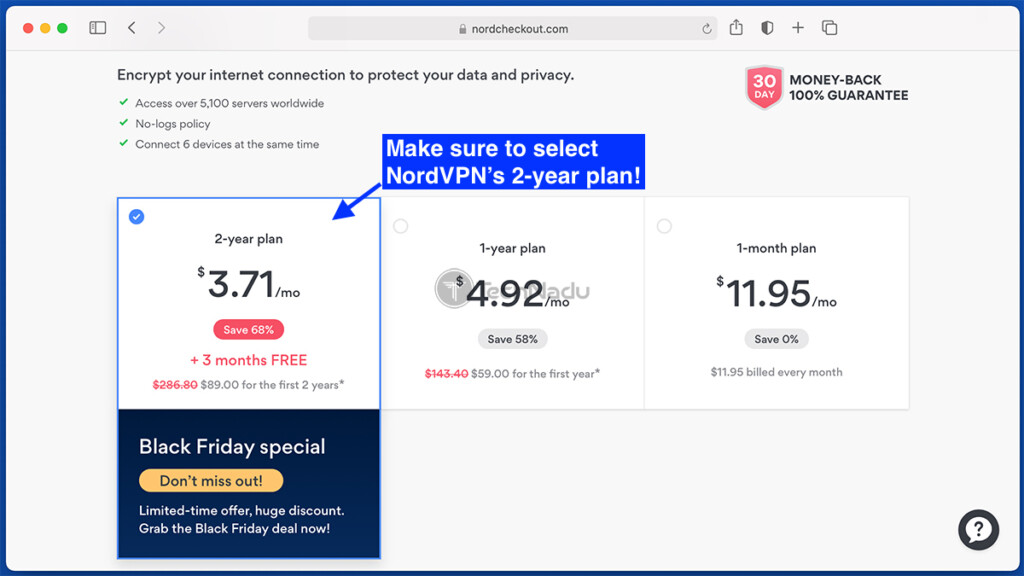 This Black Friday promotion also lowers the price of NordPass and NordLocker, which can be grabbed for $1.49/month (each). If you'd like to add any of these products, select 'Add.'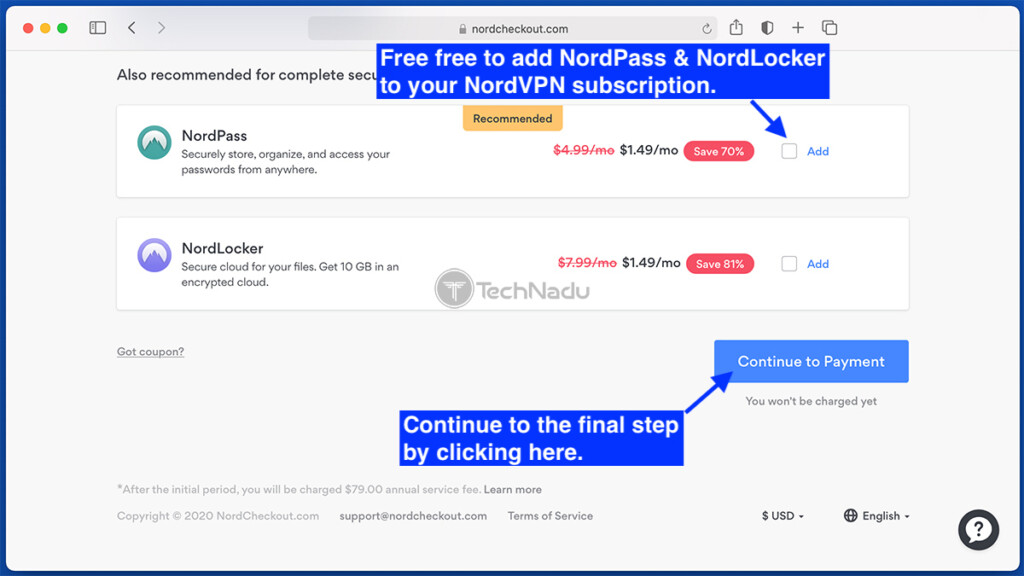 Once ready to proceed, click on 'Continue to Payment.'
Fill out the required information you'll see on your screen (such as your email and payment info), and finally click on 'Continue.'
You'll now need to authenticate your purchase as per your bank's default procedure. So, make sure to follow any prompts you'll see on your screen. That's it!
Tip
How to Activate NordVPN's Black Friday Gift? – Don't worry – there's nothing you need to do to claim NordVPN's Black Friday gift. As soon as you subscribe, you'll get a notification that 3 extra months have been added to your new subscription.
What About NordPass & NordLocker? Can You Bundle Them With NordVPN?
Yes, you can bundle NordPass and/or NordLocker with NordVPN. If you decide to take advantage of NordVPN's Black Friday deal, you'll see those two products priced at $1.49 per month, each (helping you save up to 81% off their regular prices).
In case you'd like to learn more about those services, we offer plenty of useful resources. For example, our NordPass review will tell you all there's to know about this password manager (which has recently passed an independent audit).
And of course, we have our NordLocker review, where you can learn about this cloud storage solution. Keep in mind that NordLocker can be used as an add-on for NordVPN.
Tip
How to Get the Lowest Possible Price? – If you decide to try NordPass and/or NordLocker, make sure to pick those apps while signing up for NordVPN (as explained above). Once you select the VPN's 2-year plan, you'll see both NordPass and NordLocker priced at $1.49/month, each.
What If You Change Your Mind? Will You Get Your Money Back?
Yes, NordVPN offers a generous 30-day money-back guarantee. So, if you change your mind, simply contact NordVPN's support and ask for your money back.
As you can see, you have nothing to lose if you decide to try NordVPN. It's true that you'll need to pay as soon as you subscribe – but you can always count on this VPN's 'no questions asked' money-back policy.
Tip
If You Get a Refund, Will You Still Get Those 3 Extra Months of Use? – If for any reason you decide to have your money returned, you will receive the total amount you paid. That means both your 'regular' subscription and the additional three months will be canceled.
What Do You Get With NordVPN? What Features Can You Expect?
It would not be an understatement to say that NordVPN offers pretty much everything you've ever wanted out of a VPN. Here are the most prominent highlights:
Over 5,500 serves await, spread across 59 countries worldwide.
You get to connect to VPN servers on up to 6 devices at once.
NordVPN comes with incredibly smooth performance, especially on remote servers.
Torrenting is allowed. You'll even find specialized servers for P2P.
NordVPN is present on pretty much all desktop and mobile platforms.
You also get high-end protection with innovative VPN protocols.
Tip
Where Can You Learn More About NordVPN? – If you need additional (hands-on) information about this capable VPN service, make sure to turn to our NordVPN review.
With that said, we conclude our overview of NordVPN's Black Friday 2020 deal. Finally, don't forget to act on time, as this truly is a one-time deal. Use the provided link to get started.