Based on the best-selling book series by Ellen Miles, Puppy Place is a furry foster family that's impossible to forget, and it returns with a new season soon. We have all the important details you may be looking for, including the premiere date, cast, plot, and episode release schedule of Puppy Place Season 2, and you will find everything below.
Charles and Lizzie Peterson have found the perfect way to foster their love of dogs - literally. The siblings take on the tough but rewarding task of fostering puppies and finding their forever homes. With every new pup, a new adventure begins, and you will be able to see all their new puppy rescues when new episodes premiere.
Each of the episodes in season two continues to tell the story of a puppy who finds its way to the Peterson family. Charles and Lizzie, whose different approaches complement, inspire, and occasionally confound one another, do whatever it takes to find a happy, loving home for each and every dog. Discovering what makes each puppy special offers a unique perspective that helps the pair overcome their own individual hurdles. 
Let's see when, where, and how to easily watch Puppy Place Season 2 online for free.
When and Where to Watch Puppy Place Season 2
Apple's Puppy Place Season 2 premieres on Friday, December 9, 2022, on Apple TV Plus, and you will be able to watch Puppy Place Season 2 online for free on Apple TV Plus with a 7-day free trial.
New titles usually become available to watch on this streaming platform right after 3 am ET (midnight PT). The sophomore season was announced to have 8 episodes, and they will be dumped on the platform all at once on the premiere day.
How to Watch Puppy Place Season 2 Online for Free on Apple TV Plus
You will be able to stream Puppy Place Season 2 on Apple TV Plus by subscribing to the service in countries where the platform has launched since this series is an Apple TV Plus original title. The website and the Apple TV Plus apps are available in over 100 countries and regions and run on over 1 billion screens right now, including the US, Canada, the UK, Australia, New Zealand, Europe, and India.
Subscribing to Apple's streaming platform has a moderate fee of USD 4.99 / £4.99 / CAD 5.99 / AUD 7.99 a month, and the best thing is you can watch Puppy Place Season 2 for free via the 7-day free trial on Apple TV Plus that is made available for new customers.
Watch now on the Apple TV app with an Apple TV+ subscription. Watch offline. Ad-free and on demand. New Originals every month. Up to six family members.
The Apple TV Plus streaming platform works with iPhones, iPads, Apple TVs, Macs, smart TVs, streaming devices, gaming consoles, and others, and it offers several Apple Original movies and also drama, comedy, documentary series, and more, including the Oscar-winning CODA, They Call Me Magic, Roar, Pachinko, Tehran, Slow Horses, Mythic Quest, Mosquito Coast, The Essex Serpent, and many others.
You can also watch Puppy Place Season 2 for free via some Apple deals right now. For example, there's a limited-time offer that offers a very generous 3-month free trial for Apple TV Plus to customers who purchase and activate a new iPhone, iPad, Apple TV, Mac, or iPod touch. Apple One offers an even longer one - a 30-day Apple TV Plus free trial.
Access Apple TV+ From Abroad
You may need to use a capable VPN to unblock Apple TV Plus if you cannot access this title while traveling because, just like all the other streaming services, Apple TV Plus is geo-restricted. Just run the VPN in the background via a server from a home location before loading the streaming service.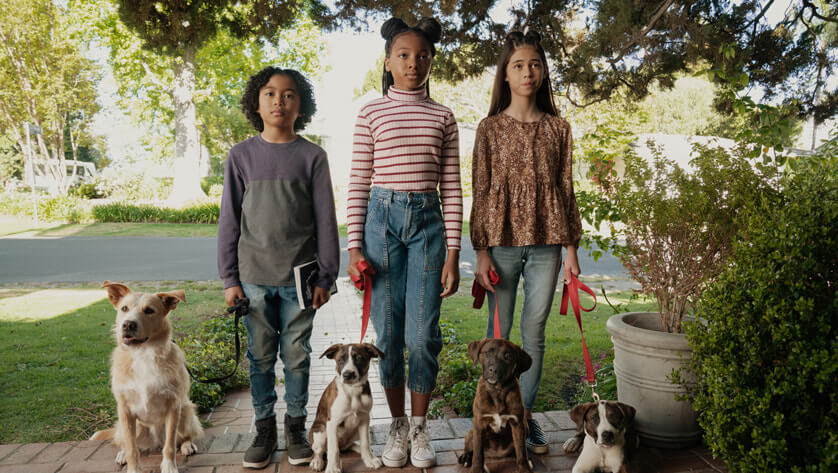 Puppy Place Season 2 Cast
Declan Whaley as Sammy
Eric C. Lynch as Paul
Dominique Toney as Betsy
Riley Looc as Charles
Brooklynn MacKinzie as Lizzie
Anna Eppe as Maria
Puppy Place Season 2 Official Trailer