No matter if you have a smartphone or tablet, know that you can install a VPN on Android in under a minute. We all know that Android is a fairly open platform, which means that you have several options available right now (in terms of installing Android VPN apps, that is).
More precisely, we'll explain four ways to set up a VPN on Android - by using the Play Store, "sideloading" a VPN app, utilizing an OpenVPN (third-party) app, and by configuring a VPN connection manually.
As you can imagine, you need to have an active VPN subscription before you do anything else. If you're still considering your options, know that our VPN of choice is ExpressVPN - and we'll use this particular VPN in this article. If you need more options, make sure to visit our article about the best VPNs for Android.
Aside from running a VPN on Android, this type of software is found across other platforms as well. With that said, you'll want to check out the following VPN installation guides as well.
Step-by-Step Guide: Here Are All the Ways to Install a VPN on Android in 2021!
Right now, these are the 4 best (and easiest) methods to install a VPN on Android in 2021.
Method #1: Set up a VPN on Android via Google's Play Store
First, let's talk about how to install ExpressVPN via the Play Store, as this VPN comes with native software for both Android smartphones and tablets. If you decide to use some other VPN, make sure that it has an official Android app available on the Play Store.
Tip
Before going into this procedure, we recommend signing up for ExpressVPN by using the provided link (so you can subscribe via its website). This will make you eligible for a 30-day money-back guarantee, which doesn't apply if you subscribe via ExpressVPN's Android app.
First, make sure that you've already subscribed to ExpressVPN. This means that you should have your VPN credentials handy, as you'll need those soon enough.
Launch the Play Store on your smartphone or tablet and take a look at the top of your screen. Use the search bar that you'll see there and type in "ExpressVPN."
The Play Store will now present the list of results. Go ahead and tap on ExpressVPN's icon to open the app's overview. Then, tap on the green-colored "Install" button.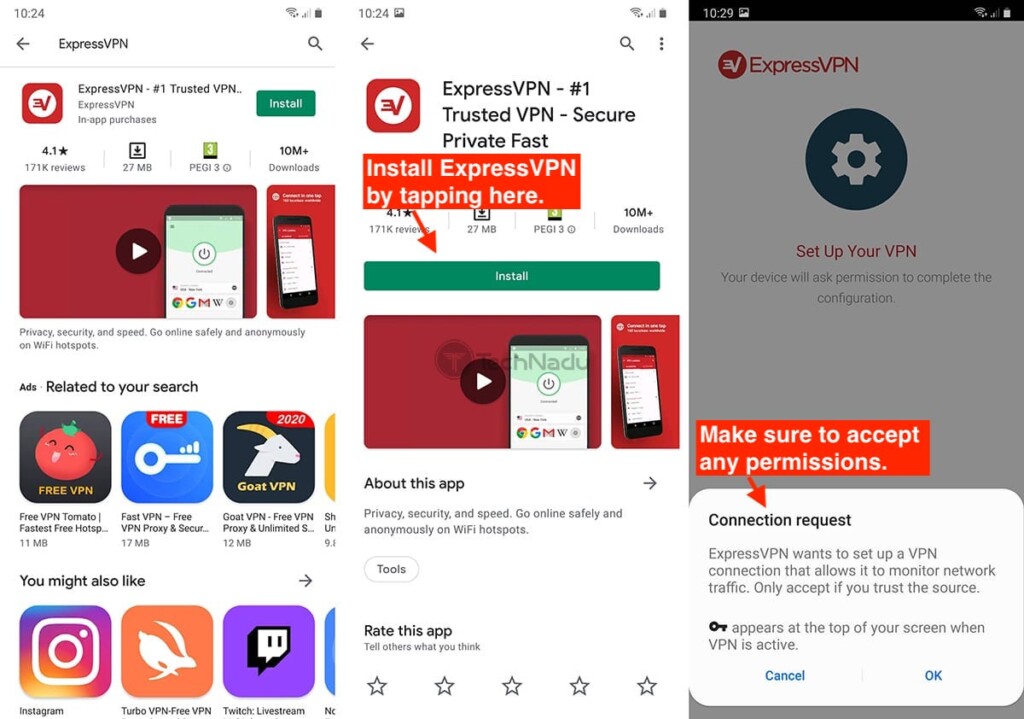 Open the ExpressVPN app once ready. Then, tap on "Log in," which is when you'll be asked to input your email and password. Fill out the required information and proceed.
Before you can use ExpressVPN, you need to give permission to the app to make changes to your Web connection. Also, you can opt-in/out from data collection (this is anonymous data, so it won't record your online activity).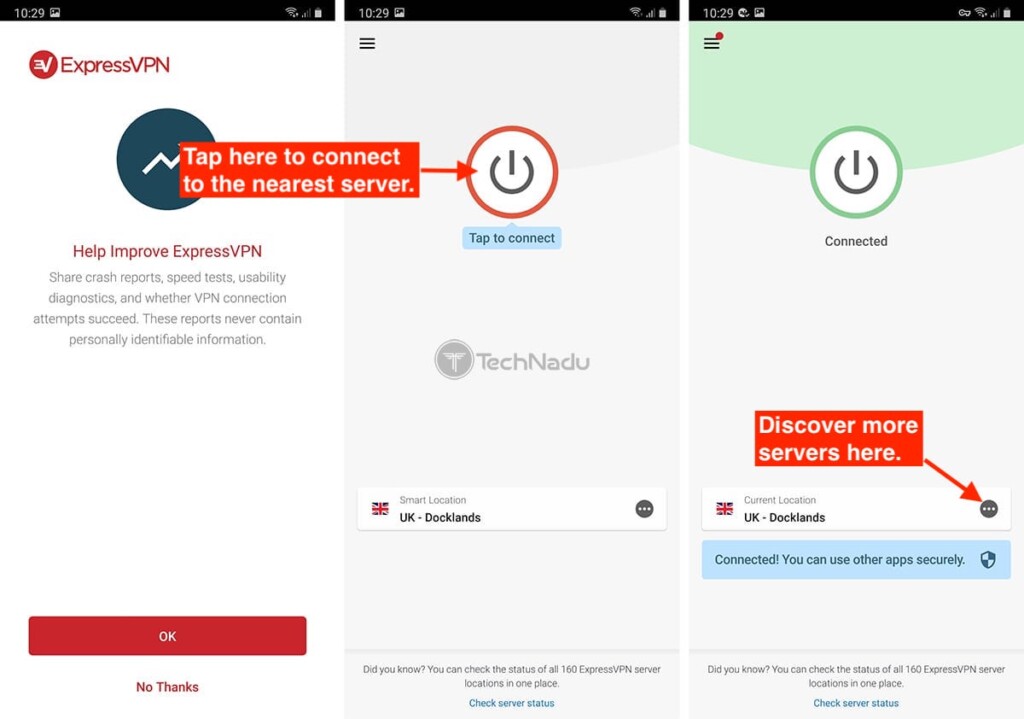 Finally, you can connect to any of the hundreds of available servers, and your Web connection will be encrypted from this point. That's it!
The app will indicate whether you are now connected to the VPN service. No matter if you are using mobile data or Wi-Fi, your information is now safely encrypted so no one can snoop on it. Your location and IP address are now also both obscured!
Method #2: Set up a VPN on Android by "Sideloading" the App
Those seeking the highest possible protection of their data might want to install apps by going around the Play Store. This means you can "sideload" your VPN app - by downloading its APK file.
Once again, we recommend ExpressVPN as this VPN is one of the rare ones that give you this option. So, before we proceed, make sure to use the provided link to subscribe. And now, here's how to install an Android VPN by sideloading it.
First, you need the official APK file from your VPN service. ExpressVPN is a nice example of how that is done, as you can grab its APK file from its official website. Log in to your account on the VPN's website (by using Chrome, for example, on your Android smartphone) and make sure to pick "Android" found in the "Set Up Your Devices" card.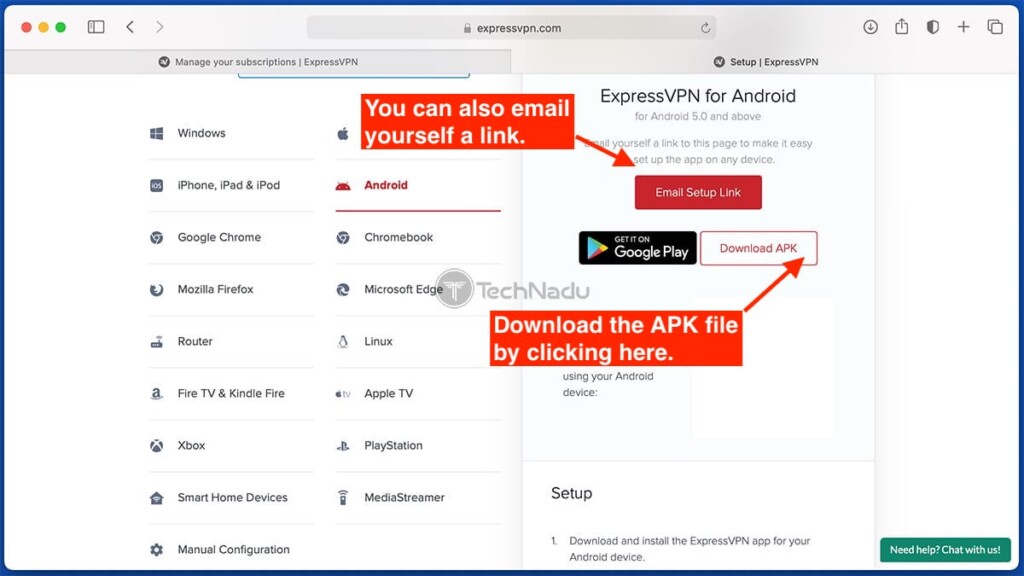 This will open an overview of various ExpressVPN's apps with 'Android' being selected. Look for the button labeled "Download APK" and tap on it. The file should now download to your smartphone.
Now, open the downloaded file by either clicking on the notification or by going to your phone's File Manager. You might need to grant installation permissions before installing the file, so just follow the instructions you'll see on your screen. This permission is usually granted by going to the Settings app on your phone.
Return to the APK file and tap to open it. You should see Android's installation wizard at this point, so once again, follow the instructions you'll see on the screen. Once the installation is done, feel free to launch ExpressVPN, log in to your account, and then connect to any of its servers.
Keep in mind that you can update your "sideloaded" app, but this is done manually. Simply download the latest APK file and reinstall the app. The new version will replace the existing version on your phone, keeping all your settings and preferences.
Method #3: Set up an Android VPN via OpenVPN Connect
While it's pretty rare these days, some VPN providers may not have a native Android application for you to use. However, if they support the OpenVPN protocol, you have one more option at your disposal.
Here's how to set up a VPN on Android via OpenVPN, and we'll use ExpressVPN in this article (you can choose between using its official app or the OpenVPN Connect app). Of course, make sure to subscribe before we proceed (use the provided link in this paragraph).
For this procedure, you need to have OpenVPN files at your disposal. Go to ExpressVPN's website and log in to your account. Then, tap on "More" in the "Set Up Your Devices" card. Make sure to select "Manual Configuration," and you'll see the required files there.
There are several things to keep in mind at this point. You'll see your OpenVPN username and password. Then, you can download the needed OpenVPN files. Download a file for each server that you plan on using.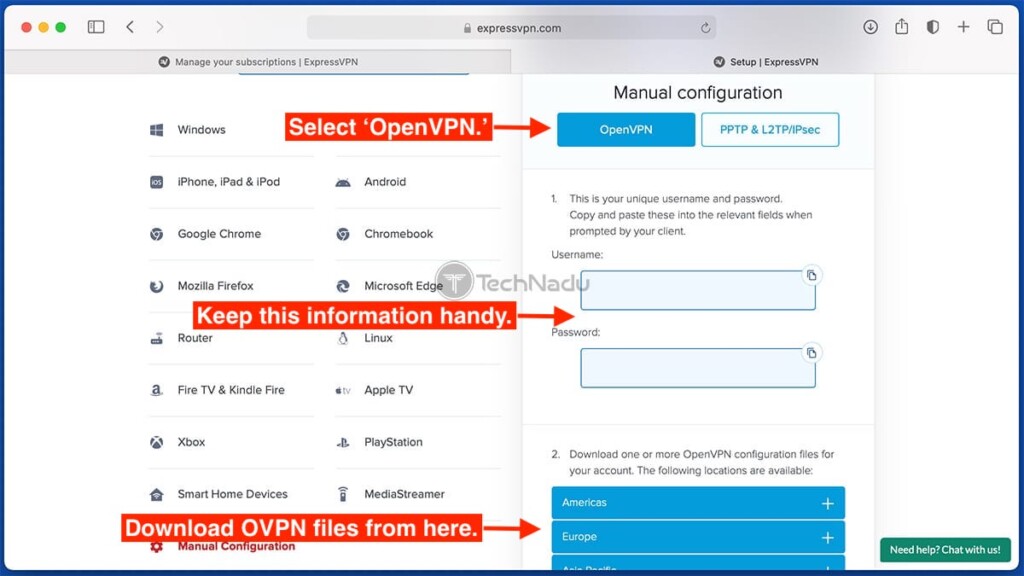 It's important to have these OpenVPN files on your Android device. So, you can either download them using Chrome for Android, or you can download them on your computer and send them to your Android device (via cloud storage or email).
Next, download and install OpenVPN Connect for Android by using the Play Store. Once done, go ahead and open the application.
Make sure to tap on the "File" tab and navigate to the recently downloaded OpenVPN files on your Android. Select the OVPN file and tap on "Import" in the top-right corner. This is when you can also input your username and password (from the second bullet point in this segment - so take a look above on where to find your OpenVPN username and password).
That's it! You'll now return to OpenVPN Connect's home screen. This is where you'll see your OpenVPN connections, so you connect to any of the servers you've added.
Method #4: Set up & Configure a VPN on Android Manually
If everything else fails, you can manually configure your VPN on Android. To do this, you'll need certain configuration information from your VPN provider.
ExpressVPN gives you this information simply by logging into your account, without having to contact customer support first. So, here's how to create a VPN connection manually.
Go to ExpressVPN's website and log-in to your account (or subscribe if you haven't done that already). Then, tap on "Set Up Other Devices," which will open a new page. Select "Manual Configuration." Finally, click on "PPTP & L2TP/IPSec" and keep this page open.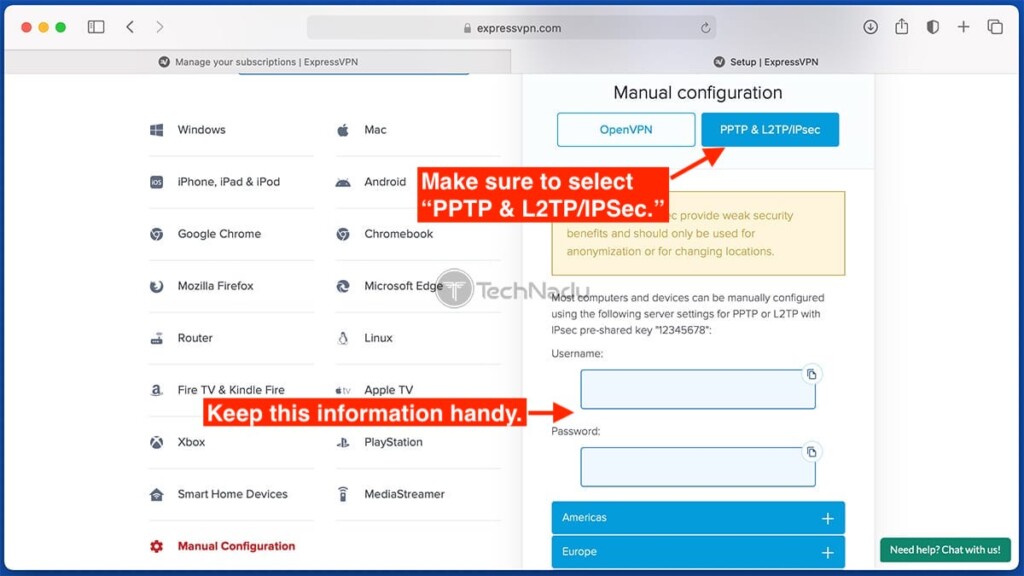 Keep in mind that ExpressVPN will offer several pieces of information here. You'll need the following to proceed: your username and password, as well as server addresses of individual servers.
Then, open the Settings app on your Android device and go to the 'Internet' or 'Wireless & Networks' sections. In case your phone's Settings app has a search option, search for 'VPN.'
You can tap on the "+" icon to add a new VPN profile. Then, input the required information. As said earlier, you'll need your username, password, and a specific server address. If you're asked about which protocol you'll use, you can either go with "PPTP" or "L2TP/IPSec".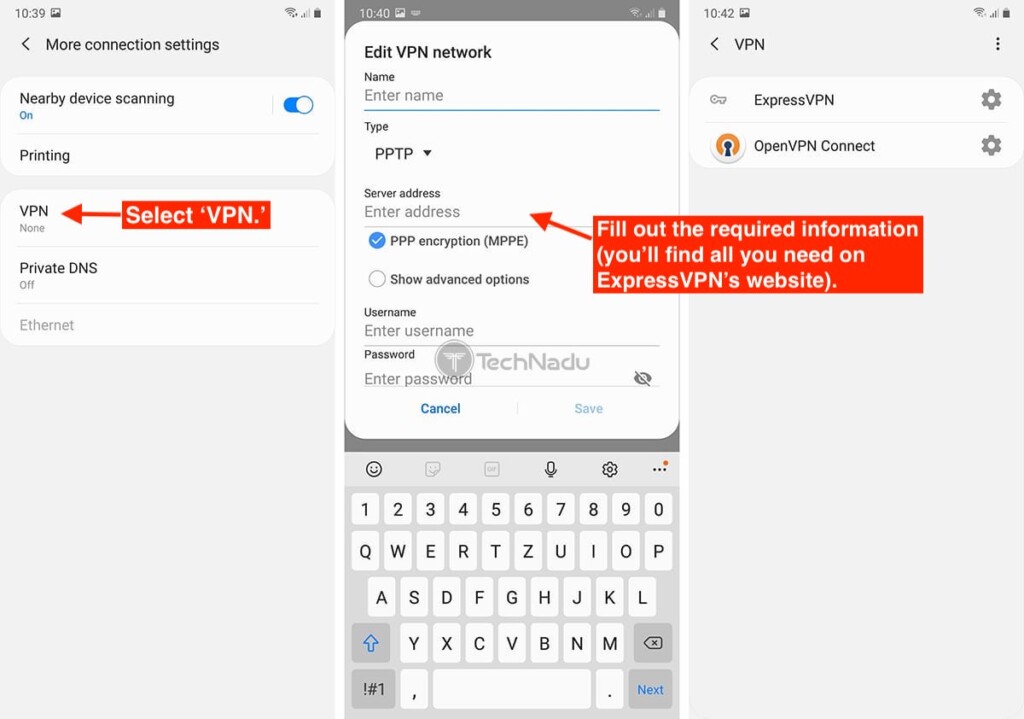 Hit "Save," and your Android device will now save this VPN connection. Use this same panel to connect to the individual servers you've added (you need to repeat the procedure to add additional servers). And also, this is where you can disconnect from those servers as well.
FAQ
Does Android Have a Built-In VPN?
Yes, Android comes with a built-in VPN client. However, that means you can use your Android's Settings app to configure a VPN connection. Differently said, you still need an active VPN subscription to connect to servers and secure your Internet connection.
How Do I Use an Android VPN With Chrome?
Once you configure a VPN on Android, all your incoming and outgoing Web traffic will be encrypted and protected. This means everything you do in the Android version of Chrome will be kept private. You won't find VPN extensions for the mobile version of Chrome.
How Do I Set Up a VPN on My Samsung Phone?
The easiest way to set up a VPN on any Android phone is by using the Play Store. This also applies to Samsung phones. So, subscribe to ExpressVPN, download its app from the Play Store, log in, and you're ready to go!
How Can I Use a VPN Without Any App?
If your chosen VPN service comes without an Android app, you can still use it. As explained in this article, you can configure a VPN manually or use the OpenVPN Connect app to create a new OpenVPN connection.
How Can I Set Up a VPN on Android for Free?
Our strong recommendation is to avoid using free-of-charge VPNs. These apps are dangerous, especially on Android. They engager your privacy, leak your personal data and take advantage of your device. Make sure to go for a reputable VPN, such as ExpressVPN.
You've finally reached the end of our guide to setting up a VPN on Android. In case of any questions or troubles, feel free to use the comments section below. You can rest assured that our editorial team will provide a response as soon as possible.