Apple's iMessage brings end-to-end encryption, which means everything you say or share stays secure and private. On top of that, iMessage brings plenty of app integrations, letting you send stickers, animate your messages, create group chats, jump into FaceTime calls, and more. With that said, we're sure you can't wait to try it out. So, here's how to activate iMessage on your iPhone 13. 
The following applies to the entire iPhone 13 generation (iPhone 13, 13 Mini, 13 Pro, and 13 Pro Max). The steps you'll find below also apply to previous iPhone generations capable of running the latest version of iOS, which would be iOS 15. 
How to Activate iMessage on iPhone 13
Activating iMessage requires you to dive into your iPhone's Settings app. We're here to help guide you, so go through the following steps. 
1. First, make sure that your iPhone has an active Web connection (Wi-Fi or cellular). 
2. Then, find and launch the Settings app on your smartphone. 
3. Scroll down until you find 'Messages.' Tap to reveal more settings. 
4. Check the top portion of your screen, where you should see 'iMessage.'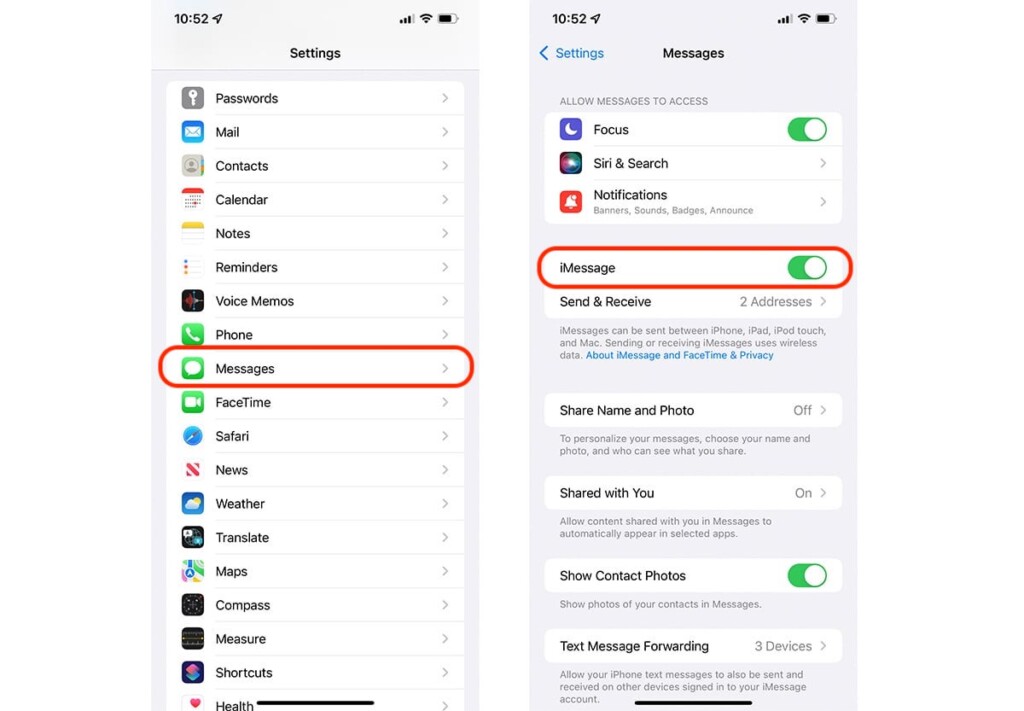 5. Flip the switch on the right side to activate this feature. 
6. In general, it can take a couple of minutes for iMessage to activate. That's it!
If iMessage fails to activate, re-check whether you're connected to a cellular data or Wi-Fi network. Also, check if your time zone is set correctly by going to Settings > General > Date & Time. And finally, it's also worth restarting your iPhone in case of any issues. 
How to Know If iMessage Is Active on iPhone 13
Once you activate iMessage on your iPhone, you will see subtle changes in the Messages app, which is the app you use to send and receive iMessages. With that said, here's how to know if iMessage is active on your device. 
1. Launch the Messages app on your iPhone. 
2. Tap on the 'Compose' icon, found in the top-right corner of your screen. 
3. Type in the name of a person you know who has iMessage active on their iPhone. 
4. Wait a couple of moments, and that person's name should turn blue. 
5. Any messages you exchange should be placed into blue-colored bubbles. 
6. If you see green-colored bubbles, that means you're using SMS messages.
That would be all on how to activate iMessage on your iPhone 13. You can use the comments section below in case of any questions. Thank you for reading!