A cursory search online reveals that many people face frequent Android VPN disconnects. This could be for a number of different reasons, so stick around. We'll be looking at all the possible causes and offer the best solution in each case.
My Android VPN Disconnects Every Few Minutes - Why?
There's always a chance your Internet-capable apps and features could cause interference in others. Here's what might lead to your Android VPN disconnecting so often.
Update Your VPN!
Make sure your Android VPN is up to date before you try any of the steps below. Your provider might simply not allow outdated versions of their app to use their servers for security reasons.
#1 Diagnose Internet Problems
Before you put the blame on your VPN, try turning it off and see if your Internet connection works properly. You may use an online speed test (like this one) or simply stream some video content and watch for dips in loading speed and disconnects.
If you experience connectivity issues even without a VPN, it might be time to call up your ISP or change providers altogether. Otherwise, check out the following tips.
#2 Try a Different VPN Server
As much as we'd love them to be, VPNs are not infallible. It could be that the VPN server you're currently connected to is experiencing technical difficulties or undergoing maintenance. Try switching to a server closer to your location and see if that helps.
Already connected to a local server? Then there could be congestion problems on the other end. Switch servers a few times to see if the situation improves, or move on to the next steps if you've already tried without success.
#3 Check Your Firewall Settings
A firewall is a neat security feature that blocks incoming and outgoing connections to your device according to a set of rules. Of course, it may also be causing your VPN to disconnect if it's not set up properly.
Now, Android devices don't have a built-in firewall. If you have a third party firewall installed, try disabling it and take your VPN for a "test drive" to see if the problem persists.
#4 Android VPN Disconnects Because of Antivirus
It's not uncommon for antivirus software to pick up on so-called "false positives" - harmless apps and features it considers threats. As before, if your antivirus conflicts with your Android VPN, it may help to disable it temporarily and see if that solves the problem.
Of course, you might also need to check that your VPN isn't infected with malware. According to a CSIRO study, about 38% of free Android VPNs on the Google Play Store featured some form of malicious code. There are a few other dangers of free VPNs you should know about, but let's not get side-tracked.
#5 Use the OpenVPN TCP Protocol
Most VPN protocols utilize the User Datagram Protocol (UDP) for data transfer purposes. Why? Well, simply because it's faster than the Transmission Control Protocol (TCP) since it doesn't check every data packet for errors. If you've ever seen online videos get "choppy" all of a sudden, now you know why it happens - as video content is delivered using UDP.
On the other hand, the reason your Android VPN disconnects so often is that UDP connections tend to be less stable. Try switching to OpenVPN TCP from your VPN settings to see if that solves your connectivity issues.
#6 Switch DNS Providers
Some VPNs choose to host their own Domain Name System (DNS) servers for extra privacy. Now, your DNS settings won't cause your VPN to disconnect, as DNS simply "translates" domain names (like www.technadu.com) into an IP address readable by a server - and vice-versa.
Still, changing your DNS server might do the trick if your connection problems are unrelated to your VPN disconnecting. Here's a guide on how to change your DNS settings.
Enable Always-On VPN on Android (Quick Guide)
"Always-On VPN" is a built-in Android feature (as of Android 7). What it does is quickly re-establish your VPN connection when you get disconnected. This is an automatic process, but the feature needs to be manually enabled on Android devices. Here's how to do it (we'll use ExpressVPN in our examples, but the process should be the same for any VPN provider).
Note that these steps use Samsung's version of Android 10, so setting naming conventions may be slightly different across other devices.
First, open your device Settings and tap on Connections. Scroll down until you find "More connection settings" and tap on the option. In this section, tap on "VPN." You should see the name of your Android VPN provider underneath the setting.
Tap on the gear icon next to your VPN provider's name. Finally, toggle the "Always-on VPN" switch to stay connected to the VPN at all times.
You can also enable "Block connections without VPN" (only available on Android 8+). However, be advised that this will enable the VPN kill switch, which automatically kills all network activity if your VPN connection drops for whatever reason. It's a great security measure in case you can't afford to leak data outside the VPN; just keep it in mind.
Android VPN Disconnects Automatically? Disable Battery Saving
Always-On VPN automatically re-connects your Android VPN when your connection drops, but ideally, you'd want to stop the connection from dropping in the first place. One major setting that can affect apps that "run in the background" like VPNs is your phone's battery saving feature. Here's how you can disable it (or turn it off for your VPN specifically).
The process assumes Android 10 on a Samsung device, so keep that in mind. It shouldn't be too difficult to find the battery settings on different Android phones.
In any case, open your phone Settings and head to Apps. Scroll down until you find your VPN app (ExpressVPN in our case). Tap on it, then on "Battery" in this newly opened section.
Next, tap on "Optimize battery usage." A new section with a list of apps will appear. If you can't find your VPN app on this list, you may need to tap on "Apps not optimized" at the top and change it to "All," as seen in the screenshot below. Your VPN should now be available. Toggle the switch next to it, and you're done!
How to Fix VPN Automatically Closed by Phone in the Background
If your Android VPN disconnects when you lock your phone, you may have activated a data saving feature that restricts your VPN from running in the background. Use the steps below to see if that's the case.
Once again, these steps use Samsung's version of Android 10, so you may need to fiddle around to find the equivalent settings on your phone.
First, access the Settings menu, and press the "Connections" button. Then tap "Data Usage." You'll notice a setting called "Data Saver" - tap on it and toggle the blue switch to turn it off.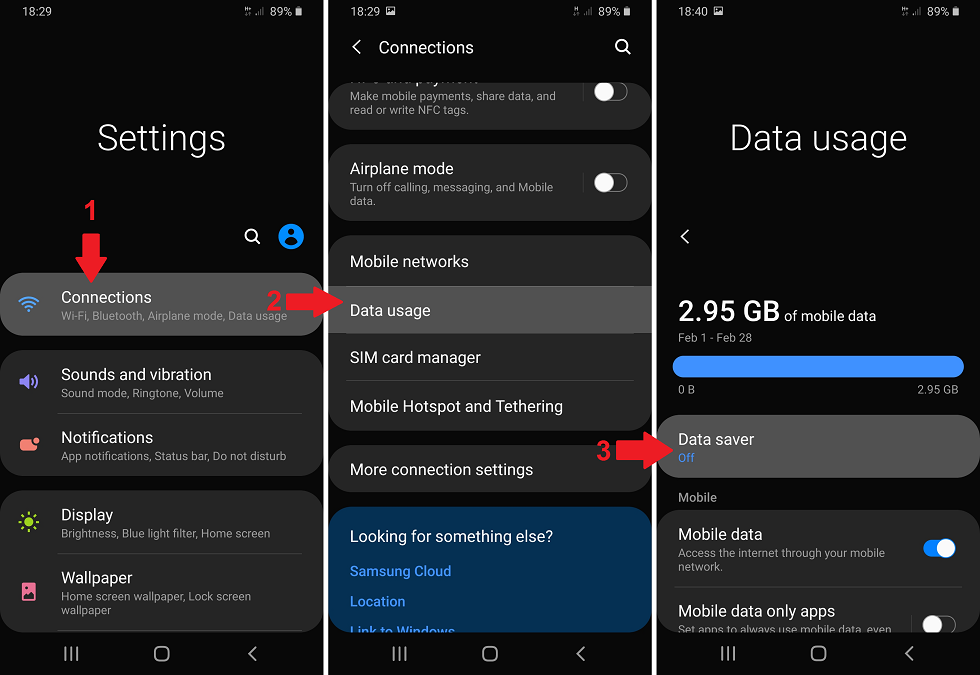 Want to save data but don't want the feature turning off your Android VPN? Then follow the same steps to enter the "Data saver" menu. Tap on "Allow app while Data saver on," scroll down to find your VPN app and toggle the switch.
This should prevent your VPN from being automatically closed by your phone in the background.
Android VPN Disconnects When Switching Networks? Try the IKEv2 Protocol
You'll often find yourself switching between different networks while on your smartphone, whether it's between two Wi-Fi hotspots or just switching from Wi-Fi to mobile data and vice-versa. Now, with most VPN protocols, this process will likely cause your Android VPN to disconnect.
However, the IKEv2/IPSec protocol allows for a seamless transition between two networks. Find yourself switching to mobile data because the Wi-Fi signal in your part of the house is terrible? We know we do. Then try using IKEv2.
Of course, the protocol is not natively supported on Android devices. Here are some guides on how to connect to several major VPNs with IKEv2/IPSec on Android:
That's about every nook and cranny of this issue explored. If your Android VPN still disconnects after all this, then your only choice is to switch VPN providers altogether. Check out our list of the best VPNs for Android in 2021, and say goodbye to pesky buffering wheels while you try to sneak some It's Always Sunny in Philadelphia on your long commutes.